Rosemary-Roasted Cauliflower with Raisins {Recipe}
June 18, 2014
Surely you've heard the advice to fill your plate with a rainbow of colors. After all, the different colors provide a variety of nutrients like beta-carotene in orange carrots, anthocyanins in blueberries, and lycopene in tomatoes. But what about white vegetables like cauliflower, mushrooms, garlic, and onions? (There aren't really any white fruits that I can think of – can you?) As with other "white" foods, I often hear people say that white vegetables don't have any nutritional value. It's true they may not be very bright or add a lot of pizzaz to your plate, but white vegetables do provide nutrients like fiber, potassium, and magnesium.
One of my favorite white vegetables is cauliflower. I didn't always love this cruciferous veggie, but as soon as I figured out the best way to cook it, it became a staple in my house. Of course the cooking technique I chose is the one I like best for almost all veggies – roasting. When I'm in a rush to get dinner on the table, I preheat the oven to 400 degrees, toss cauliflower florets with olive oil, roast for 15-20 minutes, stirring once or twice, and sprinkle with kosher salt and pepper once it's done. But when I have more time on my hands, I have a go-to cauliflower recipe that has knocked the socks off of my husband and pretty much anyone who has tried it. I can't take all the credit for the recipe though – it's an adaptation of a recipe I once received in my inbox from Tasting Table – Spicy Caramelized Cauliflower with Raisins. To cut some of the hands-on cooking time and some calories, I tweaked the preparation steps while keeping most of the ingredients the same. Give it a try – I am sure you will not be disappointed!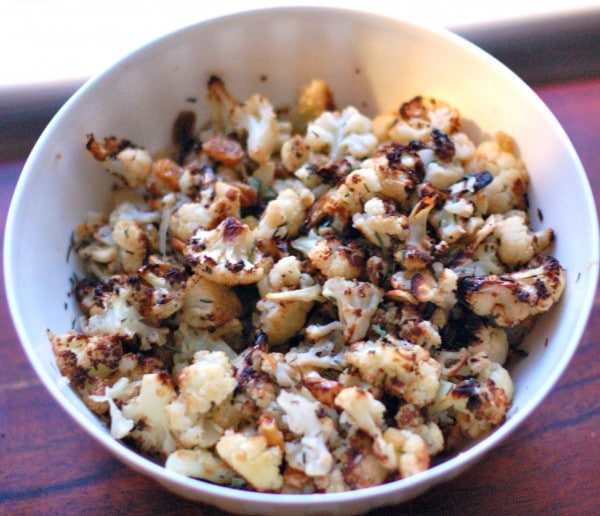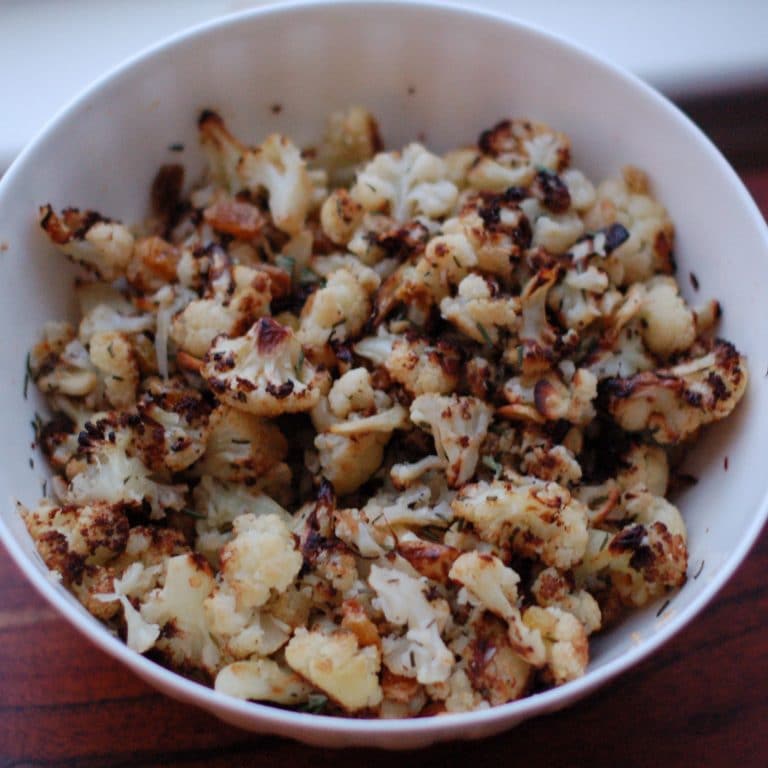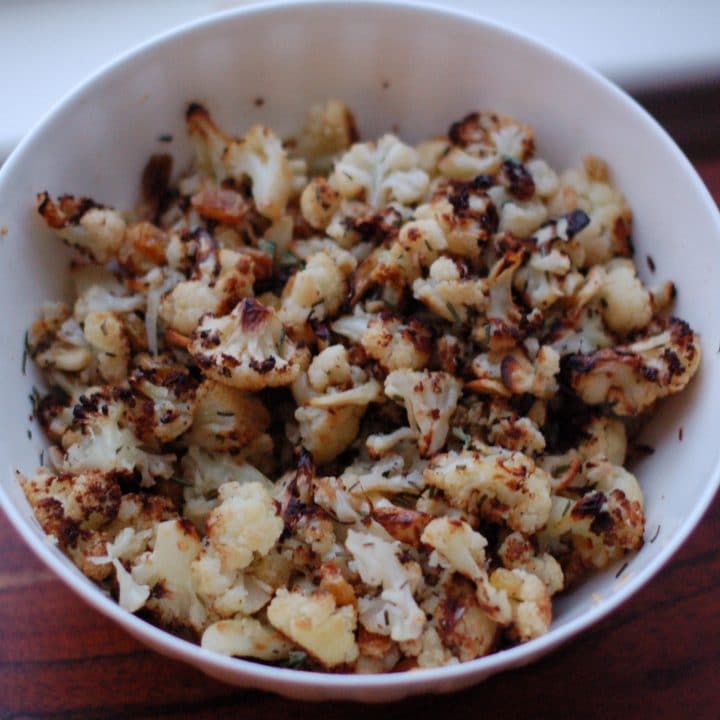 Rosemary-Roasted Cauliflower with Raisins
Brighten up the flavor of cauliflower with rosemary, red pepper flakes, raisins and red wine vinegar.
Ingredients
1/2 cup golden raisins
2 heads cauliflower, cut into florets
2 tablespoons extra-virgin olive oil
1 tablespoon chopped rosemary
6 garlic cloves, thinly sliced
Red pepper flakes, to taste
2 teaspoons Kosher salt
Freshly ground black pepper
1/3 cup red wine vinegar or sherry vinegar
Instructions
Preheat the oven to 400°.
Place raisins and boiling water in a small ramekin and cover with aluminum foil. Steep raisins for 10 minutes until they are plump. Drain and set aside.
Toss cauliflower florets with olive oil and rosemary. Spread on two foil-lined baking sheets and roast for 10 minutes. Remove from oven, toss and sprinkle garlic slices over the cauliflower. Continue roasting another 10-15 minutes until cauliflower is browned and garlic is crisp. Remove from oven and transfer to a large bowl.
Add reconstituted raisins to roasted cauliflower and garlic and toss with red pepper flakes, salt, pepper, and vinegar. Serve hot or room temperature.
 Do you eat white vegetables? What are your favorites?