Menu Plan Monday: Week of February 9, 2015
February 9, 2015
Some of my favorite posts from last week and this week's Menu Plan Monday
In case you're not up to date on my tweets and Facebook posts (btw, what are you waiting for?!), I wanted to highlight a few of my favorite posts, articles, and recipes from last week. Take a look and then check out our Nutritioulicious menu for this week!
A Guide to Gluten-Free Flour from Rebecca @ Strength & Sunshine
Veggies All Year: Mushrooms from Meme @ Living Well Kitchen
The EdibleRx: Don't Demonize Processed Food by Registered Dietitian Keith Ayoob
Nut Nutrition 101 in the coolest infographic ever from EA @ The Spicy RD
A New Year "Detox" I can get behind by Jen Laskey @ MyWell-Being.com (note Jen quoted me as a source)
Healthy Kitchen Hacks from Deanna @ Teaspoon of Spice
Chicken Vegetable Udon Soup from Nutritioulicious
Eggs Anytime Recipe Roundup from Nutritioulicious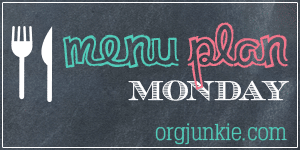 Week of February 9, 2015
Monday: Sweet Potato Egg Boats (moved over from last week)
Tuesday: Out for sponsored work dinner
Wednesday: Spinach Artichoke Lasagna Roll Ups from Two Peas in their Pod
Thursday: TBD (either easy egg dinner or take out)
Friday: Cuban-Style Ropa Vieja (similar to this recipe) with Cauliflower Burnt Rice
What's on your menu this week?
Tweet me @JLevinsonRD with #DinnerTonight
Linking up at Org Junkie's Menu Plan Monday