Shorty's Brown Rice {Recipe}
January 7, 2014
A fragrant combination of garlic and ginger with sautéed carrots and onions makes this rice dish a flavorful side to chicken, beef, or tofu.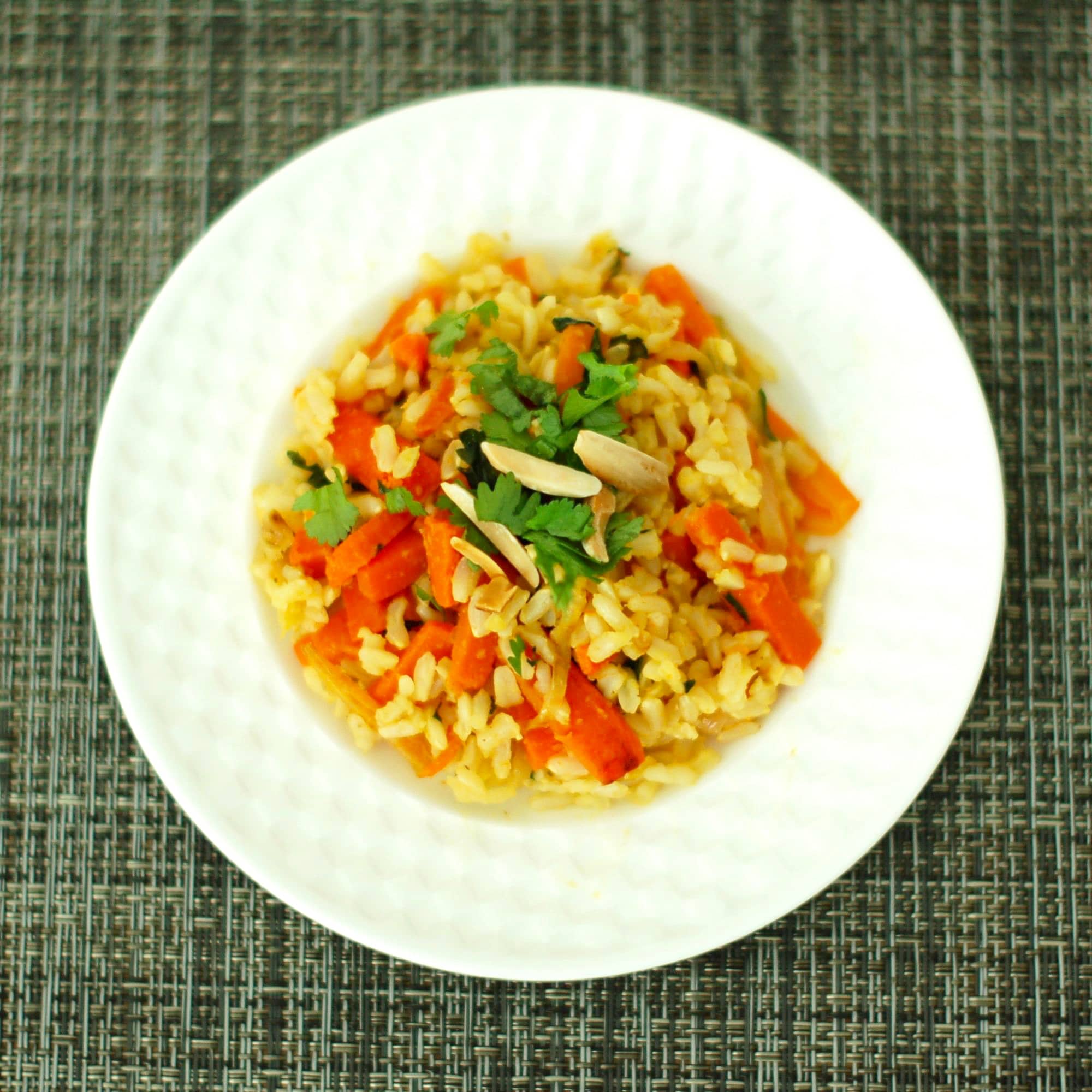 Surprisingly – and I'm almost embarrassed to say it – cooking rice is not one of my strengths. It seems so basic, but for some reason I have a hard time getting it right. I've thought about getting a rice cooker, but really haven't found a need since I tend to make other grains like quinoa, barley, and farro more often. But I came across a rice recipe that sounded really good and worth a try. It's the best rice dish I have ever made and it's become a favorite in my house. It reminds us of fried rice, but is so much healthier!
I found Shorty's Brown Rice with Stir-Fried Carrots, Ginger, Mint, & Toasted Almonds in Susie Middleton's The Fresh & Green Table (affiliate), which I received for Mother's Day last year. I made a couple of tweaks to the recipe – eliminated the butter and used cilantro instead of a combination of mint and cilantro, but otherwise it's pretty much the same.
Give it a try and let me know how you like it!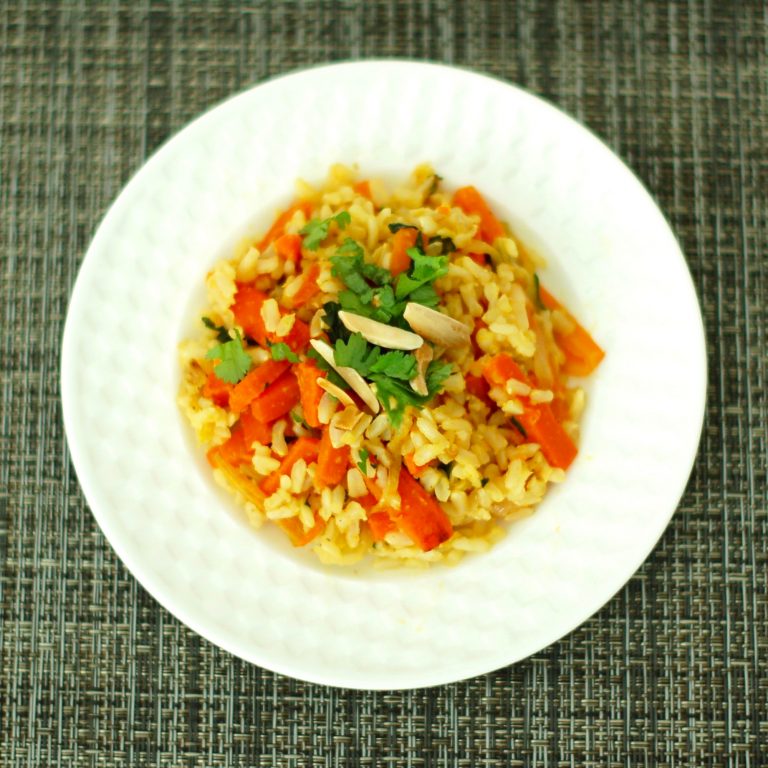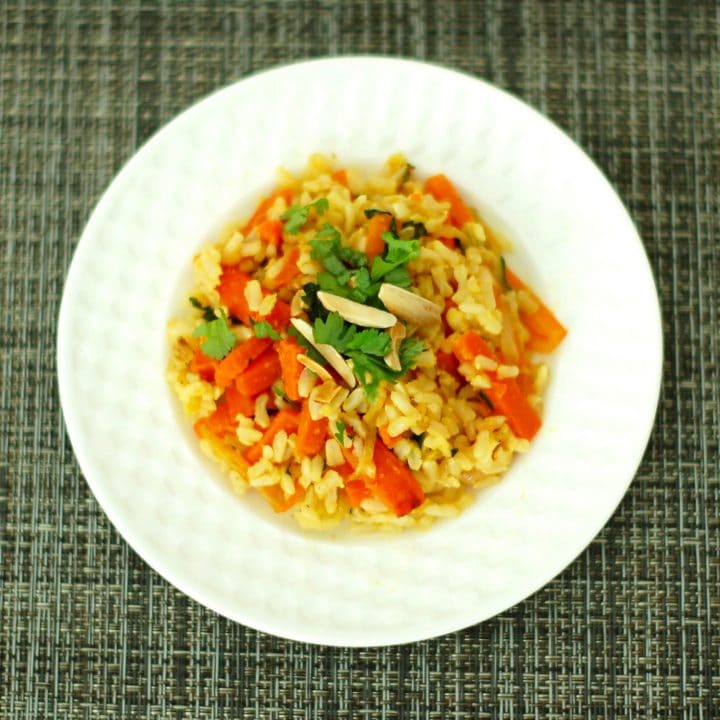 Shorty's Brown Rice
Total Time:
1 hour
5 minutes
Sautéed carrots and onions, fragrant ginger and garlic, toasted almonds, and cilantro enhance the flavor of brown rice, making this dish a Nutritioulicious substitute for fried rice!
Ingredients
1 cup brown rice
1 tablespoon vegetable oil
1 pound carrots, peeled and julienned (1-2 inch matchsticks)
1 small onion, cut into half moons
1 1/2 teaspoons Kosher salt, divided
1 tablespoon minced fresh ginger
2 teaspoons minced garlic
1 tablespoon freshly squeezed lime juice
3 tablespoons chopped cilantro
1/4 cup toasted slivered almonds
Instructions
Fill a pasta pot two-thirds full with water and bring the water to a boil. Rinse the rice in a fine-mesh colander or strainer and add it to the boiling water. Stir once and boil for 30 minutes. Drain the rice in a colander, shaking it to remove excess water, and return the rice to the pot (off the heat). Cover with a tight-fitting lid and let sit for 10 to 15 minutes. (The rice will absorb the remaining moisture).
While the rice is cooking, heat the vegetable oil over medium-high heat in a large nonstick stir-fry pan. When the oil is hot, add the carrots, onion, and 1 teaspoon salt and stir well with tongs.
Cook, stirring only occasionally at first, and more frequently as the veggies begin to brown and the carrots are tender, 15 to 17 minutes. They will be somewhat firm but will have shrunk and become more pliable. (Don't be tempted to raise the heat; the carrots need to steam a bit before browning).
Lower the heat to low, add the ginger and garlic, and stir until fragrant, about 30 seconds. Remove the pan from heat, stir in the lime juice and immediately transfer the contents of the pan to the pot of rice and stir well. Season the rice with 1/2 teaspoon salt, add most of the cilantro and toasted almonds, and stir well. Serve garnished with the remaining cilantro and almonds.
Notes
Substitute other grains like quinoa and farro for brown rice to change it up.
What's your favorite rice recipe?
Disclosure: This page contains Amazon Affiliate links. If you purchase products through these link, your cost will be the same but I will receive a small commission to help with operating costs of this blog. As always, all thoughts and opinions are my own and I only recommend products I truly believe in. Thanks for your support!