Lemon Ricotta Ravioli with Balsamic Roasted Strawberries
November 3, 2015
Homemade ravioli filled with creamy and zesty lemon ricotta and topped with balsamic roasted strawberries is a naturally sweet and savory meal perfect for entertaining any month of the year.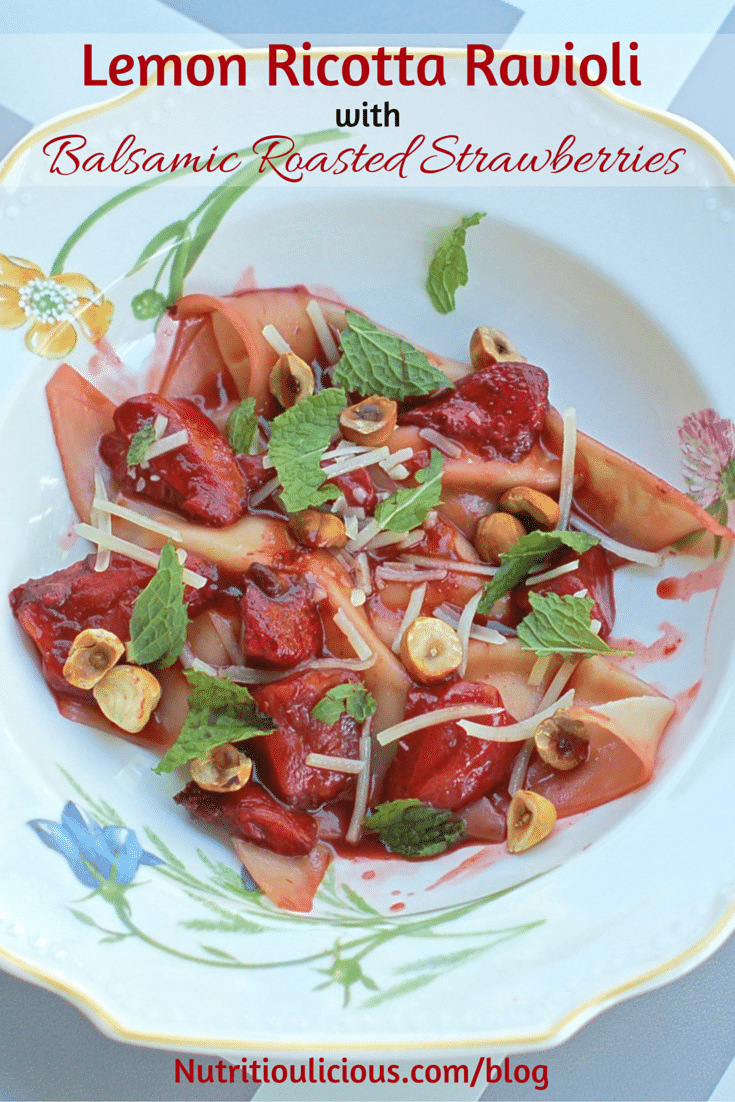 'Tis the season for pumpkins, Brussels sprouts, and citrus fruits, but let's not forget about our good old friends from the summer – strawberries.
Strawberries aren't normally on my weekly grocery list these days, but I was so inspired by one of my daughters that I had to make this recipe. A couple of weeks ago I asked my daughter what she was "cooking" in her play kitchen. Her response: pasta with strawberries and cheese.
A light bulb went off in my head and this Lemon Ricotta Ravioli with Balsamic Roasted Strawberries was born. I should really call this recipe "Charlotte's Ravioli," but no one would ever know what it is! It's a funny thing what sparks creativity and, in my case, recipe development.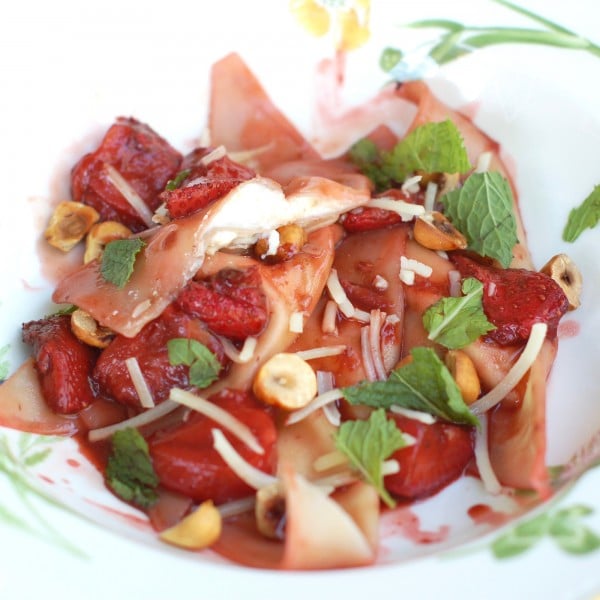 With the holidays around the corner, it's the perfect time to splurge a little on bright red California strawberries that will add just the right pop of color to your sweet or savory holiday dishes. Plus, strawberries are low in sugar and add natural sweetness to meals for only 45 calories per cup, making them a good choice for a diabetes-friendly meal plan. How perfect considering that November is National Diabetes Month!
This recipe was originally created as part of my sponsored ambassadorship with California Strawberries in 2015 and was originally featured on their Heart of Farmers blog. Be sure to enter their #BerryGood4U contest for the chance to win a $200 Sur La Table gift card – the perfect pre-holiday gift for anyone who's going to be busy in the kitchen!
Updated 5/10/16: The California Strawberries sponsored contest is closed. You can still find the recipe and my post on the Heart of Farmers blog, but I have included the recipe below as well.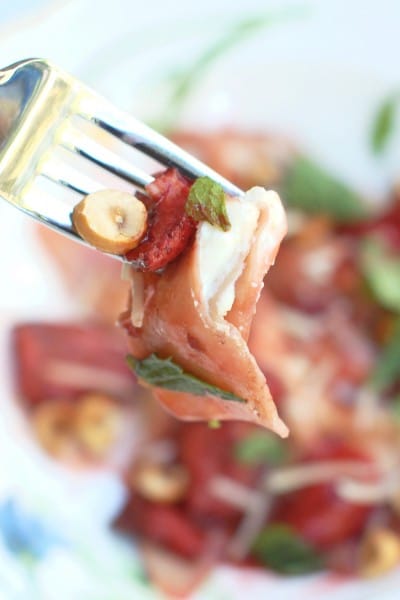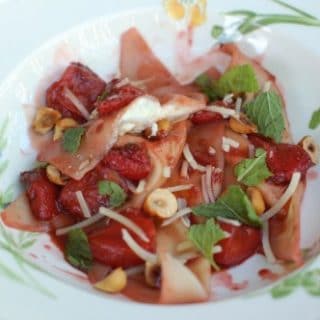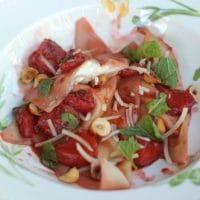 Lemon Ricotta Ravioli with Balsamic Roasted Strawberries
Homemade ravioli filled with creamy and zesty lemon ricotta and topped with balsamic roasted strawberries is a naturally sweet and savory meal perfect for entertaining during the spring months.
Ingredients
For Lemon Ricotta Ravioli:
1 cup part-skim ricotta cheese
1 teaspoon lemon zest
1 tablespoon lemon juice
¼ teaspoon Kosher salt
Freshly ground pepper, to taste
26 wonton wrappers
For Balsamic Strawberries:
1 pound California strawberries, hulled and quartered
1 teaspoon sugar
2 tablespoons balsamic vinegar
For Serving (optional):
¼ cup halved hazelnuts, toasted
Shredded Parmesan cheese
Fresh mint leaves
Instructions
To make ravioli:
In a medium mixing bowl, combine ricotta, lemon zest, lemon juice, salt, and pepper.
Working with one wonton wrapper at a time, spoon 1½ teaspoons of ricotta filling into the center of wrapper.
Moisten edges of the wrapper with water. Fold wrapper in half, bringing two corners together to form a triangle. Press edges firmly to seal. Repeat with remaining wrappers and ricotta filling.
Bring a large pot of water to boil. Lower heat so water is simmering. Gently add half the ravioli to the water, give a gentle stir so the ravioli don't all settle at the bottom, and cook about 3 minutes. Carefully remove ravioli with a slotted spoon. Repeat with remaining ravioli.
To make balsamic strawberries:
Preheat oven to roast at 400°F. Line a baking sheet with parchment paper.
In a medium bowl, toss together quartered strawberries, sugar, and balsamic vinegar. Spread on prepared baking sheet.
Roast 15-20 minutes, stirring halfway through.
Top ravioli with the roasted strawberries, a sprinkling of toasted hazelnuts, shredded Parmesan, and mint leaves.
Nutrition Information:
Yield:

4
Serving Size:

4 Servings
Amount Per Serving:
Calories:

300
Saturated Fat:

3g
Cholesterol:

27mg
Sodium:

478mg
Carbohydrates:

39g
Fiber:

4g
Sugar:

9g
Protein:

13.5g
Do you cook with strawberries in the winter?
What's your favorite strawberry recipe?