Peach Panzanella Salad with Halloumi and Blueberry Balsamic Dressing
July 22, 2017
Juicy peaches, ripe tomatoes, briny halloumi cheese, and crunchy rustic bread come together in this Peach Panzanella Salad, a twist on a classic Tuscan summer dish.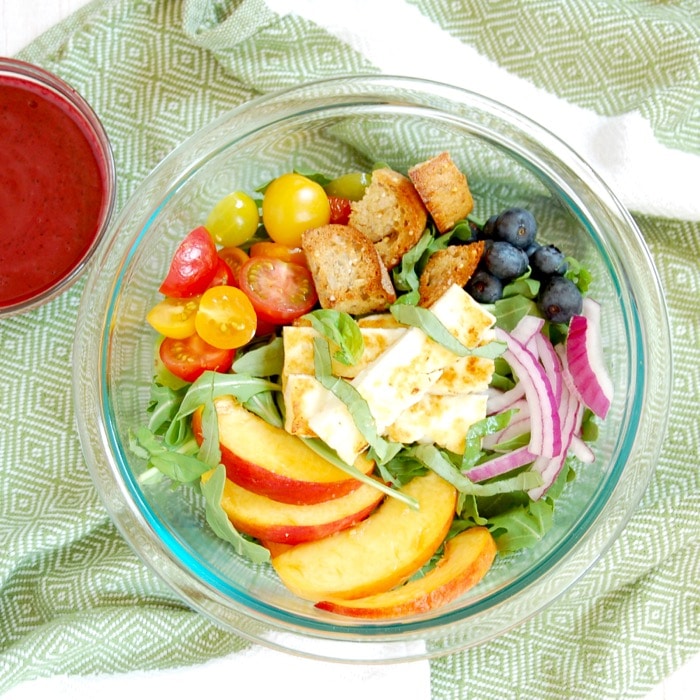 This page also contains affiliate links. See below for full disclosure statement.
One of my fondest memories of studying abroad in Florence, Italy when I was in college was the food. Italian food is undeniably delicious, but even more so when you're in Italy. I remember in the winter months when I first arrived, I enjoyed bowls of ribollita, a hearty Tuscan soup made with bread and vegetables. In the summer, bread also played a starring role in one of the traditional Tuscan dishes, panzanella salad.
What Is Panzanella?
Conventional panzanella salad, also known as Italian bread salad, is composed of chunks of day old stale bread combined with the juiciest summer tomatoes, olive oil, and vinegar. The liquid elements of the dish bring the bread back to life and the simplicity of the ingredients lets the flavors of summer shine through.
Over the years I have had variations of the classic panzanella both at restaurants and at home. One of my favorites is peach panzanella salad. Just like a ripe summer tomato, there's nothing like a perfectly ripe, juicy peach, so you can imagine how your taste buds will burst with excitement when eating this combination. (Don't believe me? Close your eyes and you'll taste it!)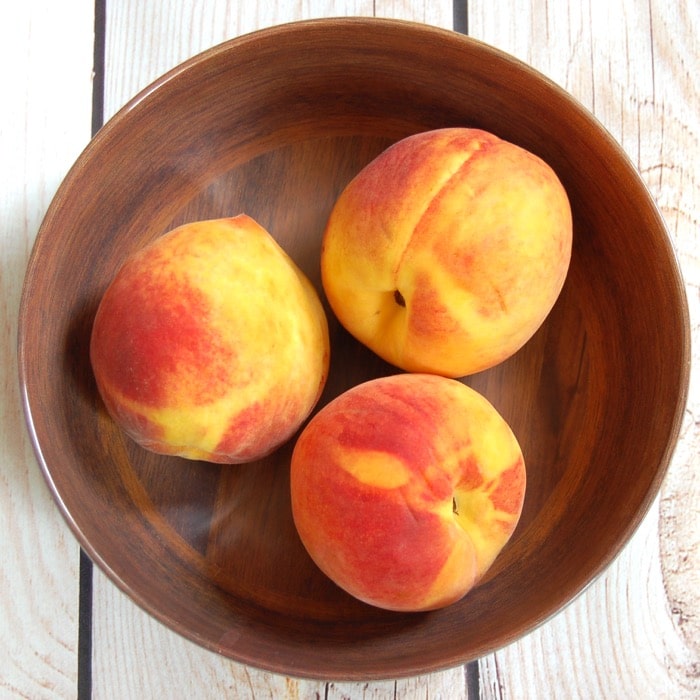 What's In My Peach Panzanella Salad?
It should come as no surprise from some of the other salads I've shared that I'm a big fan of adding a bunch of ingredients to my salads. Although the classic panzanella is very simple, I wanted to make my version have a little more oomph so it could be satisfying enough for lunch or dinner.
In addition to sliced peaches and colorful heirloom tomatoes, I added blueberries, red onion, and basil. Normally panzanella isn't made with salad greens, but I put everything on top of a bed of arugula, which added bulk (i.e. makes it more filling) and a peppery contrast to the sweet flavors. To top off the salad and get in a bit of protein (another way to boost satiation), I pan-fried some halloumi cheese.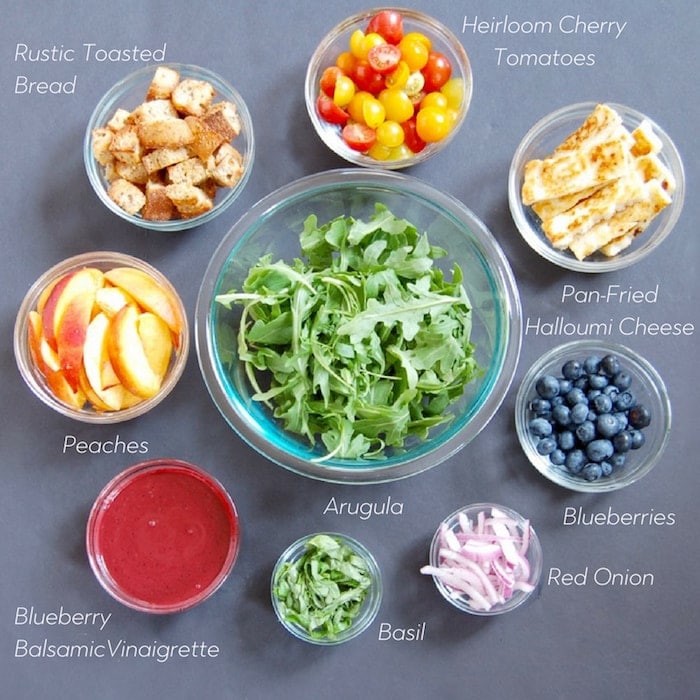 Mediterranean Halloumi Cheese
If you're not familiar, halloumi is a popular cheese in mediterranean cuisine (you may remember my Mediterranean Style Egg and Cheese recipe). It is referred to as "the grilling cheese" because it resists melting at high temperatures. The result of grilling or pan-frying halloumi cheese is a warm, meaty cheese that holds its own in a variety of dishes. Because halloumi is brined it's a little on the salty side, which balances quite well with the sweeter flavors of this peach panzanella salad.
While I often make halloumi on the grill, it's especially easy to prepare in a cast-iron or nonstick skillet. Given how quickly it cooks up (about 3 minutes per side if your skillet is very hot), it also doesn't make much sense to turn on the grill just for this. You need a minimal amount of oil to make sure the cheese doesn't stick to the pan, especially because as it cooks the halloumi releases some of its moisture. I highly recommend making the halloumi once the rest of the salad is ready to go to the table. Once the cheese is sufficiently browned on both sides you can slice it into strips and place it on top of the salad.
The finishing touch of this salad is the flavor-packed blueberry balsamic vinaigrette. Peaches and blueberries are one of my favorite pairings and you certainly can't beat the gorgeous color of this dressing. I use my Nutribullet to make this dressing, which takes all of two minutes. If you don't have a high-powered blender you can also use a food processor.
Beat the Heat Salad
Summer is the time for panzanella salad, not only because the traditional ingredients are at their prime, but also because it's a great recipe to beat the heat. The only cooking involved is toasting the bread cubes, which I do in a toaster to reduce the heat from a big oven, and pan-frying or grilling the halloumi. Given how quickly the cheese cooks up, there's not much standing over the stove at all here.
Kid-Friendly Panzanella
This salad may not seem like the most kid-friendly option, but try it before you knock it. Kids don't like arugula? Make this peach panzanella salad the more traditional way – without the greens. Cheese, fruit, and bread are favorites with pretty much any kid!
Ready for a taste of Italy?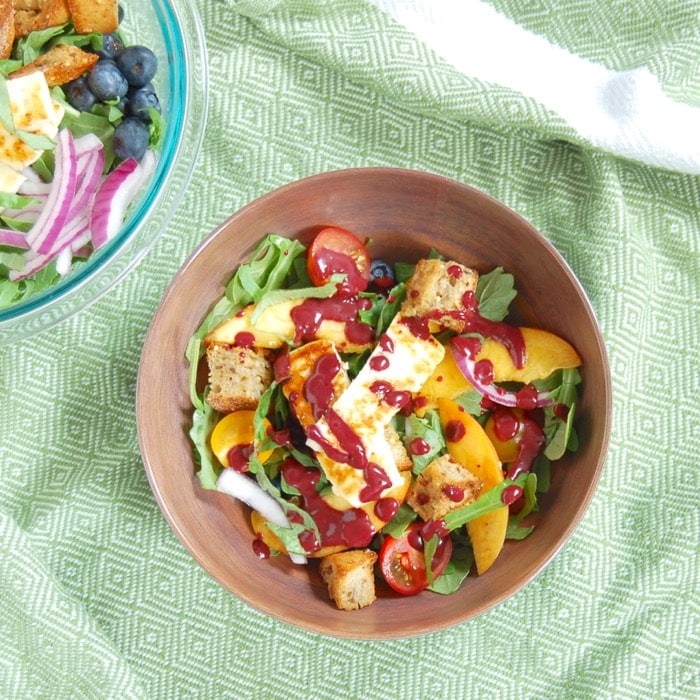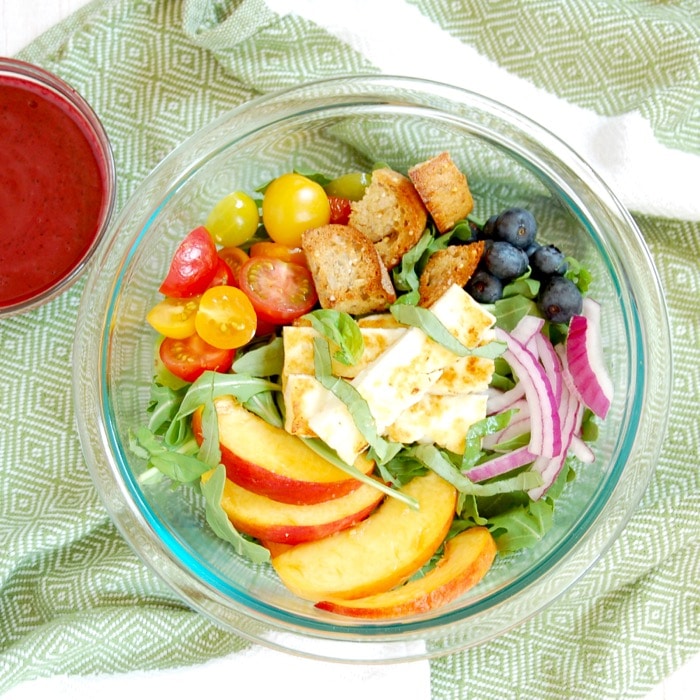 Peach Panzanella Salad with Halloumi Cheese and Blueberry Balsamic Dressing
Juicy peaches, ripe tomatoes, briny halloumi cheese, and crunchy rustic bread come together in this Peach Panzanella Salad, a twist on the classic Tuscan salad. This vegetarian recipe can easily be made gluten free with gluten-free bread. To make vegan, eliminate the cheese.
Vegetarian, Nut-Free, Egg-Free, Kosher
Ingredients
For the Blueberry Balsamic Dressing:
1/2 cup blueberries
2 tablespoons olive oil
1 tablespoon lemon juice
1 tablespoon balsamic vinegar
1 clove garlic, smashed
1/4 teaspoon Kosher salt
Freshly ground black pepper, to taste
For the Salad:
4-5 ounces rustic whole grain ciabatta or sourdough bread, cut into 1-inch cubes (~2 cups)
2 tablespoons olive oil, divided
1/8 teaspoon Kosher salt
7-8 ounce package halloumi cheese, cut into 6 slices (see note)
2 ounces arugula (~2 packed cups)
2 large peaches, sliced (~2 cups)
1 cup heirloom cherry tomatoes, halved
1/2 cup fresh blueberries
1/2 cup sliced red onion
1/2 cup basil, thinly sliced
Instructions
In a small blender, combine dressing ingredients from blueberries through pepper and blend until smooth. Set aside.
Line a toaster pan with foil and coat with cooking spray. Toss bread cubes with 1 tablespoon olive oil and 1/8 teaspoon salt and spread in a single layer on pan. Toast about 8 minutes, tossing bread half way through, until cubes are dried out and golden brown at the edges. Remove from oven and let cool.
While the bread is toasting, over medium-high heat, add remaining tablespoon oil in a medium skillet, preferably cast-iron, and swirl to coat the pan.
When the skillet is hot, add halloumi slices in one layer (you may need to work in batches depending on the size of your pan) and cook about 2 to 3 minutes until bottom is golden brown. Flip the cheese and cook until other side is golden brown, another 2 to 3 minutes. Flip a few more times to brown all sides and then transfer halloumi to a plate or cutting board. Cut cooked halloumi into 1-inch thick strips and set aside.
In a large bowl, toss arugula with peaches, tomatoes, blueberries, red onion, basil, toasted bread cubes, and blueberry balsamic dressing.
Portion salad onto four plates and top with sliced pan-fried halloumi. Drizzle with some more dressing if desired.
Notes
*Halloumi can be found at select supermarkets. Trader Joe's carries it during the summer months. It can be found in the cheese aisle and it comes pre-sliced in 6 pieces.
*Red onions can be very pungent and overpowering. To reduce their bite, submerge in a bowl of cold water for 5 to 10 minutes after slicing
*Since blueberries are in season in the summer, fresh were used in this recipe. If using frozen to make the dressing, you may need some water to thin it out.
Recommended Products
As an Amazon Associate and member of other affiliate programs, I earn from qualifying purchases.
Have you tried panzanella salad?
What ingredients would you add to yours?
Share with me in the comments below!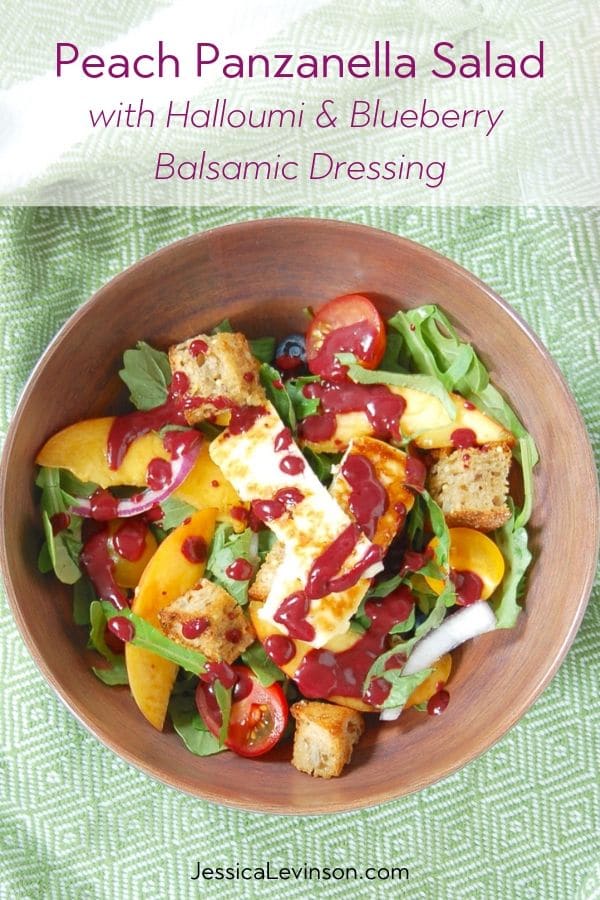 Disclosure: This page contains affiliate links. If you purchase products through these links, your cost will be the same but I will receive a small commission to help with operating costs of this blog. As always, all thoughts and opinions are my own and I only recommend products I truly believe in.