Thai Citrus Salad with Daikon, Carrots, Peppers, and Snap Peas
April 18, 2015
Japanese radish with bright orange carrots, red bell peppers, and snap peas tossed with a Thai citrus dressing make for a quick & easy Thai Citrus Salad.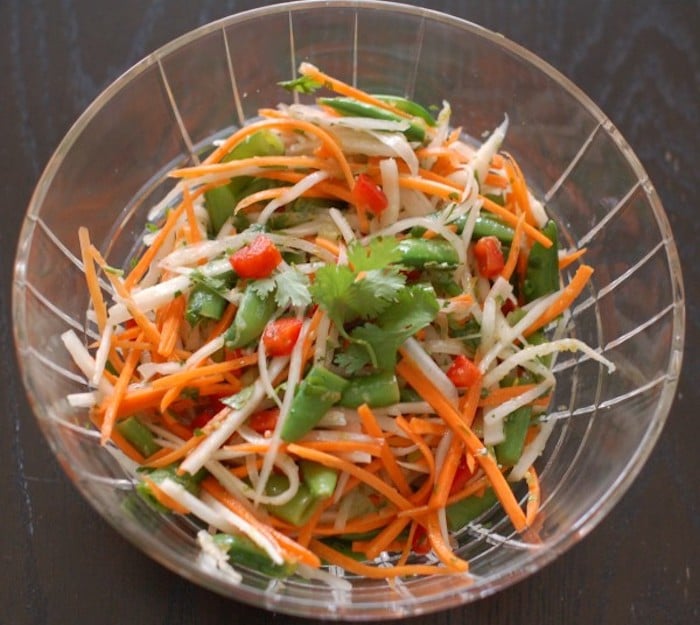 In case you've been living under a rock, spiralizing is all the rage on the blogosphere these days. Everywhere I look I see beautiful, mouth-watering images of spiralized zucchini (aka zoodles), spiralized carrots, spiralized sweet potatoes, even spiralized beets. You name it and it seems as if it can be spiralized. Using spaghetti squash in place of real spaghetti used to be the "in" recipe hack, but now it seems passé. (I'll admit I still use nature's self-spiralized veggie under a good old bolognese sauce once in a while.) Veggie noodles of all varieties are where it's at.
In trying to keep up with the food trends, I went out and bought myself a spiralizer after deciding I'd make a spiralized Thai citrus salad as a side for my Thai Peanut Chicken Satay. I shunned the guy at Williams-Sonoma who suggested the mega spiralizer that I wouldn't be able to find storage space for and opted for a hand-held Gefu Spirelli Spiral Slicer (affiliate link).
I raced home from Bed Bath & Beyond all excited to try my hand at spiralizing, turned on some Top 40 music to get in the cooking mood, set out my carrots and daikon, and started to spiralize. And then the daikon broke off in the spiralizer. And then I cut my finger trying to get the daikon out of the spiralizer.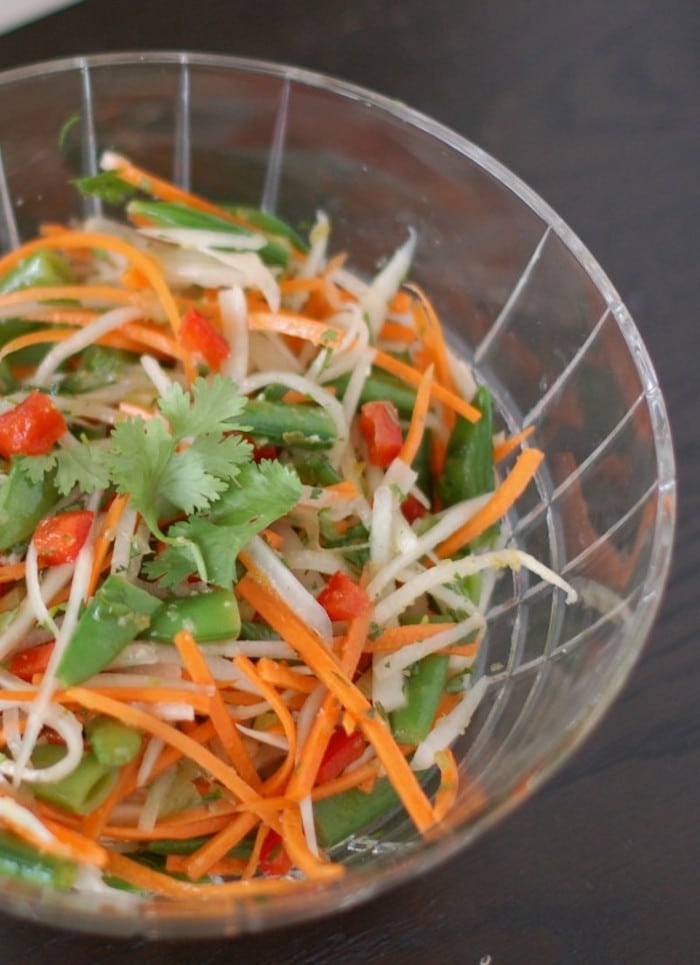 Next I tried the carrot thinking it would work better since it's firmer, but that didn't go so well either. All the enthusiasm I had over spiralizing was very quickly going out the window (and the spiralizer almost did too). My visions of perfectly spiralized daikon like we have under sashimi at Japanese restaurants were blurred with sweat (and maybe a little blood and tears). Frustrated and aware that I had just 10 minutes before my kids needed to eat dinner, I switched gears and used the good old fashioned technique of julienning.
The end result was a mixture of the bits of spiralized veggies I managed to create and my perfectly julienned carrots and daikon. The truth is it didn't matter what it looked like because the salad was insanely refreshing and delicious thanks to the citrus dressing that brought all the vegetables together.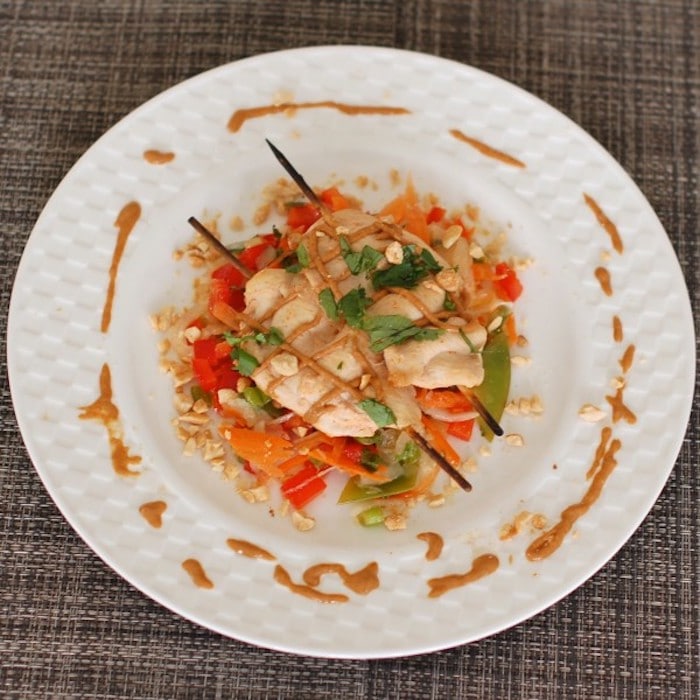 I knew this Thai citrus salad would be a hit with the family, but I needed to make it a little more Pinterest-worthy, so last week I made it again. This time I left the spiralizer in the back of a kitchen drawer and went straight to my chef's knife and cutting board. I'm not sure I'm done experimenting with all things spiralized, but I may have to do a walk of shame back into Williams Sonoma to get the countertop model. Until then I'll stick with the techniques I know and love.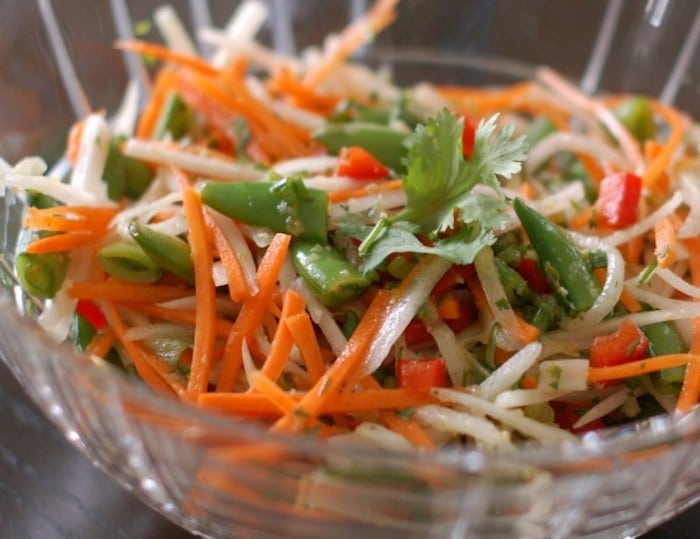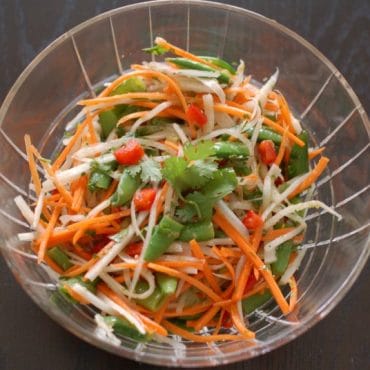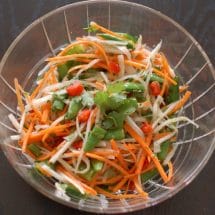 Thai Citrus Salad with Daikon, Carrots, and Snap Peas
Japanese radish plays a starring role in this veggie-filled salad brought together by a light and refreshing ginger and lime-based Thai citrus dressing. Perfect as an appetizer or as a side to my Thai Peanut Chicken Satay!
Ingredients
1

large daikon

julienned (~2 cups)

1

medium carrot

julienned (~1 cup)

1/4

cup

chopped scallions

1/4

cup

diced red pepper

1

cup

blanched

halved snap peas

1

teaspoon

lime zest

1/4

cup

lime juice

1

teaspoon

freshly grated ginger

2

tablespoons

sesame oil

1/4

teaspoon

Kosher salt

2-3

tablespoons

chopped cilantro
Instructions
Place all the prepared vegetables in a large bowl.

In a measuring cup or small mixing bowl, whisk together the lime zest, lime juice, ginger, and sesame oil.

Pour dressing over vegetables, season with salt and pepper, top with cilantro and toss.
Have you experimented with spiralizing?
If so, what's the trick?
Let me know in the comments!