Savory Oatmeal Breakfast Bowl with Spinach, Mushrooms, and Fried Egg
August 22, 2017
Get a serving of vegetables and protein at breakfast with this umami-rich savory oatmeal breakfast bowl with spinach, mushrooms, and fried egg.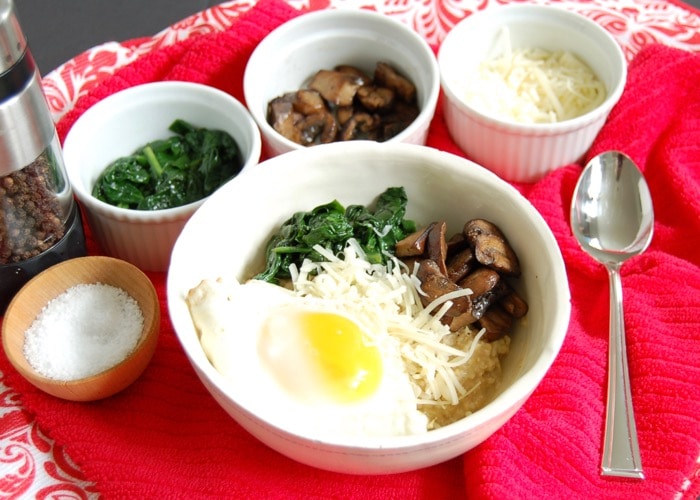 Oats are a staple ingredient in my pantry all year long. Some people don't like hot breakfasts during the summer months, but I don't mind. I love the warm, comforting, and satiating feeling I get from a bowl of oatmeal to start the day. One of my daughters is the same way – the funny thing is that she likes her hot oatmeal with frozen fruit to cool it down (preferably frozen wild blueberries 🙂 ).
Oats: A Versatile Ingredient
Oats come into play in my kitchen in many other ways besides my morning serving of hot oatmeal. I got on the overnight oats bandwagon last summer when I made these Peaches and Cream Overnight Oats, I always have a batch of oatmeal cups (aka muffins) in my freezer for those rushed mornings (which I think we'll have a lot more of now that the girls have a 7:30 am bus to catch!), weekend morning breakfast is occasionally a fruit-based baked oatmeal (still need to get that recipe up here!), and one of the easiest dinners I make is this savory oatmeal frittata.
The first time I made the savory oatmeal frittata my girls thought it was crazy that I was serving oatmeal for dinner. They may have thought it was silly, but they sure did love it and it's one of my favorite meals to make – it's super quick and easy to prep, can be modified based on your family's preferences, what's in season, and what's already in your house, and it's a fun change of pace for the kids.
Ever since making that savory oatmeal frittata I've been wanting to make a bowl of savory oatmeal – one that's not baked, rather made just the way I make my traditional morning oatmeal that's usually topped with fruit, nuts, and cinnamon. I finally had the perfect excuse to get this savory oatmeal bowl on the blog – this month's theme for The Recipe ReDux!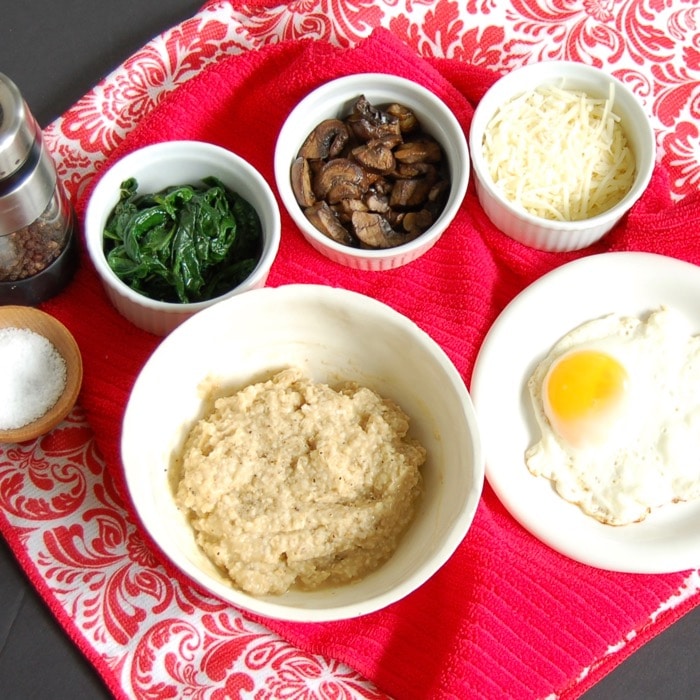 Rise and Shine with a Savory Breakfast
The trend of protein-packed breakfasts is catching on…and back-to-school time is looming. This month, show us new healthy takes on eating savory or dinner-inspired dishes for breakfast. Think egg burritos, beans and rice, or maybe even pasta?!
Savory Oatmeal Breakfast Bar
I immediately knew that I wanted to add mushrooms and Parmesan cheese to my bowl of savory oatmeal – I just love the umami-rich flavor both ingredients add to dishes, especially frittatas. Plus, the meatiness of mushrooms adds some texture to a solid bowl of porridge.
At the time that I made this recipe, I also had half a bag of baby spinach left in the refrigerator, so it made perfect sense to quickly sauté those greens and add them to the bowl. And of course, everything is better with an egg on it, so the fried egg on top was a given.
But here's the thing about this recipe – like many of my other recipes for bowls, frittatas, and casseroles, anything really goes here. Depending on what's in your fridge, freezer, and pantry, what's in season, and what your family enjoys, you can turn this Savory Oatmeal Breakfast Bowl with Spinach, Mushrooms and Fried Egg into a savory oatmeal bowl with tomatoes, basil, and mozzarella or with zucchini, corn, and black beans. I can keep on going, but you get the idea.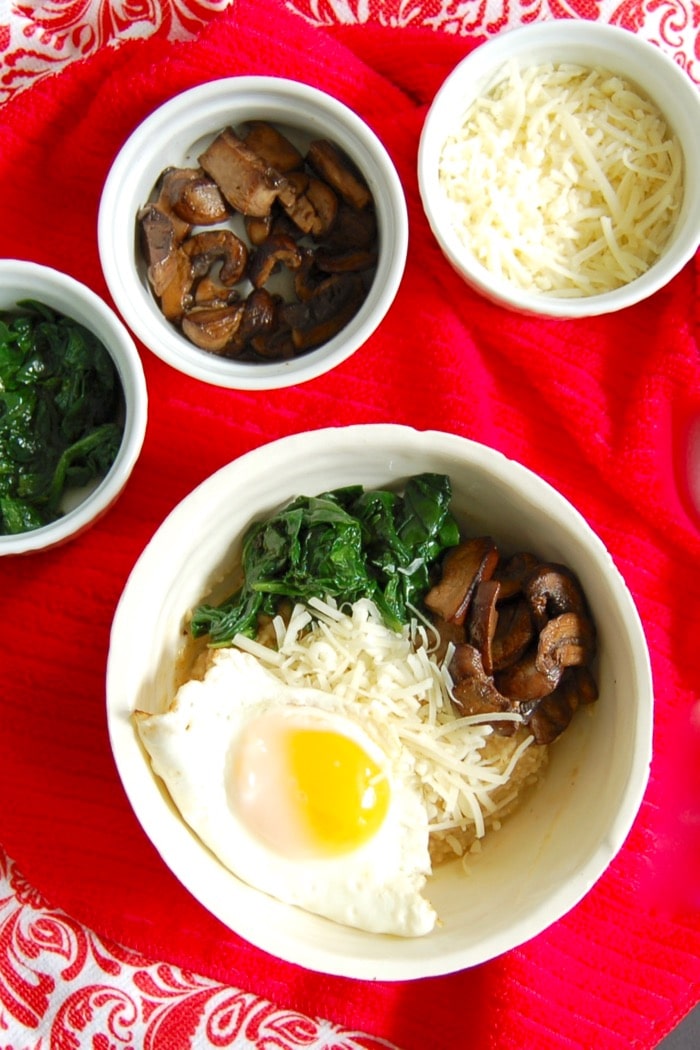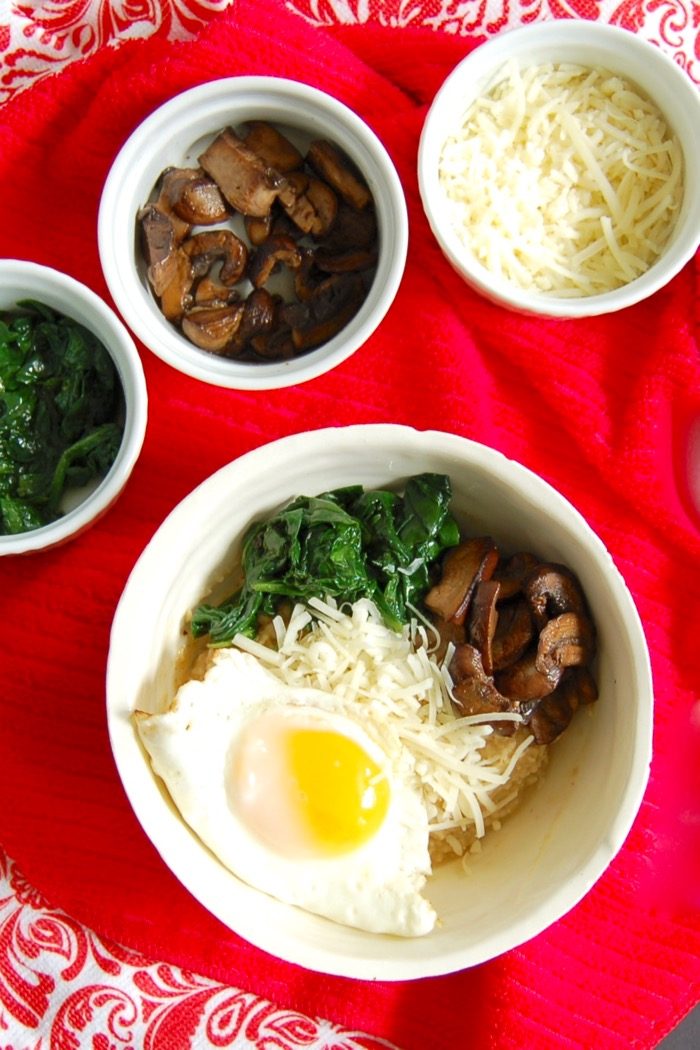 The other thing about this recipe that's really fun, especially for the kids, is to make an oatmeal bar with various toppings so everyone can have the bowl the way he or she wants. As I shared in a recent Facebook post, family-style meals can help more selective eaters try new foods and get more excited about what's offered.
Breakfast Bowl Meal Prep
Ok, now I know you're wondering how you'll have time to make this savory oatmeal breakfast bowl on a rushed school-day morning, and this is where meal planning really comes in. I do not have time to be sautéing veggies at 7 am – making a couple of fried eggs is even a stretch for me! But when I already have the sauté pan out for dinner the night before or when I'm doing some meal prep over the weekend, it takes only a few extra minutes to cook up those mushrooms and spinach. (Spinach literally takes a minute, at most!) Once your veggies are cooked, store them in resealable containers or cover bowls with plastic wrap and in the morning your microwave is your best friend.
The egg on the other hand, should be made fresh, but in the time it takes to cook the oatmeal (again, thank you to my time-saving microwave!), you can make a sunny-side up fried egg. And trust me, you want that runny yolk oozing onto your oatmeal for the added flavor and deliciousness that takes this bowl over the top.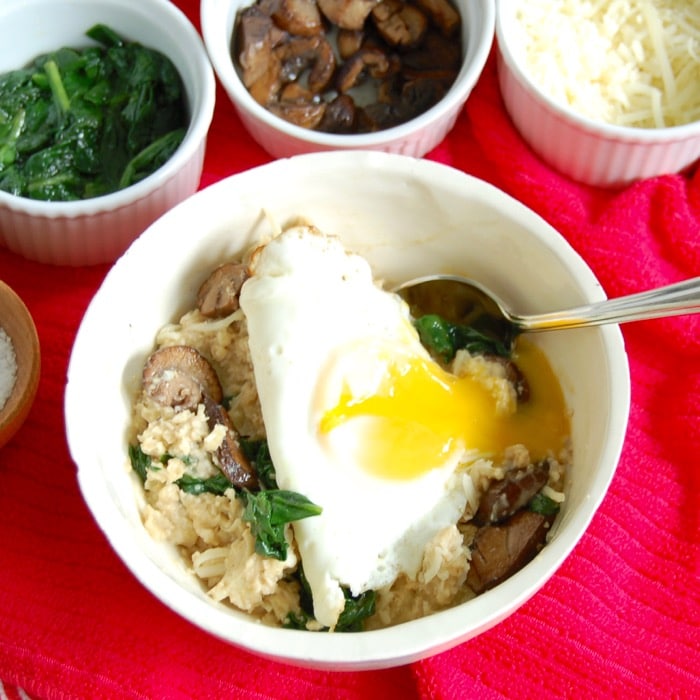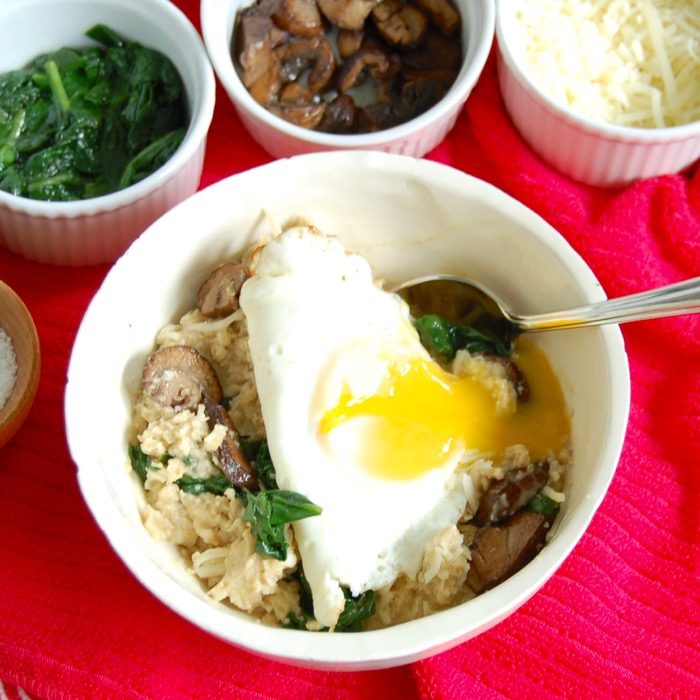 Now, if you really can't fathom the idea of cooking at all on weekday mornings (which I honestly really get), you can make one big batch of oatmeal and poach or hard boil some eggs in advance and reheat individual portions in the morning.
To make the oatmeal I use Quaker Quick 1-Minute Oats and low-sodium vegetable broth or water. I find the end result is a little bit more flavorful when using broth, but I'll leave that up to you to decide.
I should note that the 1-Minute Oats are nutritionally the same as old-fashioned oats – they have the same amount of calories, fiber, and protein. This is something people ask me about often, so I want to make sure I set the record straight. Especially since you'll be more likely to make your kids a bowl of oatmeal if it only takes a couple of minutes!
Alright, enough with the talk and tantalizing you with these mouth-watering pictures. Let's get to the recipe!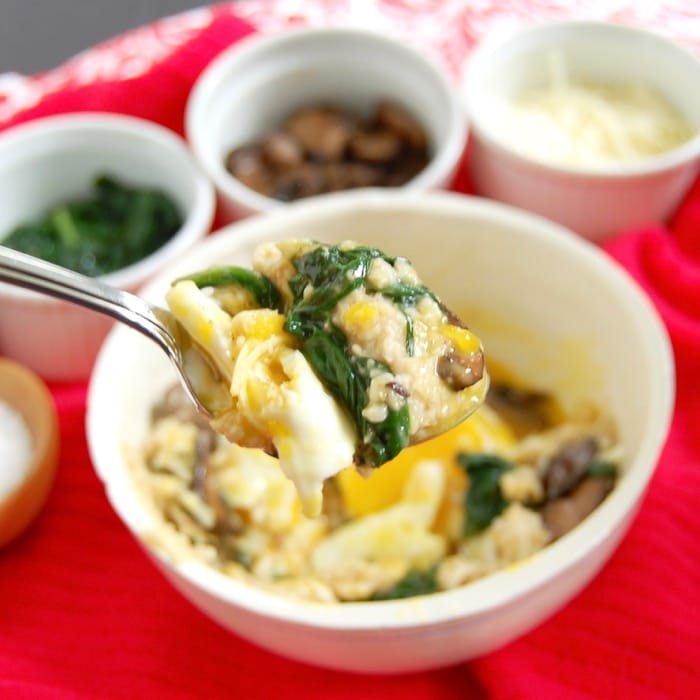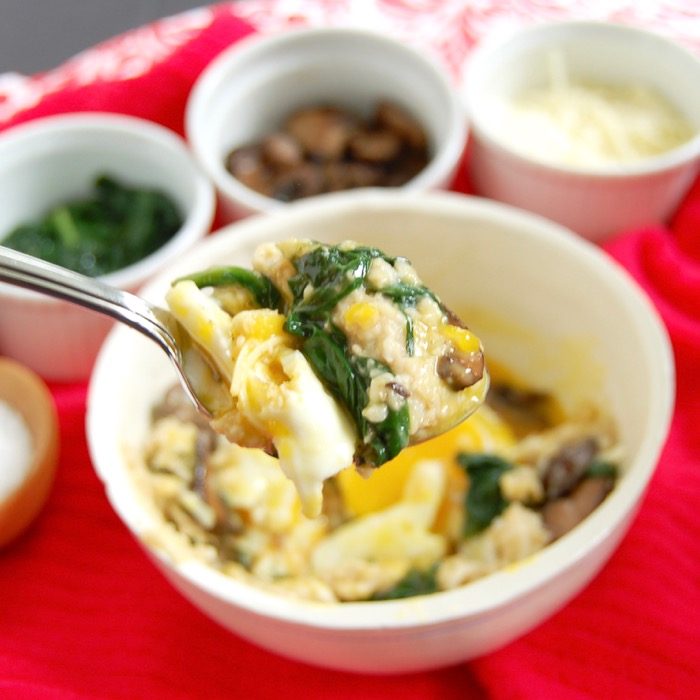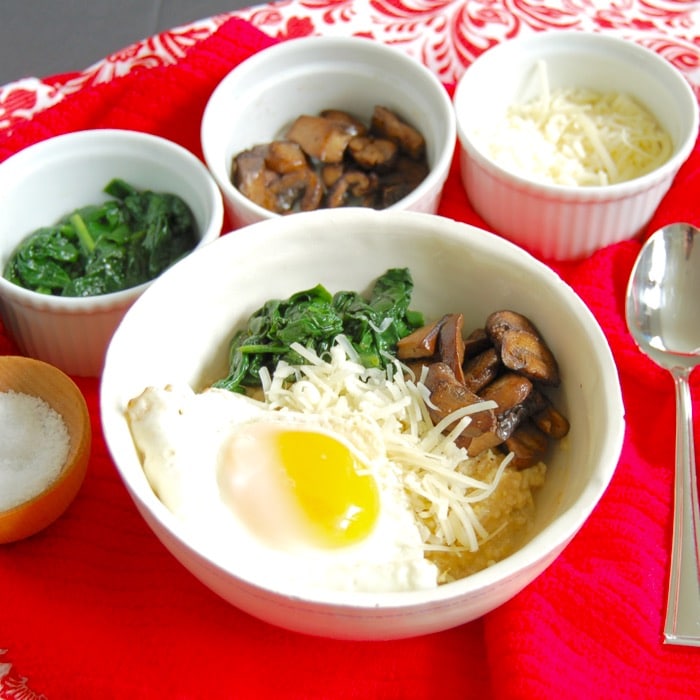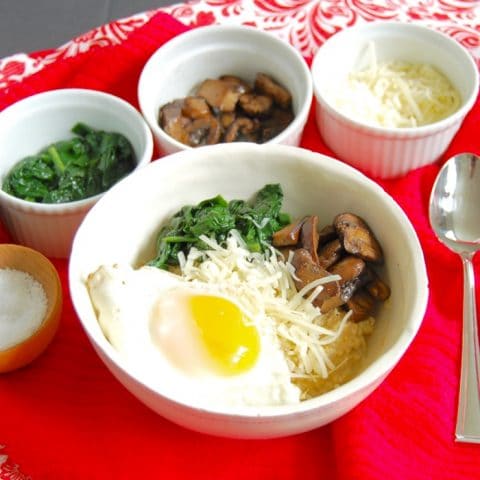 Savory Oatmeal Bowl with Spinach, Mushrooms, and Fried Egg
Start your morning with a filling and satiating bowl of savory oatmeal, rich in protein, fiber, and vegetables. This specific recipe calls for Parmesan cheese, sautéed spinach and mushrooms, and a fried egg, but change up the toppings depending on your family's preferences, what's on hand, and what's in season. Make an oatmeal bar so everyone can make his or her own bowl!
Ingredients
1 1/2 teaspoons olive oil,, divided
1 cup sliced baby bella mushrooms
1 1/2 - 2 cups baby spinach, (~2-3 big handfuls)
1 cup Quick 1-Minute Oats,, divided
1 1/2-2 cups low-sodium vegetable broth*, (or water)
2 large eggs
1/4 cup shredded Parmesan cheese, (or preferred cheese)
1/2 teaspoon Kosher salt,, divided (or to taste)
Freshly ground black pepper
Instructions
Heat 1 teaspoon olive oil in a small skillet over medium-high heat. When oil is hot, add mushrooms and sauté 3 to 4 minutes until softened and most of the water has evaporated. Transfer mushrooms to a bowl and set aside.
Return skillet to heat and coat with remaining 1/2 teaspoon olive oil. Add spinach to skillet and sauté until wilted, about 1 minute. Transfer spinach to a bowl and set aside with the mushrooms.
Working in two batches, combine 1/2 cup oats and 3/4 to 1 cup of broth* in a microwave-safe bowl. Cook at 70% power for 1 1/2 to 2 minutes, stirring halfway through cooking time, until oatmeal is desired consistency. Repeat with remaining oats and broth.
While the oatmeal is cooking, coat skillet with a drizzle of olive oil or cooking spray and place over medium heat. Crack one egg at a time into a small bowl and carefully slide into the skillet. Cover the pan and cook for 2 to 3 minutes until whites are set and yolk is cooked to desired doneness. You can flip for an over easy egg if you prefer a more well-done yolk.
To serve, stir shredded cheese into each bowl of oatmeal and top with cooked spinach, mushrooms, and fried egg.** Season with salt and pepper to taste and sprinkle with extra cheese if desired.
Notes
*Amount of liquid varies depending on preferred thickness of oatmeal. For thicker oatmeal, use less liquid; for thinner, more runny oatmeal, use more liquid.
**I added 2 tablespoons each of cooked spinach, mushrooms, and cheese to my oatmeal. This was definitely a very hearty and filling breakfast, so reduce portions as desired and save leftover vegetables for another use.
While this recipe is technically gluten free, make sure your oats are labeled gluten free if you have an allergy.
To make vegan, omit the cheese or use dairy-free cheese in place.
Nutrition Facts: 216 calories, 12 g total fat, 4 g saturated fat, 13 g carbohydrate, 2 g fiber, 1 g sugar, 13 g protein, 483 mg sodium
Nutrition Information:
Yield:

2
Serving Size:

2 Servings
Amount Per Serving:
Calories:

216
Have you made savory oatmeal yet?
What ingredients would you add to this bowl?
Share with me in the comments below!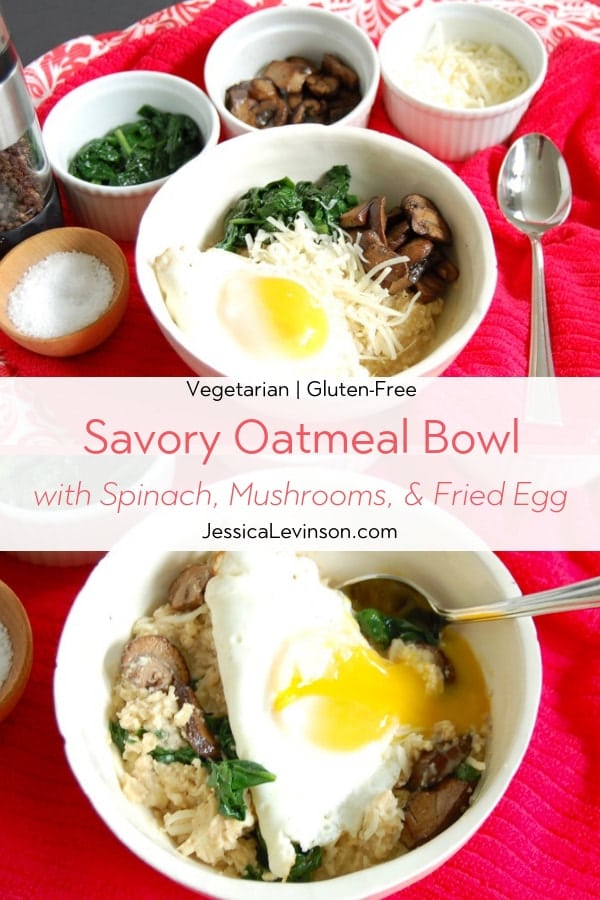 Disclosure: This page contains affiliate links. If you purchase products through these link, your cost will be the same but I will receive a small commission to help with operating costs of this blog. As always, all thoughts and opinions are my own and I only recommend products I truly believe in. Thanks for your support!