Health Benefits of Cocoa + Whole Grain Double Chocolate Muffins
February 9, 2017
Learn about the health benefits of cocoa and how to add more to your diet, starting with a recipe for Whole Grain Double Chocolate Muffins!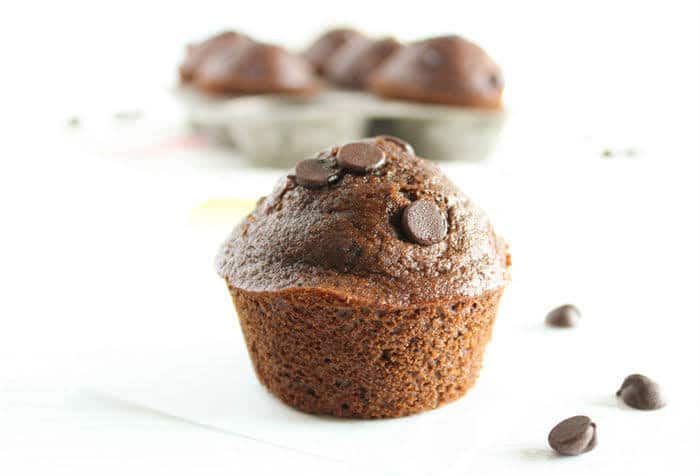 Valentine's Day always stirs up visions of flowers, candy, and most importantly, lots of chocolate! While you may think that all of those chocolate kisses (or these chocolate peanut butter truffles!) will cause chaos in your body, you'll be surprised to learn otherwise. Everyone's heard that chocolate causes weight gain, skin breakouts, and other ailments, but scientific research actually proves that chocolate, more specifically cocoa featured in these double chocolate muffins, has multiple health benefits.
Health Benefits of Cocoa: Antioxidants
Cocoa, derived from the cocoa bean, is rich in multiple polyphenolic compounds. It is most abundant in a subclass of polyphenols called flavanols, primarily catechin and epicatechin. Cocoa actually contains a higher concentration by weight of this class of flavanols than almost any other plant source.
Of course, the amount depends on the processing and production method, but a high quality cocoa powder can contain as much as 10% flavonoids. Dark chocolate contains a higher percentage of cocoa than milk chocolate, and therefore contains more flavonoids.
The flavonoids in cocoa and dark chocolate offer multiple health benefits. They act as antioxidants, scavenging free radicals, protecting against lipid oxidation and platelet aggregation, and boosting the immune response. When it comes to antioxidant content, the higher the percentage of cocoa, the better.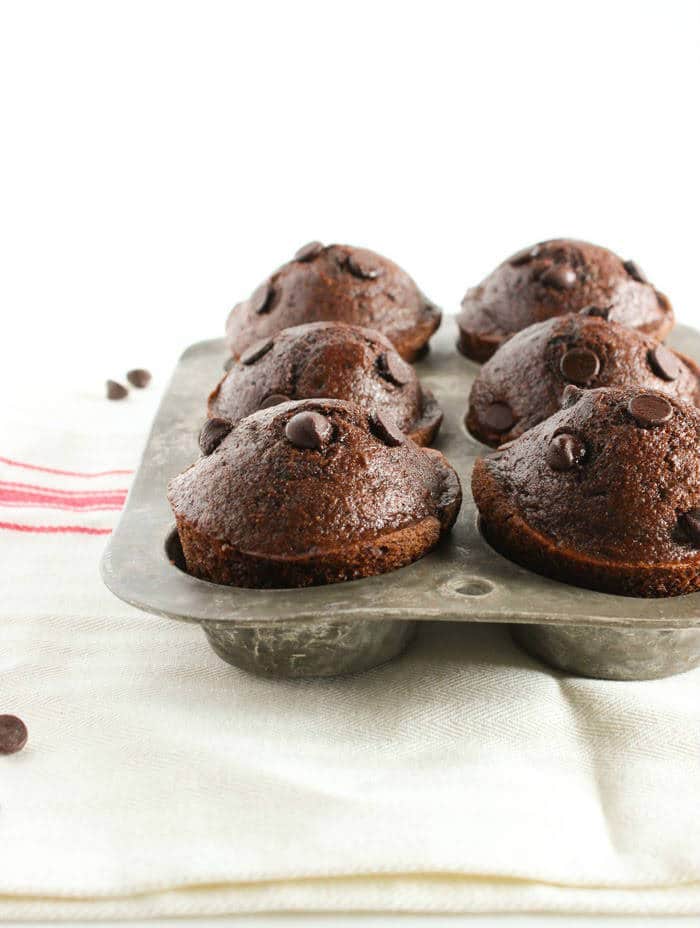 Health Benefits of Cocoa: Nutrient Content
In addition to antioxidants, cocoa contains many beneficial minerals, including blood pressure-lowering magnesium, calcium, potassium, and copper, as well as iron and phosphorus. In fact, dark and milk chocolate provide more of all of the above minerals per 100 calorie serving than apples, wine, black tea, or cranberry juice.
While cocoa butter is predominantly saturated fat, studies have shown that it may have a neutral effect on cholesterol because it is mainly stearic acid, which does not elevate blood cholesterol to the same extent of other saturated fatty acids.
The Bottom Line on Chocolate
What does this all mean for you? Well, for one thing, you don't have to swear off chocolate if you are trying to eat healthy! Chocolate can be part of an overall healthy diet, and may even provide multiple benefits.
If a piece of dark chocolate is your go-to dessert, then you are probably doing your heart a favor – and you definitely do not have to feel guilty about indulging in some cocoa every once in a while. Just remember that cocoa is beneficial in the context of a heart healthy diet and that the higher the cocoa content (the darker the chocolate) the better it is going to be for you!
You can start enjoying the health benefits of cocoa by making these delicious Whole Grain Double Chocolate Muffins. They make the perfect Valentine's Day breakfast treat or better-for-you dessert. They're made with cocoa powder and dark chocolate chips for an extra antioxidant punch.
Want to get even more benefit out of cocoa? Try adding unsweetened cocoa powder to smoothies, yogurt, quick breads, or oatmeal!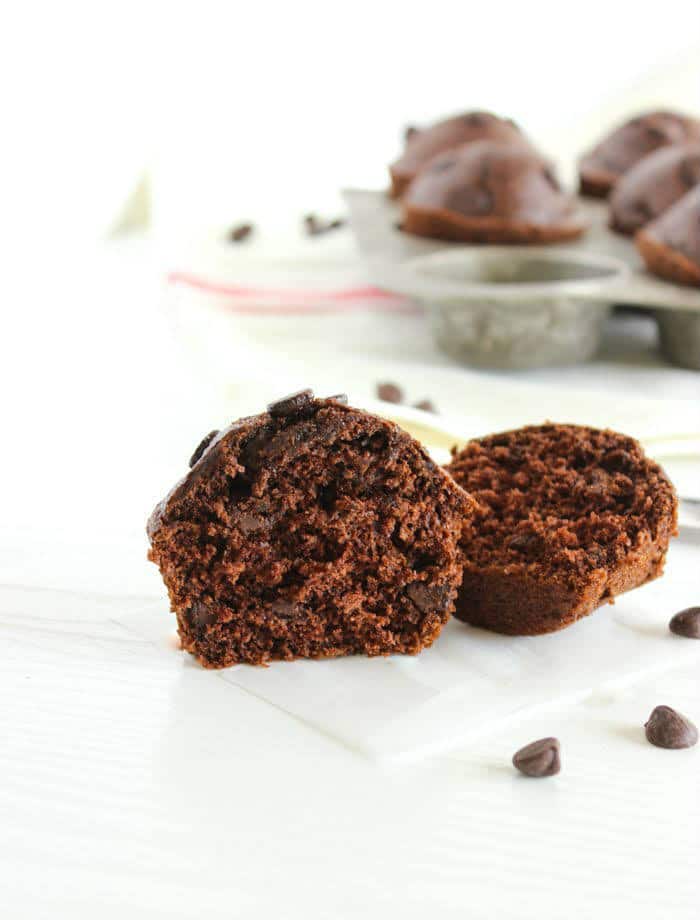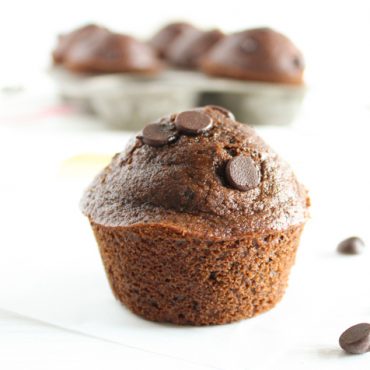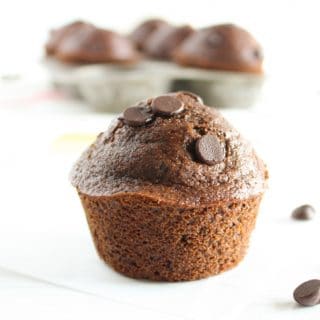 Whole Grain Double Chocolate Muffins
Delicious whole grain muffins with a double dose of chocolate that taste sinful but aren't! A great make-ahead breakfast treat or healthier dessert.
Ingredients
2 cups white whole wheat flour
2/3 cup granulated sugar
1/4 cup Dutch processed cocoa powder
1 teaspoon instant coffee granules
1 teaspoon baking soda
1 teaspoon baking powder
1/4 teaspoon table salt
2 eggs
1/4 cup canola oil
1 cup skim milk or milk of choice
1 teaspoon vanilla extract
2/3 cup dark chocolate chips
Instructions
Preheat oven to 350° F. Line a 12-cup muffin tin with liners or spray with cooking spray.
In a large bowl, combine flour, sugar, cocoa powder, coffee granules, baking soda, baking powder, and salt.
In a separate bowl, whisk together eggs, oil, milk, and vanilla.
Add wet ingredients to dry ingredients and stir until just combined, being careful not to over-mix. Gently stir in chocolate chips.
Scoop 1/3 cup of batter into each muffin cup. Bake for 20 minutes or until a toothpick inserted into the center of muffins comes out clean.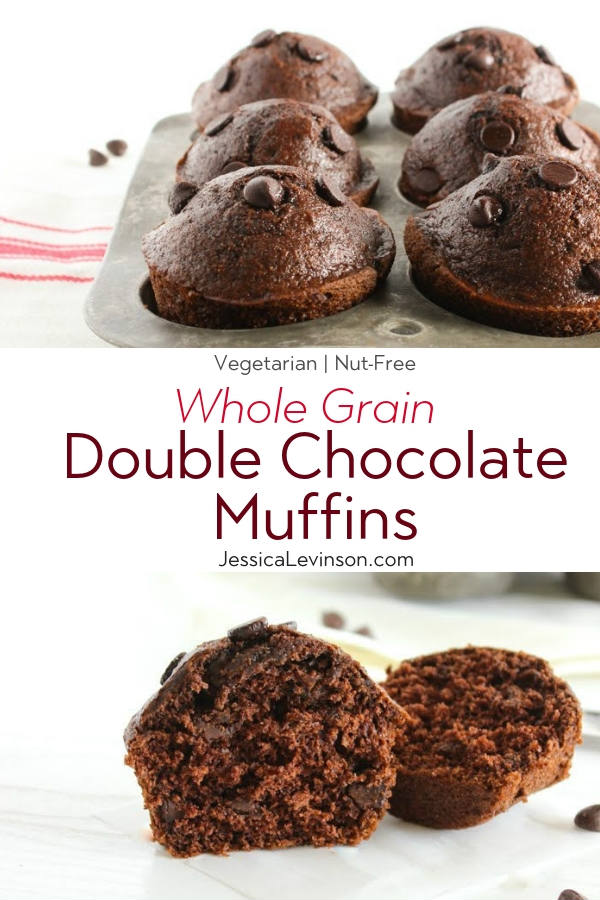 What is your favorite way to use cocoa?
Share with me in the comments below!