Menu Plan Monday: May 8, 2107
May 8, 2017
Get the latest happenings at Small Bites by Jessica, this week's Link Love, and Menu Plan Monday all in one place!
Latest Happenings:
Happy Monday! Did you have a great weekend? I sure hope so! Perhaps you did some celebrating for Cinco de Mayo or the Kentucky Derby?
We hosted a dinner party Saturday night and had a semi-Cinco de Mayo themed menu including ceviche, esquites, strawberry arugula salad, roasted fish with watermelon salsa and citrus salsa, and my corn and black bean quinoa salad.
I also wanted to incorporate some seasonal ingredients, so I made crostini using my Minty Pea Dip, roasted asparagus, and made some spicy strawberry rhubarb margaritas. Oh and a strawberry rhubarb crisp for dessert – a la mode of course!
It was quite a delicious feast but lots of work, so yesterday I got the day off from cooking – I didn't even do any meal prep! But I'm back at it today and this week's menu is a continuation of Mexican-themed meals! Check out the menu below, but first take a look at this week's Link Love!
Articles:
How to Food Prep Without Spending an Entire Day in the Kitchen @ C It Nutritionally
⇒ A great follow up to my meal planning tips. Chelsey shares 8 tips for getting meal prep done without using up all your free time. #4 is an especially important point!
3 Picky Eater Strategies that Work @ Sarah Remmer,RD
⇒ If you struggle with feeding your kids, take a look at this article. Lots of good advice.
14 Kitchen Gifts for Mother's Day @ The Every Kitchen
⇒ Not sure what to get mom for Mother's Day? Lots of fun ideas here (I see a few I wouldn't mind getting either!).
Recipes:
Dinner on the Table in 30 Minutes or Less @ Nutri Savvy Health
⇒ Need help meal planning? This recipe roundup is perfect for those busy weeknights!
45 Healthy One-Dish Dinners @ Bite of Health Nutrition
⇒ Another great recipe roundup perfect for weeknights when you don't want to be busy doing a bunch of dishes!
Orange Pecan Farro Salad @ Queen of My Kitchen
⇒ Farro is one of my favorite grains, so grain salads like these always appeal to me. I love the various flavors and textures in this salad.
Spring Grain Salad with Fava and Fennel @ The Foodie Dietitian
⇒ Another delicious grain salad perfect for the spring!
Roasted Baby Potatoes with Pesto @ The Organic Kitchen
⇒ I'm not the biggest potato fan, but I do like well-done, crispy roasted potatoes and French fries. And I definitely love pesto!
Southwest Roll Ups @ Veggie Inspired
 ⇒ These fun little sandwiches look like they would be perfect for packing in lunchboxes!
25 Banana-Free Smoothie Recipes @ C It Nutritionally
⇒ If you know me, you'll know I'm not a big fan of bananas. It kills me how many smoothie recipes include bananas, so I was super excited to see this list of banana-free smoothie ideas to give a try!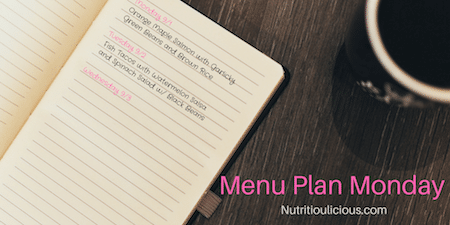 Menu Plan Monday: Week of May 8, 2017
Monday: 
Lunch: Leftovers from my dinner party (Esquites, corn & black bean quinoa salad, roasted asparagus, olives)
Dinner: Sweetpotato Black Bean Quesadillas and Strawberry Arugula Salad with Jicama
Tuesday: 
Lunch: Beets & goat cheese, sliced veggies, fruit
Dinner: Fish Tacos with Watermelon Salsa and Corn on the cob
Wednesday: 
Lunch: Leftover fish with watermelon salsa and corn
Dinner: Mint & Radish Greens Pesto Pasta with Peas and Roasted Radishes + Red Cabbage and Snap Pea Salad
Thursday: 
Lunch: Quick & Easy Tuna Edamame Salad with fruit and crackers
Dinner: Leftovers
Friday: Takeout
What's on your menu this week?
Please share with me below or on social media!