Menu Plan Monday: December 11, 2017
December 11, 2017
The latest happenings, Link Love, and this week's menu plan!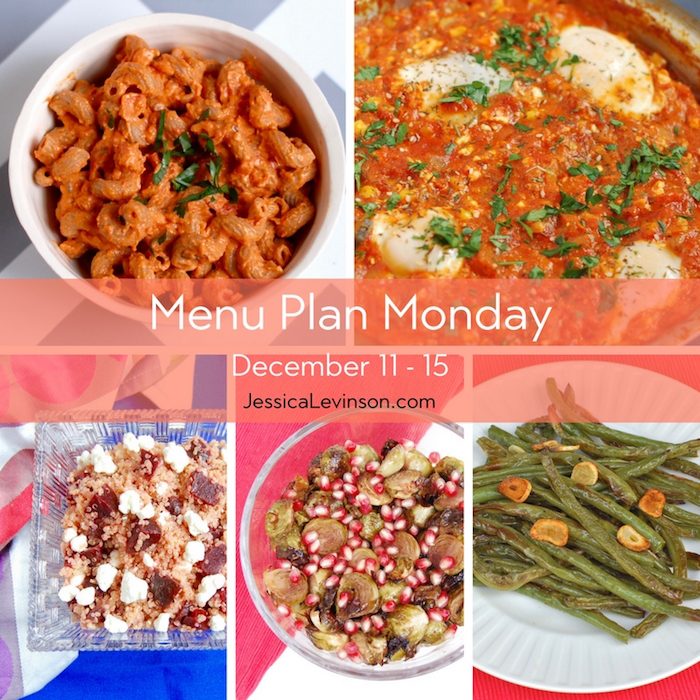 Latest Happenings:
Happy Monday everyone! I have to apologize for the lack of Menu Plan Mondays the last few weeks. I've had the best intentions of sharing them with you all, but in an effort to spend less time on my computer, iPhone, and iPad and more time with my family over the weekend, I have a lot more to catch up on come Monday. I do still hope to share my menus with you as often as possible, but figuring out the balance of work and life beyond work is a priority for me right now.
You can always take a look at my Menu Plan Monday archives to see past menus if you need inspiration. And for those of you who really want to take the guesswork out of meal planning, I highly recommend joining The Six O'Clock Scramble, an online family meal planning service featuring seasonal, healthy, family-friendly meals.
Speaking of meal planning, the cover story of this month's Today's Dietitian Magazine is my feature article about meal planning for the holidays and it includes six delicious plant-based appetizer recipes. Hope you take a few minutes to click through and read it!
For some more interesting reads and yummy recipes, check out this week's link love!
Link Love Articles:
Grass-Fed vs. Grain-Fed Beef: What's the Difference? @ Sound Bites  
⇒ This is a topic that causes a lot of confusion. I learned the difference on a tour of a cattle farm a few years ago, but here is a great rundown from firsthand experience.  
The Truth About Soy & Cancer @ Whitney E. RD
⇒ Another hot topic! Great science-backed myth busting here. Don't be afraid to eat soy-based foods (like my grilled tofu!).
I'm a Dietitian and 'Eating Clean' Worries Me. Here's Why @ Parents Magazine
⇒ I couldn't have summed up my opinion about clean eating any better. Food should be enjoyed, not feared. Let's stop with the dichotomy of good (clean) vs bad (dirty) food.
How to Simplify Your Holiday Meals @ Street Smart Nutrition
⇒ Great tips in this post, including a few more for meal planning, and an important point about it being ok to outsource some food!
Link Love Recipes:
Instant Pot Sesame Chicken Noodle Soup @ Sinful Nutrition
⇒ Chicken soup on under 30 minutes? Yes please! We finally just got an instant pot and I cannot wait to make this recipe (sans the spice for the kids).
Turmeric Chicken @ Healthy Laura
⇒ I've been cooking with turmeric a lot more lately and it's been going over quite well with the kiddos. Can't wait to give this a try!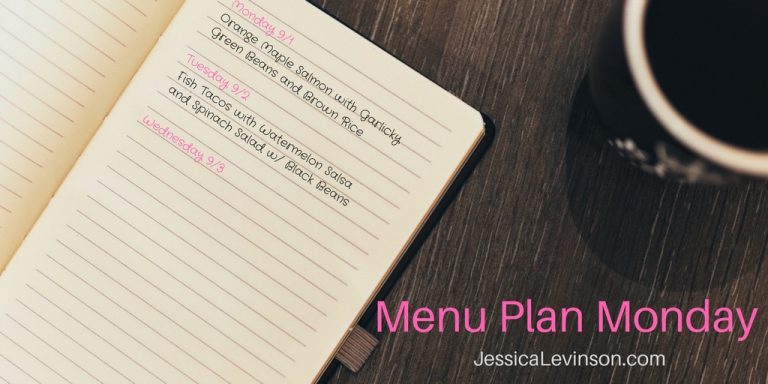 Menu Plan Monday: Week of December 11, 2017
Monday: 
Snack: String cheese and clementine
Lunch: Smoked Salmon Cucumber Pinwheels, cucumbers/tomatoes, and grapes
Dinner: Quick and Easy Creamy Roasted Red Pepper Tomato Pasta with Roasted Garlicky Green Beans (leftover from the weekend) and Trader Joe's Veggies & Greens Salad kit
Tuesday: 
Snack: Popcorn and roasted edamame trail mix
Lunch: Beet & Goat Cheese Quinoa Salad with sliced veggies and orange smiles
Dinner: Shakshuka (making it with fennel, peppers, and shredded Brussels sprouts) and Greek Salad
Wednesday: 
Snack: Rice cakes, sliced veggies, and spreadable cheese
Lunch: Leftover Creamy Roasted Red Pepper Tomato Pasta, veggies, pomegranate seeds
Dinner: Miso Glazed Salmon (same sauce, just making salmon instead of chicken) with Roasted Root Vegetable Salad with Pomegranate Ginger Dressing
Thursday: 
Snack: Asian pear and pumpkin seeds
Lunch: Leftover salmon and roasted root vegetables
Dinner: TBD – leftover shakshuka or takeout
Friday: 
Snack: Peruvian Inca Corn and grapes
Lunch: Tomato mozzarella skewers, olives, and apple slices
Dinner: Herbed cranberry chicken with Roasted Brussels Sprouts with Pomegranate Glaze
What's on your menu plan this week?
Please share with me below or on social media!
Disclosure: This page contains affiliate links. If you purchase products through these link, your cost will be the same but I will receive a small commission to help with operating costs of this blog. As always, all thoughts and opinions are my own and I only recommend products I truly believe in. Thanks for your support!