Grilled Tofu with Cilantro Avocado Cream Sauce
November 29, 2017
Top crispy grilled or broiled tofu with a smooth and delicious dairy-free cilantro avocado cream sauce. A quick and easy weeknight meal to enjoy all year long.

This page contains affiliate links. See below for full disclosure.
I owe you guys a big apology. I've been keeping this cilantro avocado cream sauce to myself since the summer and it's really about time I let you in on one of the easiest and most delicious recipes I've made. Although I served the sauce with tofu, if you're not a tofu fan, don't click over to a different page just yet.
This sauce goes great on almost any other protein. Try it with chicken, salmon, halibut, beef, turkey…I'd dare say it even works with shrimp, but since I keep kosher, you'll have to try that one yourself!
Making the Tofu
The ingredients list for this recipe isn't too long and if you do a lot of Asian-style cooking, you may already have most of what you need on hand. I highly recommend you use extra firm tofu for this dish and, to keep the cook and prep time under half an hour, drain the tofu the night before or first thing in the morning and marinate it early in the day. This way, when your kids start clamoring for dinner, all you have to do is cook it up – no prep needed.
The marinade I use here is very similar to the one I use for the crispy baked tofu in my Asian-Style Farro Buddha Bowl. I include grated ginger in this marinade and before you balk at the thought of taking out your microplane zester to grate fresh ginger, I highly suggest you keep a tube of grated ginger in your refrigerator. Trader Joe's used to sell one in the condiments aisle, although lately I haven't seen it there, but many mainstream supermarkets carry the Gourmet Garden version.
Once the tofu is marinated, cooking it up is super quick, especially if you're using the grill or a grill pan. Throughout the summer I made the tofu on my outdoor grill and it only required 3 to 4 minutes total for it to be done. Now that it's cold outside I make the crispy tofu in the oven on the broiler setting, which takes about 8 minutes total – still pretty darn quick and hands-off. If you have a cast iron skillet, you could use that as well, just watch the timing since I haven't tried that cooking method yet.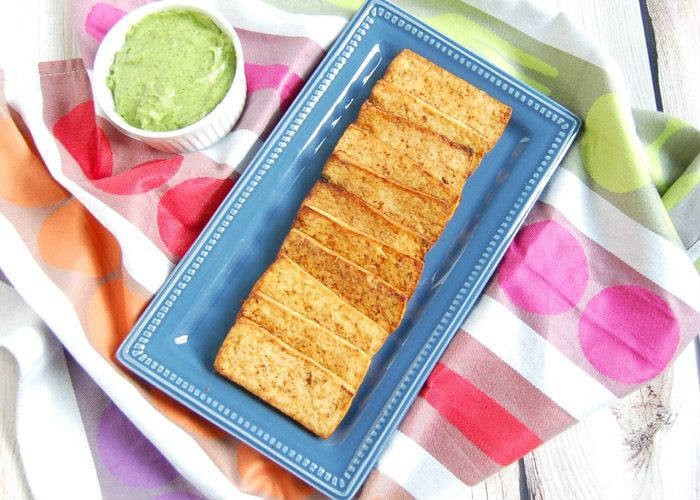 Making Cilantro Avocado Cream Sauce
Now that we're set with the tofu let's get to the real highlight of this dish – the Cilantro Avocado Cream Sauce. You may be thinking "Jessica, this is just guacamole, why are you making such a big deal?!" I'm telling you this is not just some mashed avocado with lime and salt.
This isn't your typical sauce that flows quickly out of a gravy boat and it's not as thick as your traditional guac. It falls somewhere in between, and thanks to the food processor it has a smooth, velvety consistency that will make you want to eat it by the spoonful.
The best thing about the cilantro avocado cream sauce is that it's creamy without any dairy, which these days it seems like more and more people need to limit or avoid. (Personally I love my dairy, but since I keep kosher, it does help to have dairy-free sauces I can use for multiple dishes.) Oh, and it's also a great way to use overripe avocados – don't fret if there's some brown – the lime and cilantro will help it magically disappear!
What to Pair with this Tofu Dish
As prepared below, this is a vegan and gluten-free recipe that pairs well with any roasted veggies and grain of your choice. (In the pics here I served it on top of miso-roasted vegetables, but peruse my side dishes for more ideas.) As I mentioned above, if tofu isn't your thing, feel free to swap in whatever protein you prefer, just keep in mind cooking times will vary for meat, poultry, and fish.
I'd love to know if you give this quick and easy weeknight dinner a try and what you think!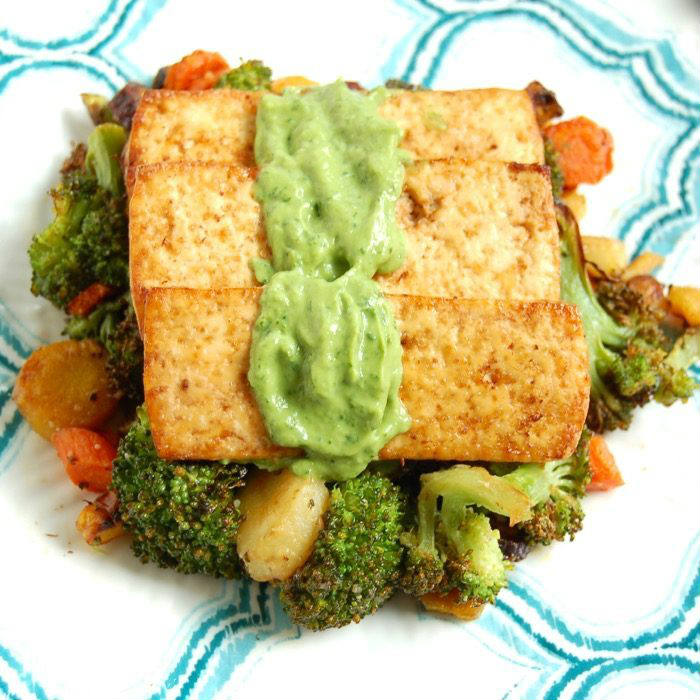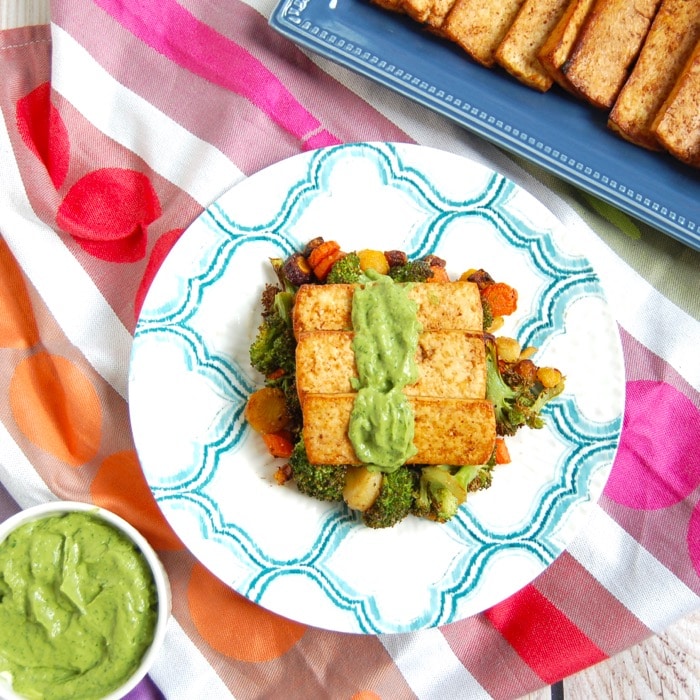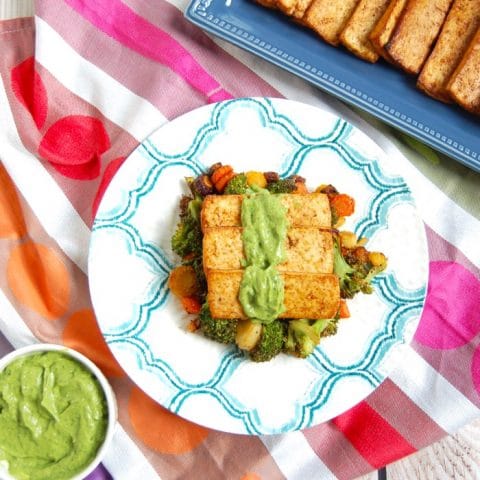 Grilled Tofu with Cilantro Avocado Cream Sauce
Grilled or broiled tofu is topped with a smooth and delicious cilantro avocado cream sauce that's vegan and gluten-free. Ready in under 20 minutes (not including marinating time), this is a perfect weeknight dinner for the family.
Vegan, Gluten-Free, Kosher, Nut-Free
Ingredients
For the Tofu:
1 pound extra firm tofu, drained and pressed* (see Notes below)
2 tablespoons low-sodium soy sauce (or tamari for gluten-free)
1 tablespoon unseasoned rice vinegar
1 tablespoon lime juice
1 teaspoon grated ginger
oil or cooking spray for grill or broiling rack
For the Cilantro Avocado Cream Sauce:
1 small avocado, pitted and peeled (~4 ounces)
1/2 cup packed cilantro, stems included (~1 ounce)
2 tablespoons lime juice
1 clove garlic, crushed or 1 teaspoon grated garlic
1/4 teaspoon kosher salt
2 tablespoons water, if needed
Instructions
For the Tofu:
Cut drained tofu into 1/4 inch slices and place in a bowl or a sealable container.
Whisk together the soy sauce, rice vinegar, lime juice, and grated ginger. Pour over sliced tofu and toss to coat. Cover bowl or container and refrigerate for at least 30 minutes.
If using a grill, brush grill with oil or coat with cooking spray and heat to about 400 degrees. If using broiler, turn on broiler to highest setting and prepare your broiler pan or rack. I line a baking sheet with foil and place a broiling/roasting rack coated with cooking spray on top.
Remove tofu slices from marinade, reserving the marinade, and grill or broil.
If grilling: place tofu slices on grill for 1 1/2 to 2 minutes. Brush tofu with reserved marinade, flip, and grill another 1 1/2 to 2 minutes. Transfer tofu to a plate and brush with remaining marinade.
If broiling: place tofu slices on rack and broil on top oven shelf for 4 minutes. Brush tofu with reserved marinade, flip, and broil another 4 minutes. Transfer tofu to a plate and brush with remaining marinade.
Serve grilled or broiled tofu topped with Cilantro Avocado Cream Sauce.
For the Cilantro Avocado Cream Sauce:
Add avocado, cilantro, lime juice, garlic, and salt to a food processor and blend until smooth and well combined. Add water as needed to thin the sauce, and puree to desired consistency. Transfer to a bowl and use immediately. (To reserve the sauce, top with a teaspoon or two of water and cover tightly with a container top or saran wrap.)
Notes
Total prep and cook time does not include the time for draining and marinating the tofu.
Directions to drain tofu:
If you have a tofu press, place block of tofu in the press and refrigerate for 15 to 20 minutes. 
If you do not have a press, you can press the tofu after you slice it. Lay a couple of sheets of paper towel on top of one another on a cutting board. Place the slices of tofu on the paper towels with another two sheets of paper towel on top. Place a heavy object, such as a baking sheet, on top of the towel-covered tofu and let rest for 15 to 20 minutes.
Note: I usually drain the tofu overnight and add marinate it in the morning.
Recommended Products
As an Amazon Associate and member of other affiliate programs, I earn from qualifying purchases.
Nutrition Information:
Yield:

4
Amount Per Serving:
Calories:

217
Total Fat:

17g
Saturated Fat:

2g
Trans Fat:

0g
Unsaturated Fat:

14g
Cholesterol:

0mg
Sodium:

404mg
Carbohydrates:

8g
Fiber:

5g
Sugar:

1g
Protein:

13g
Nutrition information was calculated by Nutritionix. It may not be 100% accurate.
What would you put this Cilantro Avocado Cream Sauce on top of?
Share with me in the comments below!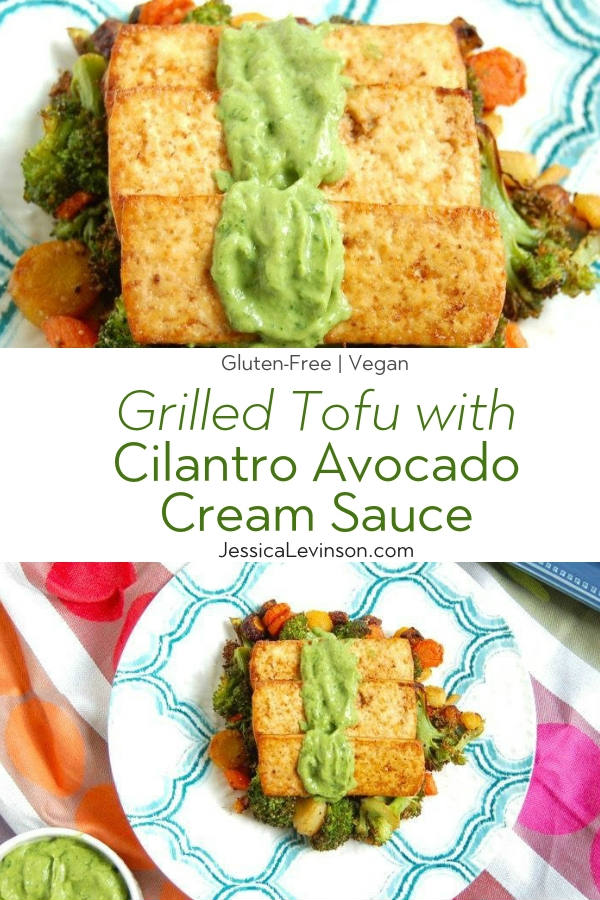 Disclosure: This page contains affiliate links. If you purchase products through these link, your cost will be the same but I will receive a small commission to help with operating costs of this blog. As always, all thoughts and opinions are my own and I only recommend products I truly believe in. Thanks for your support!