Roasted Garlicky Green Beans
April 15, 2011
Roasted Garlicky Green Beans are a crisp and delicious side dish – you'll never look at green beans the same way again!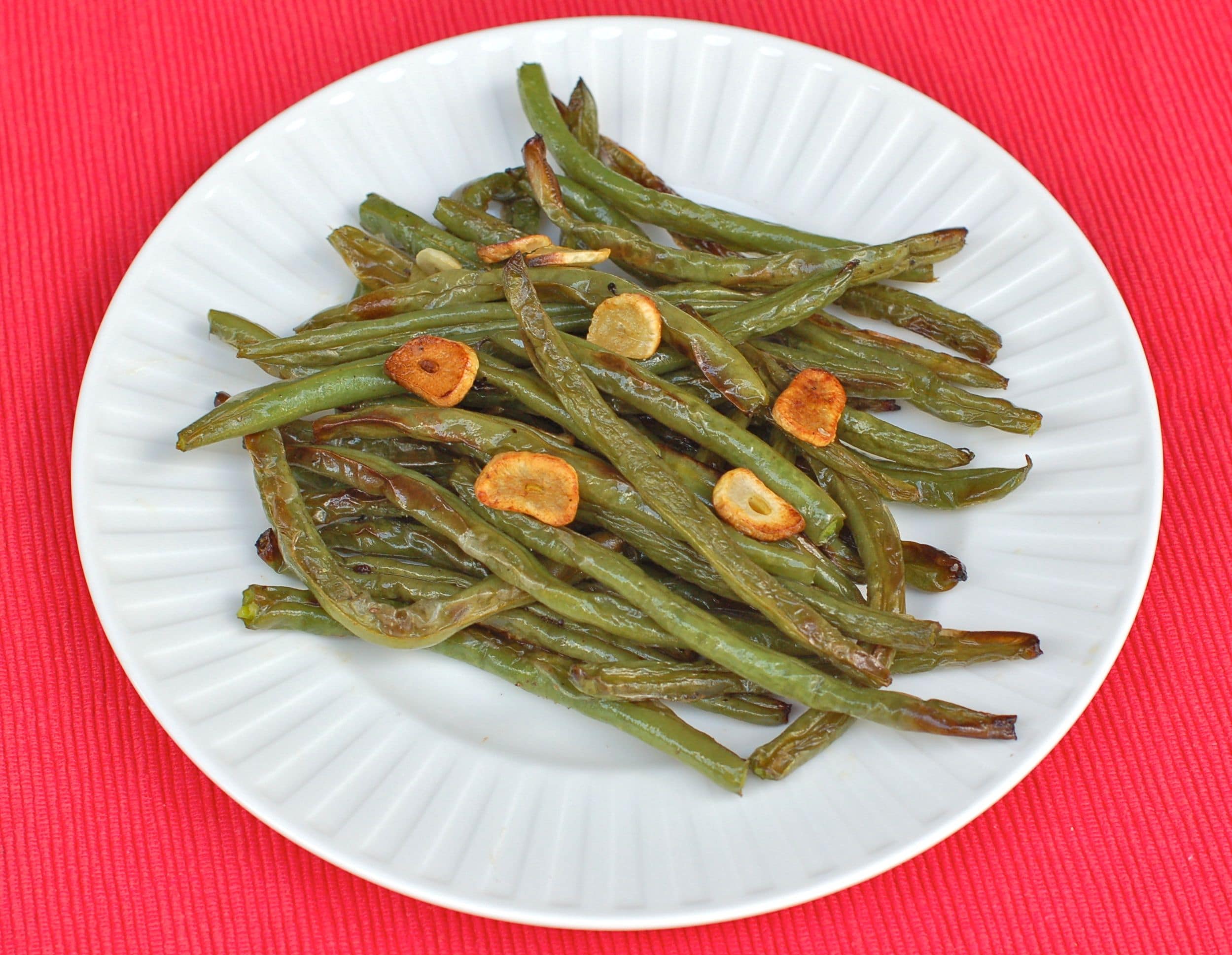 Before I had kids I was at an Italian restaurant for dinner and ordered "Burnt Green Beans." I didn't really know what it was when I ordered it, but the waiter said that they were just very well done green beans (aka string beans) sautéed with oil and garlic. That sounded pretty darn good to my fellow diners and me – I mean how can you go wrong with olive oil and garlic?! Turns out they were delicious, especially the chunks of garlic dispersed throughout. I knew I needed to make them as a side dish at home!
Ingredients & Preparation
In an effort to make the green beans healthier and an easy recipe, I decided to roast the green beans, rather than sautéing them, which would involve more hands on time, and likely more oil too. Plus, roasted veggies are the best, especially the crispiest ones!
You really can't get easier than this recipe for a weeknight side dish. You only need five ingredients, and if you do any cooking at home, odds are you have three of the five always on hand (salt, pepper, and olive oil). In fact, if you're anything like me, and use garlic for almost every recipe you make, you probably only need to remember to get a pound of green beans when you do your weekly food shop!
These Roasted Garlicky Green Beans have been one of my go-to, quick and easy side dishes for years. It's a favorite of everyone in my family and guests as well. Those crispy, yet slightly chewy, pieces of thinly sliced garlic add the perfect textural balance to the green beans and are everyone's favorite part of the dish. I often add more garlic since my girls now want those crispy bits just as much as I do!
Whether you're serving fish, chicken, beef, or pasta, these green beans are a perfect side dish to round out a balanced plate. Just pop them in the oven about 15 minutes before you're ready to serve dinner and you're done!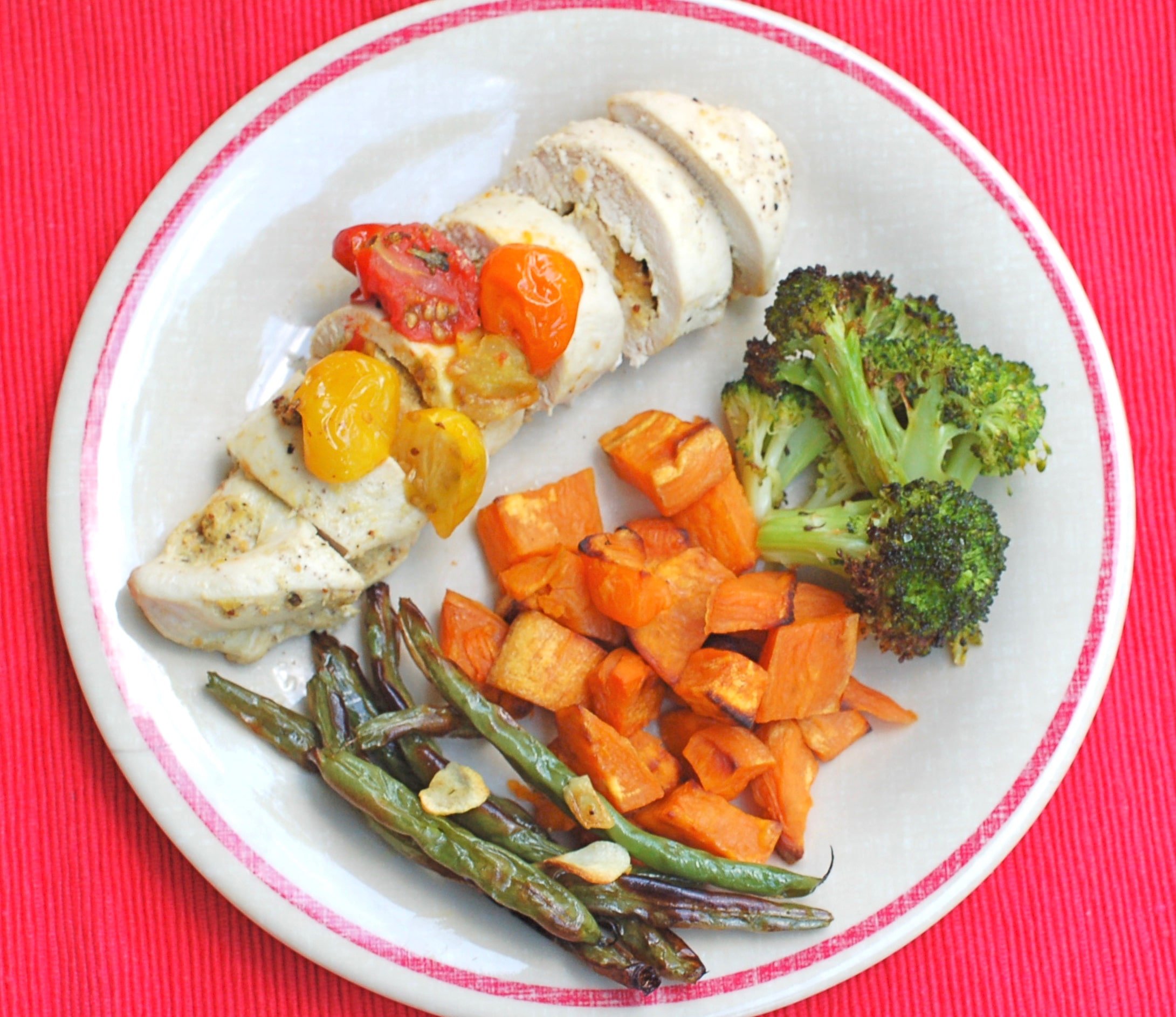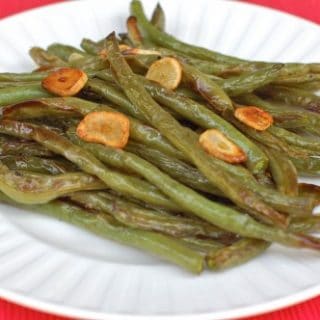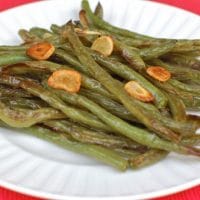 Garlicky Green Beans
Take green beans to another level by roasting them with sliced garlic. Crisp and delicious, you'll never look at green beans the same way again!
Ingredients
Cooking spray

1

pound

green beans,

washed and trimmed

3

cloves

garlic,

sliced thin

2

teaspoons

olive oil

1/2

teaspoon

Kosher salt

Freshly ground black pepper,

to taste
Instructions
Preheat oven to 425 degrees F. Line a baking sheet with foil and coat with cooking spray.

Toss green beans with olive oil on baking sheet and spread in one layer. Roast in the oven for 8 minutes, stir, toss in sliced garlic, and roast another 7 to 8 minutes until the garlic is crisp and browned, but not burnt.

Remove from oven and season with salt and freshly ground pepper, to taste.

Do you like green beans?
How do you like to cook them?
Share with me in the comments below!