Menu Plan Monday: April 30, 2018
April 30, 2018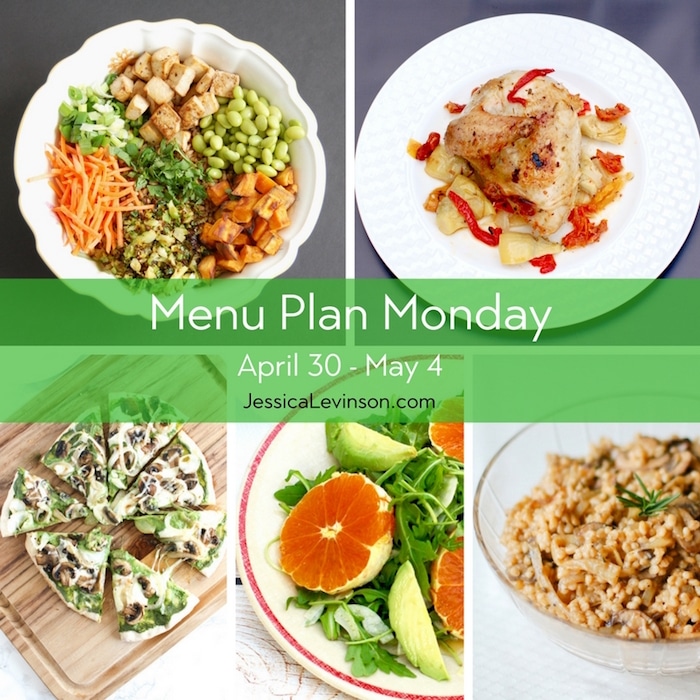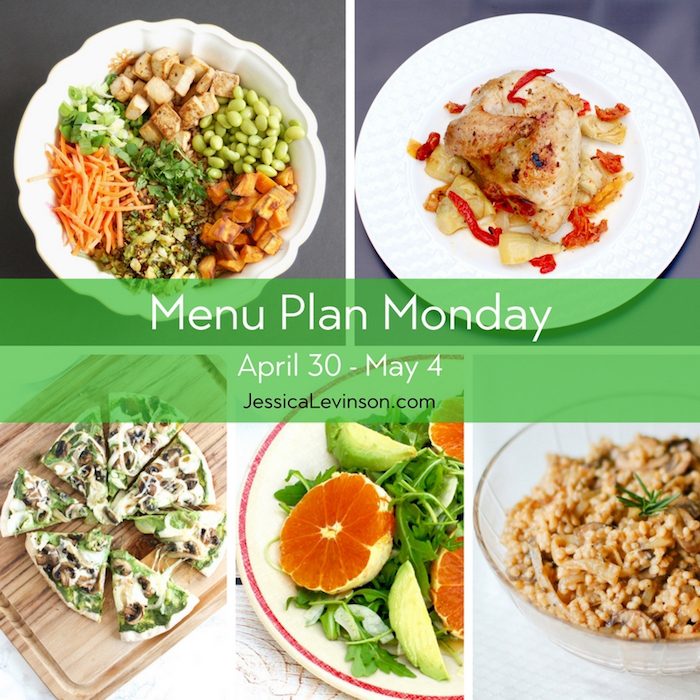 Latest Happenings
Spring weather is finally here and I'm excited for all the new fruits and veggies of the season to hit the produce section at my local supermarkets. I mentioned a couple of weeks ago on Facebook that I was having trouble finding rhubarb, but it's finally popping up and yesterday – to my daughters' delight – I made a batch of my Rhubarb Ginger Lemon Muffins in mini-muffin form. Unfortunately some of my other spring favorites like radishes aren't yet available, but hopefully soon.
Speaking of produce, does the Dirty Dozen list make you nervous about buying non-organic fruits and veggies? If so, please read this post from my archives about why you can calm down about it. I'd love to hear your thoughts on this topic – share with me in the comments below or on that post.
Now for this week's menu. I have to say I've been feeling a little uninspired in the kitchen lately, so if you have any favorite recipes your family loves, please share them with me. I'd love to try something new! In the meantime, check out below what's going to be on our table!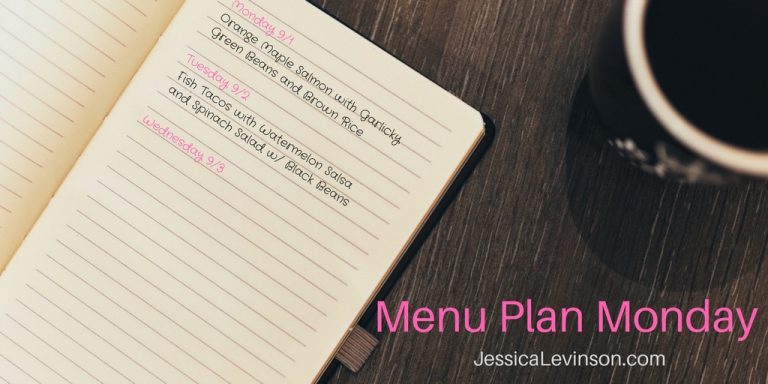 Menu Plan Monday: Week of April 30, 2018
Monday: 
Snack: Kiwi and mini Rhubarb Ginger Lemon Muffins
Lunch: Beet and Goat Cheese Quinoa Salad with cucumbers/tomatoes, strawberries, and chocolate covered roasted chickpeas
Dinner: Pesto Pasta Salad with Peas and Sun-Dried Tomatoes (variation on this recipe, but couldn't find radishes)
Tuesday: 
Snack: Grapes and roasted chickpeas
Lunch: Mayo-Free Tuna Hummus Sandwich with veggies and sliced apples
Dinner: Asian-Style Farro Buddha Bowl with Crispy Baked Tofu (with broccoli, brussels sprouts, sweet potatoes)
Wednesday: 
Snack: Hummus, veggies, and rice cakes
Lunch: School lunch
Dinner: Leftover pasta and/or Buddha bowl
Thursday: 
Snack: Popcorn trail mix
Lunch: Smoked salmon cucumber roll up with veggies, and orange smiles
Dinner: Mushroom Onion Pesto Pizza with Truffle Oil, Citrus Fennel Salad, and Artichokes Vinaigrette
Friday: 
Snack: Peruvian Inca corn and grapes
Lunch: School lunch
Dinner: Roasted Chicken with Artichokes, Peppers, & Sun-Dried Tomatoes and Mushroom Onion Barley
What's on your menu plan this week?
Please share with me below or on social media!