Nicoise Pasta Salad
September 16, 2020
Take the classic French salad for a spin with this quick and easy Nicoise Pasta Salad. A perfect weeknight dinner the whole family will love!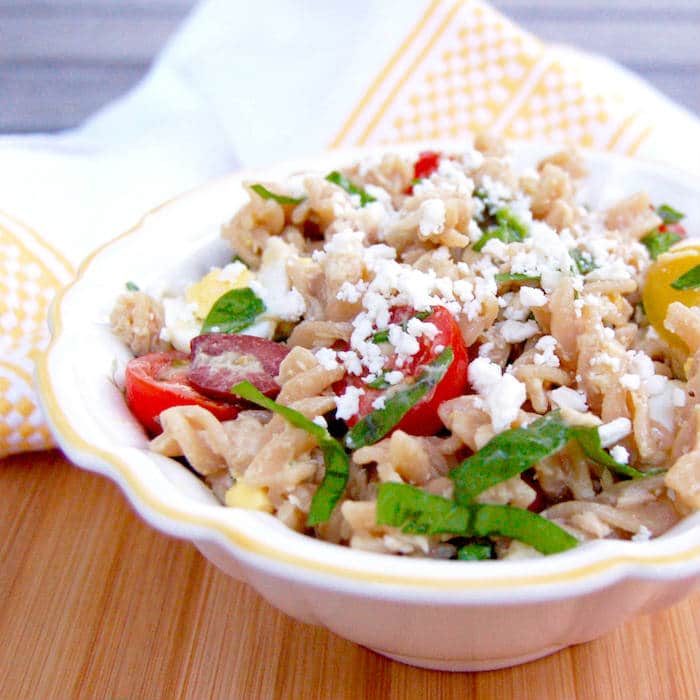 Originally posted December 2016; updated September 2020. This page contains affiliate links. See below for full disclosure statement.
Do you recognize this pasta dish? I posted a similar picture of it in one of my Menu Plan Monday posts back in October upon my return from the Food and Nutrition Conference and Expo. This Nicoise Pasta Salad was inspired by the Chopped-style contest I participated in during the recipe writing and food photography workshop I took at the conference. My photograph was one of the winners and I loved the idea of the recipe so I decided to make it for real and see how it came out.
End result: a quick (takes less than 30 minutes!) and easy (just see for yourself in the video below!), nutritious and delicious, and kid-, mom-, and husband approved recipe. I call that a winner in my book, wouldn't you?! Since I had more ingredients at my disposal when I cooked this at home, I made a few modifications from what was created at the conference, making the recipe more similar to the classic Nicoise salad.
What's In Nicoise Pasta Salad
If you're not familiar, Nicoise salad is a traditional French salad composed of lettuce, tuna, hard-boiled eggs, tomatoes, olives, green beans, and anchovies. Many Nicoise salads served at French bistros also include boiled potatoes and you may find the tuna fresh or canned.
As you can see from the recipe below, I kept many components of the classic salad the same in my Nicoise Pasta Salad, but I did make some modifications, many of which were to keep the recipe as close to what was created at the conference as possible.
A Twist on the Traditional
For the contest we didn't have green beans, but there was some baby spinach on the "pantry" table, which we cut into thin strips (a chopping technique called chiffonade). It was a great way to add some color and of course some nutrition.
There also were no potatoes when we created the original recipe, and personally I'm not a big fan of white potatoes (unless they're roasted and super crispy or in the form of a well done French fry), so whenever I order a Nicoise salad I get it without the potatoes anyway. Plus when turning the Nicoise salad into a Nicoise pasta salad one certainly doesn't need the extra carbs from potatoes.
Feta cheese isn't traditionally added to Nicoise salads, but it was another ingredient in the "pantry" at the contest and the flavors complemented each other so well.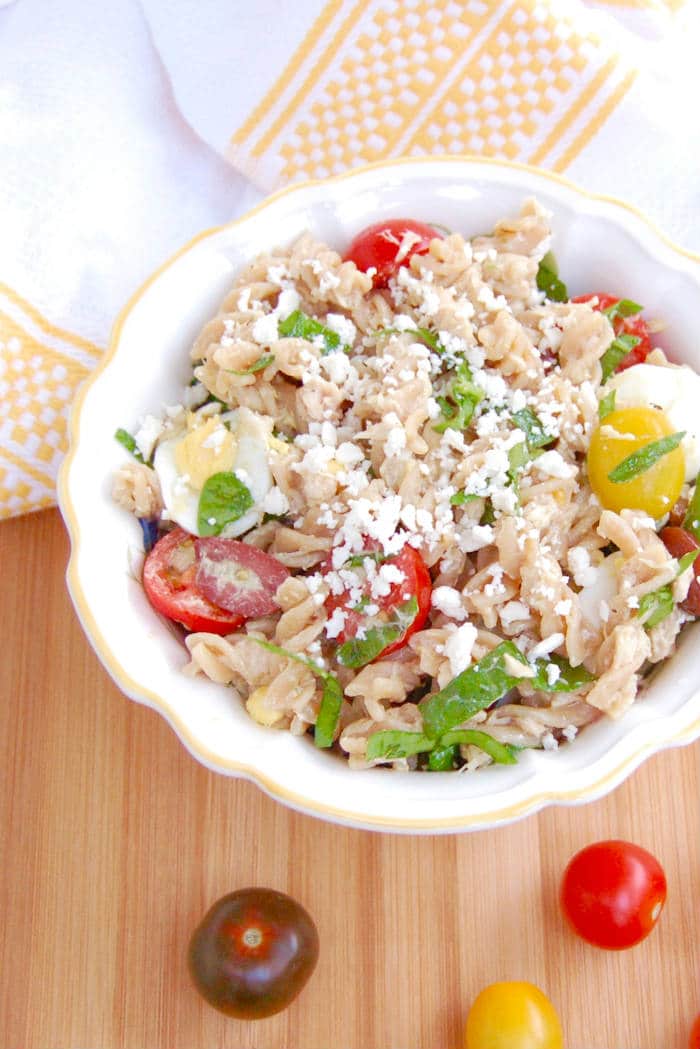 One ingredient I did add here that wasn't in the contest version is hard-boiled eggs. I usually have a batch in the fridge as add-ons for my girls' school lunch, so it was an easy addition and a classic component of the Nicoise salad. If you don't have hard-boiled eggs on hand when you go to make this recipe, don't sweat it. It will be just as delicious without them.
I used tuna canned in water, which is a classic part of a Nicoise salad, but you can also use freshly cooked tuna or tuna in olive oil. One of the things I love about this recipe is that it's a great way to get your kids to eat more fish, which is filled with nutrients your little ones need.
The dressing for this pasta salad is a very light red wine vinaigrette. I added some oregano for an additional burst of flavor and Dijon mustard and garlic would be delicious additions as well.
Make It Your Own
As with all recipes, you can certainly tweak the recipe to make it your own – I myself may make some changes like adding green beans and anchovies the next time I make this dish (which will be very soon, I promise you that!). I also plan to make a salmon Nicoise pasta salad instead of the classic tuna version.
If you're gluten-free, use gluten-free pasta. Don't do dairy? Leave off the feta. No eggs around? Skip 'em. The best thing about all these variations is that they are all easy and don't require too much extra time.
Make It Kid-Friendly
While my kids really enjoyed this Nicoise Pasta Salad, I know not all kids will be as inclined to give this composed dish a try. That's why I serve this as an interactive meal, meaning I put each ingredient in its own bowl and set up dinner buffet style, so each person can make his or her own pasta bowl. (I do the same thing with Buddha bowls, salads, homemade pizza, and pretty much any other meal I can.)
Serving meals in this interactive/deconstructed style takes away some of the pressure kids feel to eat foods they don't like and may even get them to try something new.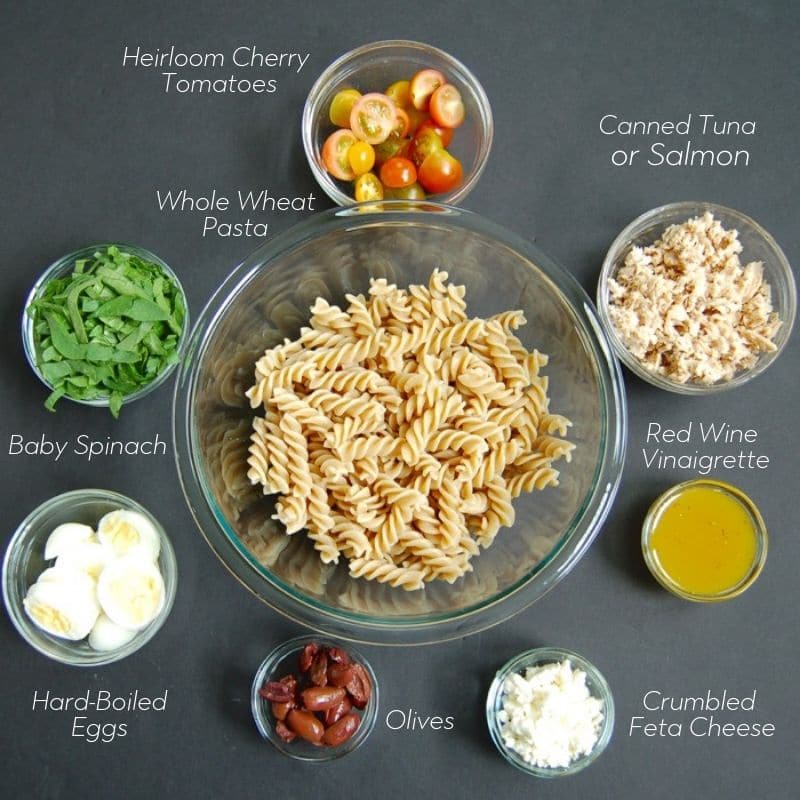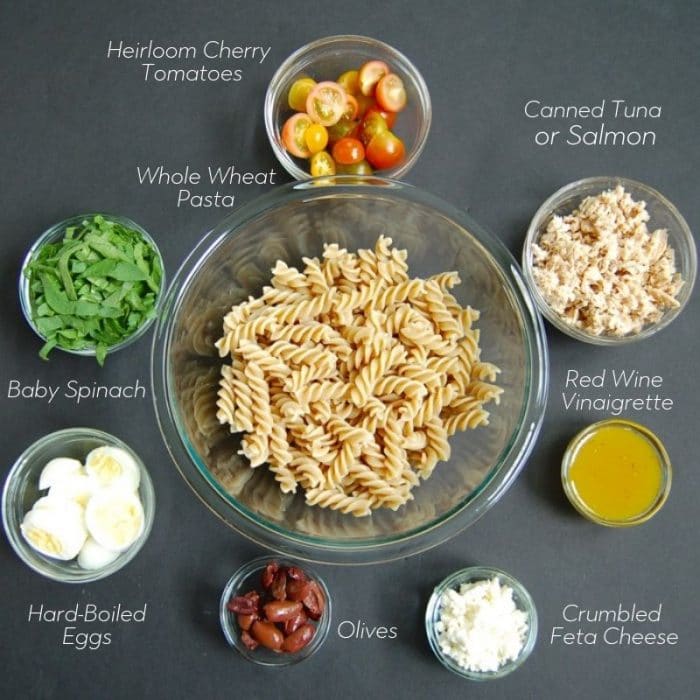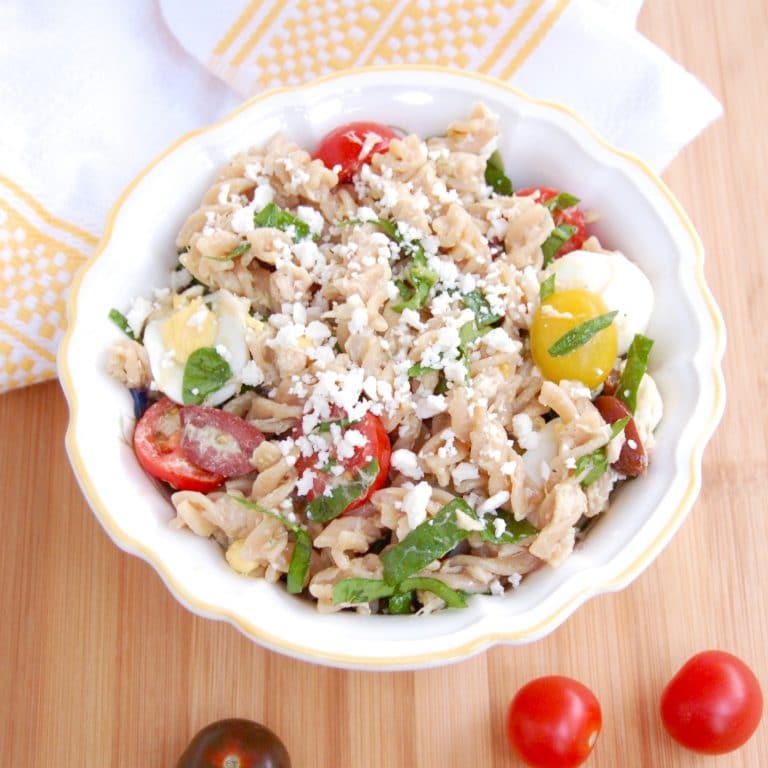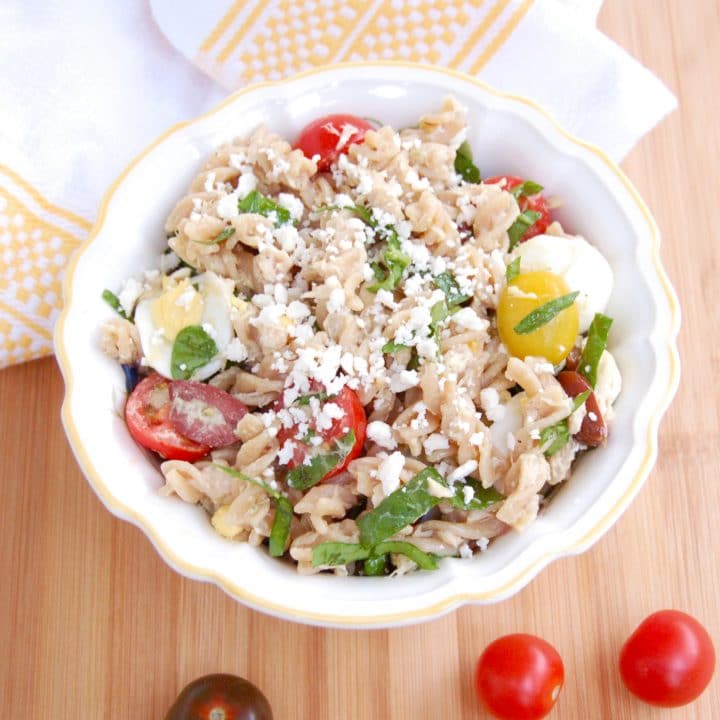 Nicoise Pasta Salad
Canned tuna, cherry tomatoes, kalamata olives, hard-boiled eggs, and baby spinach are tossed with whole wheat pasta and a red wine vinaigrette to make this Nicoise Pasta Salad, a twist on the classic French salad. This nutritious and delicious dish is ready in less than 30 minutes, making it the perfect weeknight meal the whole family will love.
Pescatarian, Nut-Free, Kosher
Ingredients
For the dressing:
1/3 cup olive oil
2 tablespoons red wine vinegar
1 tablespoon lemon juice
1/2 teaspoon kosher salt
1/4 teaspoon dried oregano
Freshly ground pepper
For the pasta salad:
1 pound whole wheat fussili (or pasta of your choice, including gluten-free)
Two 5-ounce cans tuna in water, drained and flaked
8 ounces cherry tomatoes, halved lengthwise (about 1 1/2 cups)
1/2 cup kalamata olives, halved lengthwise
3 hard-boiled eggs, sliced
1 cup thinly sliced baby spinach (cut chiffonade style)
1/2 cup crumbled feta cheese, plus more for garnish
Instructions
To make the dressing, whisk together olive oil, vinegar, lemon juice, salt, oregano, and pepper, to taste. Set aside.
Cook pasta according to directions. Drain and rinse pasta in cold water to stop cooking. Transfer to large mixing bowl and toss with half of the dressing.
Add flaked tuna, tomatoes, olives, eggs, spinach, and feta cheese to pasta. Toss with remaining dressing. Portion nicoise pasta salad onto plates and garnish with additional feta cheese, if desired.
Notes
To make gluten-free, use gluten-free pasta.
Recommended Products
As an Amazon Associate and member of other affiliate programs, I earn from qualifying purchases.
Nutrition Information:
Yield:

8
Amount Per Serving:
Calories:

390
Total Fat:

17g
Saturated Fat:

4g
Trans Fat:

0g
Unsaturated Fat:

12g
Cholesterol:

93mg
Sodium:

433mg
Carbohydrates:

41g
Fiber:

8g
Sugar:

2g
Protein:

21g
Nutrition information was calculated by Nutritionix. It may not be 100% accurate.
Have you had a Nicoise salad?
What modifications would you make to this Nicoise pasta salad?
Share with me in the comments section below!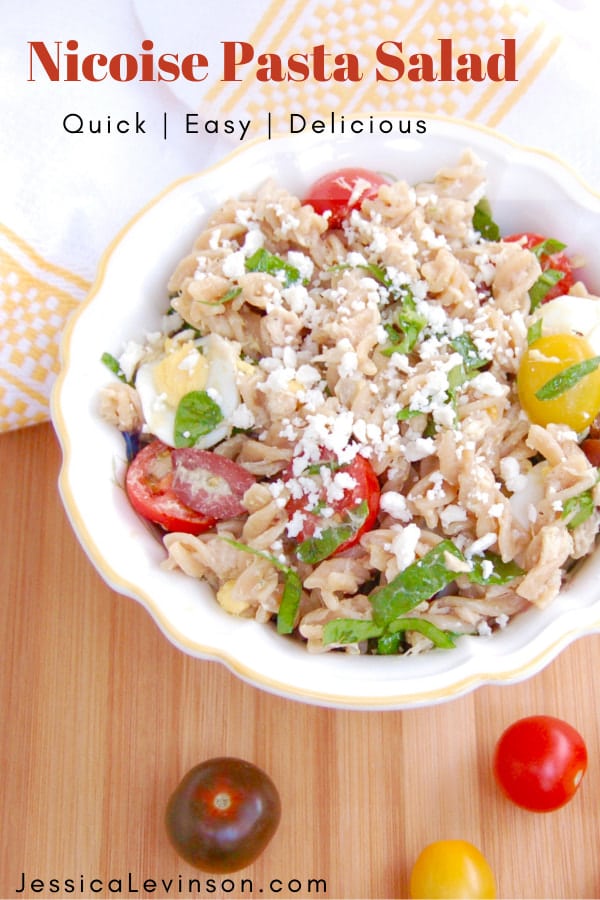 Disclosure: This page contains Amazon Affiliate links. If you purchase products through these link, your cost will be the same but I will receive a small commission to help with operating costs of this blog. As always, all thoughts and opinions are my own and I only recommend products I truly believe in. Thanks for your support!