Easy Homemade Tomato Sauce with Mushrooms
May 22, 2015
This easy homemade tomato sauce with mushrooms is full of rich umami flavor and lower in sodium than store-bought varieties. Try it for your next pasta night!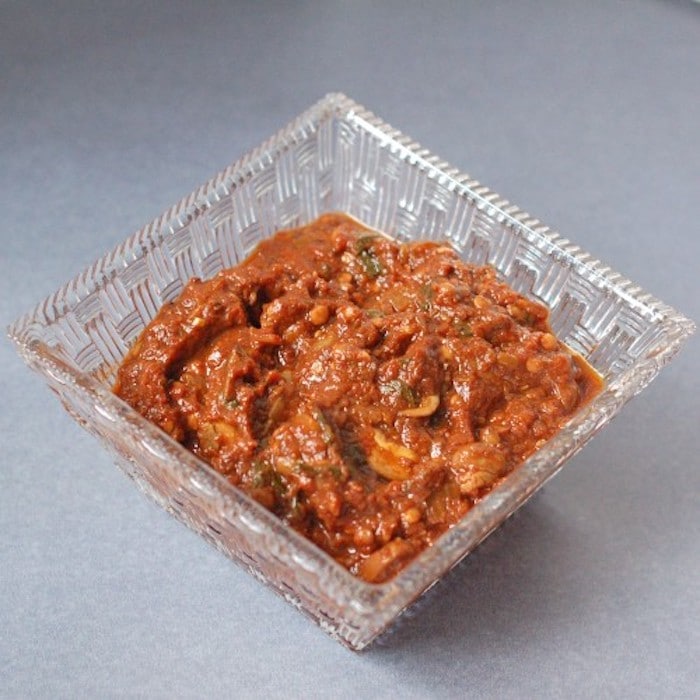 The months are just flying by. Can you believe it's the end of May and we're celebrating Memorial Day this coming Monday? (In case you missed my previous mentions of the holiday, be sure to check out my 5 Healthy Habits to get through the weekend and the Cocktail & Mocktail Roundup that's making it's way around Pinterest!)
Before we get to the big holiday festivities, we have more important business to attend to in the healthy foodie blogger world. It's time for another Recipe ReDux and this month's theme is sure to bring lots of awesome recipes for everyone to share and try on your own.
DIY Kitchen Essentials
What favorite kitchen staples do you now make from scratch – but in the past you purchased? Show us your best DIY recipe for keeping cupboards, fridge or freezer stocked with healthy basics. Think homemade frozen waffles, salad dressing, broth or other kitchen essentials.
How fun is that?!
I knew immediately what I was going to make (if you can't wait, the recipe is below), but there are so many other kitchen essentials that I make myself I could probably make a blog series out of them. Hmm…wait…that's an idea I should add to my to-do list.
I digress. Back to this post. I'm sure we'll see some DIY recipes for the other essentials I make at home – salad dressings, hummus (on occasion), veggie burgers, barbecue sauce and other marinades. The list can go on, so be sure to check below for the other ReDuxer recipes to see what they came up with.
In the meantime, let's get to my recipe for Easy Homemade Tomato Sauce with Mushrooms, a reduced sodium version of a classic pasta sauce that's full of flavor, easy to make, and can be the starting point for a multitude of meals.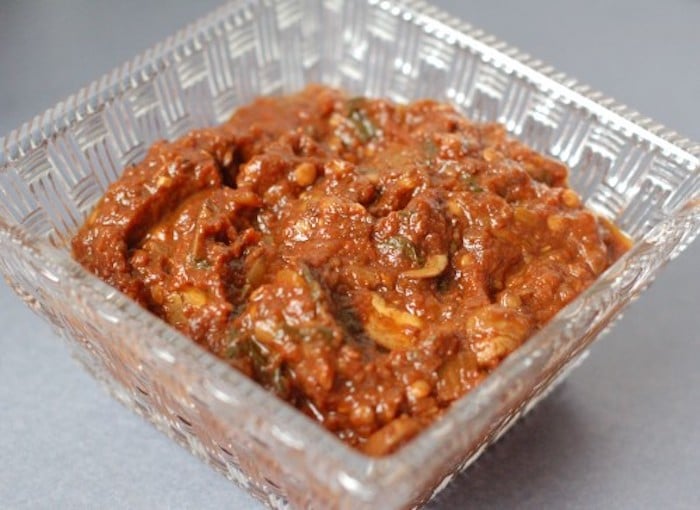 Ingredients & Preparation
For this version of my homemade tomato sauce, I use crushed tomatoes (my go-to are the Pomi boxed tomatoes), but in the summer when tomatoes are at their peak I often use fresh tomatoes to make a more basic tomato basil sauce.
The best part about the homemade tomato sauces is that they have so much less sodium than the packaged varieties. For example, 1/2 cup of tomato sauce with mushrooms I saw at my supermarket has 420 mg sodium, whereas 1/2 cup of my sauce has 249 mg sodium. That's more than a 40% reduction in sodium!
Now, don't get me wrong: there is absolutely no problem using a jarred or canned sauce, just be sure to check the labels to see how much sodium is in a serving and where the source of sodium falls on the ingredient list (the lower down it is, the less of it is in the product).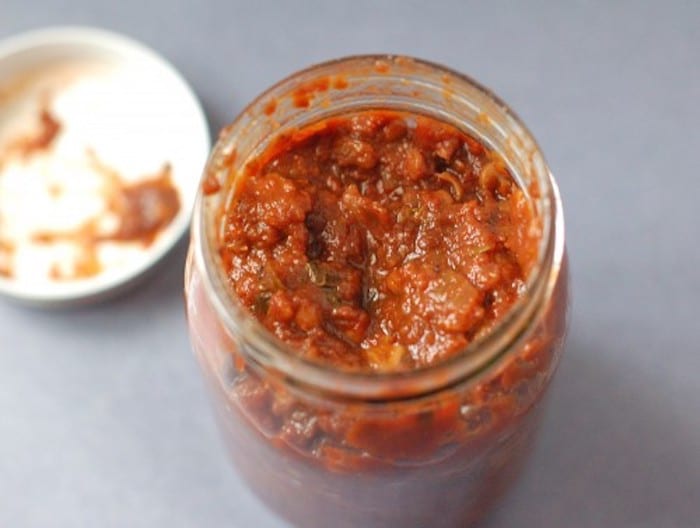 I use this sauce as a starter sauce for bolognese (including my Vegetarian Lentil Bolognese), homemade pizzas, meatballs, or plain old pasta. Sometimes I add more vegetables to it and add some beans for protein so it's a complete meal. When I made the sauce this time for the ReDux, I decided to use it as a base for a vegetarian bolognese, which I've been wanting to make for quite some time.
Side Note: I meant to photograph the sauce before adding the remaining bolognese ingredients, but I forgot, so you'll see lentils and spinach in the sauce. I'll be sharing that complete recipe with you – and how I served it – soon.
In the meantime, here's the basic recipe for Easy Homemade Tomato Sauce with Mushrooms. I hope you enjoy it as much as my family does!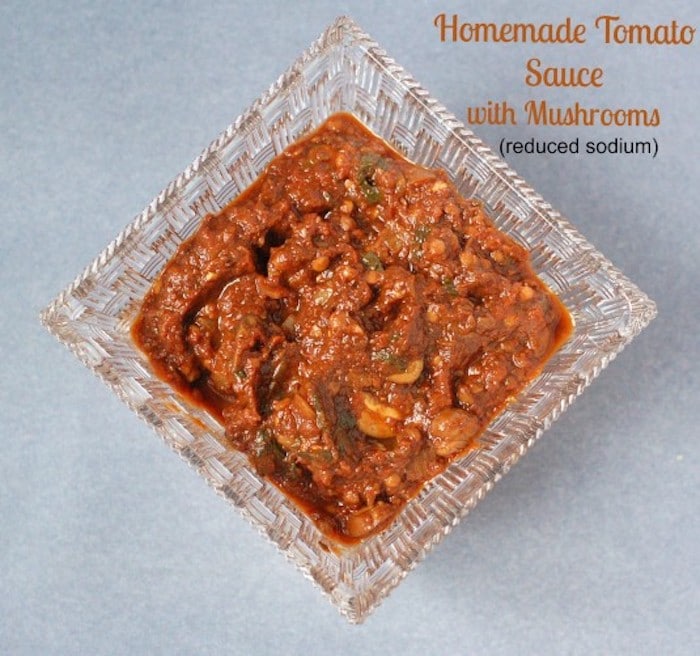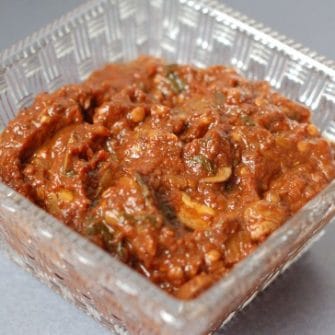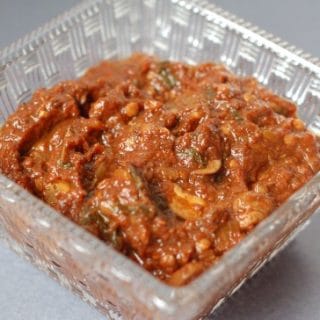 Easy Homemade Tomato Sauce with Mushrooms
Mushrooms, balsamic vinegar, and tomato paste join together to add a rich, deep umami flavor to this homemade tomato sauce that's lower in sodium than most store-bought varieties.
Ingredients
2 tablespoons olive oil
1 cup chopped yellow onion
1 tablespoon minced garlic
2 cups sliced Baby Bella mushrooms
2 teaspoons chopped fresh rosemary, (or 1 teaspoon dried)
2 teaspoons fresh thyme, (or 1 teaspoon dried)
1 teaspoon dried oregano
2 tablespoons tomato paste
2 tablespoons balsamic vinegar
26-28 ounces crushed tomatoes, (preferably no-salt added)
1/2 cup water
1 bay leaf
1 teaspoon Kosher salt
Freshly ground pepper,, to taste
Instructions
Heat oil in a medium-large pot over medium high.
Add onions and saute 1 to 2 minutes until translucent and starting to soften. Add garlic and stir 30 seconds to 1 minute until fragrant. Add mushrooms and saute about 5 minutes until water from the mushrooms has released and begins to evaporate.
Add herbs and tomato paste; stir to combine. Deglaze the bottom of the pot with vinegar.
Add crushed tomatoes, 1/2 cup water, bay leaf, salt, and pepper. Lower heat to low and simmer 20 to 30 minutes.
Notes
The longer you simmer the sauce, the deeper and richer the flavor becomes.
Nutrition Information:
Yield:

8
Serving Size:

8 Servings
Amount Per Serving:
Calories:

73
What's your favorite kitchen essential?
Do you make any kitchen essentials from scratch?
Share with me in the comments!