Beet & Grapefruit Carpaccio with Goat Cheese
January 23, 2019
This refreshing, vibrant, and delicious Beet & Grapefruit Carpaccio is so easy to make and will take away your winter blues!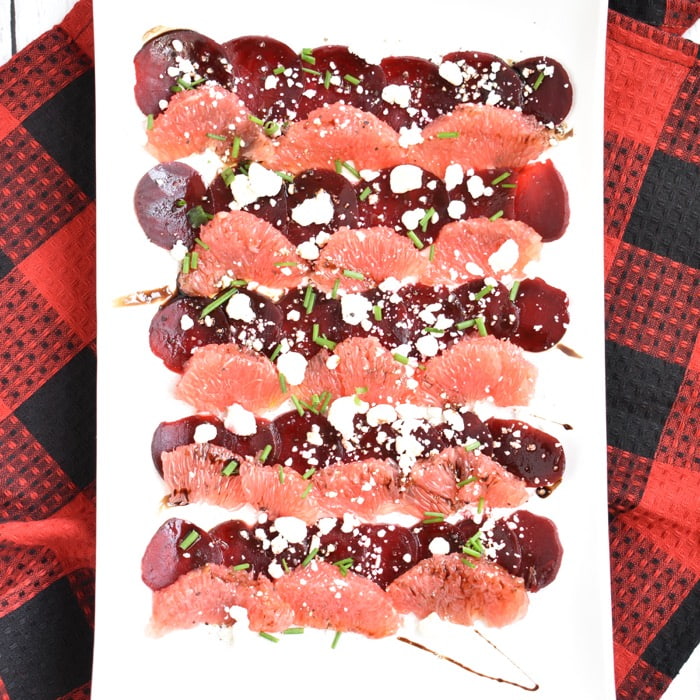 This post was sponsored by Winter Sweetz Texas Red Grapefruits as part of a previous partnership. I only work with brands and organizations that I believe in and as always all opinions are my own. This page also contains affiliate links. See below for full disclosure statement.
Citrus season is in full effect, and I couldn't be more thankful. Bright, juicy, and refreshing oranges and grapefruits help ease the pain of freezing temperatures. I could live on soups and stews during the winter months, but the truth is that after a while my body craves salad.
Seasonal Salad
Every season I have one go-to salad recipe that I make at least once a week – over the past few years it's been my Strawberry Arugula Salad in the spring, Peach Panzanella Salad in the summer, Roasted Delicata Squash Apple Salad in the fall, and my Citrus Fennel Salad in the winter. But this winter, a new favorite has been added to the menu many weeks in a row.
My Beet & Grapefruit Carpaccio with Goat Cheese is a delicious and beautiful dish easy enough to make for yourself and pretty enough to serve to company. It may not look like a typical salad to you – after all, there are no greens on the plate. But it fits the definition of salad according to Merriam Webster: "A salad is a dish consisting of a mixture of small pieces of food, usually vegetables."
If you insist on your salads including a bed of greens, by all means add some arugula or spinach to your plate and layer the carpaccio on top. I do this myself if I want to make this appetizer/side dish salad into a full lunch.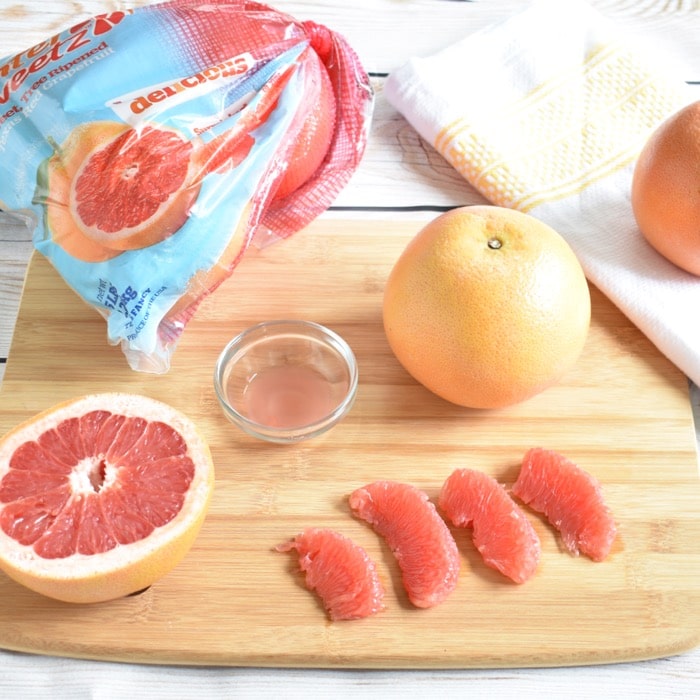 Grapefruit Season
Perhaps you've seen beets with oranges at a restaurant, but beets and grapefruit are an incredibly delicious pairing as well. If you haven't tried it yet, now's the perfect time, especially if you can get your hands on Winter Sweetz Texas Red Grapefruits.
I previously told you all about these Texas red grapefruits, including how to segment them and various ways to enjoy them, but as a reminder, these grapefruits are particularly sweet due to the cool nights and warm, balmy days of the Rio Grande Valley.
Luckily we still have a couple more months to enjoy this lycopene- and vitamin C-rich fruit – they're in season through March. Grapefruits are also a good source of fiber and lower in sugar than many other fruits (and the sugar is naturally occurring, not added, so nothing to worry about).
Vegetable Carpaccio
You may have heard of beef carpaccio, but beet carpaccio? Yes, it's a thing – it's even mentioned in The Flavor Bible as a technique for using this root vegetable. Carpaccio is a dish typically made of thinly pounded, raw meat or fish. It's usually served as an appetizer, lightly dressed with olive oil lemon juice, salt, and pepper.
As vegetarian and vegan diets have become more popular, so too have carpaccios made of vegetables. Essentially you could make carpaccio out of any vegetable that can be thinly sliced – fennel, cucumber, radishes, and zucchini are some others to try in addition to beets.
Beet carpaccio is very easy to make, especially when you start with pre-cooked beets like I do in this recipe. You could of course roast your own beets as a first step to making this carpaccio, but what makes this dish so simple is using vacuum-sealed steamed and peeled beets. I buy mine at Trader Joe's, but many supermarkets now carry some brands of these beets – you'll find them in the refrigerated section of the fresh produce department.
I find the easiest way to get thin, evenly sliced beets is to use a mandoline, but you could of course slice the beets by hand if you don't have one. A word of advice when prepping beets – wear disposable cooking gloves and an apron, and don't use a wooden cutting board. If you've never worked with beets before, news flash: they stain!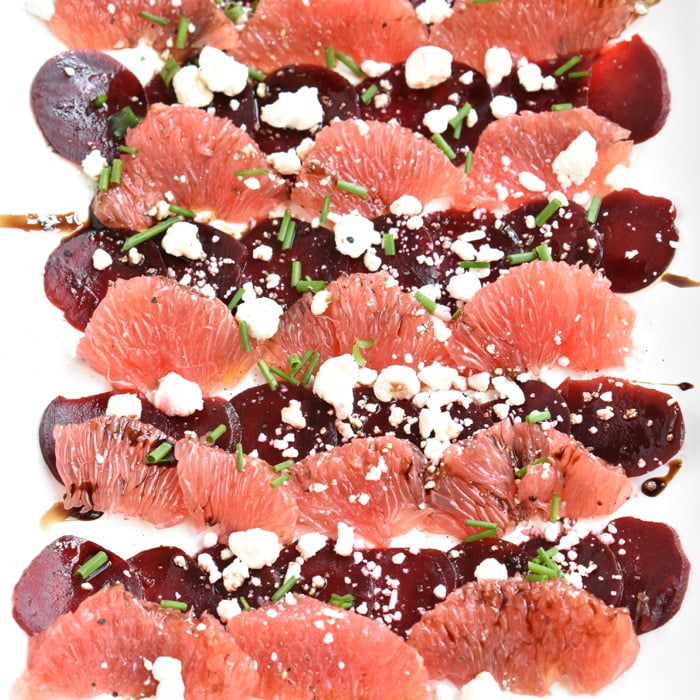 Find out why beets are a beneficial veggie to add to your diet and various ways to enjoy them in my article at Today's Dietitian Magazine. Want more recipes with beets? Try my Beet & Goat Cheese Quinoa Salad and Roasted Root Vegetable Salad.
Composing Beet & Grapefruit Carpaccio
To get beautiful grapefruit segments like you see here, head back to my previous post to learn how to segment them without getting any of the bitter pith. Once you have your beet carpaccio and grapefruit segments all you have to do is layer them, drizzle with extra-virgin olive oil and aged balsamic vinegar, and sprinkle with coarse salt and freshly ground black pepper.
You can stop right there, or if you're a cheese lover like I am you can sprinkle some crumbled goat cheese on top. And if you're serving this to company, you can get all fancy and add some minced chives for a pop of color and flavor.
In the recipe below I specify ingredient amounts based on the platter I made, but generally speaking you don't need to be so exact with this type of recipe. Just make sure you have extra beets and grapefruit in the house, because you will likely want to make this Beet & Grapefruit Carpaccio time and again before the winter is over!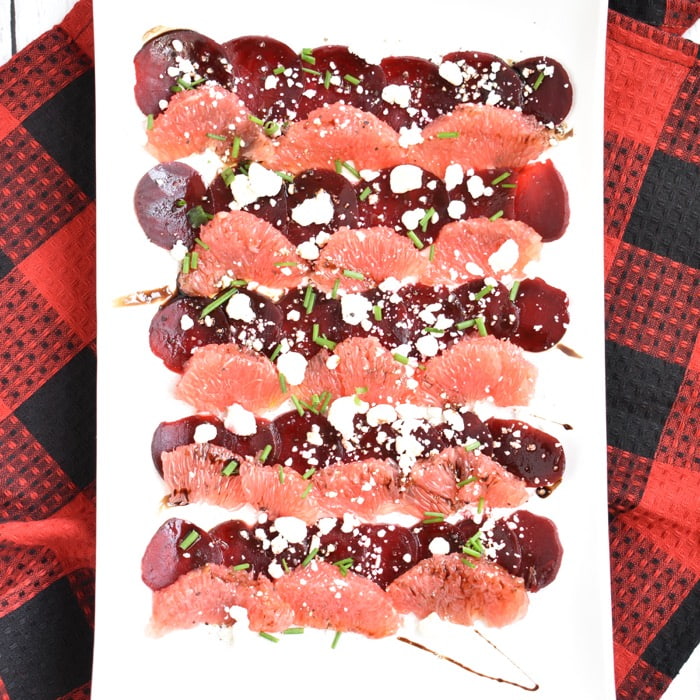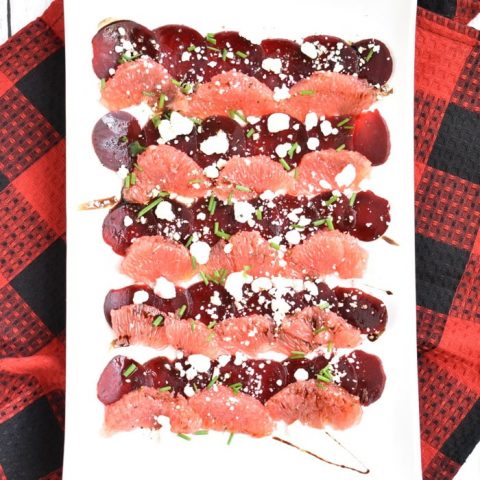 Beet & Goat Cheese Carpaccio with Goat Cheese
Thinly sliced beets are layered with sweet and tart Texas red grapefruits and lightly dressed with extra-virgin olive oil and aged balsamic vinegar. Top with goat cheese for a creamy, salty addition to every bite. 
Gluten-Free, Vegetarian, Vegan-Friendly
Ingredients
4 ounces cooked beets
1 to 2 Winter Sweetz Texas Red Grapefruits
1 teaspoon extra-virgin olive oil
2 teaspoons aged balsamic vinegar (or balsamic glaze)
1/8 teaspoon coarse salt
Freshly ground black pepper, to taste
1 ounce crumbled goat cheese (optional)
Minced chives (optional)
Instructions
Using a mandoline on the second or third setting, thinly slice the beets.
To segment the grapefruits, cut off the top and bottom ends of the peel, and working around the grapefruit remove the remaining peel and white pith by cutting down along the sides. To release the segments, cut between the membrane and segment and use the edge of the knife to release the segment from the other side of the membrane.
Layer the beets and grapefruit segments on a platter. Drizzle with olive oil, and aged balsamic vinegar, and sprinkle with salt and pepper.
Top with crumbled goat cheese and/or chives, if using. Serve immediately.
Notes
Nutrition info below doesn't include the optional goat cheese.
This recipe is vegan without the goat cheese
Recommended Products
As an Amazon Associate and member of other affiliate programs, I earn from qualifying purchases.
Nutrition Information:
Yield:

2
Serving Size:

1/2 platter
Amount Per Serving:
Calories:

96
Total Fat:

2.5g
Saturated Fat:

0g
Trans Fat:

0g
Cholesterol:

0mg
Sodium:

164mg
Carbohydrates:

18g
Fiber:

3g
Sugar:

15g
Protein:

2g
Have you ever tried beets and grapefruit together?
Share your experience with me in the comments below, and be sure to let me know if you try this beet & grapefruit carpaccio!
Disclosure: This page contains affiliate links. If you purchase products through these links, your cost will be the same but I will receive a small commission to help with operating costs of this blog. As always, all thoughts and opinions are my own and I only recommend products I truly believe in.