Zucchini Pancakes with Feta
June 8, 2020
Not sure what to do with all that summer squash? Make a batch of these vegetarian and gluten free zucchini pancakes with feta, scallions, and mint. They're a delicious and healthy lunch or dinner.
This page contains affiliate links. See below for full disclosure statement
Zucchini, otherwise known as summer squash, is not a favorite vegetable in my family, but that doesn't stop me from buying it during the summer months when it's in season. I'll grill it as a side to our burgers and hot dogs during summer barbecues, but the way it's been most successfully consumed in my house is when it's baked into muffins, turned into savory pie, and pan-fried in these gluten free zucchini pancakes.
Dinner Pancakes
The inspiration for these zucchini pancakes came from this NY Times recipe and my recipe for corn pancakes, which have been a summer favorite since my girls were one years old! I wanted to up the protein and fiber content of these pancakes to make them a more substantial dinner for my family. To do so, I used chickpea flour (aka garbanzo bean flour), which I have come to use more often in baked goods and as a form of pizza crust.
I also paired the zucchini with mint instead of the Times' herb of choice – dill. Personally I love the combo of mint with zucchini and during the summer I always have a bunch on hand. Another change I made to the Times' recipe is using already spiralized zucchini noodles, which saves me about 15 minutes of prep since I don't have to drain out the moisture from freshly grated or spiralized zucchini. Sometimes I also add chopped sun-dried tomatoes to the pancake batter for a pop of color and additional flavor.
Buying a package of spiralized zucchini is not the most budget-friendly option though, so during the summer months don't be turned off to grating your own zucchini. It's not that much extra work (you'll still have dinner on the table in 30 minutes) and it's actually a cool science experiment for the kids!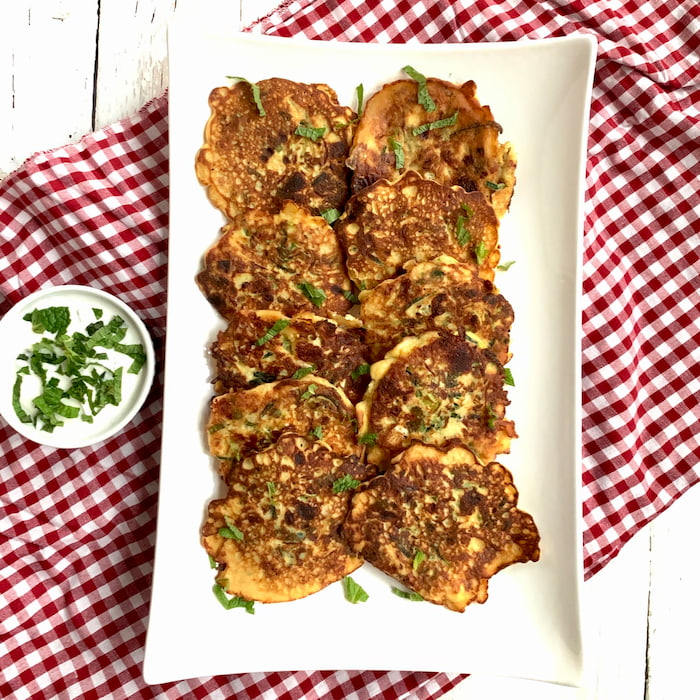 Serving Ideas
I usually serve these gluten free zucchini pancakes with the same lemon yogurt sauce as the corn pancakes, but they are also delicious with Trader Joe's Garlic Spread-Dip, tahini, or tzaziki. If you want to put a more Asian spin on these pancakes, you can serve them with soy sauce too.
To balance out the meal, I usually pair the pancakes with a salad or a side of cooked vegetables (like my Rosemary Garlic Oven Roasted Tomatoes) and maybe some mozzarella cheese.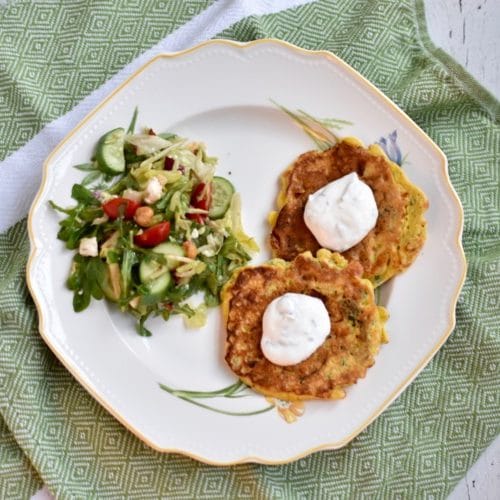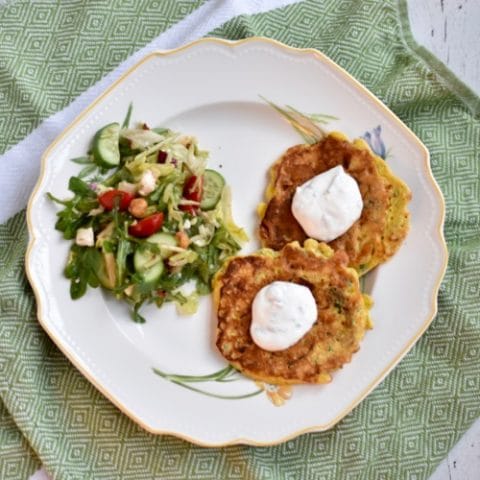 Zucchini Pancakes with Feta
Not a huge fan of zucchini? Use the summer squash to make these savory Zucchini Pancakes with Feta and you may just change your mind. At least that's what happened in my family!
Gluten-Free, Vegetarian, Nut-Free, Kosher
(Recipe adapted from New York Times recipe for Zucchini Pancakes.)
Ingredients
1 large zucchini, shredded or 1 cup chopped spiralized zucchini noodles
1 teaspoon salt, divided (or 1/2 teaspoon if using packaged spiralized noodles)
3 large eggs
1 tablespoon olive oil
1 teaspoon minced or grated garlic
1 teaspoon baking powder
1/2 cup chickpea (garbanzo bean) flour
1/2 cup crumbled feta cheese
1/3 cup finely chopped mint
3 scallions, finely chopped
Freshly ground black pepper
3-4 tablespoons vegetable oil for pan-frying
Instructions
Place shredded zucchini in a colander over a bowl and toss with 1/2 teaspoon salt. Let sit for about 5-10 minutes to extract as much liquid as possible from the squash. Transfer zucchini to a dish towel and squeeze out the moisture over the bowl or a sink. (If using pre-spiralized zucchini noodles, you can skip this step as they are usually not as wet.)
In a large mixing bowl, whisk together eggs, olive oil, garlic, and baking powder. Add chickpea flour and whisk until smooth.
Fold in drained zucchini, feta cheese, and scallions. Season with remaining 1/2 teaspoon salt and freshly ground pepper, to taste, and mix again.
Heat 1 tablespoon vegetable oil in a nonstick or cast iron skillet over medium high heat. When oil is hot, place 2 tablespoons of zucchini pancake batter into pan and flatten with back of tablespoon or spatula. Repeat to make one or two more pancakes at the same time, depending on how big a skillet you are using.
Cook for 1 to 1 1/2 minutes until the bottom is golden brown. Flip and cook another 1 to 1 1/2 minutes until pancakes are cooked through. Transfer cooked pancakes to a paper towel lined plate. Repeat with remaining batter, adding more oil as needed.
Notes
Optional add-in: 1/2 cup of chopped sun-dried tomatoes
Recommended Products
As an Amazon Associate and member of other affiliate programs, I earn from qualifying purchases.
Nutrition Information:
Yield:

4
Serving Size:

2-3 pancakes
Amount Per Serving:
Calories:

224
Total Fat:

19g
Saturated Fat:

3g
Trans Fat:

0g
Cholesterol:

142mg
Sodium:

130mg
Carbohydrates:

8g
Fiber:

2.5g
Sugar:

2g
Protein:

8g
Nutrition information was calculated by Nutritionix. It may not be 100% accurate.
Does your family like zucchini?
If so, share your favorite ways to cook it in the comments below!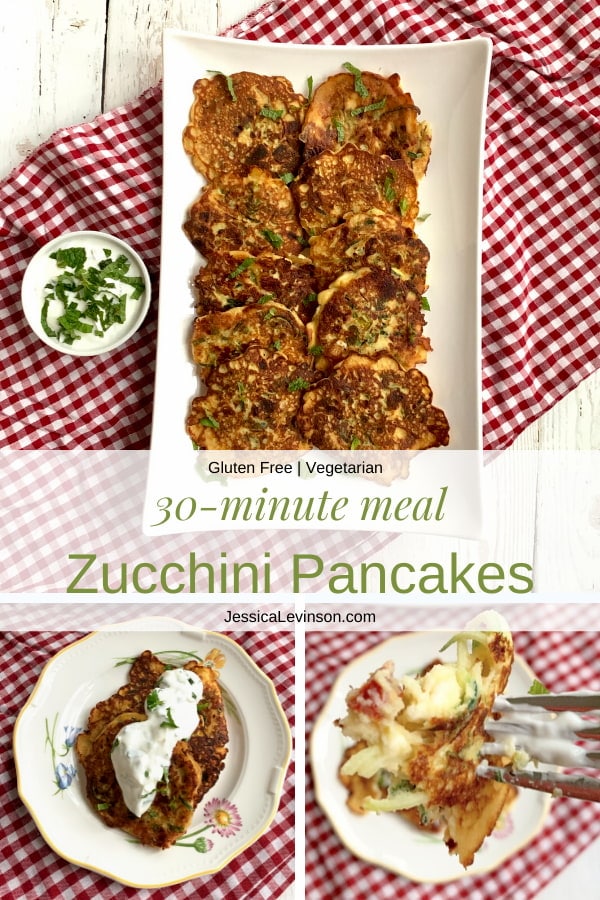 Disclosure: This page contains Amazon Affiliate links. If you purchase products through these link, your cost will be the same but I will receive a small commission to help with operating costs of this blog. As always, all thoughts and opinions are my own and I only recommend products I truly believe in. Thanks for your support!