Healthier Spiced Pumpkin Bread
October 1, 2019
Get the essence of fall when you bite into this healthier, nut free, dairy free pumpkin bread, scented with cloves, cinnamon, nutmeg, and ginger.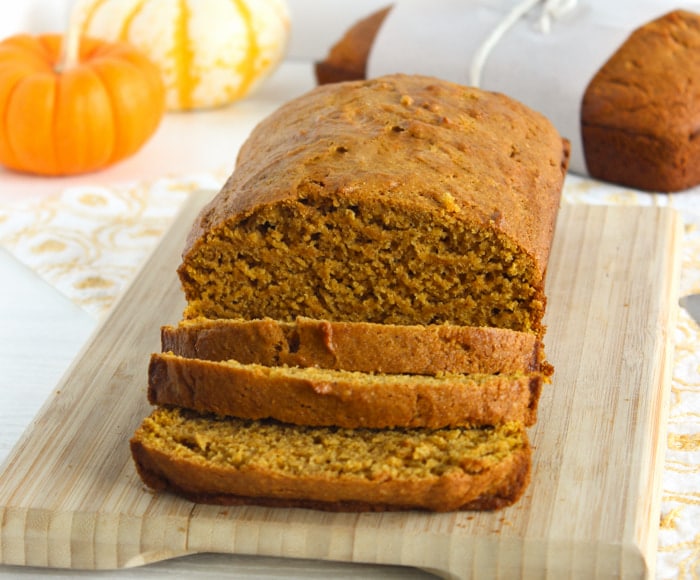 In eighth grade my classmates and I were allowed to take a cooking elective. This was long before I was interested in becoming a dietitian. I certainly never thought I would be a cookbook author and spending the majority of my time in the kitchen whipping up new recipes. I don't remember most of what we made in that class, but I do have very vivid and fond memories of making pumpkin bread in time for Thanksgiving.
Pumpkin Bread Memories
I was a picky eater back then – frozen chicken nuggets, pizza bagels, and lots of Entenmann's treats made up most of my diet, despite my mother making healthy meals on a nightly basis (sorry mom!). My pickiness resulted in my skepticism of pumpkin bread, which is funny to think back on considering how much I love it and other pumpkin-based recipes like my Healthier Pumpkin Pancakes, pumpkin muffins and oatmeal, and Pumpkin Spice Yogurt Sauce. I pretty much love all things pumpkin these days, and, so it seems, does most of America. That's why I know you'll love this moist, easy, and healthier version of spiced dairy free pumpkin bread.
While I held on to my eighth grade recipe for many years, I somehow lost it and my brother and nephew took over making pumpkin bread for our family Thanksgiving dinners. I decided it was time I start making my spiced pumpkin bread again and given that I'm a little more experienced in the kitchen now than when I was 13, I can play around with recipes to make them a little more nutritious while maintaining their deliciousness!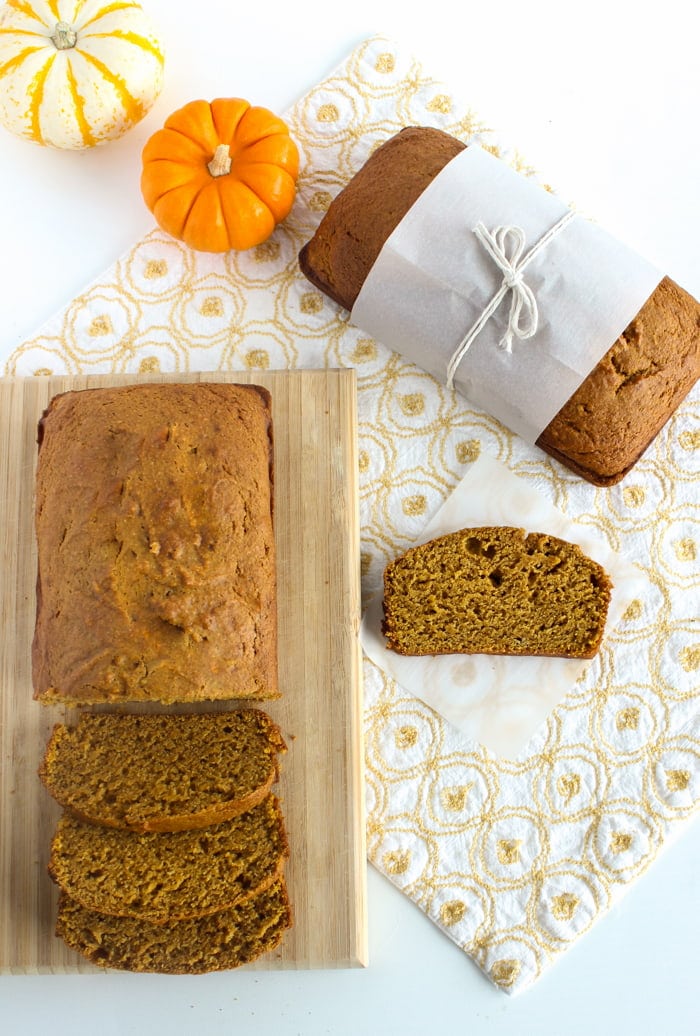 Better-For-You Spiced Pumpkin Bread
And that's exactly what I did with Bon Appétit's Spiced Pumpkin Bread recipe. I loved all the spices in the original recipe, but didn't like all the sugar and oil, plus I wanted to get in some whole grains and the fiber that comes with them. So I made some tweaks and tested it out on my husband's co-workers for their office pot-luck Thanksgiving lunch. I was very pleased with the end result and so were my hubby's officemates!
What's especially great about this recipe is that it only takes 15 minutes to prep and it makes two loaves, so you can freeze one for later or treat a friend or loved one to a loaf of her own – it certainly makes for a perfect gift to bring to someone else's Thanksgiving dinner!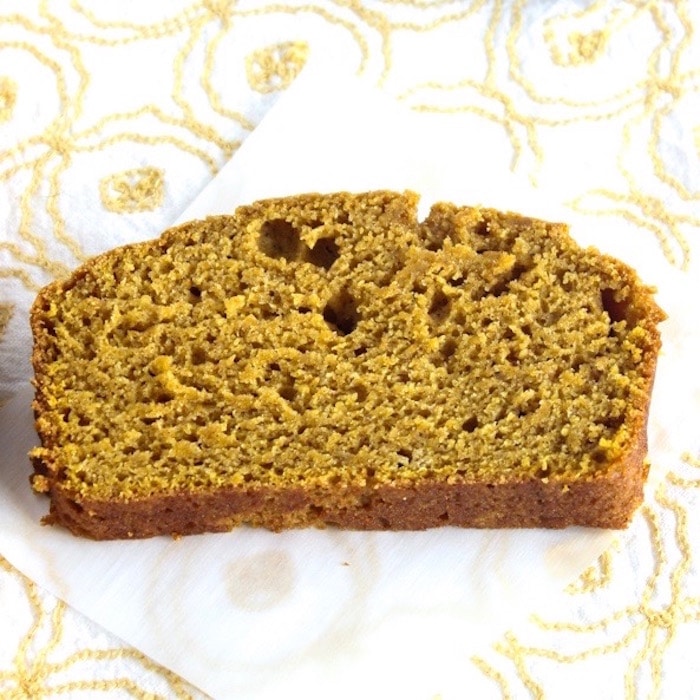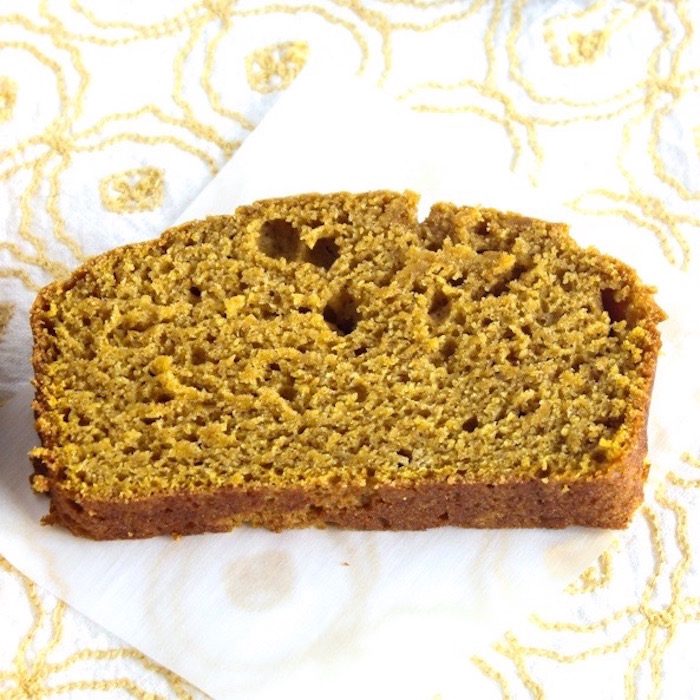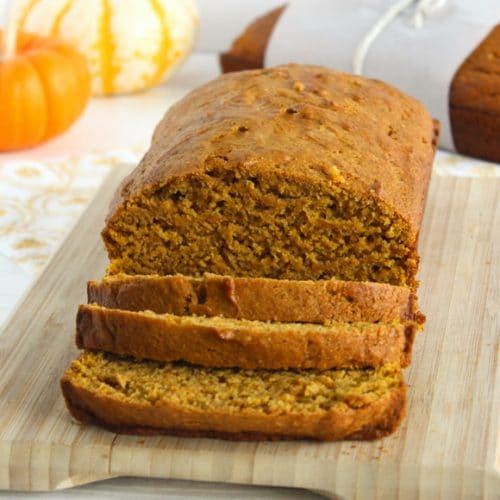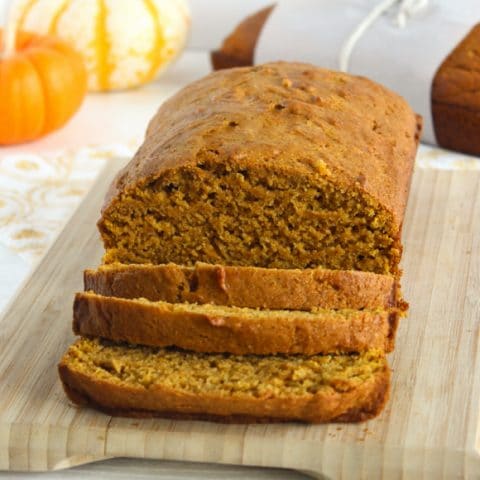 Spiced Pumpkin Bread
Cook Time:
1 hour
10 minutes
Total Time:
1 hour
25 minutes
Get the essence of fall when you bite into this healthier, dairy-free, nut-free spiced pumpkin bread, scented with cloves, cinnamon, nutmeg, and ginger.
Vegetarian, Dairy Free, Nut Free, Kosher
Ingredients
Nonstick cooking spray
2 cups sugar
1/2 cup vegetable oil
1/2 cup unsweetened applesauce
3 whole eggs
One 15-ounce can 100% pure pumpkin
3 cups white whole wheat flour
1/4 teaspoon ground cloves
2 teaspoons ground cinnamon
1/2 teaspoon ground nutmeg
1/2 teaspoon ground ginger
1 teaspoon baking soda
1/2 teaspoon baking powder
1/2 teaspoon table salt
Instructions
Preheat oven to 350 degrees F. Coat two loaf pans with non-stick cooking spray and set aside.
In a large bowl, whisk together sugar, oil, and applesauce to blend. Mix in the egg, egg whites, and pumpkin.
In another large bowl, mix together the flour and the remaining ingredients. Stir dry ingredients into pumpkin mixture in two additions.
Divide batter equally between prepared loaf pans. Bake until toothpick inserted into center of loaf comes out clean, about 1 hour to 1 hour 10 minutes.
Transfer to wire rack and cool 10 minutes. Using a sharp knife, cut around edge of loaves. Turn loaves out onto racks and cool completely.
Notes
This recipe is adapted from Bon Appetit Magazine
Spiced pumpkin bread freezes well. Wrap in aluminum foil prior to freezing. 
This recipe makes 2 loaves of bread. Nutrition facts calculated based on each loaf being cut into 12 pieces. 
Nutrition Facts for 1/12th of a loaf:
167 calories, 5 g total fat, 1 g saturated fat, 29.5 g carbohydrate, 2 g fiber, 18 g sugar, 3 g protein, 112 mg sodium
Recommended Products
As an Amazon Associate and member of other affiliate programs, I earn from qualifying purchases.
Nutrition Information:
Yield:

24
Serving Size:

24 slices
Amount Per Serving:
Calories:

167
Do you have a recipe from childhood that you still enjoy making?
Do you love all things pumpkin?
Share with me in the comments below!