Spinach Pear Salad with Goat Cheese and Lemon Thyme Vinaigrette
March 29, 2017
Say goodbye to boring salads with this fresh and flavorful Spinach Pear Salad with Goat Cheese!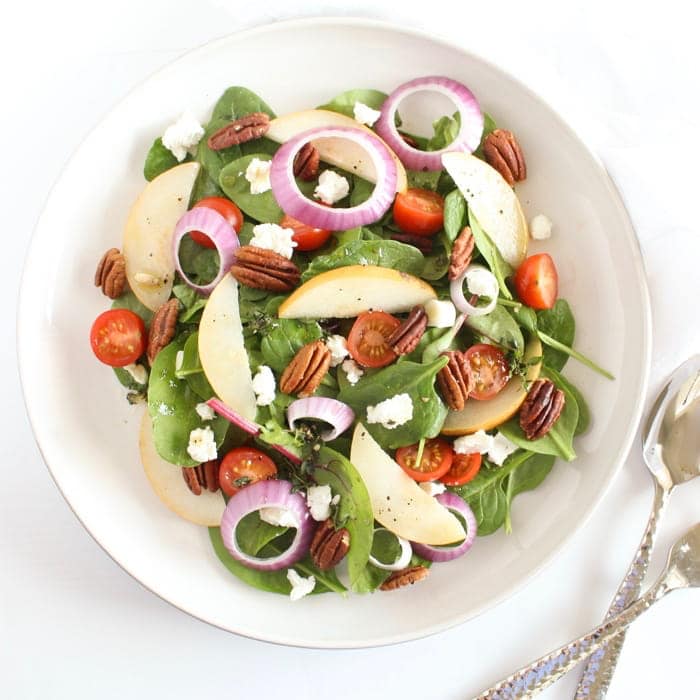 Iceberg lettuce, mealy tomatoes, and a couple pieces of cucumber all topped with a thick and creamy dressing. Does that salad sound enticing to you?
Do you know the number one complaint I hear from people about why they don't eat salad? "It's boring!" And if you envision salad the way I've just described above, then you might be right.
Sure, day after day it can be mundane to sit down to a plate of lettuce with the same toppings, especially if they're out of season vegetables that don't spark your taste buds. But as I've shown you in the past, salad doesn't have to be a mediocre appetizer or dieter's main dish.
Say Goodbye to Boring Salads
Take for example my Strawberry Arugula Salad with Fennel, Toasted Almonds, and Strawberry Champagne Vinaigrette or this Salmon Waldorf Salad with Citrus Yogurt Vinaigrette. These salads are anything but boring! They're full of a flavor and texture, and they are well balanced in both regards. There's crunch and creaminess, there's sweet and sour, and best of all there's freshness. And today's Spinach Pear Salad with Goat Cheese is no different!
People are often surprised that my girls eat salad, but this is the reason why. When you make a flavor-packed recipe that has something for everyone, and looks pretty too, you're more likely to get everyone at the table to taste it – even if it's just a bite or two.
And sometimes that's all I get from my girls – a taste of the salad before they say "no, thank you" and move on to the main course. Other times, they eat it all up and ask for seconds (especially when they're ravenous and the main course isn't ready yet! Great trick to get the kids to eat salad, huh?!).
Ingredients & Preparation
As with all salad recipes, this spinach pear salad with goat cheese can be modified as you see fit. You can absolutely swap in different greens, eliminate the cheese and/or nuts if there are allergies or intolerances, and make any other changes based on taste preferences. That said, the flavor combination I have here works really well, so if you've never tried it, I hope you will!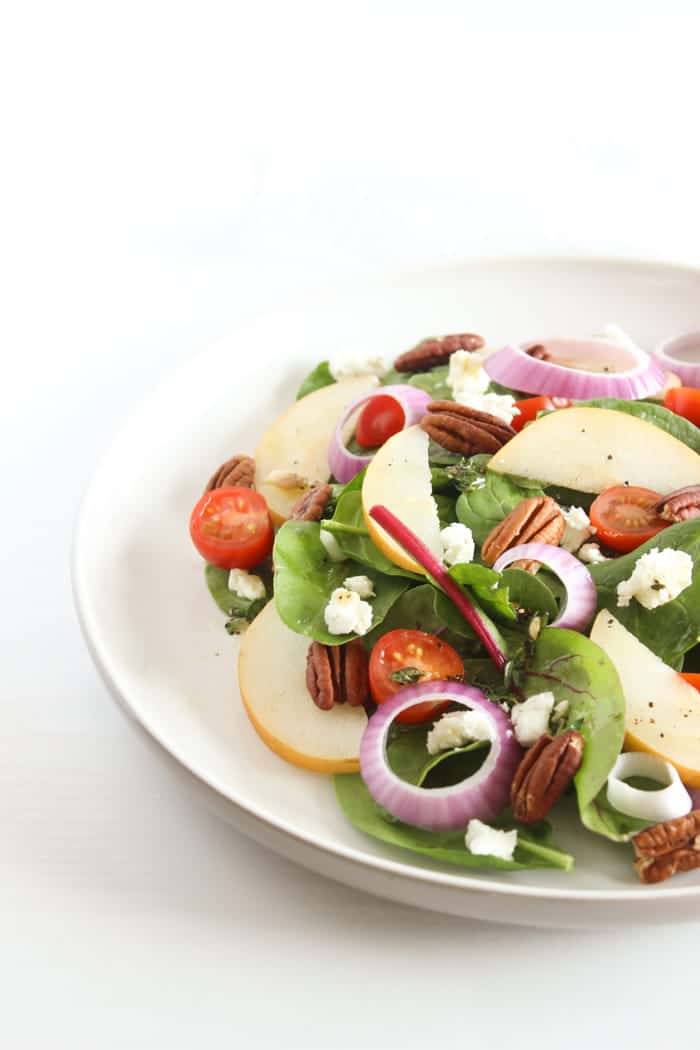 Baby spinach serves as the base of the salad and is topped with thinly sliced crisp pears, juicy grape tomatoes, crunchy red onions and pecans, and creamy crumbled goat cheese. As mentioned before, the variety of textures is one of the highlights of a salad and this recipe certainly has that part covered.
The lemon thyme dressing is bright and aromatic, but not too overpowering, allowing the flavors of the fresh produce to shine through. I love adding herbs to dressings and thyme goes exceptionally well with goat cheese and pears. If you don't have fresh thyme, don't hesitate to use the dried herb, just be sure to reduce the amount.
We're almost near the end of pear season, but I'm still finding sweet and juicy Bartlett pears and subtly sweet and crisper D'Anjou pears at Trader Joe's and some of the other local supermarkets.
Asian pears, which is what you see in the pictures here, are available pretty much all year long, although you may only be able to find them in specialty markets. If you're not familiar with them, Asian pears look more like an apple than a classic pear, and are firm and crisp, which is why they hold up so well in salads. If pears aren't your thing or you can't find any good ones, a crisp apple would also work really well in this salad.
As with most of my appetizer and side salads, this spinach pear salad with goat cheese comes together in 10 minutes and requires minimal prep. I like to toast the pecans to bring out their flavor, but you can easily skip that step if you don't have the extra minute or two to spare.
This recipe is naturally gluten-free and vegetarian, and if you're vegan, you can leave out the cheese and swap maple syrup for honey in the dressing. One last note: most kids don't like the bite of raw red onions, so you can easily leave that out or save it only for the adult plates.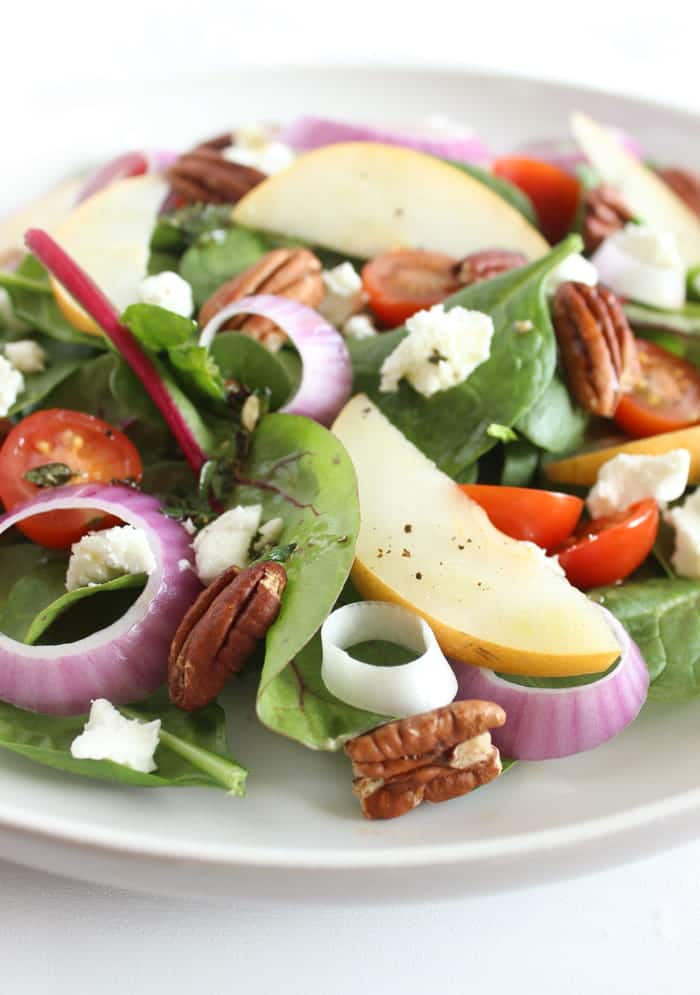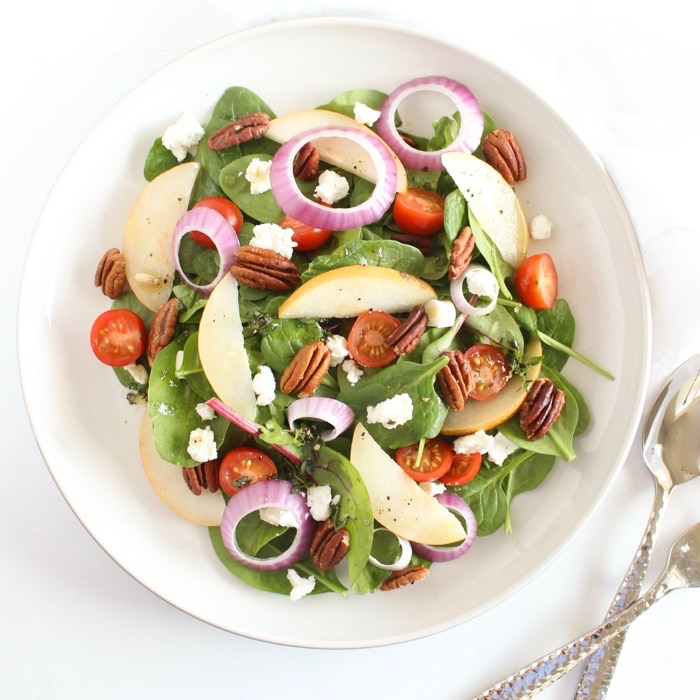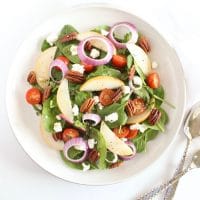 Spinach Pear Salad with Goat Cheese and Lemon Thyme Vinaigrette
There's nothing boring about this flavor-packed salad! A bed of baby spinach is topped with crisp pears, juicy tomatoes, crunchy red onions and pecans, and creamy goat cheese, and tossed in a bright and aromatic lemon thyme vinaigrette.
Ingredients
For the Dressing:
2

tablespoons

extra-virgin olive oil

1

tablespoon

lemon juice

2

teaspoons

fresh thyme

(or 1/2 teaspoon dried thyme)

1/2

teaspoon

honey

1/4

teaspoon

Kosher salt

(or more to taste)

Freshly ground pepper

, to taste
For the Salad:
5

ounces

baby spinach

1

large Asian pear, halved, cored, and thinly sliced (or other crisp pear like D'Anjou)

1/2

cup

sliced red onions

1/2

cup

halved grape tomatoes

1/2

cup

raw, unsalted pecans, toasted if desired (optional)

1/2

cup

crumbled goat cheese
Instructions
In a small mixing bowl, whisk together the dressing ingredients and set aside.

In a large mixing bowl, add the spinach, pears, onions, tomatoes, and pecans, if using. Toss with dressing and divide evenly among 4 salad plates. Top with goat cheese and serve.
Recipe Notes
If vegan, eliminate cheese and swap maple syrup for honey in dressing.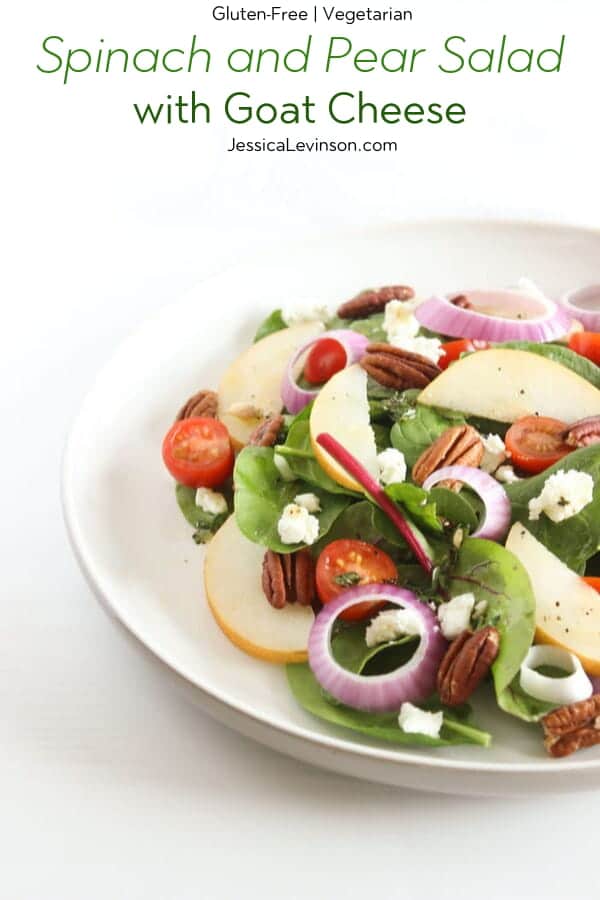 Do you find salad boring?
How do you keep your salad recipes interesting?
Share with me in the comments section below!