Pomegranate French 75
December 13, 2017
Celebrate the holiday season and ring in the New Year with a bright and festive Pomegranate French 75 cocktail with less added sugar.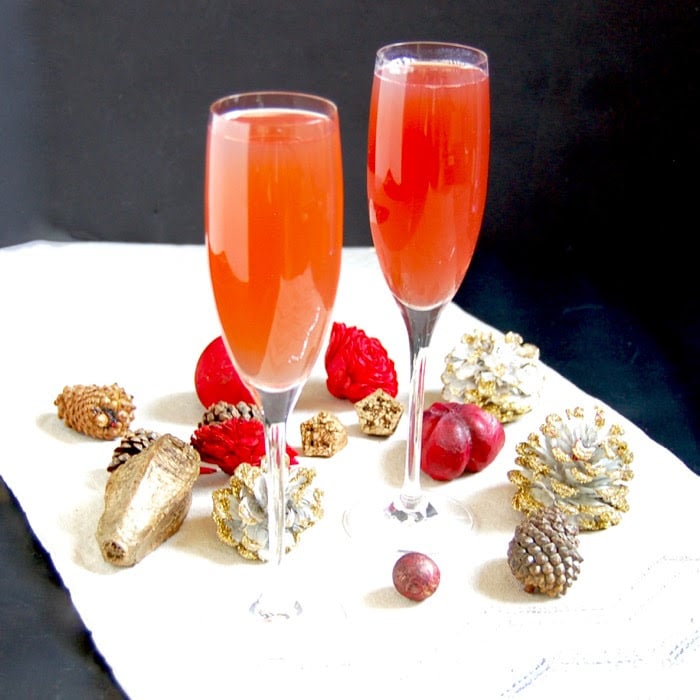 This post was sponsored by SPLENDA® Brand as part of an ongoing partnership. I only work with brands and organizations that I believe in and as always all opinions are my own.
The holiday season is here and if you're the one hosting holiday parties or a New Year's Eve soiree, you definitely need a signature cocktail on the menu like this Pomegranate French 75!
For the past few years, my husband and I have hosted New Year's Eve celebrations, coming up with a new cocktail for our guests each year. In the past, we've served cranberry cider cocktails (hot or cold, depending on your preference), a sparkling party punch, and orange or grapefruit-based drinks.
This year, I'll be serving my guests these gorgeous crimson-colored Pomegranate French 75 cocktails.
If you can't tell, I love using fresh, seasonal produce in my cooking, and the same is true when it comes to beverages. I also can't get enough of the bright and beautiful pomegranates and cranberries that are available this time of year. Adding them to food and drinks is an easy and festive way to highlight the color of the season at your table.
There are many ways to incorporate seasonal fruits in your cocktails, but this twist on the classic French 75 immediately came to mind. That's because the French 75 is my absolute favorite, go-to drink at a bar or restaurant. Granted it's not as common as a vodka tonic or an old fashioned, but most bartenders know how to make a classic French 75 and if they have some color-infused simple syrups, that's an easy way to jazz up this drink.
If you're not familiar, a classic French 75 is a combination of gin, lemon juice, simple syrup, and Champagne or sparkling wine. This is a drink that stimulates most of your senses – it's tart and herbal in flavor, effervescent and refreshing in taste, and elegant in appearance.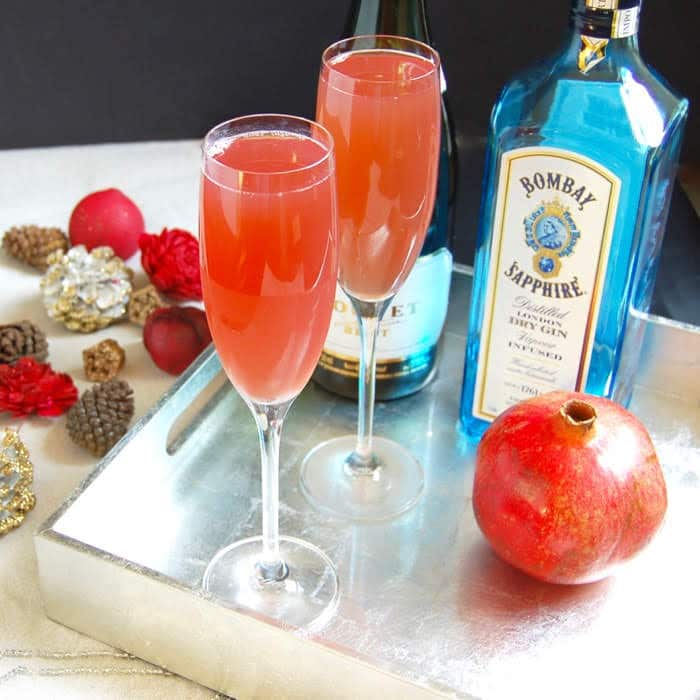 Ingredients & Preparation
This Pomegranate French 75 is not the only variation of the classic drink that I have made. A few years ago, I added freshly squeezed orange juice to the traditional recipe for an Orange French 75. You could easily swap fresh grapefruit juice, another fruit of the season, to make a grapefruit French 75.
For this year's bright and festive cocktail, I went one step beyond just adding fresh juice to the usual recipe. To get a rich pomegranate flavor and deep ruby red color, I made a pomegranate simple syrup.
A traditional simple syrup is made by combining equal parts water and sugar and reducing the mixture to the consistency of syrup. Since pomegranate juice is already naturally sweet, I wanted to limit the amount of added sugar in my pomegranate variation. To do this, I used SPLENDA® Naturals Stevia Sweetener, Table Top Jar – a no calorie sweetener sourced from the sweeter, cleaner-tasting part of the stevia leaf.
Unlike other stevia products, SPLENDA® Naturals Stevia Sweetener has no bitter aftertaste, so it perfectly mimics regular sugar, but has half the calories! So instead of using 1 cup of sugar per 1 cup of liquid to make simple syrup, I can use 1/2 cup of SPLENDA® Naturals Stevia Sweetener per 1 cup pomegranate juice. That adds up to quite a large savings in calories and added sugar!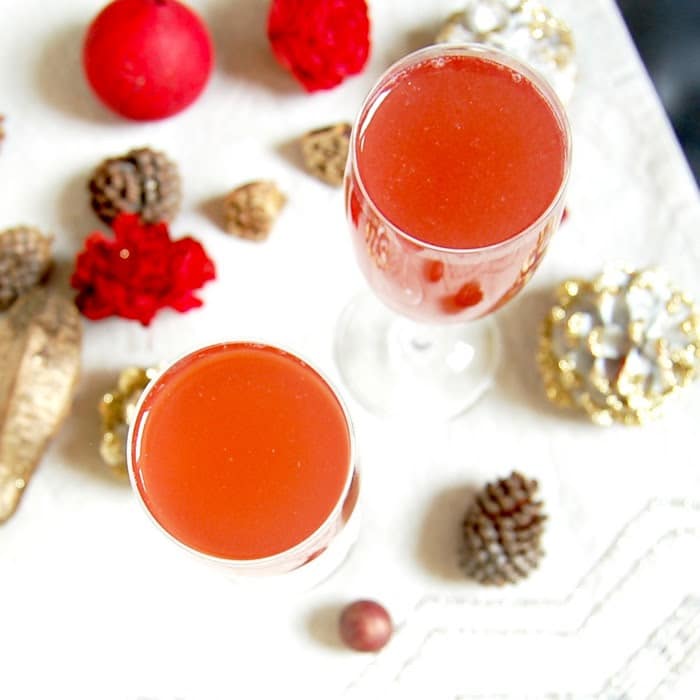 The key to making the pomegranate syrup for this Pomegranate French 75 is patience and keeping the mixture at a medium simmer – not so low that it's just sitting there, but not so high that it's fully boiling and bubbling up.
Once the mixture thickly coats the back of a spoon, turn off the heat, transfer the syrup to a glass measuring cup or mason jar and let cool. Ideally you will make the syrup in advance so you can chill it in the refrigerator prior to use. Also note that the recipe for the syrup makes enough for multiple drinks (how many depends on how much you use per drink) and can be stored in the refrigerator for a couple of weeks. Just enough time to get you through all the holidays!
Making the Pomegranate French 75 itself is a cinch once the syrup is made. Combine gin, pomegranate simple syrup, lemon juice, and ice in a cocktail shaker. Pour the mixture into your glass of choice – French 75 cocktails are typically served in champagne flutes – and finish off with champagne, prosecco, or your choice of sparkling wine.
While this is an adult beverage, there is certainly an easy way to turn it into a mocktail for kids or those who prefer non-alcoholic drinks. Just combine the pomegranate simple syrup with lemon juice and seltzer and you're done.
Don't feel like tending bar all night? Make the pomegranate/gin/lemon juice mixture in a pitcher with a bottle of sparkling wine on the side. Everyone can make his or her own!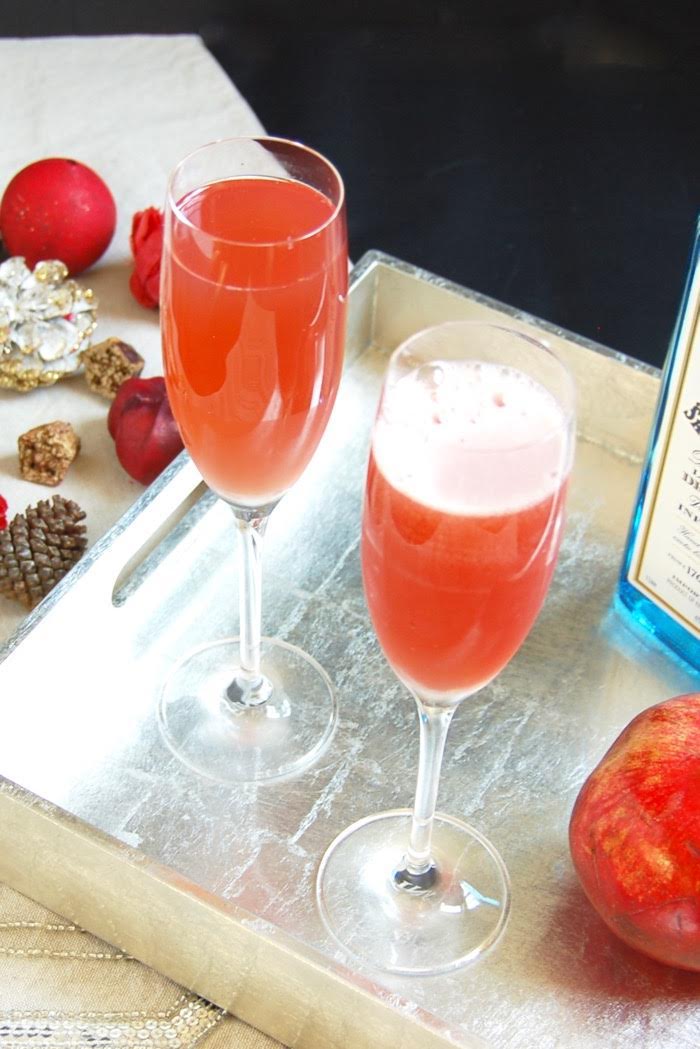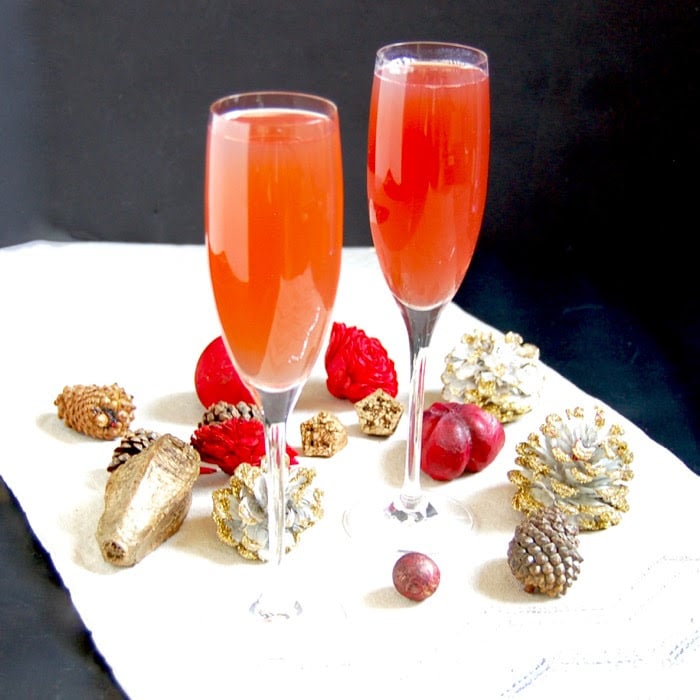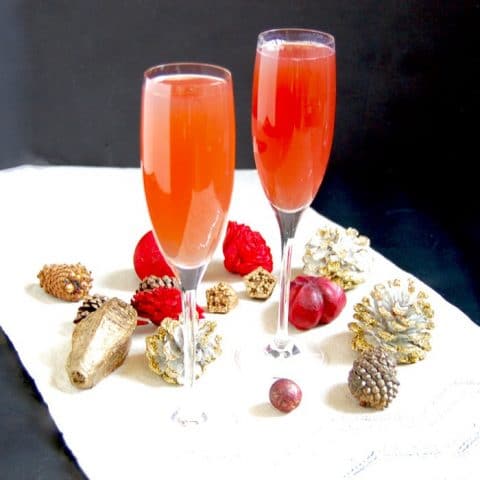 Pomegranate French 75
Celebrate the holiday season and ring in the New Year with a bright and festive Pomegranate French 75 cocktail with less added sugar.
Ingredients
For the pomegranate simple syrup: (makes 2/3 cup)
1 cup 100% pomegranate juice
1/2 cup SPLENDA® Naturals Stevia Sweetener, Table Top Jar*
Per cocktail:
1 ounce gin
1/4 ounce pomegranate simple syrup
1/2 ounce lemon juice , (preferably fresh)
3 ounces champagne, prosecco, or sparkling wine
Instructions
To make the pomegranate simple syrup:
In a small saucepan, combine pomegranate juice and SPLENDA® Naturals Stevia Sweetener, Table Top Jar.
Bring mixture to a boil; reduce heat to medium-low, and stir continuously until the sweetener dissolves completely. Continue cooking the mixture at a low boil until the mixture has reduced and is syrupy (it should form a thick coat on the back of a spoon).
Remove syrup from the heat and let cool to room temperature. Transfer to a measuring cup or resealable glass container. Store in the refrigerator for up to three weeks.
To make a Pomegranate French 75:
Fill a cocktail shaker with ice. Add gin, pomegranate simple syrup, and lemon juice to shaker. Shake vigorously, about 15 to 20 seconds. Strain into a champagne flute and add champagne, prosecco, or sparkling wine.
Notes
Nutrition Facts per cocktail: 160 calories, 3 g sugar
*If you prefer to use regular sugar, make the simple syrup as follows:
1 cup sugar
1/2 cup water
1/2 cup 100% pomegranate juice
Combine ingredients and bring to a boil, then simmer for 8 to 10 minutes. Strain. Let cool, then use in cocktail.

Nutrition Information:
Yield:

1
Serving Size:

1 Servings
Amount Per Serving:
Calories:

160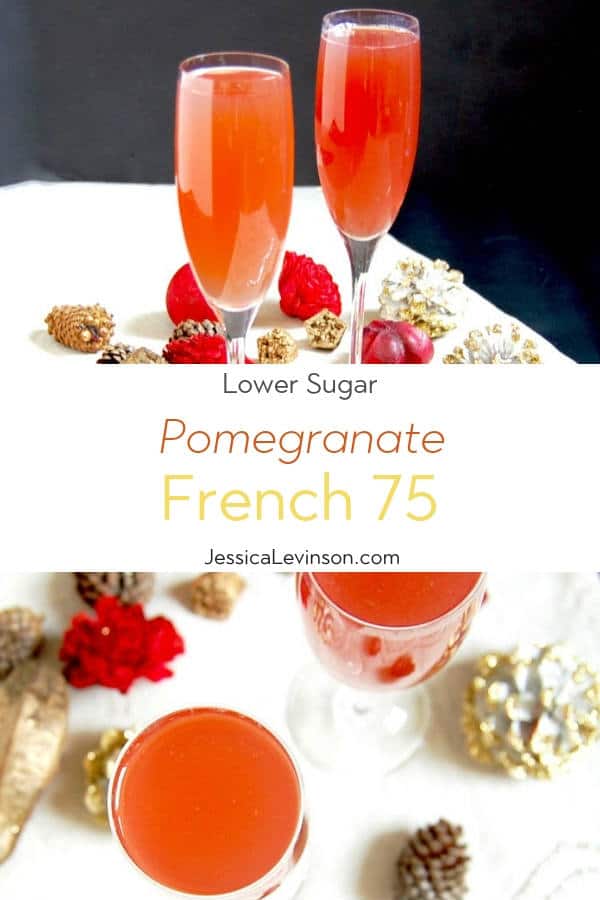 Have you ever had a French 75?
What will you be drinking to celebrate the holidays?
Share with me in the comments below!