Creamy Pumpkin Sauce
October 29, 2015
Enjoy pumpkin beyond dessert with this creamy, yogurt-based pumpkin sauce, a delicious coating for ravioli or your favorite pasta.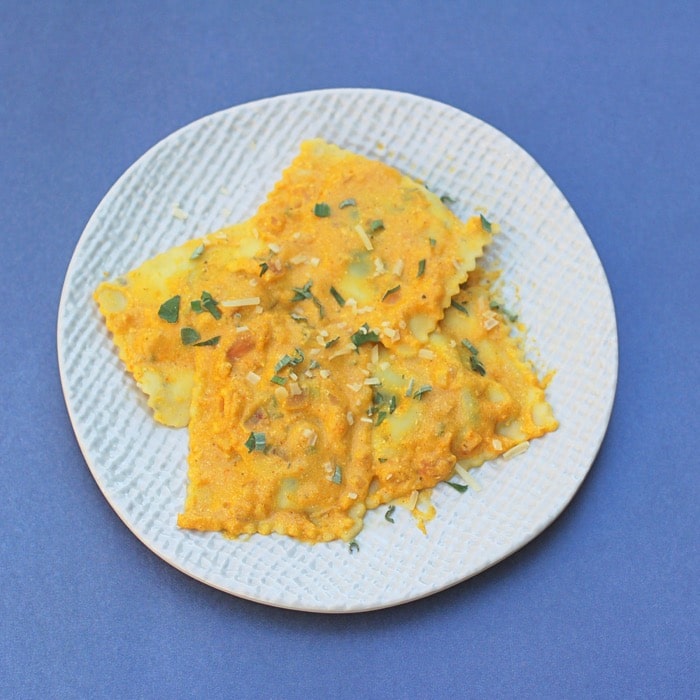 This post was originally sponsored by Chobani as part of an ongoing partnership. I was compensated for my time, but as always all opinions are my own. This page contains affiliate links. See below for full disclosure statement.
Pumpkin is everywhere in the fall. Pumpkin bread, pumpkin pie, pumpkin pancakes, pumpkin spice lattes, even pumpkin oatmeal has become popular. But what about using pumpkin in savory dishes? After all, pumpkin is a vegetable, so why should it be relegated to dessert?
I have seen some savory pumpkin dishes like pumpkin soup and roasted pumpkin, but I decided to put pumpkin to the test in another way – pumpkin sauce.
This recipe originally came about a few years ago when I was doing some recipe development for Chobani. I used their pumpkin spice yogurt to make this pumpkin sauce, but as I mention in the recipe notes below, if you can't find that flavor yogurt, you can easily make this recipe without it. You'll just need to make sure you have nutmeg, cinnamon, cloves, and ginger on hand. Those warming fall spices add so much flavor to this sauce.

Fresh vs Canned Pumpkin
If you search Google for pumpkin recipes you will find some made with fresh pumpkin, but most people, myself included, use canned pumpkin when making anything pumpkin related. Canned pumpkin is just so much easier than working with a whole giant fresh pumpkin. Plus, generally speaking, the majority of recipes that use pumpkin call for pumpkin puree, so why go to all that extra work of roasting, scooping, and pureeing, when it's already done for you?!
One thing to be careful of when buying canned pumpkin, is to make sure you are getting 100% pure pumpkin, NOT pumpkin pie filling. The former should only have pumpkin listed in the ingredients, whereas the latter will have sugar and spices as well. This is especially important when making savory pumpkin recipes like this pumpkin sauce.
Making Creamy Pumpkin Sauce
This pumpkin sauce recipe comes together really quickly and easily, making it a perfect weeknight dinner (especially pre-trick or treating on Halloween!). You simply sauté shallots and garlic, add your herbs and spices, and then whisk in yogurt and canned pumpkin puree. I served this creamy yogurt-based pumpkin sauce with frozen ravioli (Trader Joe's has some fun flavor varieties like ricotta & lemon zest, porcini mushroom & truffle, and of course the traditional spinach & ricotta ravioli), but you can serve it with whatever pasta you prefer. Personally I would recommend choosing a whole wheat or bean-based pasta to get a fiber and protein boost, but one nice thing about this sauce being made with yogurt is that it is a good source of vegetarian protein.
Now here's the recipe!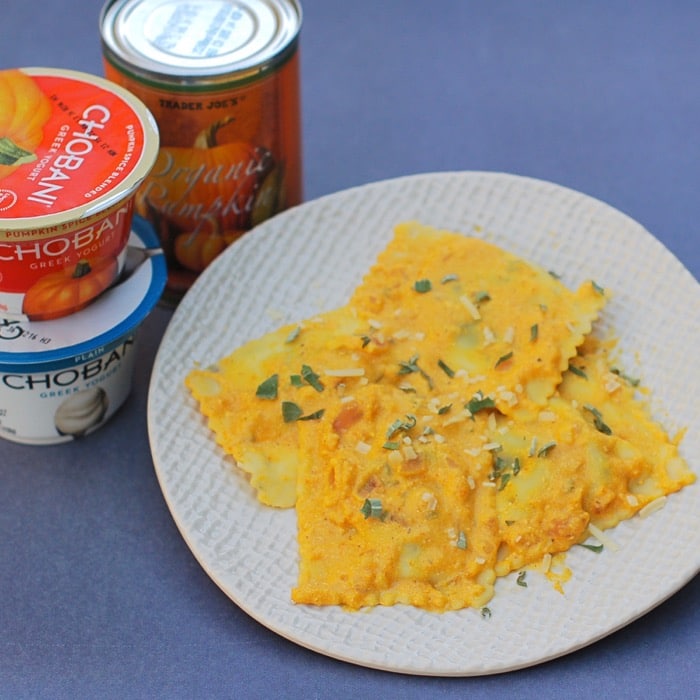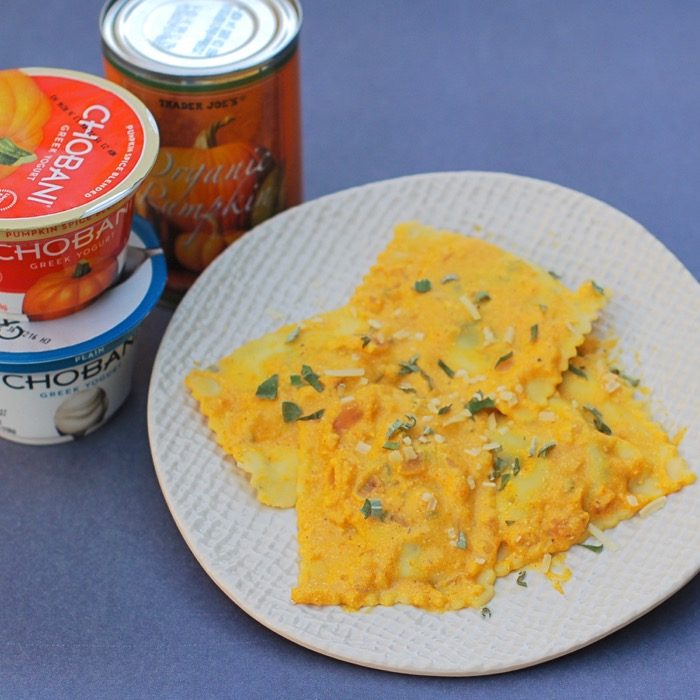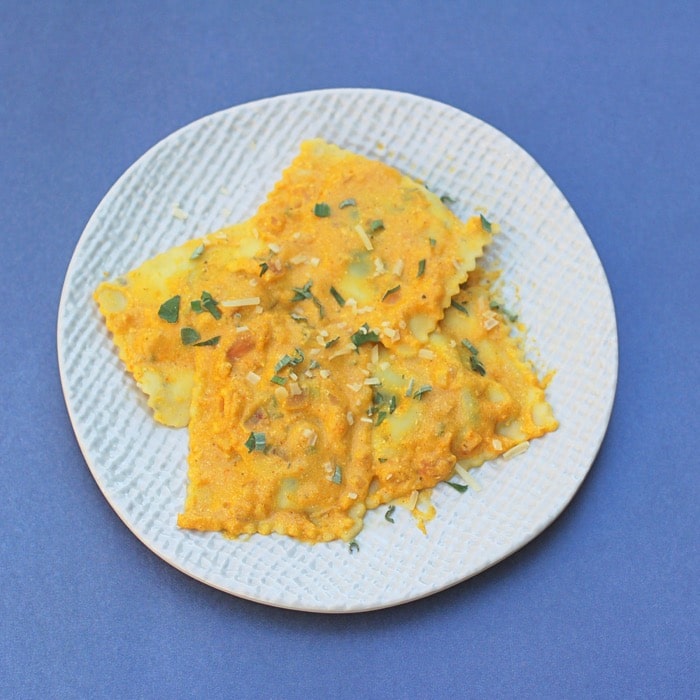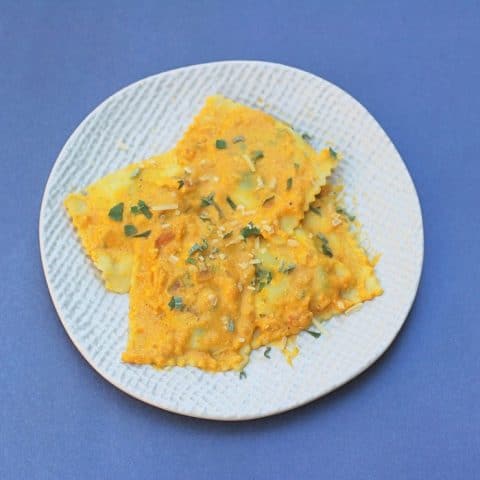 Creamy Pumpkin Sauce
Yogurt, pumpkin, and spices come together in this creamy, protein-rich, fall-friendly pumpkin sauce. Top your favorite packaged ravioli or pasta with this easy to make sauce.
Ingredients
1/2 tablespoon olive oil
1/2 cup minced shallot
2 cloves garlic,, minced
4 teaspoons chopped sage, , & more for garnish
1/4 teaspoon ground nutmeg
1/4 teaspoon ground cinnamon
1/4 teaspoon ground ginger
1 5.3-ounce container Chobani® Pumpkin & Spice Greek Yogurt*, (see notes)
1 5.3-ounce container Chobani® Non-Fat Plain Greek Yogurt
1 1/4 cup canned 100% pure pumpkin, (not pumpkin pie filling)
3/4 teaspoon Kosher salt
Freshly ground pepper, , to taste
Instructions
Heat olive oil in a large sauté pan. Add shallots and garlic; sauté 2 minutes. Add sage, nutmeg, cinnamon, and ginger; stir to combine with shallots and garlic, about 30 seconds until fragrant.
Reduce heat to medium-low. Whisk in yogurts and canned pumpkin. Season with salt and pepper and continue to whisk until smooth and heated through.
Serve over your favorite pasta or ravioli and garnish with freshly chopped sage.
Notes
Nutrition Facts (4 oz serving of sauce):
76 calories, 6 g protein, 10 g carbohydrate, 3 g fiber, 6 g sugar, 2 g total fat, 0.5 g saturated fat, 2.5 mg cholesterol, 266 mg sodium
* If you can't find Pumpkin & Spice yogurt, use plain Greek yogurt and add a combination of ground cinnamon, nutmeg, ginger, and cloves, to your taste.
Nutrition Information:
Yield:

6
Serving Size:

6 Servings
Amount Per Serving:
Calories:

76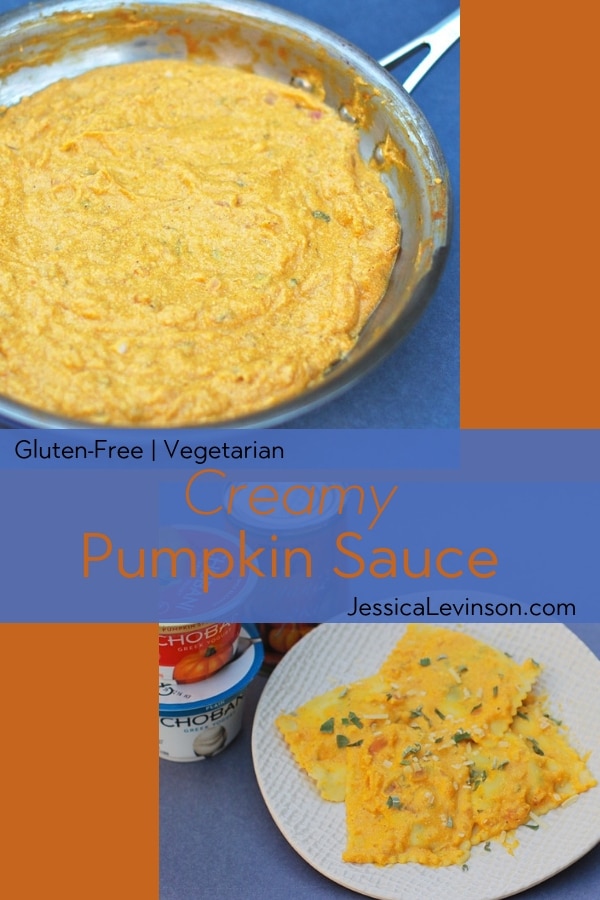 Have you ever made savory recipes with pumpkin?
Share with me in the comments below and let me know if you try this pumpkin sauce!
Disclosure: This page contains affiliate links. If you purchase products through these links, your cost will be the same but I will receive a small commission to help with operating costs of this blog.