Menu Plan Monday: January 8, 2018
January 8, 2018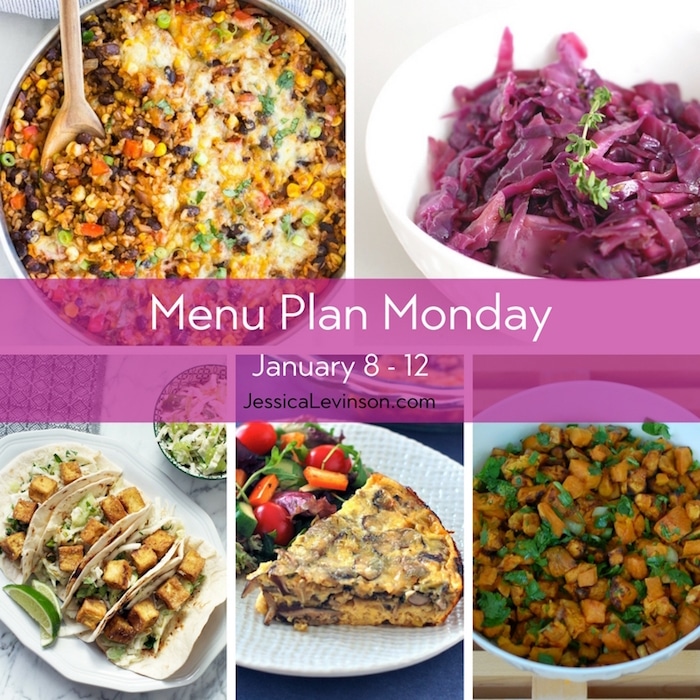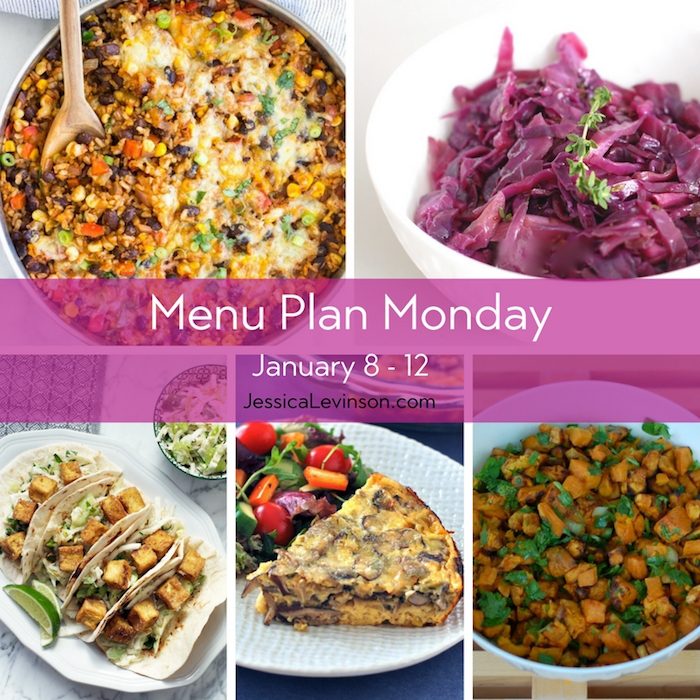 Latest Happenings:
Happy Monday! Thankfully this week is starting with higher temps than we've had in a while – it's currently 20 degrees here in NY and that feels warm! I know many of you have been suffering in this cold too, so hope you're staying warm and healthy. (FYI, one way to do so is to enjoy a bowl of my Tomato White Bean Soup!)
Last week's menu didn't get followed 100% to a T since we ended up having snow days Thursday and Friday, so you may see some repeats from last week's menu on this one below. I'm heading out of town on business Thursday night so this week I'll be trying to get some extra meal prep done to leave food for my hubby and the girls. Plus I've made part of my menu for next week so that snack and lunch packing go smoothly for the hubs!
It's always a little nerve wracking for me to go away when I need to rely on other people (especially babysitters) to feed the kids. I'd love to hear how other moms and dads handle that when they need to travel and leave the kids at home. Let me know in the comments below!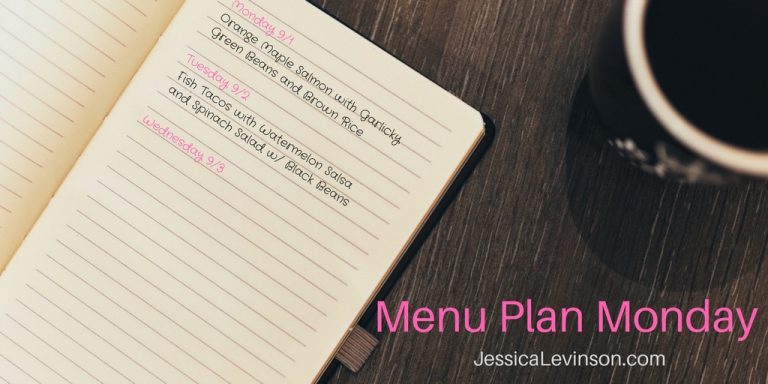 Menu Plan Monday: Week of January 8, 2018
Monday: 
Snack: Apple slices and Peruvian Inca Corn
Lunch: Beet & Goat Cheese Quinoa Salad with veggies (cucumbers/tomatoes/baby peppers), olives, and strawberries
Dinner: One Skillet Mexican Rice Casserole with guacamole and roasted butternut squash zig zags
Tuesday: 
Snack: Yogurt pouch and strawberries
Lunch: Hot lunch for the girls (on the menu: whole wheat pancakes, scrambled eggs)
Dinner: Crispy Tofu Tacos with Asian Pear Slaw, roasted carrots and broccoli
Wednesday: 
Snack: Crunchy snap peas and Asian pear
Lunch: Smoked salmon cucumber pin wheels, veggies, and clementine
Dinner: Orange Maple Chicken (using my Orange Maple Salmon recipe), Sweet Potato Salad, and Braised Red Cabbage and Apples with Maple and Thyme
Thursday: 
Snack: Popcorn cakes, veggies, and hummus
Lunch: School lunch (on the menu: mac and cheese, ratatouille)
Dinner: Baked Mushroom Leek Frittata and salad
Friday: 
Snack: Orange smiles and string cheese
Lunch: Leftover frittata, veggies, pear
Dinner: Shabbat at a friend's house
What's on your menu plan this week?
Please share with me below or on social media!