5-Ingredient Orange Maple Salmon + Maple Syrup Recipe Roundup
December 11, 2015
This sweet and tangy orange maple salmon recipe takes less than 30 minutes to make and has only five ingredients. Plus it's a hit with the kids! All around a perfect weeknight meal for the family!
This orange maple salmon recipe is awesome. I'm just going to put it out there. It has 5 ingredients, takes less than 30 minutes to make, and is a hit with kids and adults alike. Plus, if you're on a gluten-free, egg-free, nut-free, or dairy-free diet, it's a winner all around for you! I can't wait for you to try it out on your family, but before you do, let's discuss syrup. Maple syrup that is.
Celebrate Maple Syrup Day!
Did you know next Thursday, December 17th, is National Maple Syrup Day?
Yes, there really is a day dedicated to celebrating maple syrup, just like there's a day to celebrate chocolate, and a month for pretty much any food you can think of including peanut butter, pears (this month!), pomegranates, and honey.
While some food days may not be that exciting (although I think any day devoted to food is pretty fun), I can't imagine anyone who wouldn't be thrilled to celebrate the sweet, sappy syrup that conjures up images of our favorite breakfast foods. But did you know that maple syrup can be used in so many more ways than just a sweet topping for our pancakes, waffles, and French toast or a mix-in for your overnight oats?
Fellow healthy food blogger Katie Webster at Healthy Seasonal Recipes sure does – she wrote a whole cookbook about maple syrup, fittingly titled Maple (affiliate link)! I don't have a copy of her book (yet), but her recipes are stellar – as is her photography – so I just know how wonderful her book must be too.
I too have spent some time in the kitchen experimenting with maple syrup in various ways beyond the breakfast table. I have used maple syrup to make Cinnamon-Chili and Maple-Glazed Walnuts, as part of the marinade for Miso-Roasted Root Vegetables and Brussels Sprouts, to add depth of flavor to Braised Red Cabbage with Apples and Roasted Butternut Squash and Brussels Sprout Pasta, to sweeten Creamy Parsnip Pear Soup and Roasted Butternut Squash and Sweet Potato Soup, and as a sweetener for desserts like these Chocolate Peanut Butter Truffles.
Since my husband isn't the biggest fish lover, I've also put maple syrup to good use to add some sweetness and caramelization to fish like my Cod with Cider Shallot Sauce, Sherry Maple Glazed Salmon, and today's Orange Maple Salmon recipe.
Orange Maple Salmon
I honestly don't even remember how this Orange Maple Salmon recipe came about, but it was such a delicious combination that brought my husband to rave about fish (especially impressive since it's taken quite some time to get him to enjoy salmon) and get the two thumbs up I needed to add it to the go-to fish recipe pile. It is truly what I would consider a quick and easy recipe (by the way, you have to read this post by my friend Rachael about "easy" recipes).
Serve it with your favorite side of vegetables and whole grains and you have the perfect weeknight dinner. The first time I made this Orange Maple Salmon I served it with Cookie + Kate's Lemony Lentil and Chickpea Salad with Radish and Herbs (pictured with the salmon above), and on other occasions I've served it with these Garlicky Green Beans and my Rosemary-Roasted Cauliflower with Raisins. It would also go great with my Cranberry Ginger Sorghum Salad, especially this time of year.
However you choose to serve it, trust me you'll enjoy it – especially the fact that it was so easy to make!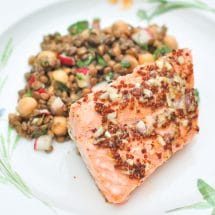 5-Ingredient Orange Maple Salmon
Sweet and tangy orange maple salmon takes less than 30 minutes to make and has only five ingredients. The perfect weeknight meal for the whole family!
Ingredients
Cooking spray

1 1/2

pounds

salmon fillet

1

tablespoon

orange juice

I used freshly squeezed

2

tablespoons

maple syrup

2

tablespoons

grainy Dijon mustard

2

teaspoons

minced garlic
Instructions
Preheat oven to 375 degrees F. Spray appropriately sized baking dish with cooking spray and lay salmon fillet in dish, skin side down.

In a small mixing bowl, whisk together orange juice, maple syrup, mustard, and garlic. Pour sauce over fish and cover with foil.

Bake for 15 minutes. Uncover, and bake another 5 minutes until top of fish is caramelized and fish is cooked through.
What's your favorite way to use maple syrup in the kitchen?