Menu Plan Monday: January 1, 2018
January 2, 2018
Welcome 2018 with open arms and a new menu plan!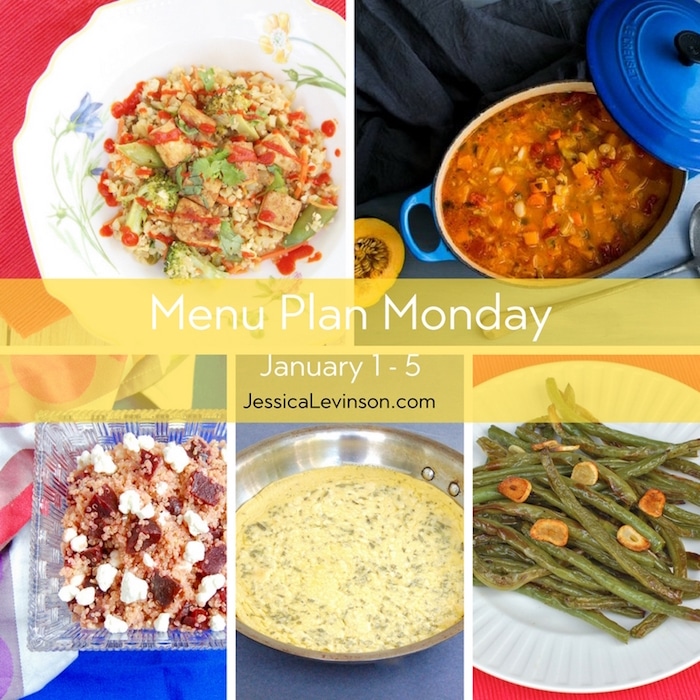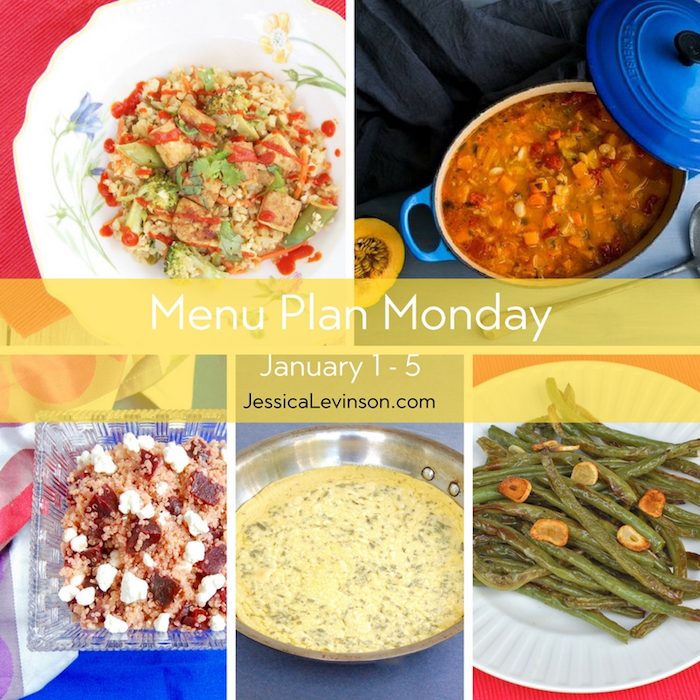 Latest Happenings:
Happy New Year! I hope your holiday season was great and that 2018 is off to a fantastic start. I spent the past couple of weeks enjoying time with my family and not working too much, but I hope to be back in the swing of things over the next couple of weeks.
In the meantime, if you're still thinking about what resolutions you want to make for the year, I hope you'll take a few minutes to look at my post from last year, 10 Practical Lifestyle Changes You Can Make for a Healthier New Year. Rather than making grand statements of what you want to achieve, these are small changes you can easily implement one at a time.
If meal planning is one of your goals for 2018, you know I am here to help with my weekly Menu Plan Monday posts and meal planning tips. Now is also a great time to sign up for a two week trial of The Six O'Clock Scramble (affiliate link), an online family meal planning service featuring seasonal, healthy, family-friendly meals. From now until Jaunary 15th, when you sign up for a two-week trial of The Scramble you will get their Making Cooking Easier e-book bundle (with THREE e-cookbooks!) and you'll be entered for a chance to win an Instant Pot or Cuisinart Food Processor!
Before we get to this week's menu plan, hopefully you received my latest newsletter, but if you didn't, I wanted to thank you all for taking the time to read my blog, comment on my social media posts, and follow along on the journey to feeding kids well. (And if you didn't get the newsletter, sign up here so you don't miss any more!) Please let me know what you would like to see more of in 2018!
Cheers to a happy, healthy, and delicious year ahead!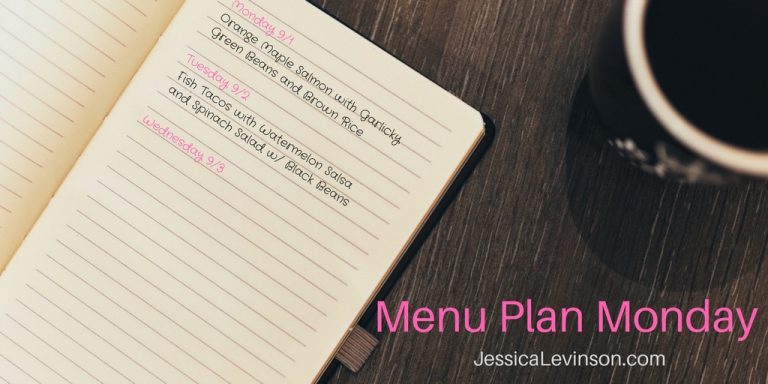 Menu Plan Monday: Week of January 1, 2018
Monday: 
Brunch: New Year's Day bagels and spreads with friends
Dinner: Leftover salmon and vegetables from New Year's Eve dinner
Tuesday: 
Snack: Edamame beans, sliced veggies (peppers, cucumbers, tomatoes), and mini spreadable cheese
Lunch: Hot lunch for the girls (starting today they will be getting hot lunch at school Tuesdays and Thursdays. They were so excited!)
Dinner: Veggie Cauliflower Fried Rice with Crispy Baked Tofu
Wednesday: 
Snack: Popcorn and pomegranate seeds
Lunch: Hummus cucumber wrap with veggies and grapes
Dinner: Chicken avocado pasta with sautéed peppers and tomatoes
Thursday: 
Snack: Yogurt pouch and Peruvian Inca corn
Lunch: School lunch
Dinner: Minestrone Soup with Giant White Beans and Winter Squash and Farinata (making a plain one with just salt and pepper on top for dipping into the soup)
Friday: 
Snack: Snap pea crisps and fruit
Lunch: Beet & Goat Cheese Quinoa Salad with veggies and apple slices
Dinner: Lemon Herb Salmon with Roasted Garlicky Green Beans and Sweet Potatoes
What's on your menu plan this week?
Please share with me below or on social media!
Disclosure: This page contains affiliate links. If you purchase products through these link, your cost will be the same but I will receive a small commission to help with operating costs of this blog. As always, all thoughts and opinions are my own and I only recommend products I truly believe in. Thanks for your support!