Peanut Soba Noodles with Crispy Baked Tofu and Vegetables
April 22, 2015
Peanut Soba Noodles combine pantry staples to make a healthier version of a classic takeout favorite. Add in some seasonal vegetables and crispy baked tofu for a balanced meal.
Now that the flowers are in bloom in our backyard, the temperature is resting in the 60s and low 70s most of the time, and artichokes, strawberries, and asparagus are lining the produce aisle, I think it's fair to say we are officially in spring. To go along with the spring cleaning we do for our houses, yards, and bodies, the Recipe ReDux is focused on spring cleaning our pantries this month.
Go through your pantry, cupboards, freezer, or fridge; what 'treasures' have you found? Pick an ingredient/spice/condiment that's been hanging out for a while and give it the attention it needs. Share a healthy recipe made using your new-found pantry prize.
I have to say I'm pretty good about using what's in my pantry, especially since I go grocery shopping at least once a week for my fresh produce. But I always have plenty of canned beans, pasta/noodles, low sodium broth, nuts/nut butter, dried fruit, and boxed tomatoes hanging around. So taking a few of those items, I knew exactly what I was going to make for this ReDux: Peanut Soba Noodles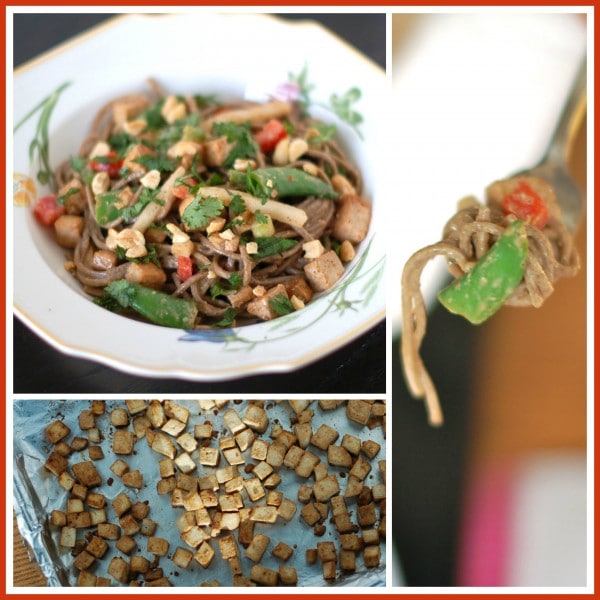 You'll Lick the Spoon Clean
I've mentioned my love of peanut butter numerous times on this blog (for example, here, here, and here), and just a few months ago I devoted my January ReDux to this Thai Peanut Chicken Satay recipe. The peanut sauce used on these peanut soba noodles is the same one I use in the satay recipe, which makes these two recipes perfect to serve the same week or even a week apart. Just make sure you make a big enough batch of sauce – you may find yourself licking the spoon every time you try to put it away! (Or your kids may eat it all – the evidence is in the images below!)


I originally developed the peanut noodles back in 2011 when I wrote my first cookbook, We Can Cook, but over time I've improved on it with the addition of oven-baked crispy tofu (my go-to tofu recipe) and a variety of vegetables based on what's in season and how much time I have on my hands.
An All-Year-Round Recipe
This is definitely an all-year-round recipe depending on what vegetables you add. While this recipe includes daikon and snap peas, I have made it with broccoli and bok choy in the colder months, and bell peppers, cucumbers and scallions are great anytime of year. No matter what you add to these peanut soba noodles, I can assure you it will be a family favorite in no time!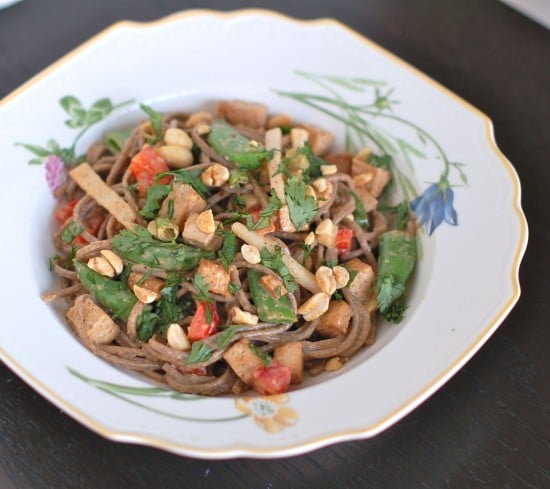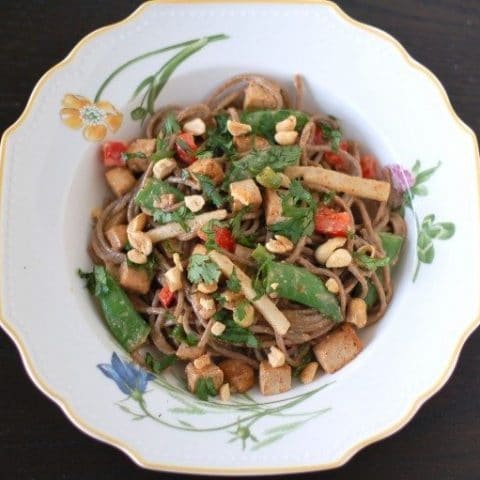 Peanut Soba Noodles with Crispy Tofu and Spring Vegetables
Total Time:
1 hour
5 minutes
Sweet and slightly spicy peanut sauce tossed with buckwheat soba noodles, oven-baked crispy tofu, and vegetables is a meal your family will ask for over and over again!
Ingredients
For the tofu:
1 tablespoons sesame oil
1 tablespoons lime juice
1 tablespoons unseasoned rice vinegar
1 1/2 tablespoons low-sodium soy sauce
One 16-ounce package extra-firm tofu, drained, pressed*, and cubed small (or two 8-ounce packages cubed super firm tofu) (see notes below)
For the peanut sauce:
2 teaspoons minced garlic (~2 cloves)
2 packed teaspoons grated ginger
1/3 cup natural creamy peanut butter (can substitute other nut butters for allergies or preferences)
2 tablespoons low-sodium soy sauce
2 tablespoons unseasoned rice vinegar
1 tablespoon dark brown sugar
1 teaspoon sriracha
2 tablespoons hot water (optional)
For the noodles and vegetables:
One 12-ounce box of buckwheat soba noodles (or gluten-free noodles)
1 cup diced red bell pepper
1/4 cup chopped scallions
1 cup halved blanched snap peas
1 cup julienned daikon (Japanese radish)
Chopped cilantro for garnish (optional)
Crushed peanuts for garnish (optional)
Instructions
To make the tofu:
Combine sesame oil, lime juice, rice vinegar, and soy sauce in a small bowl and whisk until emulsified.
Pour marinade over cubed tofu in a medium mixing bowl and marinate for at least 30 minutes, tossing occasionally.
Preheat oven to bake at 425 degrees. Spread marinated tofu in one layer on a foil-lined baking sheet. Bake in the top shelf for 20 minutes; turn tofu and bake another 10 minutes until crispy.
To make the peanut sauce:
Combine the sauce ingredients up to and including sriracha in a mini food processor and puree until smooth and well blended. Add 2 tablespoons of hot water and puree again to thin out the sauce. Add more hot water if thinner sauce is desired. Set aside.
To assemble:
Cook soba noodles according to package directions (about 5 minutes). Drain and rinse under cold water.
Coat pasta pot with a drizzle of sesame oil so noodles don't stick, and return noodles to pot.
Add the prepared vegetables and toss with the noodles. Add the peanut sauce and toss again, making sure everything is well coated. Add the crispy tofu and toss one last time.
Serve peanut noodles with chopped cilantro and crushed peanuts if desired.
Notes
This recipe can be served warm or cold. For the creamiest consistency, eat immediately!
Directions to drain and press tofu:
If you have a tofu press, place block of tofu in the press and refrigerate for 15 to 20 minutes. 
If you do not have a press, press the tofu as follows: Place the block of tofu between multiple layers of paper towel or a couple of clean kitchen towels. Place the wrapped up tofu on a cutting board or plate and top with another cutting board or heavy pan. Set aside for about 30 minutes until most of the liquid is pressed out of the tofu.
Note: I usually drain the tofu overnight and add marinate it in the morning.
Recommended Products
As an Amazon Associate and member of other affiliate programs, I earn from qualifying purchases.
Nutrition Information:
Yield:

6
Amount Per Serving:
Calories:

263
Total Fat:

14g
Saturated Fat:

2g
Trans Fat:

0g
Unsaturated Fat:

10g
Cholesterol:

0mg
Sodium:

440mg
Carbohydrates:

24g
Fiber:

3g
Sugar:

6g
Protein:

16g
Nutrition information was calculated by Nutritionix. It may not be 100% accurate.
Did you find any 'treasures' in the kitchen or pantry when you were spring cleaning?
Share with me in the comments below!