Veggie & Bean Quinoa Bites {Recipe ReDux}
August 22, 2014
 Gluten-free and nut-free Veggie & Bean Quinoa Bites are packed with protein and fiber, making them the perfect centerpiece of your children's lunchbox. 
Bars & Bites for Brown Bags
Whether you pack your lunch in a bento box, a brown bag or a retro cartoon character lunch box, don't forget the bars and bites. Small squares or round bites can pack nutrition into a sweet or savory taste. Show us your favorite way to jazz up any type of lunch box.
This time of year is especially crazy with the summer winding down and getting the kids ready for school, as I'm sure many of you can relate. So I'll admit, I completely lost track of the date and forgot about this month's Recipe ReDux until yesterday afternoon. I was ready to forego it altogether, but I couldn't miss this month's theme, especially when I talk so much about what and how to feed children.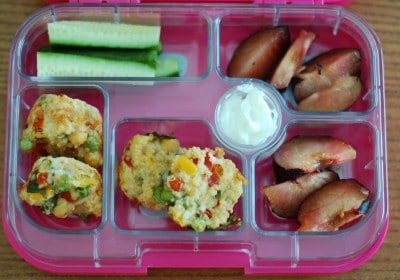 I was racking my brain for ideas of what to make. My last attempt at making granola bars didn't lead to a winning result, and I know a lot of bloggers have been making protein balls and healthier cookie dough bites, but I didn't have any novel ideas in that realm. I decided to switch gears and go the savory route, first thinking I could make mini egg muffins like ones I have in my cookbook, but then I thought about what was in my fridge that I could use for a last minute recipe development. And that's how these Veggie & Bean Quinoa Bites were born.
When I placed them in the oven, I was skeptical about how they would come out, but in the end I (and my husband) was pleasantly surprised with the result. Great for the kids' school lunchbox, your brown bag, or a savory snack at home, make a batch or two of these bites and refrigerate or freeze them for future meals the whole family will enjoy!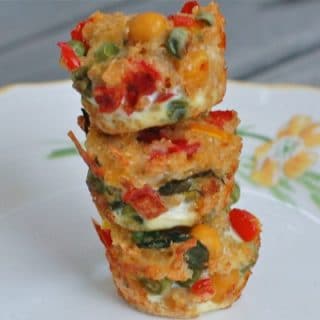 Veggie & Bean Quinoa Bites
Veggie & Bean Quinoa Bites are packed with protein from quinoa, chickpeas, eggs, and cheese and full of nutrients from a colorful array of vegetables! Store them in an airtight container or freeze for a quick lunch or snack.
Ingredients
1 cup cooked quinoa
1 cup no-salt added chickpeas, if using low-sodium or salt-containing beans, drain and rinse prior to using
1/2 cup frozen sweet peas
1/2 cup diced tomatoes
1/2 cup diced yellow peppers
1/2 cup chopped fresh basil
1 clove garlic, minced
1 whole egg
2 egg whites
1 cup shredded cheese, I used a mix of mozzarella and cheddar
1/4 teaspoon Kosher salt
Instructions
Preheat oven to 350 degrees F.
In a large bowl, combine all ingredients from quinoa through the garlic.
In a small bowl, whisk together the egg and egg whites. Pour over quinoa mixture, add the cheese and salt, and stir well to combine.
Fill each cup of a mini muffin tin (24 count) with about 1-1 1/2 tablespoons of quinoa vegetable mixture. Bake for 30 minutes. Remove from oven and let cool about 5 minutes until cool enough to handle. Then transfer quinoa bites to a wire rack to finish cooling.
Notes
DV: 15% calcium, 20% vitamin A, and 35% vitamin C per serving
Nutrition Information:
Yield:

6
Serving Size:

6 Servings
Amount Per Serving:
Calories:

160
Saturated Fat:

3.5g
Cholesterol:

15mg
Sodium:

219mg
Carbohydrates:

17g
Fiber:

4g
Sugar:

2g
Protein:

9g
While we're on the topic of packed lunches, let me tell you about this cool bento-style lunchbox for kids (don't tell..I'm going to use it too!). A few months back I received a Yumbox from the creators Maia and Daniela, but I honestly haven't had a chance to use it since my girls aren't bringing lunch to school yet. So this was my first chance to give it a try and I have to say the Bites were the perfect fit!
The original Yumbox (seen in first picture above and below) is divided into 6 compartments, with labels for protein, grains, dairy, vegetables, and fruit, plus a little dip well. I used two of the compartments to house my Bites since they were a combo of protein, grain, and dairy, another compartment for cucumber spears with low-fat plain yogurt for dipping in the well, and the last two compartments contained a cut up plum. I was actually the one eating lunch out of it today and boy was it fun!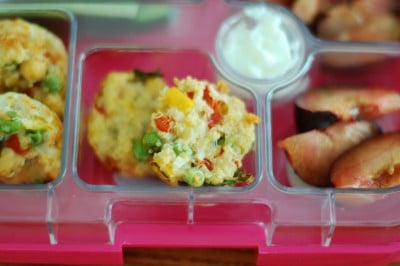 What's your favorite small bite to add to the lunch box?
Find out what my fellow ReDuxers came up with below!
[inlinkz_linkup id=430745 mode=1]