40+ Healthy Cranberry Recipes to Enjoy All Year Long
May 1, 2018
Whether fresh, frozen, canned, or dried, cranberries are a year-round superfood. Add these 40+ healthy cranberry recipes to your meal plan soon!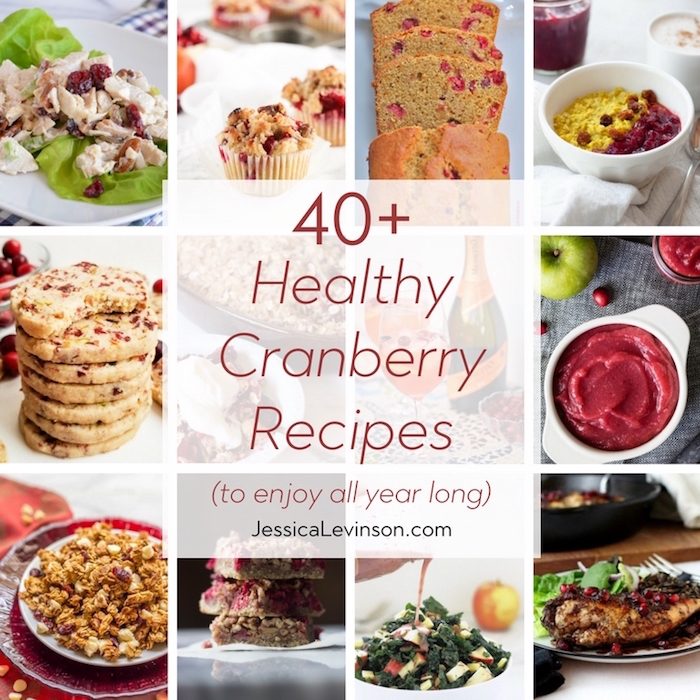 This post was sponsored by The Cranberry Institute as part of an ongoing partnership. I only work with brands and organizations that I believe in and as always all opinions are my own.
Sharing healthy cranberry recipes at the start of the spring season may seem like funny timing, but cranberries are a year-round superfood. Fresh cranberry season is at its peak in the fall, however dried cranberries, frozen cranberries, cranberry sauce, and cranberry juice cocktail are easy, budget-friendly ways to include cranberries all year long.
Regardless of their form, cranberries provide numerous health benefits and can fit into your menu plan in a variety of ways – as evidenced by the healthy cranberry recipes featured below.
Cranberry Health Benefits
I'm sure you're already drooling, but before we get to those mouth-watering recipes, let me share some of the whole-body health benefits cranberries offer. Surely, you've heard that cranberry juice is the go-to for helping to prevent urinary tract infections (UTIs), but that's not all these mighty berries can do.
Research has shown that naturally occurring cranberry compounds may positively affect everything from blood glucose management, to gut health, to heart health, and more. Here are some of the most recent findings:
Diabetes Prevention & Management: There are a handful of studies that show the role of polyphenols in insulin sensitivity and diabetes management. Most recently, research showed that dried cranberries added to a high-fat meal led to a significantly lower glucose response and less inflammation.
Gut Health: Research shows that dried cranberries may reduce intestinal inflammation and improve the gut microbiome. Additionally, cranberry juice may help reduce H. pylori infections and improve the integrity of the intestinal barrier.
Heart Health: While the jury is still out on the overall role of cranberries on heart health, a 2016 study found that compounds in cranberry juice might help improve blood flow and blood vessel function.
Cancer Prevention: Research has confirmed that antioxidants in cranberries (in particular, quercetin) can protect the body from free radicals. These cranberry compounds may inhibit the growth of human cancer cells and thereby play a role in cancer prevention.
Healthy Cranberry Recipes
Now that you're up to date on the latest research and benefits of cranberries, let's get cooking! Here are over 40 healthy cranberry recipes made with all forms of this powerful berry!
Breakfast & Brunch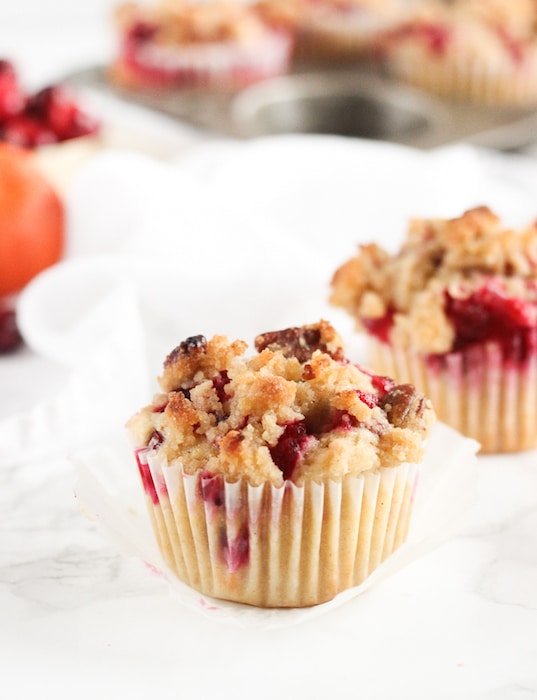 Whole Grain Cranberry Orange Pecan Streusel Muffins @ Lively Table
Cranberry Compote with Whole Grain Waffles @ Nutrition Starring YOU
Golden Turmeric Cranberry Oatmeal @ A Whisk and Two Wands
Slow Cooker Cranberry Pumpkin Oats @ Eat Real, Live Well
Trail Mix Energy Cups @ Haute & Healthy Living
Cranberry White Chocolate Granola @ Family Food On the Table
Sauces & Jams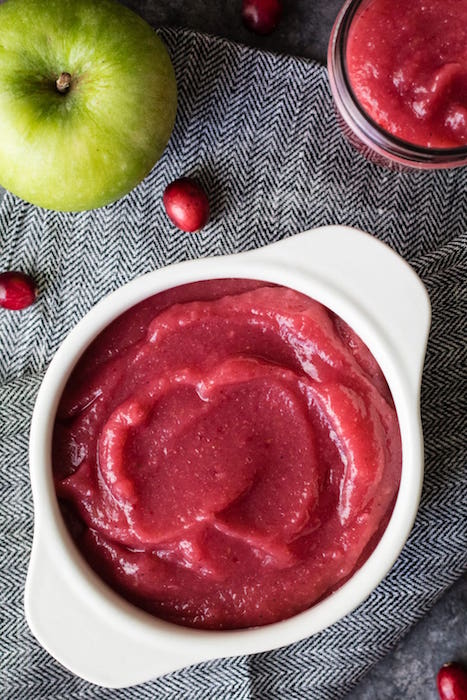 Easy Homemade Cranberry Applesauce @ Kroll's Korner
Orange-Ginger Cranberry Sauce @ Jessica Levinson
Cranberry Pear Sauce @ Triad to Wellness
Cranberry Chia Jam @ Sarah Gold Nutrition
Homemade Cranberry Vinaigrette @ Craving Something Healthy
Salads, Soups, & Sides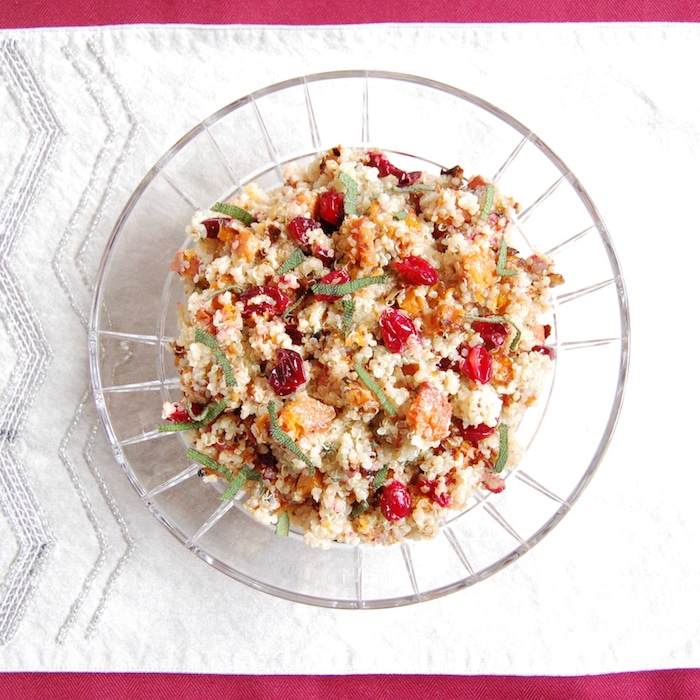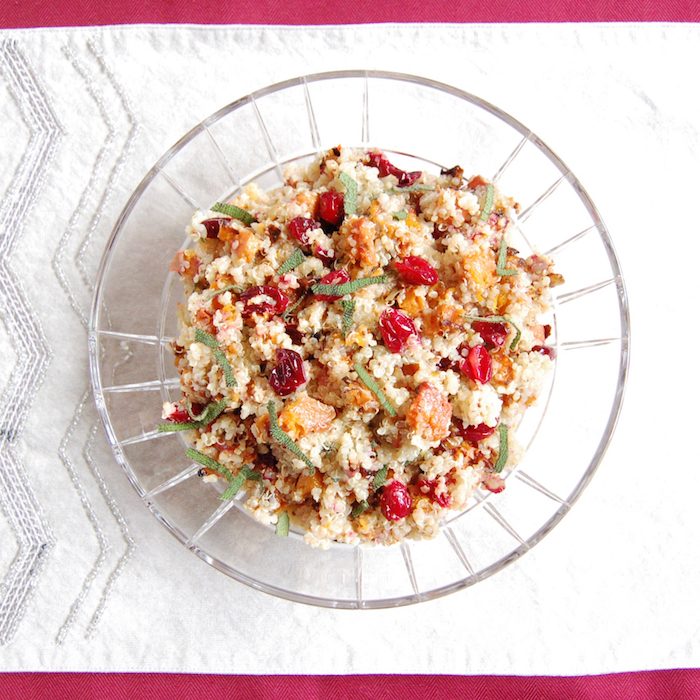 Butternut Squash & Cranberry Quinoa Salad with Cider Dijon Vinaigrette @ Jessica Levinson
Kale Apple Salad with Cranberry Vinaigrette @ Craving Something Healthy
Cranberry Pecan Chicken Salad @ Nourished Simply
Apple Cranberry Tuna Salad @ Jessica Levinson
Make-Ahead Cranberry Orange Kale Salad @ Grateful Grazer
Creamy Parsnip Pear Soup with Cranberry Coulis @ Jessica Levinson
Roasted Butternut Squash Soup with Cranberry Salsa and Blue Cheese Cranberry Scones @ The Joy of Eating
Cranberry Apple Walnut Wild Rice Stuffing @ Haute and Healthy Living
Cranberry Ginger Sorghum Salad @ Jessica Levinson
Main Dishes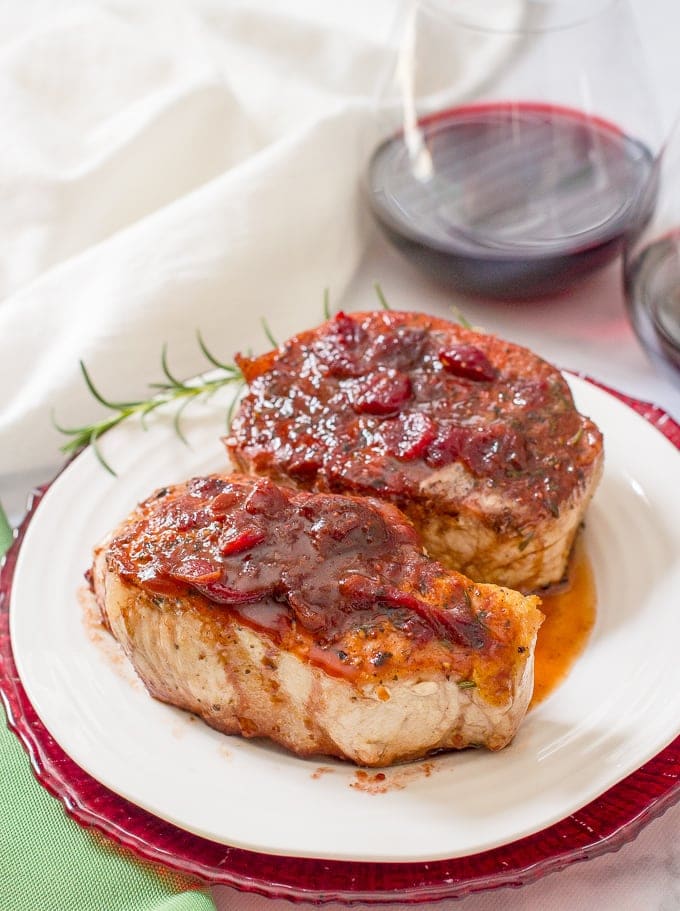 Cranberry Balsamic Pork Chops @ Family Food on the Table
Pomegranate Cranberry Chicken @ Healthy Ideas Place
Cranberry Pear Pizza @ A Whisk and Two Wands
Vegan Cranberry Chickpea Salad Sandwiches @ Grateful Grazer
Turkey Meatballs with Curried Cranberry Sauce @ Craving Something Healthy
Apple Quinoa Lentil Loaf @ Whitney E. RD
Beverages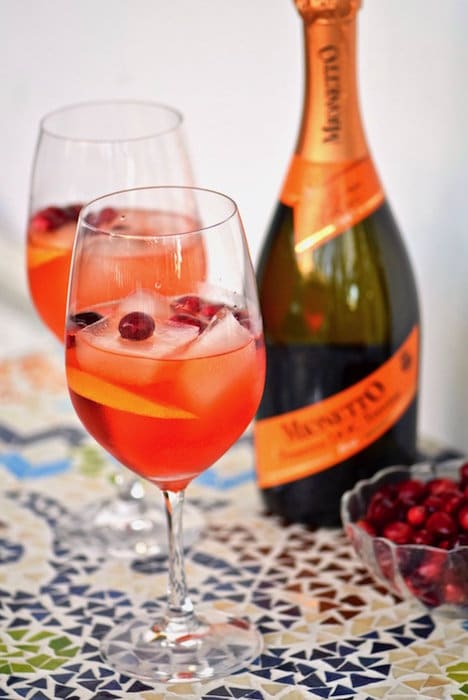 Sparkling Cranberry Aperol Spritz @ Tasting Page
Cranberry Cider Cooler and Cran-Toddy @ Jessica Levinson
Cranberry Apple Sangria @ Sinful Nutrition
Sparkling Cranberry Kombucha Mocktail @ The Real Food Dietitians
Crockpot Cranberry Wassail @ Healthy Aperture
Cranberry Spritzer @ Create Kids Club
Cranberry Margaritas @ Living Well Kitchen
Desserts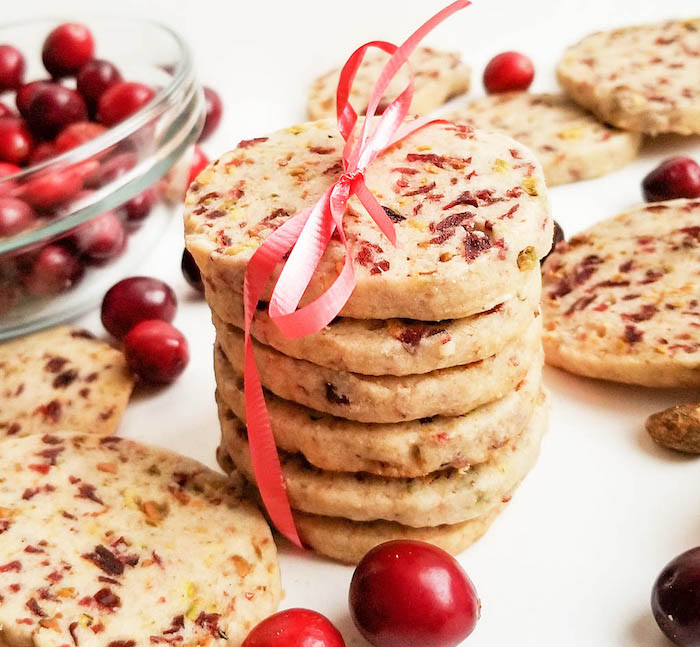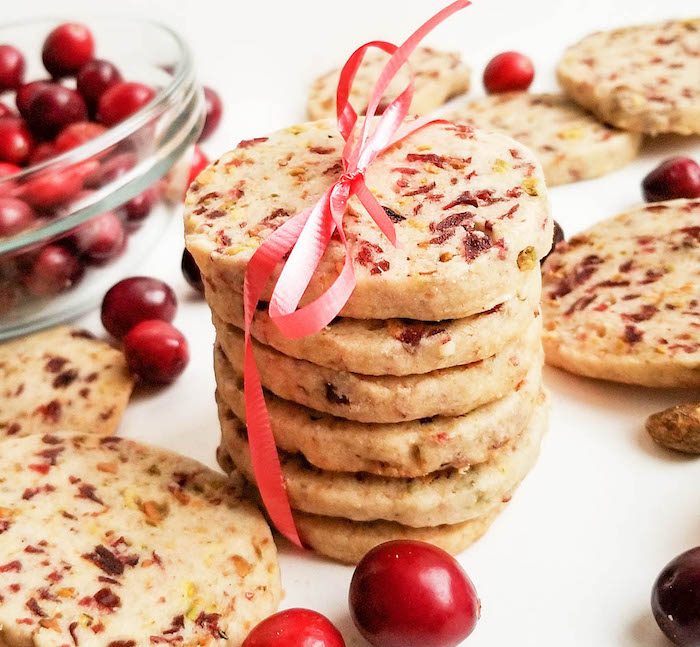 Ginger Cranberry Pistachio Shortbread Cookies @ Beautiful Eats & Things
Cranberry Orange Bread @ Jessica Levinson
Cranberry Chia Crisp @ Nourishing Plate
Cranberry Pecan Pie Bars @ The Gourmet RD
Cranberry Almond Biscotti @ Food, Pleasure & Health
Low-Sugar Cranberry Oatmeal Bars @ Salubrious RD
Iced Orange-Cranberry Biscotti @ Jessica Levinson
Cranberry Semifreddo @ Tasty Balance Nutrition

Now I want to hear from you:
What are your favorite healthy cranberry recipes? 
Share with me in the comments below!