Blood Orange Poached Pears
January 10, 2018
Blood Orange Poached Pears are made with only five simple ingredients and no added sweeteners! A simple and elegant dessert for any occasion!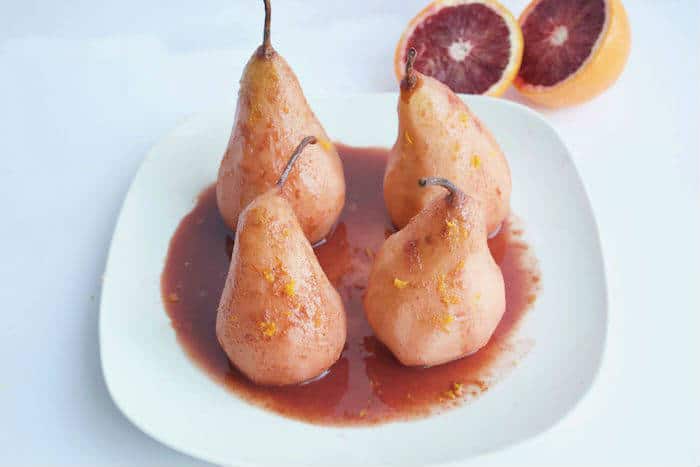 Don't these blood orange poached pears look delicious? I'm so excited to have my assistant and fellow registered dietitian nutritionist Emily Cooper here today to share the recipe with you all. Plus, she put together an awesome recipe video showing you just how easy they are to make! As you'll read below, Emily and I are alike in our dislike of cold weather and love of citrus fruits. I also may or may not have had very orange hands as a child. 😉 Where we differ is in my love of skiing – I've been doing it since I was three years old, long before the cold bothered me as much as it does now! For more of Emily's recipes and writing, check out her blog Sinful Nutrition.
---
by Emily Cooper, RDN
I am not a big fan of winter. There I said it. Born and raised a New England girl, I still shun all things winter and snow related. I don't know how or have any desire to ski. Or snowmobile. Or build an igloo. Complaining about winter? Like the back of my mittened hand.
The only thing I look forward to once the I-can't-feel-my-limbs season comes in full force is the FOOD. Soul-warming soups. Hearty bowls of oatmeal to thaw my hands around. And citrus. All. The. Citrus.
I should be glowing with immunity with the obscene amounts of citrus fruits I consume from December to March. I'm just thankful oranges don't give me that Cheeto-esque glow like carrots do if you eat too many of them. Not that I would know from experience or anything.
Clementines, grapefruit, the classic navel, or even a lemon slice or two if I'm feeling adventurous, I don't discriminate my love for citrus. Although I will say, blood oranges always seem to steal the spotlight whenever they're in town.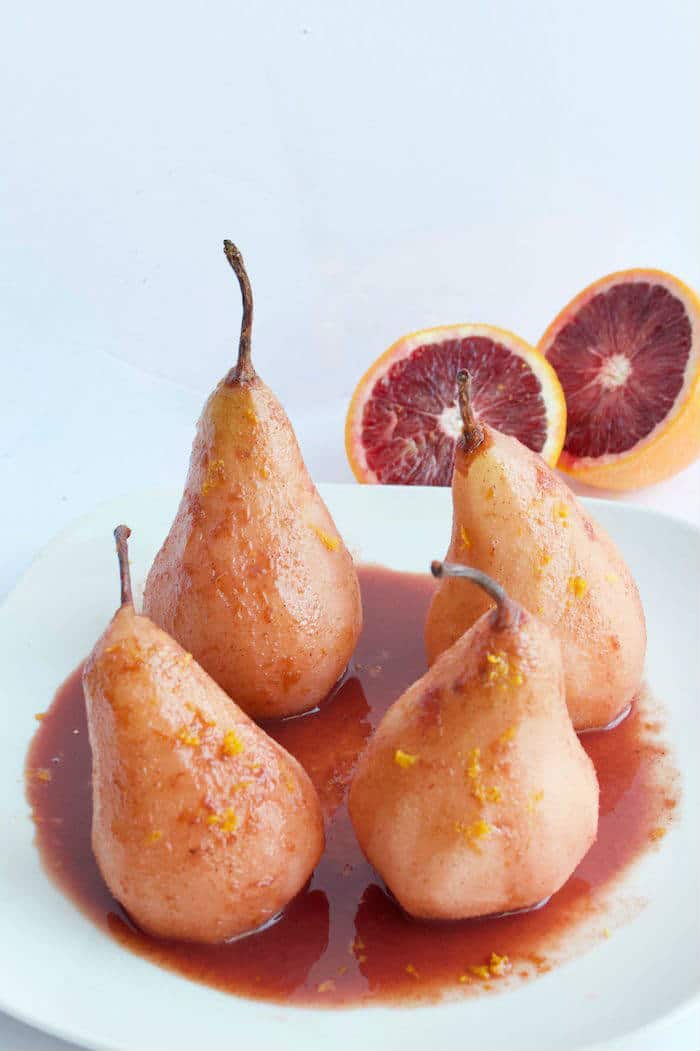 Ingredients & Preparation
When I would teach nutrition classes to kindergarten and first grade, I would always have a lesson on citrus in the winter. I'd have them try all different types of citrus fruits. Clementines were always the easy win. Grapefruits were a toss up. Limes always made me feel like we should be downing tequila shots afterwards (if first graders were about 16 years older that is).
Even though I would forewarn them that blood oranges are named for their color, NOT because they actually contain blood, a unison bellow of surprise and awe would rain over the entire classroom, followed by something along the lines of "I'm not a vampire, so I'm not eating blood!"
Until they tasted how sweet and juicy "blood" could actually be. The rest is history.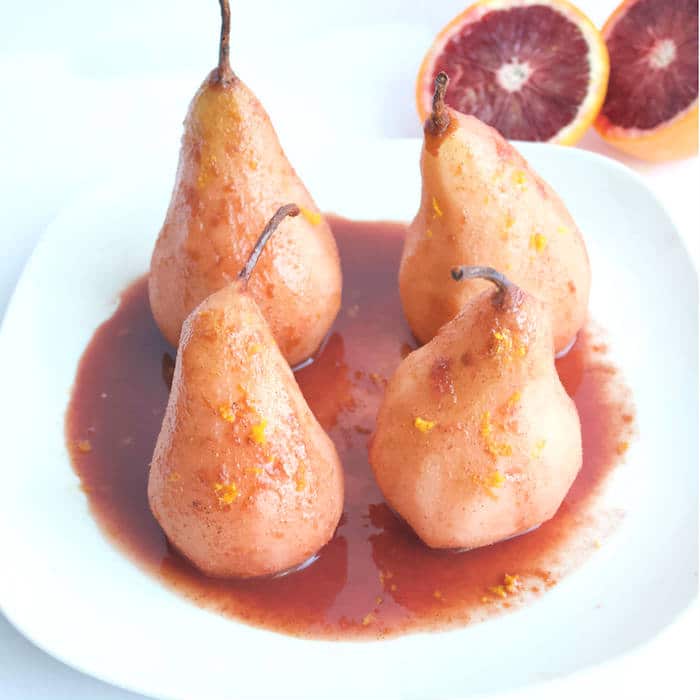 I was able to find blood orange juice to make these blood orange poached pears at Whole Foods, so if you have a speciality grocery store in your area, that's probably your best bet. If not, you can always mix equal parts of regular orange juice with pomegranate juice to get the same color and sweetness.
The smell of the mixture simmering away on the stove fills your house with all the holiday feels, even if it's after the hustle and bustle is long gone and all you're left with is dirty snow and salty cars for two more months.
These blood orange poached pears are such an easy dessert that always look so much more elegant and sophisticated than the actual effort they take to prepare (just check out my video below to see for yourself how easy it is). They're a great way to enjoy the fruits and flavors of the season, even if you're not a vampire. 😉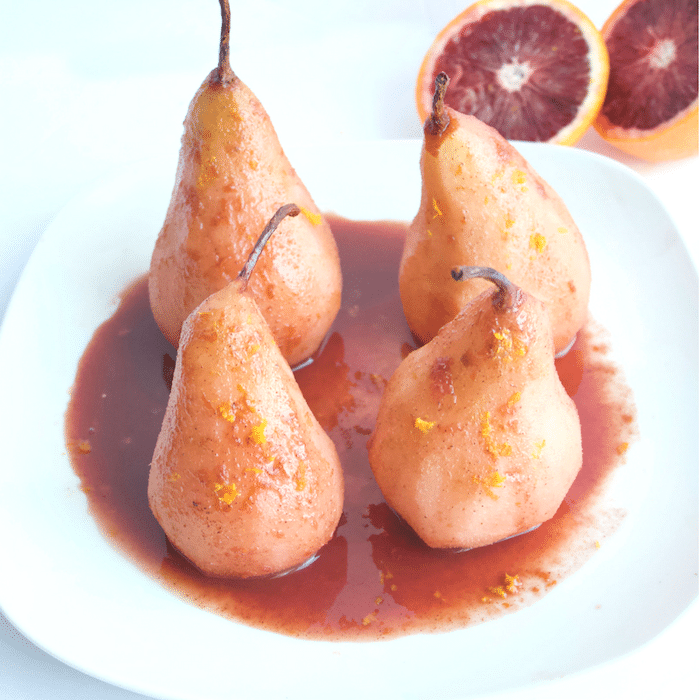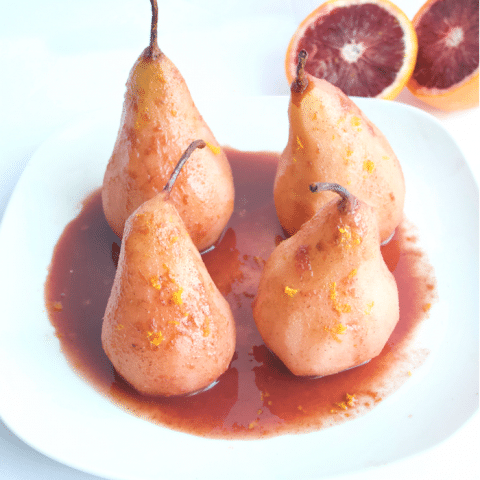 Blood Orange Poached Pears
Blood Orange Poached Pears are made with only five simple ingredients, and no added sweeteners. A simple and elegant dessert for any occasion!
Ingredients
1 1/2 cups blood orange juice
1 teaspoon ground cinnamon
1/2 teaspoon ground ginger
Zest from one orange, (about 1 tablespoon)
4 Bosc pears, , peeled, stems intact
Instructions
Combine juice, spices, and zest in a medium-sized saucepan, and bring to a boil over high heat.
Add peeled pears to juice mixture, and reduce to a simmer. Simmer pears for 15 to 20 minutes, spooning juice over pears often. Remove pears from juice, and set aside to cool.
Simmer juice until mixture reduces by about 1/2. About 15 minutes. Spoon sauce over pears, and serve.
Have you ever made poached pears before?
What's your favorite citrus fruit?
Share with me in the comments below!