Thai Peanut Chicken Satay
January 22, 2015
Thai peanut chicken satay marries the heat of sriracha with the coolness of coconut milk and cilantro. Served as an appetizer or main dish, this recipe is sure to be a crowd pleaser.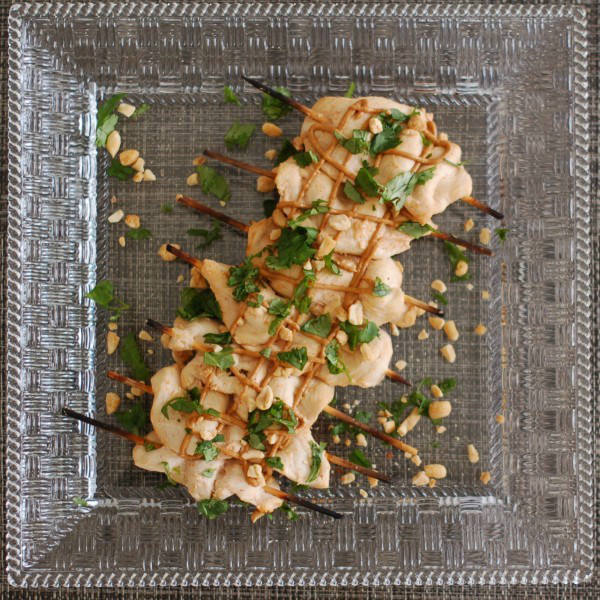 Recipe ReDuxers are turning up the heat this month with recipes focused on smoke and spice! If you haven't noticed, food blogs and restaurant menus have been highlighting spices like harissa, sriracha, and smoked paprika and using more smoking techniques in their cooking. It's certainly a food trend worth posting about and this month, the ReDuxers are sharing their healthy hot dishes.
Sriracha has been my husband's new best friend for the past few months, adding it to almost every dish I make from eggs to pasta, even chicken soup. He insists I shouldn't take it personally and that he loves my dishes even without it, but he just can't get enough. It helps clear his sinuses, and is potentially partly responsible for his slow and steady weight loss (there is research on that correlation).
Since he loves this spicy Thai hot sauce so much, I've experimented with it in my cooking a few times, and after it came out great in my Asian-Style Turkey Meatloaf, I knew it was the perfect source of spice for this month's ReDux. And I knew exactly what I was going to make with it: Thai Peanut Chicken Satay featuring my finger-licking peanut sauce!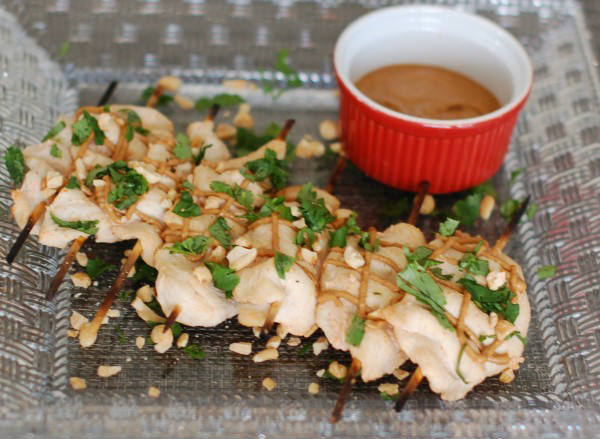 I have a love of peanut butter, as evidenced by numerous posts on this ingredient, including my Apple Peanut Butter Pancakes, Chocolate Peanut Butter Truffles, and the recent peanut butter lover's recipe roundup. I make a killer peanut sauce for my peanut soba noodles and chicken satay, but had yet to share either of them on this blog. What better time than now.
The original peanut sauce recipe calls for red curry paste, but I decided to use sriracha this time around for this thai peanut chicken satay recipe. Although I try to keep things on the milder side because of my 3 year old twin daughters, I also added sriracha to the chicken marinade. If you like more spice, feel free to increase the amounts of sriracha in the marinade and/or sauce, or do what my husband did and drizzle sriracha on all over the final dish. No offense taken if you do!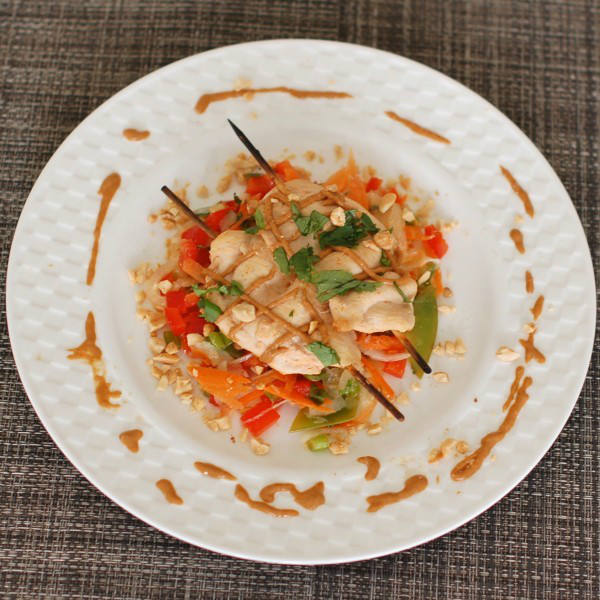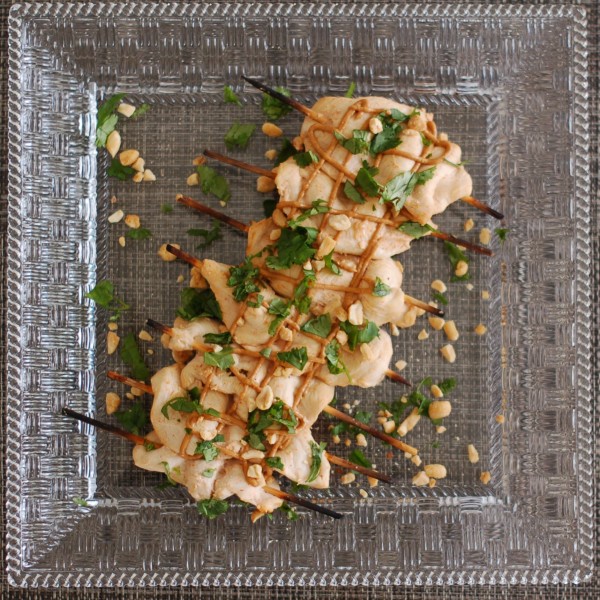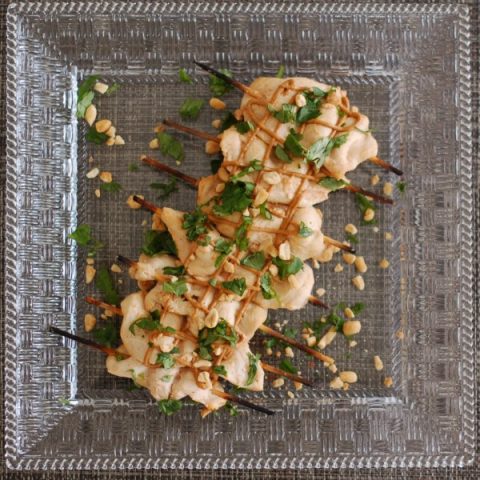 Thai Peanut Chicken Satay
Thai chicken satay with peanut sauce marries the heat of sriracha with the coolness of coconut milk and cilantro. Served as an appetizer or main dish, this recipe is sure to be a crowd pleaser.
Ingredients
For the Chicken:
3/4 cup lite coconut milk
3 tablespoons lime juice
2 teaspoons fish sauce
1 tablespoon reduced-sodium soy sauce, (for GF, use GF soy sauce/tamari)
2 teaspoons sriracha
2 pounds thinly pounded boneless, skinless chicken breast
10 wooden skewers cut in half,, soaked in water
For the Peanut Sauce:
2 teaspoons minced garlic, (~2 cloves)
2 packed teaspoons grated ginger
1/3 cup natural creamy peanut butter
2 tablespoons low-sodium soy sauce, (for GF, use GF soy sauce/tamari)
2 tablespoons unseasoned rice vingear
1 tablespoon dark brown sugar
1 teaspoon sriracha
2 tablespoons hot water
Chopped peanuts and cilantro for garnish, (optional)
Instructions
For the Chicken:
In a small mixing bowl, combine the coconut milk, lime juice, fish sauce, soy sauce, and sriracha. Place chicken cutlets in a resealable bag and pour the marinade over them. Gently toss chicken until well-coated. Refrigerate for at least 30 minutes.
Set oven to broil (or if using grill, pre-heat grill or grill pan over medium-high heat). Line a baking sheet with aluminum foil (use two baking sheets depending on size).
Thread one chicken cutlet onto each soaked skewer, working the skewer in and out of the meat, down the middle of the piece. Spread chicken skewers on prepared baking sheet, drizzle any remaining marinade on top, and broil for 5-6 minutes, turning halfway through.
For the Peanut Sauce:
Combine the sauce ingredients up to and including sriracha in a mini food processor and puree until smooth and well blended. Add 2 tablespoons of hot water and puree again to thin out the sauce. Add more hot water if thinner sauce is desired. Transfer sauce to a small serving dish.
Serve chicken satay with peanut sauce and garnish with chopped peanuts and cilantro.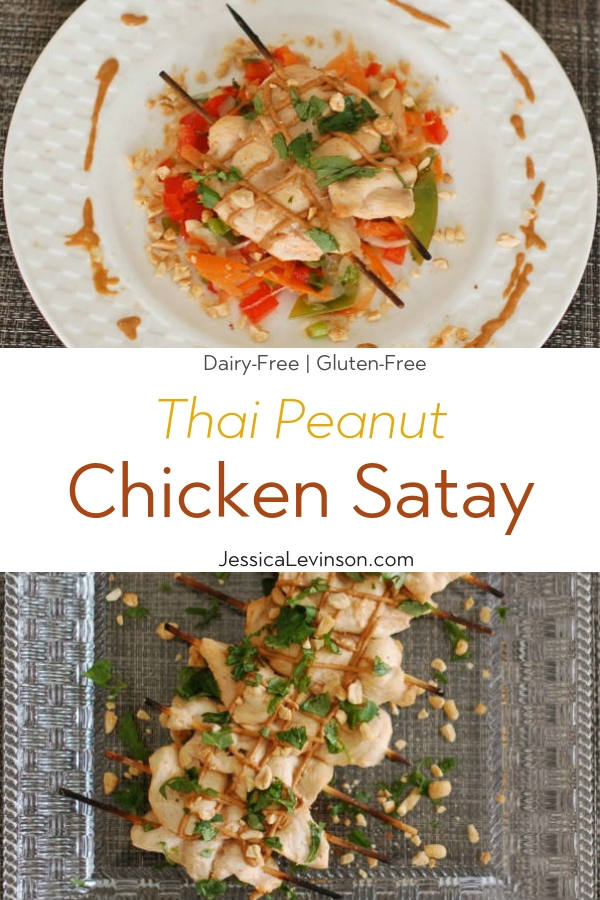 Do you like sriracha or other hot sauces?
What's your favorite spicy recipe?
Share with me in the comments below!