Greek Zucchini Pie {Recipe ReDux}
July 22, 2015
Golden crisp on the outside, light and fluffy on the inside, this savory zucchini pie with mint speaks summer.
When we moved into our house almost three years ago, my husband suggested I start a vegetable garden. As much as I wanted to, I didn't feel like I could really take on the work and upkeep that would be required for this project (remember, I had 6-month old twins at the time!). Hubby then reduced his suggestion to me growing some herb plants, but yet again, I didn't feel like it was something I could devote my energy to. Three years later and I still haven't taken on the task of growing my own vegetables or herbs, yet I know I would use everything I would grow given all my cooking.
Thankfully, there are some great local farmers markets in my area – one on Fridays is even within walking distance from our house! (Pictures above are from last Friday's visit.) So I enjoy the fruits and vegetables of their labor as much as I can, which made my participation in this month's Recipe ReDux particularly easy:
Fresh from the Garden
The season of bountiful produce has arrived. Whether your produce comes from the Farmers Market, a CSA share, or a plot of dirt out back, show how you are using fresh July fruits or veggies. And if you have gardening successes – or failures – please share!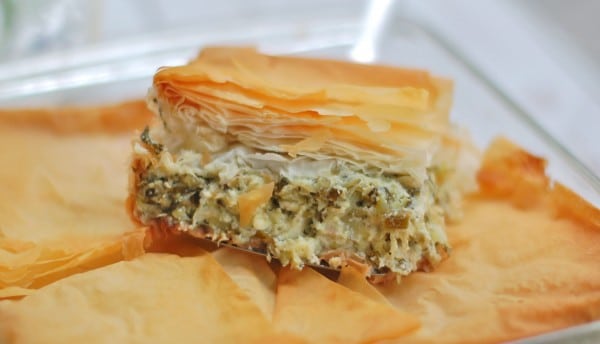 I think everyone pretty much knows that zucchini is in abundance by July. There's only so much grilled zucchini, zucchini bread, and stuffed zucchini boats you can make before you get tired of the same old thing. And while zoodles are all the rage these days, until I get the fancy spiralizer I'm not really interested in more kitchen injuries!
So instead, I decided to take a summery twist on Greek spinach pie, aka Spanakopita, using zucchini and fresh mint. As it turns out, zucchini pie is actually a thing (and here I thought I was so creative!), known as Kolokithopita in Greek.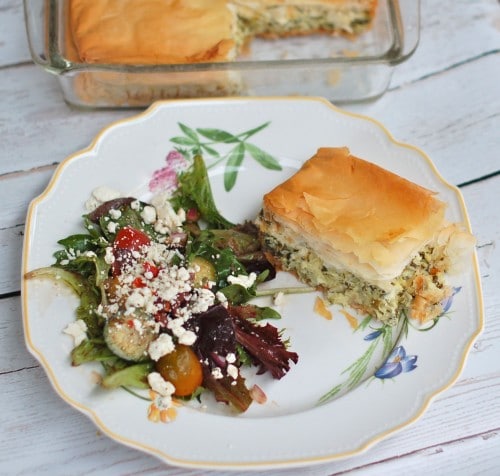 My version is lightened up using a mix of part-skim ricotta and feta, and instead of all the butter usually added to the layers of phyllo dough, I use olive oil spray to keep them sealed together.
The result: a golden brown, crispy yet fluffy savory pie that speaks summer. Served with a Greek salad it's the perfect dinner for a warm summer night.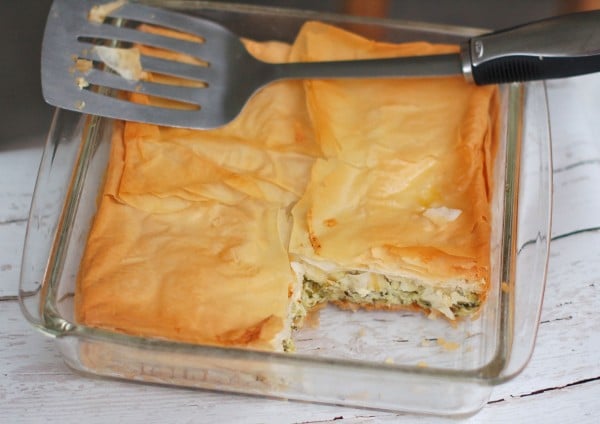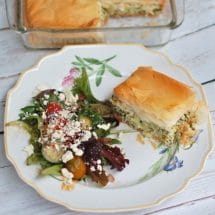 Greek Zucchini Pie
Golden crisp on the outside, light and fluffy on the inside, this savory zucchini pie with mint speaks summer.
Total Time
1
hour
5
minutes
Ingredients
Olive oil cooking spray

1

tablespoon

olive oil

3/4

cup

chopped scallions

white and green parts

2

cloves

garlic

minced (~1 tablespoon)

1 1/2

pounds

zucchini

grated (squeeze excess water out before cooking)

1

large egg

2

large egg whites

2

tablespoons

lemon juice

1/2

cup

part-skim ricotta cheese

1

cup

crumbled feta cheese

1/2

teaspoon

dried oregano

1/2

cup

loosely packed chopped mint

1/2

teaspoon

Kosher salt

Freshly ground black pepper

8

sheets phyllo dough

defrosted if frozen
Instructions
Preheat oven to 350 degrees F. Spray a 9x9 inch square baking dish with cooking spray and set aside.

In a large saute pan, heat olive oil over medium-high. When pan is hot, add scallions and garlic; saute about 2 minutes. Lower heat to medium, stir in grated zucchini and saute about 10 minutes, until the water has released and evaporated. Remove from heat and set aside to cool.

In a medium bowl, whisk together egg, egg whites, lemon juice, ricotta, feta, oregano, and mint. Stir in zucchini mixture and season with salt and pepper. Set aside.

Carefully lay 1 sheet of phyllo dough across the prepared baking dish; spray lightly with olive oil cooking spray. Lay another sheet of phyllo dough on top of the first sheet; spray with olive oil spray, and repeat process with two more sheets of phyllo. The sheets will hang over the baking dish.

Pour the zucchini cheese mixture into the baking dish over the layers of phyllo and spread with a spatula so you have an even layer.

Layer remaining 4 sheets of phyllo dough the same way you laid the first four, spraying each with cooking spray. Fold overhanging dough over the top and spray with olive oil once more.

Bake zucchini pie for 35-40 minutes until the phyllo is golden brown and crispy. Let cool a few minutes before serving.
Recipe Notes
Phyllo dough is very delicate. Once you unroll it, be sure to cover with a damp paper towel, and continue to cover each time you remove a piece to build the layers.
What's your favorite way to cook with zucchini?
For more summer produce recipes, be sure to check out my fellow ReDuxer's recipes below!
[inlinkz_linkup id=538500 mode=1]