Menu Plan Monday: May 1, 2017
May 1, 2017
Get the latest happenings at Small Bites by Jessica, this week's Link Love, and Menu Plan Monday all in one place!
Latest Happenings:
Hey everyone! Hope you had a fantastic weekend! It felt like summer here on Saturday, and boy did we enjoy the nice weather! (Did you catch our dance party on my Instastory? Make sure you follow me on Instagram so you don't miss all the fun!)
ICYMI, last week I finally shared my top meal planning tips for busy families – if you're here for my weekly menu plan, then you definitely will be interested in checking out that list. I'm working on a printable with some bonus content too – stay tuned for that!
In other news, this Friday, May 5th, is Cinco de Mayo! I absolutely love Mexican food and am always up for a margarita and some chips and guac, so make sure you follow me on social this week as I share some recipes to inspire your fiesta cooking. I actually won't be having a Cinco de Mayo dinner on Friday because I'm hosting an adult-only dinner party on Saturday night, so saving my cooking and margaritas for that! But if you want to get some advance prep in, here are a few of my favorite Mexican-style recipes:
I think that's enough to get you started 😉
And now, for this week's link love and menu plan!
Articles:
How to Store Produce So It Lasts Longer @ Food52
⇒ Wondering how to keep that lettuce or a bunch of herbs from wilting? And should you put tomatoes in the fridge? Here are the answers to that and more! 
What to Eat On An Autoimmune Diet @ The Spicy RD
⇒ If you suffer from, or know someone who suffers from, an autoimmune disease, please read my friend EA's post about dietary changes you may need to make.
Recipes:
Deviled Potatoes @ Delish Knowledge
⇒ I love Alex's creative take on deviled eggs. Now I just need a spring celebration to make them for!
Parsley Stem Pesto Over Roasted Asparagus @ RDelicious Kitchen
⇒ This is such a creative recipe to help reduce food waste, and make the most of the spring veggies all in one!
15 Minute Cereal Granola @ Create Kids Club
⇒ Do you have nearly empty boxes of cereal lying around your pantry? Turn it into a quick granola with this simple and genius recipe!
Margarita Energy Bites @ EmPowered Nutrition
⇒ Start your Cinco de Mayo celebrations a little earlier than happy hour with this fun snack!
Crispy Rhubarb Lemon Chicken Bake @ Cotter Crunch
⇒ I absolutely agree with how Lindsay feels about rhubarb. The season is way too short, but if you act fast, you may still be able to get your hands on some. Then you can make this delicious chicken dish (or my Strawberry Rhubarb Mimosas or Rhubarb Ginger Lemon Muffins!)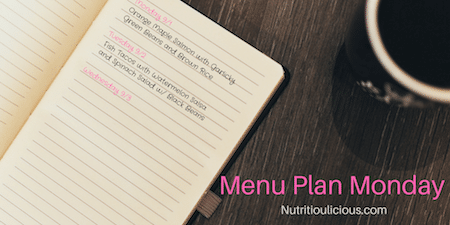 Menu Plan Monday: Week of May 1, 2017
Monday: 
Lunch: Leftover Spiced Quinoa with Roasted Apples & Root Vegetables topped with goat cheese, veggies, olives, orange smiles
Dinner: Farinata with Tomatoes, Mozzarella, and Pesto (making a slight variation on this using ricotta cheese) and Roasted Broccoli Radish Salad
Tuesday: 
Lunch: Easy Veggie Egg Muffins, sliced veggies, and pear slices
Dinner: Asian-Style Farro Buddha Bowl with Crispy Baked Tofu
Wednesday: 
Lunch: Leftover farro Buddha bowl and fruit
Dinner: mom's out – eggs or ravioli with sauce
Thursday: 
Lunch: Veggie burger, sliced veggies, and fruit
Dinner: Garlic Cilantro Salmon with Red Cabbage Carrot Slaw and Roasted Broccoli
Friday: Takeout
What's on your menu this week?
Please share with me below or on social media!