Healthier Pumpkin Pancakes
September 23, 2016
This fall, wake up to a stack of these healthier pumpkin pancakes made with whole grains, aromatic spices, honey, and 100% pure pumpkin puree.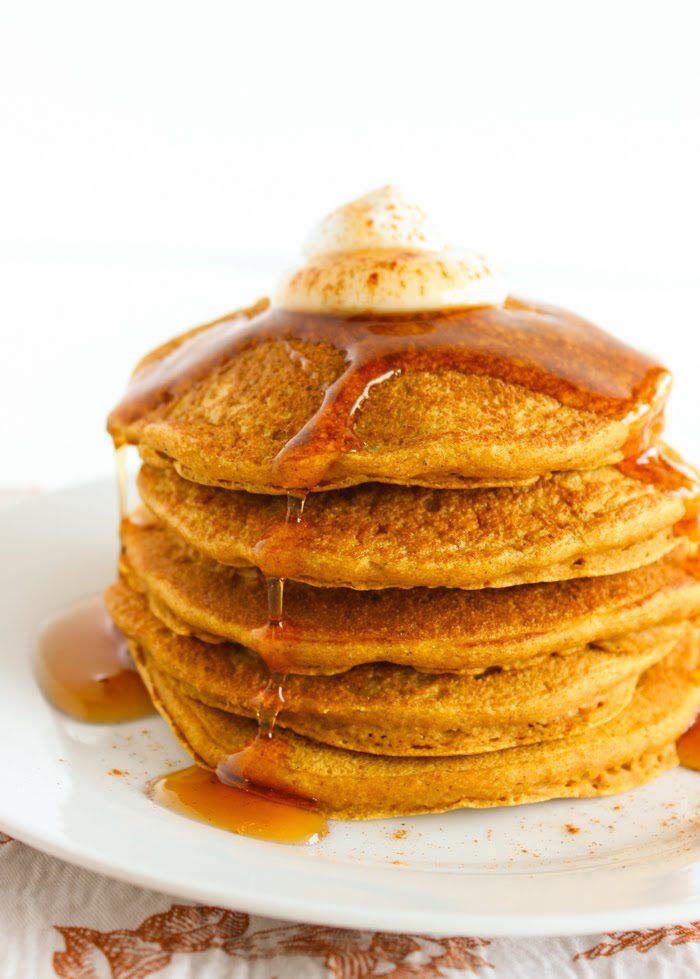 This page contains affiliate links. See below for full disclosure statement.
What would autumn be without all things pumpkin?! Now that fall is officially here, it's time to start cooking and baking with all the winter squash I can get my hands on. Hopefully there won't be any shortages of canned pumpkin this year because I definitely want to get my fill of this beta-carotene-rich veggie, and these healthier pumpkin pancakes!
I actually posted these Healthier Pumpkin Pancakes back in 2011 as part of The Recipe ReDux theme "Fresh From the Pumpkin Patch," but back then my food photography was baaaaad, and to be honest, the recipe needed some tweaking too. So just in time for the fall season here is the new and improved recipe and, even better, these gorgeous photos!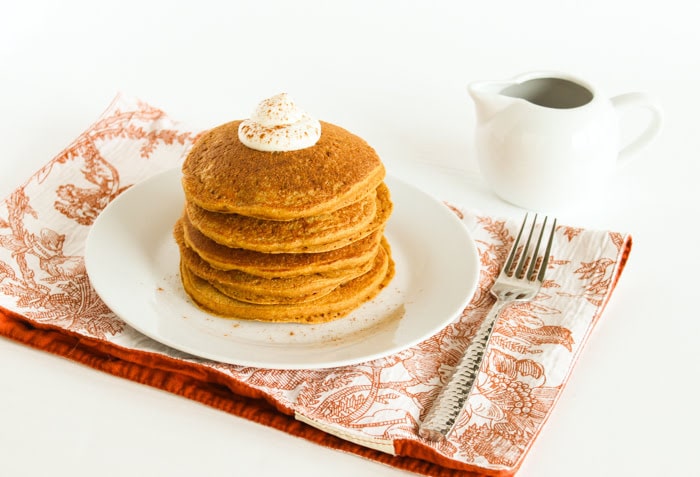 Ingredients & Preparation
The first step to making healthier pancakes is to use whole grain flour. I have been using white whole wheat flour for most of my baking, but you can also use a combination of all-purpose flour and whole wheat flour.
These pancakes are also healthier than many other recipes you'll find because they only call for a little bit of added sweetener (in this case honey). To boost the flavor without adding calories and sugar, I add aromatic warming spices, including cinnamon, ground ginger, and nutmeg.
Lastly, when making healthier pumpkin pancakes, be sure to use 100% pumpkin puree, not pumpkin pie filling or mix. The only ingredient you should see on the label is pumpkin; the pie filling has added sugar and spices, which you don't need since you'll add your own.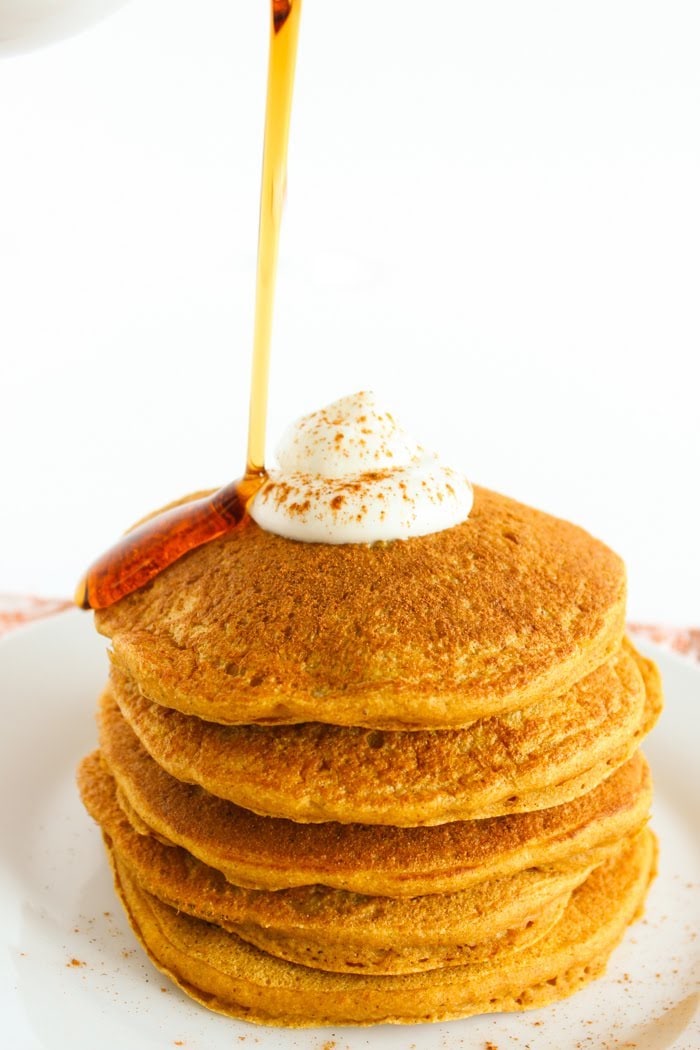 Making these pancakes is pretty straightforward and easy, and it's a perfect recipe to get the kids to help. Most kids won't turn up their noses at pancakes, but if they hear "pumpkin" they may be less inclined to try them. Not once they're involved in the pouring and mixing!
Young children can help with spooning flour into measuring cups, pouring ingredients into bowls, whisking ingredients together, and even cracking eggs. Older kids can help cook the pancakes too – just be careful around the hot stove and pan!
I don't think you'll find these pancakes too sweet, so I like to serve them the same way I serve most other pancakes – with some low-fat plain Greek yogurt for a protein boost, warm maple syrup for some added sweetness, and a side of fruit to round out your breakfast meal.
I think a batch of these Healthier Pumpkin Pancakes is in order this weekend. What about you?!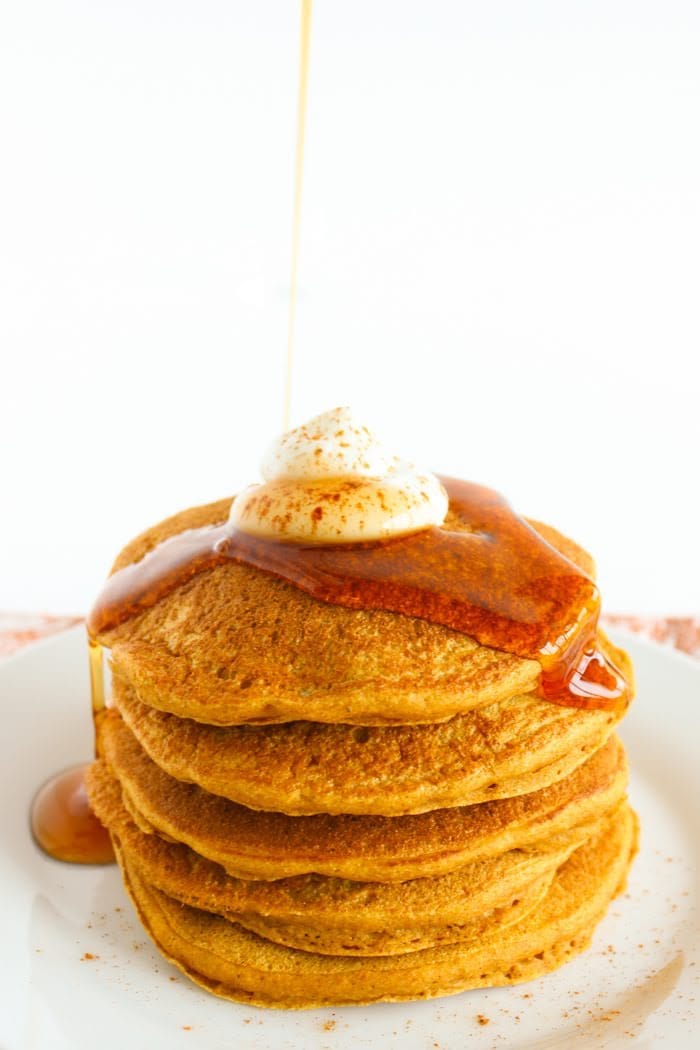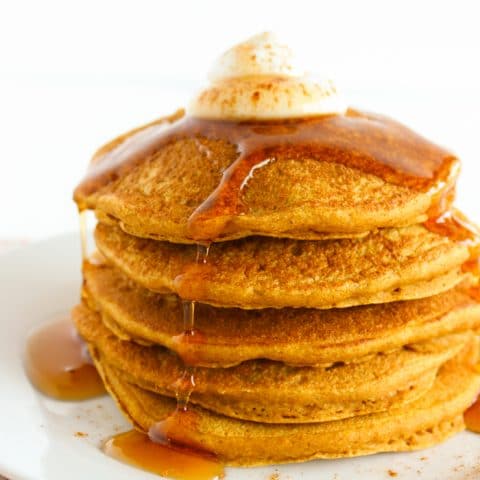 Healthier Pumpkin Pancakes
This fall, wake up to a stack of these healthier pumpkin pancakes made with whole grains, aromatic spices, honey, and 100% pure pumpkin puree.
Ingredients
1.5 cup white whole wheat flour, (or use 3/4 cup all purpose flour & 3/4 cup whole wheat flour)
1 teaspoon baking powder
1/2 teaspoon baking soda
1 1/2 teaspoon ground cinnamon
3/4 teaspoon ground nutmeg
1/2 teaspoon ground ginger
1/4 teaspoon table salt
2 large eggs
1 1/2 cups nonfat milk
1 tablespoon honey
1 teaspoon vanilla extract
1 cup pumpkin puree
Coconut oil or butter for greasing the griddle
Maple syrup, for serving (optional)
Non-fat plain Greek yogurt, for serving (optional)
Instructions
In a large bowl, whisk together the flour, baking powder, baking soda, cinnamon, nutmeg, ginger, and salt.
In a medium bowl, whisk the eggs, milk, honey, and vanilla. Add in the pumpkin and whisk until combined.
Whisk the wet ingredients into the dry ingredients until just combined and smooth. Allow batter to rest 10 minutes.
Over medium-low heat, grease griddle with oil or butter. Using a 1/4-cup measuring cup, drop the batter onto the griddle and smooth with a spatula. Cook until the edges are set and the batter begins to bubble in the middle. Flip and cook on other side for another couple of minutes until bottom is lightly browned and pancake is cooked through.
Repeat with the remaining batter. Serve hot with warm maple syrup and yogurt.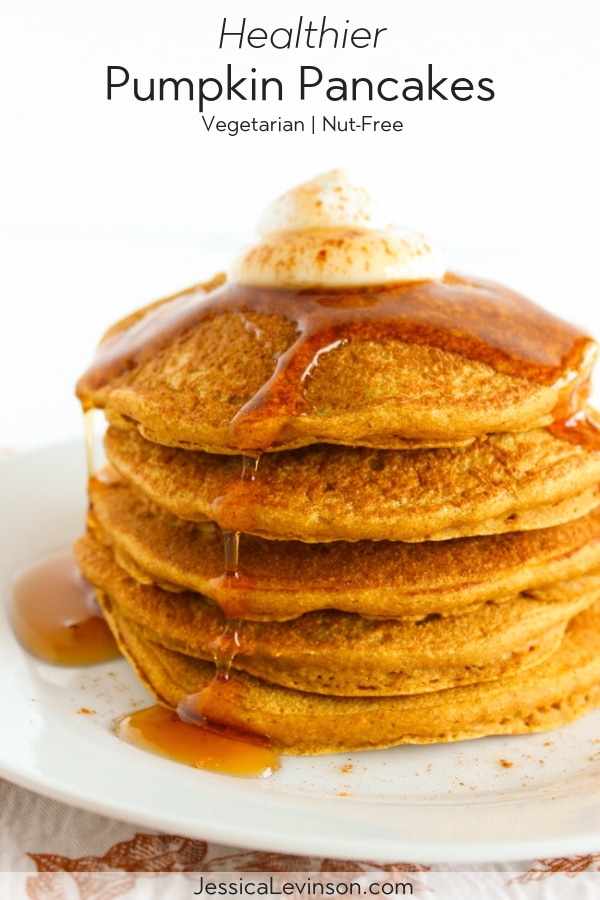 Are you excited for pumpkin season?
What's your favorite pumpkin recipe?
Share with me in the comments below!
Disclosure: This page contains affiliate links. If you purchase products through these link, your cost will be the same but I will receive a small commission to help with operating costs of this blog. As always, all thoughts and opinions are my own and I only recommend products I truly believe in. Thanks for your support!