40+ Refreshing Summer Cocktail and Mocktail Recipes
June 13, 2017
Sit back, relax and enjoy the hot days and nights of summer with one (or more!) of these refreshing cocktail and mocktail recipes!
Cocktails are delicious all year round, but there's nothing better on a hot summer day than sitting on your back porch sipping on an ice-cold, refreshing drink. Especially if said drink is made with some of the most aromatic, flavorful, and eye-catching fruits, vegetables, and herbs of the season.
Whether booze-filled or booze-free, summer drinks are some of my favorites, and I don't think I'm alone. That's why I'm sharing over 40 of some of the season's most refreshing cocktail and mocktail recipes from fellow RDs and food bloggers. Cheers to the start of summer!
Cocktails
Strawberry Mint Margarita @ Dietitian Debbie Dishes
Raspberry Limeade Gin Fizz @ Frugal Foodie Mama
Grapefruit Jalapeno Mezcal Margarita @ The Spicy RD
Mixed Berry Margarita @ Chef Savvy
Tart Cherry Margaritas @ Ari's Menu
Strawberry Rhubarb Gin Fizz @ The Foodie Dietitian
Rosemary Ginger Margaritas @ Wicked Spatula
Watermelon Mojitos @ Jessica Levinson
Lemongrass Cilantro Margaritas @ Lively Table
Cucumber Lime Basil Prosecco Spritzer @ fANNEtastic food
Watermelon Mint Cocktail @ Avocado a Day Nutrition
Strawberry Kombucha Mojito @ Krolls Korner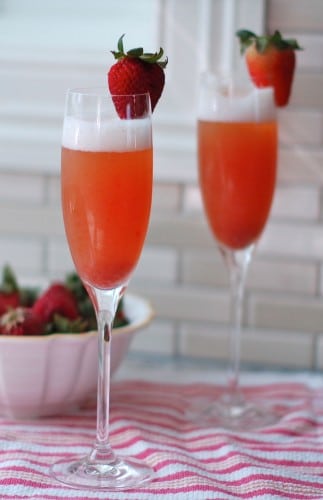 Strawberry Rhubarb Mimosa @ Jessica Levinson
Valentine's Day Gin Fizz @ The Living Well Kitchen
Frozen Strawberry Basil Margaritas @ Delish Knowledge
Strawberry Cucumber Cocktail @ The Almond Eater
Spiced Raspberry Ginger Green Tea Cocktail @ Nutrition Starring YOU
Watermelon Frosé @ Sinful Nutrition
Summertime Citrus-Infused Cocktails @ Street Smart Nutrition (this one can fit in the mocktail category too!)
Spicy Strawberry Rhubarb Margaritas @ Jessica Levinson
Watermelon Strawberry Pomegranate Margarita @ KISS in the Kitchen
Kombucha Pomelo @ Sincerely Nourished
Matcha Green Tea Mojito @ Sinful Nutrition
Frozen Mango Coconut Daquiri @ Marisa Moore Nutrition
Strawberry Mint Fizz Cocktail @ Bucket List Tummy
Pineapple Mojitos @ Emily Ruth Weir
Bourbon Iced Tea with a Lemon-Lime Splash @ Shaw's Simple Swaps
Cucumber Herb Champagne Sparkler @ Sharon Palmer
Non-Alcoholic Mocktails
Strawberry Basil Lemonade @ Feed Me Seymour
Strawberry Watermelon Mint Elixir @ The Spicy RD
Cherry Limeade @ The Lean Green Bean
Sparkling Rhubarb Lemonade @ Food52
Blueberry Basil Cooler @ Jessica Levinson
Strawberry Mint Agua Fresca @ Kumquat
Honeydew Lemonade @ The Foodie Physician
Sparkling Cucumber Cooler @ The Kitchn
Wild Blueberry Ginger Mint Green Tea @ The Spicy RD
Grapefruit Pomegranate & Rosemary Spritzer @ Taste & See
Blackberry Lime Fizz @ RDelicious Kitchen
Strawberry Mint Lemon Cucumber Spritzer @ Simple Cravings. Real Food.
Watermelon Mint Mocktail @ The Baby Steps Dietitian
Sparkling Rainbow Mocktails @ Nutrition to Fit

What are your favorite summer cocktail and mocktail recipes?
Please share with me below or on social media!