Rosemary Garlic Oven-Roasted Tomatoes
June 3, 2020
Got bland out-of-season tomatoes? Punch up the flavor with these rosemary garlic oven-roasted tomatoes! They're quick and easy to make and can be enjoyed in a variety of ways.

*Originally published February 2014. Updated June 2020.* This page contains affiliate links. See below for full disclosure statement.
Late summer when tomato season is at it's peak, I can pop raw cherry tomatoes in my mouth without adding anything to them. I also love to eat raw summer tomatoes in a caprese salad with mozzarella, basil, and some aged balsamic. But for most of the rest of the year, raw tomatoes just don't taste quite as good. I'll keep some tomatoes on hand to have a slice on a sandwich or to top my salads, but for the most part, outside of the summer months I cook tomatoes.
Roasting Boosts Flavor
These Rosemary Garlic Oven-Roasted Tomatoes are my favorite way to enjoy out-of-season tomatoes. They were inspired by my mom, who used to make a similar recipe when I was growing up. It was actually the only way I would eat tomatoes in my younger years!
As with all vegetables, roasting brings out the flavor and sweetness that is tucked inside sometimes-bland produce. Plus, when the tomatoes are cooked, the antioxidant lycopene, which is most often talked about in relation to tomatoes, is more readily absorbed than it is when eaten raw.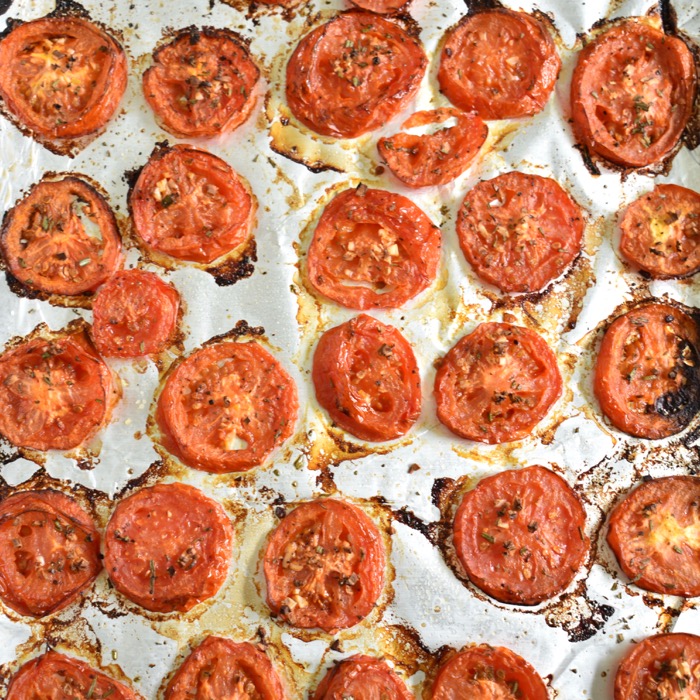 A Simple Side Dish
These oven-roasted tomatoes are so simple to make and only require a few simple ingredients. I generally use beefsteak tomatoes, tomatoes on the vine, or plum tomatoes when I make this recipe, but you can follow the same recipe using cherry, grape, or Campari tomatoes too.
To make this side dish, I slice the tomatoes about half an inch thick, toss with olive oil, and then spread on a parchment paper-lined baking sheet. You can roast them just like that, or to boost the flavor you can add freshly minced garlic and fresh or dried herbs. (If you're using cherry or grape tomatoes you would simply cut them in half through the stem end.)

Ways to Use Oven-Roasted Tomatoes
Once cooked, these oven-roasted tomatoes can be kept in a sealed container for a few days and enjoyed in a variety of ways. Some of my favorites include adding them to a grilled cheese sandwich, topping a pizza, adding to a snack platter with parmesan crisps and nuts, pairing with simply grilled or baked meat, chicken, or fish, and of course serving as a side dish. Here are some of my recipes they go best with: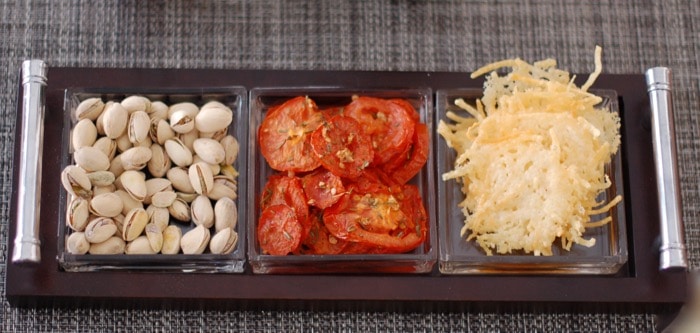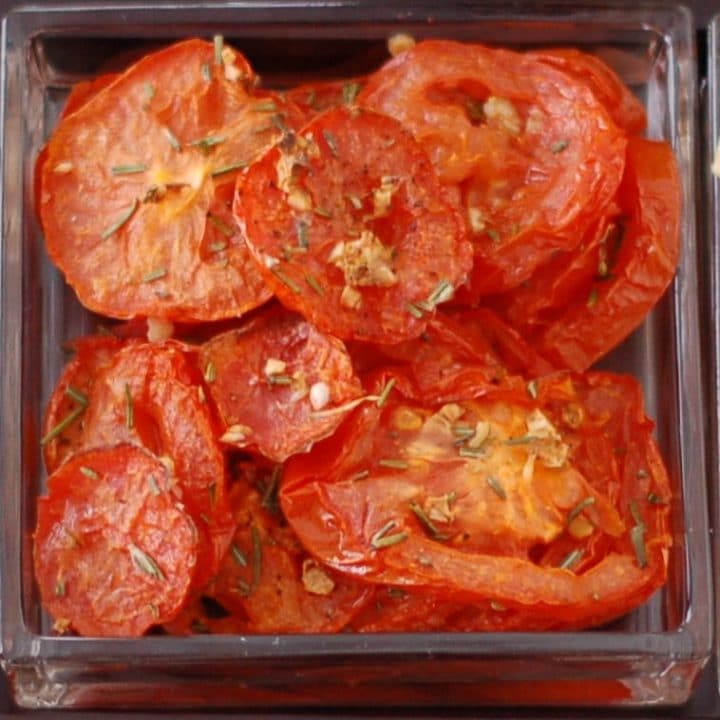 Rosemary Garlic Roasted Tomatoes
Just because tomatoes aren't in season doesn't mean you can't enjoy them all year round and reap their nutritional benefits. Roasting them brings out their sweetness and fresh garlic and herbs make them a savory delight!
Vegan, Nut-Free, Gluten-Free, Kosher
Ingredients
2 pounds beefsteak, on-the-vine, or plum tomatoes, sliced horizontally 1/2" thick
1 tablespoon olive oil
3 large garlic cloves, minced
1 tablespoon freshly chopped rosemary or thyme (or 1 teaspoon dried)
1/4 - 1/2 teaspoon Kosher salt
Freshly ground pepper, to taste
Instructions
Preheat oven to roast at 400 degrees F. Line a baking sheet with parchment paper and set aside.
In a mixing bowl, toss the sliced tomatoes with olive oil.
Spread the sliced tomatoes in one layer on the prepared baking sheet. Sprinkle tomatoes with minced garlic, rosemary, salt, and pepper.
Roast on the top shelf of the oven for 15-20 minutes, until the tomatoes are wilted and browned around the edges. To ensure even cooking, rotate the baking sheet halfway through cooking time.
Recommended Products
As an Amazon Associate and member of other affiliate programs, I earn from qualifying purchases.
Nutrition Information:
Yield:

4
Amount Per Serving:
Calories:

77
Total Fat:

4g
Saturated Fat:

.5g
Trans Fat:

0g
Cholesterol:

0mg
Sodium:

292mg
Carbohydrates:

10g
Fiber:

3g
Sugar:

6g
Protein:

2g
Nutrition information was calculated by Nutritionix. It may not be 100% accurate.
What would you eat with these oven-roasted tomatoes?
Share with me in the comments below!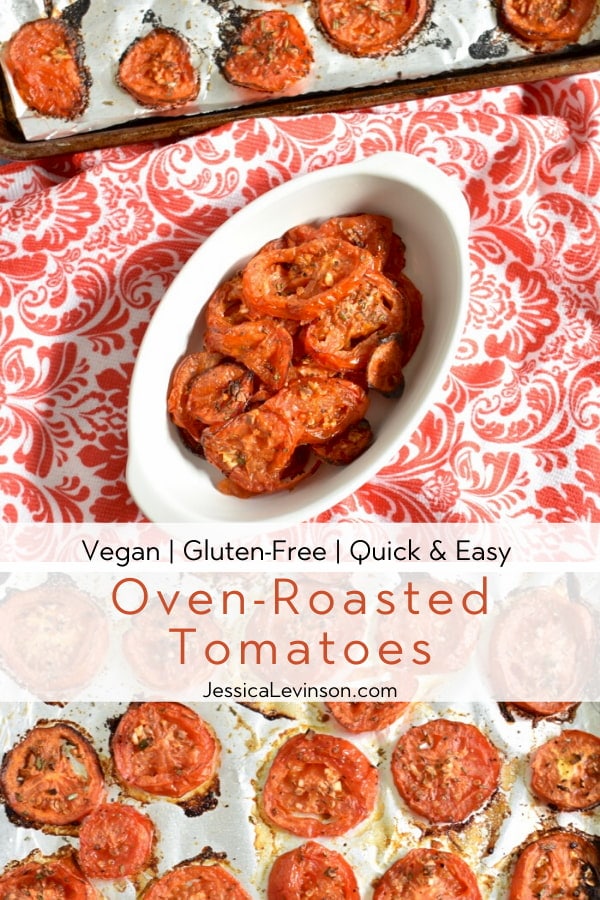 Disclosure: This page contains Amazon Affiliate links. If you purchase products through these link, your cost will be the same but I will receive a small commission to help with operating costs of this blog. As always, all thoughts and opinions are my own and I only recommend products I truly believe in. Thanks for your support!