Cocoa Flavanols & Homemade Caffé Mocha
February 28, 2017
Warm up with a Homemade Caffé Mocha that's delicious and contains beneficial cocoa flavanols.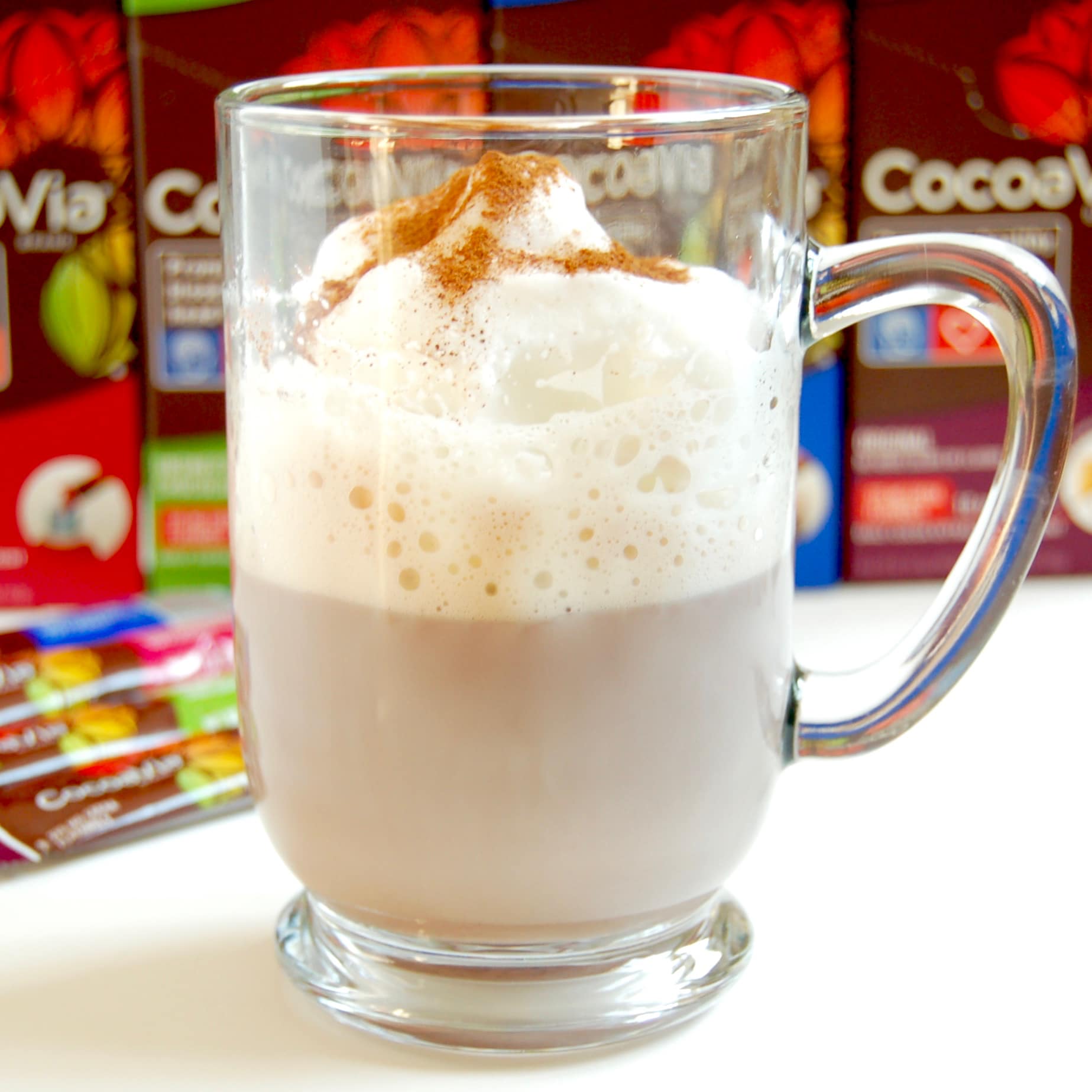 I'm a sponsored CocoaVia® brand influencer, but all opinions are my own. Please see below for additional disclosure.
On weekdays I start my mornings with a simple cup of coffee topped with some milk and a dash of half and half. Come the weekends, my husband and I like to get a little fancier with our coffee. After receiving a milk frother over the holidays, we've been having some fun making different coffee drinks like lattes and cappuccinos.
With all the snow we've been having lately, my girls have been so excited to enjoy hot chocolate after playing outside, and I've been opting for a grown up version – a caffé mocha. Caffé mocha, also called a mocaccino, is like a latte, but with chocolate. Traditionally it's made by adding hot milk and sweet cocoa powder to a shot of espresso, and sometimes it's even topped with whipped cream. As you can see, it can become more of a dessert than an afternoon pick-me-up.
CocoaVia® Supplement and Cocoa Flavanols
I'm sure you've heard that chocolate is healthy, but the benefits of chocolate come from cocoa flavanols, not the percent of cacao or the darkness of the chocolate. To keep the calories, fat, and added sugar of my caffé mocha in check, and to reap the health benefits of cocoa flavanols, I like to add CocoaVia® cocoa extract supplement to my mocha.
The concentrated cocoa extract in CocoaVia® supplement is made using the patented Cocoapro® process, and as a result, CocoaVia® supplement delivers the highest concentration of cocoa flavanols in a cocoa extract supplement today – one CocoaVia® powdered stick pack contains 375 mg cocoa flavanols!
Cocoa flavanols are the beneficial plant-based nutrients found naturally in cocoa and they work with your body to maintain the healthy flow of oxygen and nutrients to all parts of your body, by promoting healthy blood flow†. These benefits of the cocoa flavanols in CocoaVia® supplement are supported by more than two decades of scientific research, which makes me feel especially confident that adding CocoaVia® supplement to my diet is beneficial for my overall health.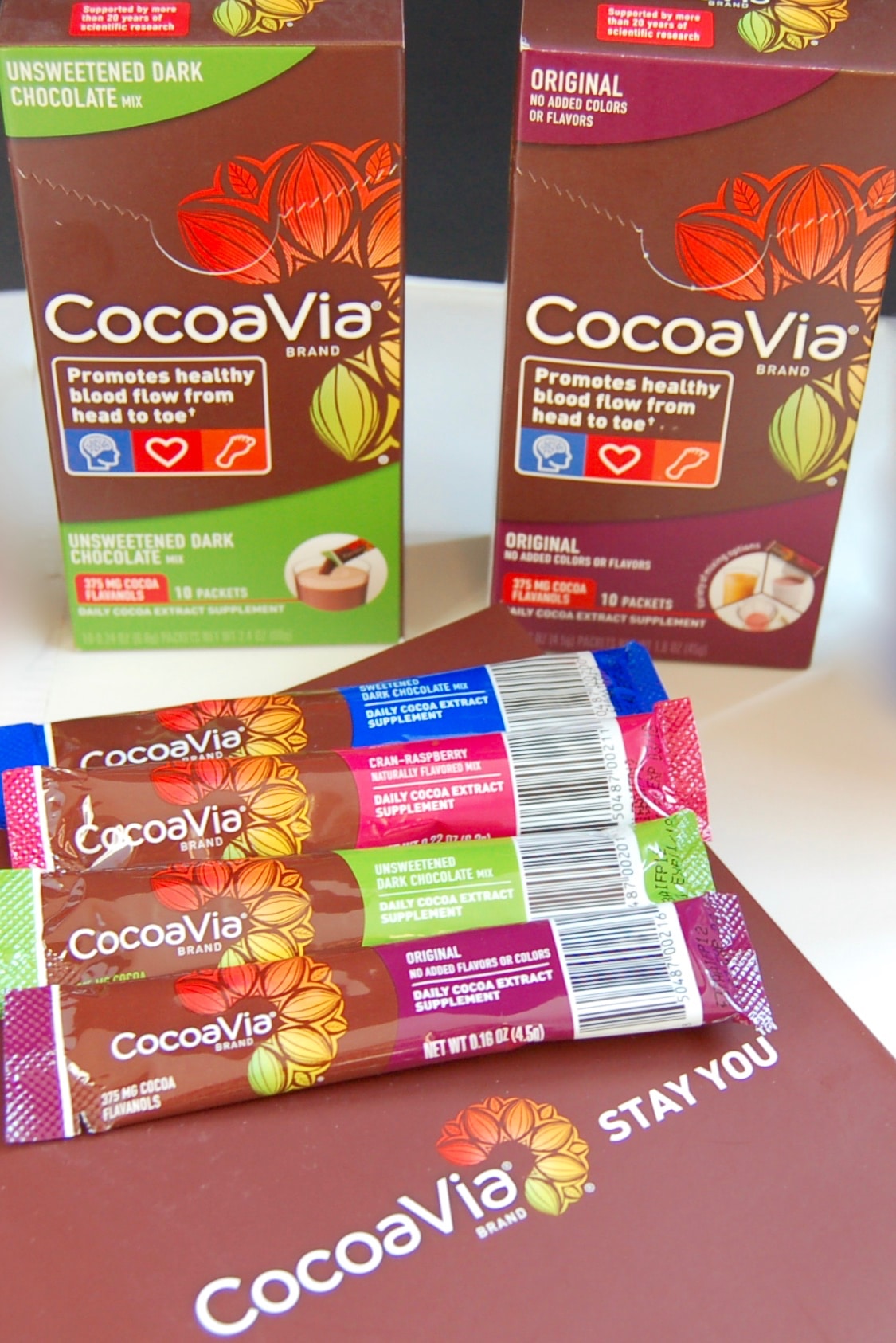 In addition to adding a CocoaVia® powdered stick pack to coffee, you can also add it to a fruit smoothie as an afternoon snack, mix it into a cooked bowl of oatmeal or a cup of yogurt for breakfast, or add it to a glass of refreshing iced tea on a hot summer day. So many delicious ways to get those cocoa flavanol benefits if you try all the flavors!
If you want to try it for yourself, use promo code RDA25* to get 25% off any purchase on the CocoaVia® website.
Now are you ready for this delicious Caffé Mocha recipe?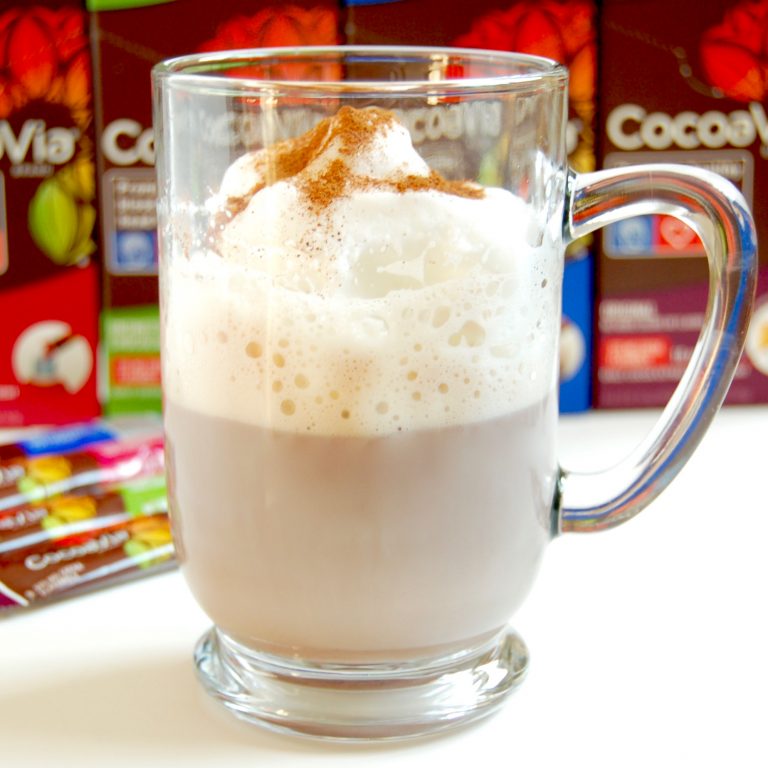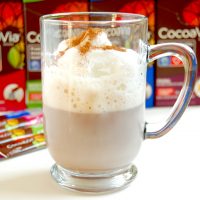 Homemade Caffé Mocha
Warm up and enjoy the benefits of cocoa flavanols with this Caffé Mocha, made with nonfat milk and CocoaVia® cocoa extract supplement. Vegetarian and vegan-friendly if non-dairy milk is used.
Ingredients
1

CocoaVia® Original powdered stick pack

2

ounces

espresso or strong coffee

4

ounces

hot nonfat milk with foam

(or milk of choice)

Cinnamon

(optional)
Instructions
Pour hot coffee and milk into a coffee mug and add the CocoaVia® powdered stick pack. Scoop milk foam on top and sprinkle with cinnamon if desired. Sit back, relax, and enjoy!

Have you tried CocoaVia® cocoa extract supplement?
Do you enjoy fancy coffee drinks at home?
Share with me in the comments below!
† This statement has not been evaluated by the Food and Drug Administration. This product is not intended to diagnose, treat, cure, or prevent any disease.
* Limit one use per customer on a maximum of three units per item. Excludes cases and expires 2/28/2017.
This is a sponsored post by the CocoaVia® brand. The content and opinions expressed below are my own. I am in no way affiliated with CocoaVia® and do not earn a commission or percent of sales.
I am participating in a VN campaign.