Rosemary Garlic Roasted Tomatoes {Recipe}
February 6, 2014
Late summer when tomato season is at it's peak, I can pop raw cherry tomatoes in my mouth without adding anything to them. I also love to eat raw tomatoes in a caprese salad with mozzarella, basil, and some aged balsamic. But in the depth of winter, raw tomatoes don't taste quite as good. And while I generally stick to purchasing in-season produce, sometimes you just want to have a slice of tomato on your sandwich or to top your salad. To get the most flavor out of these nutrient-rich nightshade vegetables during the off-season months, I roast them with some fresh garlic and different herbs I may have on hand.
As with all vegetables, roasting brings out the flavor and sweetness that is tucked inside sometimes-bland produce. Plus, when the tomatoes are cooked, the antioxidant lycopene, which is most often talked about in relation to tomatoes, is more readily absorbed than it is when eaten raw.
These roasted tomatoes are so simple to make and once cooked, they can be kept in a sealed container for a few days and enjoyed in a variety of ways. Some of my favorites include adding them to a grilled cheese sandwich, topping a salad or pizza, serving them as a side dish with my "fried" chicken, with eggs for a mediterranean-inspired breakfast for dinner meal, and of course now pairing them with parmesan crisps and in-shell pistachios!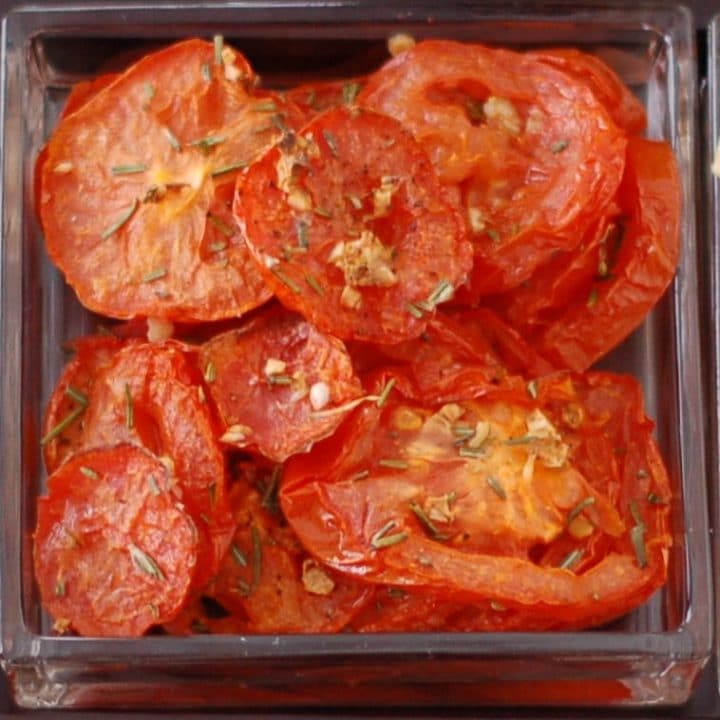 Rosemary Garlic Roasted Tomatoes
Just because tomatoes aren't in season doesn't mean you can't enjoy them all year round and reap their nutritional benefits. Roasting them brings out their sweetness and fresh garlic and herbs make them a savory delight!
Ingredients
1 pound plum tomatoes, sliced
1 tablespoon olive oil
3 large garlic cloves, minced
1/2 tablespoon chopped rosemary
1/8 teaspoon Kosher salt
Freshly ground pepper
Instructions
Preheat oven to roast at 400 degrees F. Line a baking sheet with foil and set aside.
In a large enough bowl, toss the sliced tomatoes with olive oil. Make sure each tomato slice is coated.
Spread the sliced tomatoes in one layer on the prepared baking sheet. Sprinkle each tomato with some garlic, rosemary, salt, and pepper. Roast on the top shelf of the oven for 15-20 minutes, making sure the tomatoes are cooking evenly.
Notes
You can also use thyme, oregano, or basil. And if you don't have fresh herbs on hand, dry work well too!
In case you missed it, I posted the Parmesan Tomato Pistachio Tower the other day as my entry for the co-sponsored Recipe ReDux and Pistachio Health Institute contest, in which we were challenged to pair in-shell pistachios with other foods to make "uniquely delicious" pairings in various categories. Check it out and you'll get what my husband described as a great balance of chewy, juicy, and crunchy textures and salty and sweet flavors!
Tell me: What would you eat with these roasted tomatoes?