Holiday Appetizer Board with Red Onion Jam
November 18, 2018
Kick off your holiday gatherings on a delicious foot by serving a beautiful appetizer board including cheese, vegetables, whole grain crackers, and a reduced added sugar red onion jam.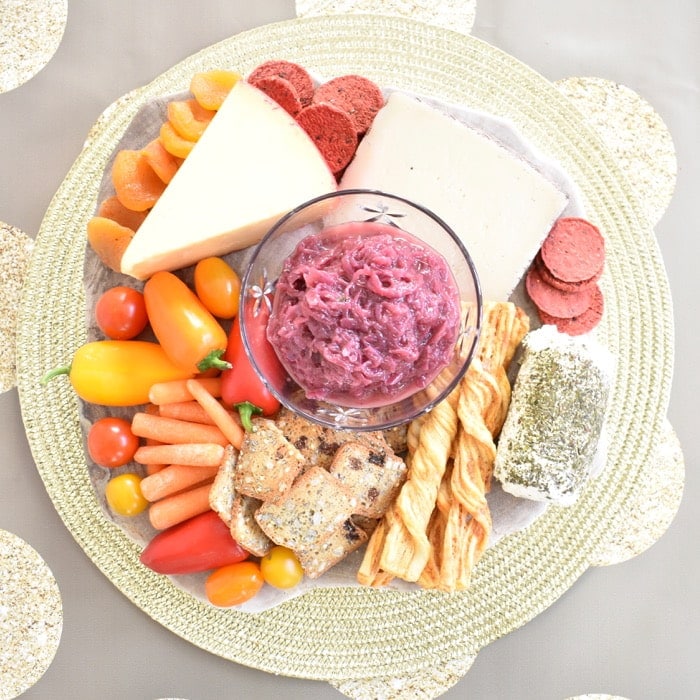 This post was sponsored by SPLENDA® Brand Sweetener as part of an ongoing partnership. I only work with brands and organizations that I believe in and as always all opinions are my own.
In case you haven't been to a party (or on Pinterest) in a while, beautiful platters of food are among the hottest food trends this year. Wood, marble, and slate boards are being used for more than just cheese these days. Everything from fruits, vegetables, charcuterie, dips and spreads, desserts, and even breakfast are being served on meticulously organized platters and served communal style at cocktail parties, brunches, and sit down dinners.
They're especially perfect for the holidays, when you have your house full of friends and family clamoring to eat!
Filling Your Appetizer Board
Whenever I have guests to my home I like to put out a variety of foods people can enjoy without filling up too much before the main meal. Freshly cut vegetables with a protein-based dip like hummus or tzatziki (a Greek-yogurt cucumber dip) are a must, and depending on what else I'm serving that day I'll include any or all of the following:
Olives
Blistered shishito peppers
Assorted crackers (with whole grain definitely in the mix!)
Cheese
Sweet and savory jam
The jam may seem out of place to some of you, but let me tell you, sweet and savory jam is absolutely delicious on top of cheese and/or crackers. If you haven't tried it, I implore you to give it a try. And you can get started with my new recipe for a reduced added sugar red onion jam!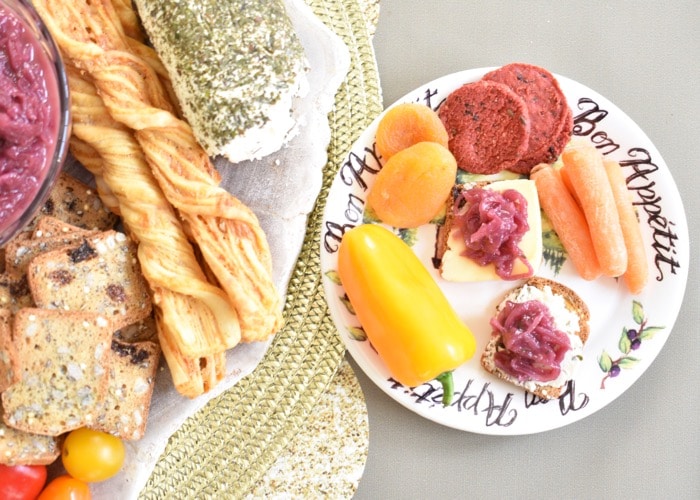 Reduced Added Sugar Jam
There's no denying that I'm an onion fan. Almost every savory recipe you'll find in my recipe library has onion and garlic in it (sorry to all of you on a low-FODMAP diet!). For most of my cooking I use yellow onions, which are essentially the all-purpose variety most commonly used in recipes. They're not as pungent as white onions, and they get sweeter as they cook.
However, if I'm going to eat onions raw, red onions or green onions (aka scallions) are my top pick. Red onions are slightly sweeter and milder than yellow onions, so when they cook they only get that much sweeter. Not sweet enough for jam though. That's where you need some added sweetness to get the right balance of sweet and savory flavors.
To keep the added sugar and calories lower for this red onion jam, I used SPLENDA® Naturals Stevia Sweetener, Granulated. Whereas some stevia sweeteners can have a bitter aftertaste, SPLENDA® Naturals Stevia Sweetener gets its unique sweetness by primarily using the tastiest part of the stevia leaf, Reb D.
Unlike many other no-calorie sweeteners, SPLENDA® Naturals Stevia Sweetener, Granulated can be used cup for cup like sugar. So there's no need to use your math skills to convert how much sweetener you need to use in this recipe.
Preparation
To make this red onion jam, start by sautéing the onions until they're soft, but not browned. Remember – you're not looking for crispy onions, so low and slow is the name of the game.
Once the onions are translucent and soft it's time to add some liquid (I like to use dry white wine for a richer flavor – please note, the alcohol burns off while cooking), lemon juice and sherry vinegar (for balance), your sweetener, and your herbs and salt. At this point, your hands-on work is done – let the mixture simmer over medium-low heat until the liquid has reduced and your onions are soft and gooey.
As you can see, there's not a lot of hands-on time to make this jam (cutting the onions is the most time-consuming part), but to get the sweet, rich flavor and soft, melt-in-your-mouth texture of red onion jam, you need to have patience. Like caramelizing onions, making jam takes a bit of time, but trust me the end result is worth it!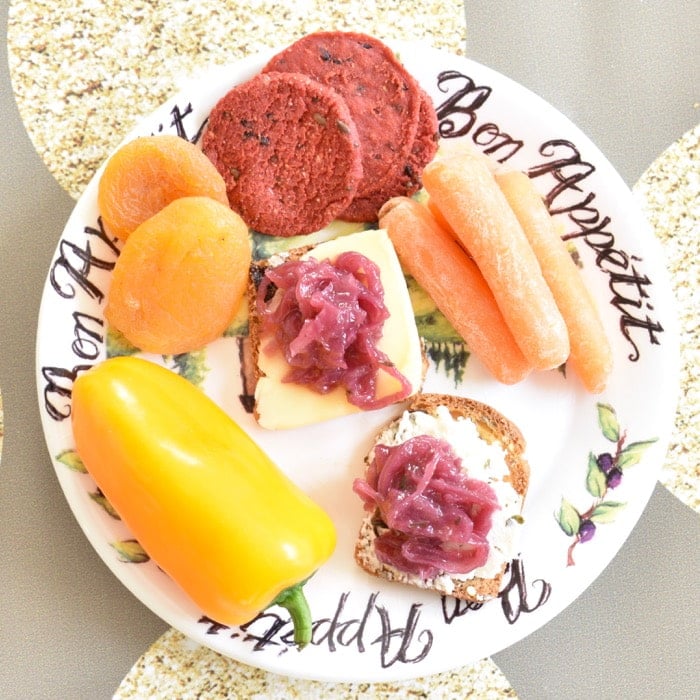 Ways to Use Red Onion Jam
As I mentioned, I love pairing red onion jam with cheese and crackers, but there are many other ways you can put this jam to use. Here are some ideas:
Add it to grilled cheese (or any sandwich for that matter)
Serve it as a topping for grilled chicken or steak
Add it to a quiche or egg frittata with mushrooms
Toss it into salads
Throw it on pizza (especially with roasted Brussels sprouts. Mmmmm….)
Use as a topping for fish tacos
As you can see, there are so many possibilities to put this red onion jam to use. The truth is, it's so delicious on its own, you may not even have enough to get through all of these ideas! But if you do, keep the jam stored in an airtight container for up to two weeks.
I want to hear your ideas to put this red onion jam to use. Share them with me below!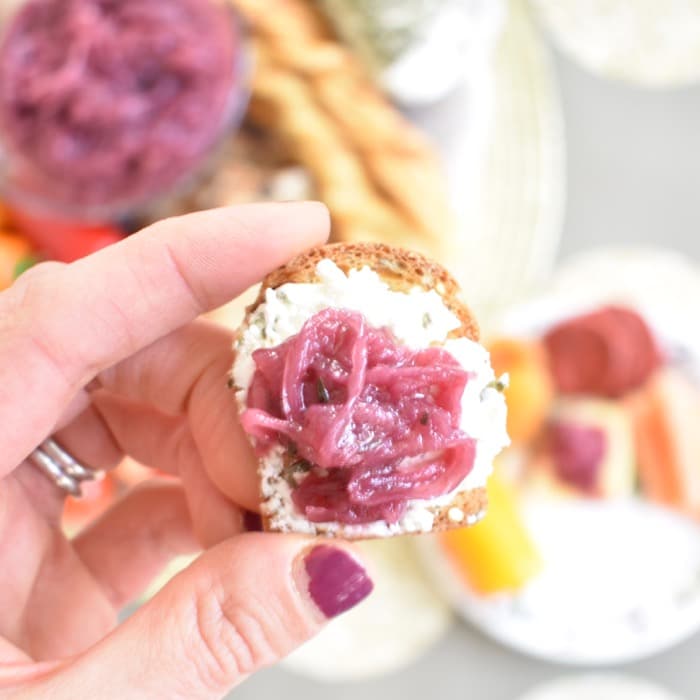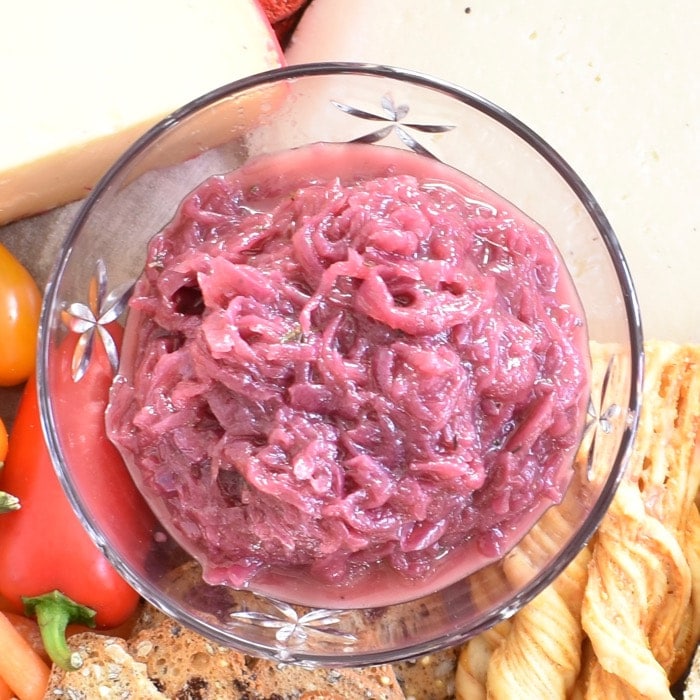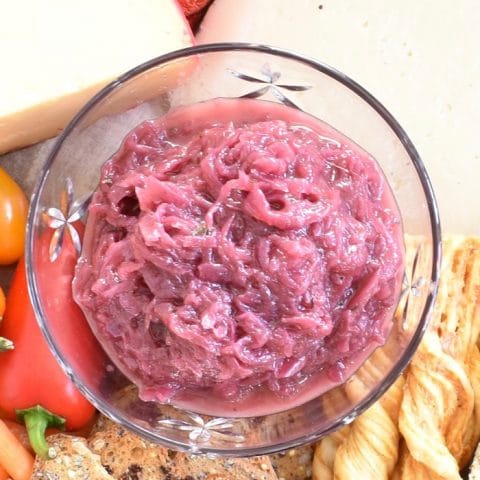 Red Onion Jam
Yield:
10 (2 tablespoon per serving)
Cook Time:
1 hour
10 minutes
Total Time:
1 hour
20 minutes
Reduced added sugar red onion jam is a delicious addition to an appetizer board with cheese, crackers, and vegetables. It can also be enjoyed on sandwiches, tossed in salads, or on chicken and beef.
Ingredients
3 tablespoons olive oil
2 pounds red onion,, halved and thinly sliced into half moons (~8 cups)
1/2 cup dry white wine
1/2 cup SPLENDA® Naturals Stevia Sweetener, Granulated
2 tablespoons lemon juice
2 tablespoons sherry vinegar
1 tablespoon freshly chopped thyme, (or 1 teaspoon dried)
1/2 teaspoon coarse salt
Freshly ground pepper,, to taste
Instructions
Heat oil in a medium 4-quart pot over medium heat until shimmering. Add onions and cook, stirring occasionally, until soft but not browned, about 8 to 10 minutes.
Add wine, SPLENDA® Sweetener, lemon juice, vinegar, thyme, salt, and pepper; stir to combine. Bring to a boil, then reduce heat to medium-low. Simmer uncovered, stirring occasionally, until onion mixture has thickened and is jam-like, about one hour and ten minutes.
Transfer jam to a bowl to cool. Serve or store in an airtight container in the refrigerator for up to 2 weeks. Bring to room temperature before using.
Notes
2 tablespoons of red onion jam made with SPLENDA® Naturals Stevia Sweetener has 80 calories and 4 g sugar.
Nutrition Information:
Yield:

10
Serving Size:

10 (2 tablespoon per serving)
Amount Per Serving:
Calories:

80
Have you ever made a savory jam?
Share with me in the comments below if you'll give this red onion jam a try!