Menu Plan Monday: May 15, 2017
May 15, 2017
Get the latest happenings at Small Bites by Jessica, this week's Link Love, and Menu Plan Monday all in one place!
Latest Happenings:
Happy belated Mother's Day to all who celebrated! Despite lots of rain, we had a nice relaxing weekend and I enjoyed all the handmade gifts my girls gave me on Sunday morning. They also helped their daddy make me breakfast, which was delicious (you may have seen some tidbits of our Mother's Day celebration over on Instagram!).
Unfortunately we started the week on a not so great foot, with one of my girls suffering from a sinus infection. But with some soup on this week's menu and some meds from the pediatrician, she will hopefully be back to herself in no time.
In other news, my first recipe video is now live! Check it out on Facebook, Instagram, YouTube, or in the Southwestern Cauliflower Rice Casserole recipe post itself! It's fun seeing recipes come to life, so I hope to share more videos soon.
Articles:
3 Tips to Bake with Berries @ Teaspoon of Spice
⇒ Serena is filled with such great kitchen hack info, and this one is just in time for berry season!
6 Need-To-Follow Moms Who Are Passionate About Nutrition @ Sara Hass for Luvo.com
⇒ Feeding kids is not easy – even for RDs. Some of my fellow mom RDs and I share our top tips to help you out.
4 Reasons Why You (Think You) Don't Like Kale @ I Heart Vegetables
⇒ I'm not gonna lie – I'm not a huge kale fan. But these tips may change that!
Recipes:
Ginger Citrus Avocado Dressing @ The Lean Green Bean
⇒ What can't avocados do?! This is a great way to make a creamy salad dressing for those who can't tolerate dairy.
Coffee Granola @ Veggie Inspired
⇒ No time for coffee AND breakfast in the morning? Jenn captured the best of both into one tasty and creative recipe!
Mini Hummus Black Bean Burritos @ The Nutrition Adventure
⇒ These mini burritos are perfect for my girls' lunchboxes! I'll have to substitute regular hummus, but pass the spicy stuff to me!
Spring Vegetable Buddha Bowl @ The Foodie Dietitian
⇒ I love Buddha bowls! The bright colors in this dish just scream out spring! Plus, a minty creamy dressing sounds like it would make everything delicious!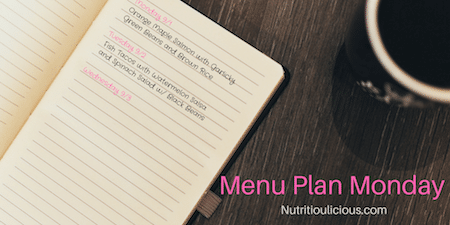 Menu Plan Monday: Week of May 15, 2017
Monday: 
Lunch: Hummus Cucumber Wraps, veggies, and watermelon
Dinner: Southwestern Cauliflower Rice Casserole and Tomato White Bean Soup
Tuesday: 
Lunch: Southwestern Cauliflower Rice Casserole leftovers, jicama, edamame, and watermelon
Dinner: Crispy Baked Tofu and Sauteed Red Cabbage and Snap Peas with Blood Orange Sauce over quinoa
Wednesday: 
Lunch: Leftover tofu and veggies, fruit
Dinner: Thai Peanut Chicken with Roasted Broccoli
Thursday: 
Lunch: Beet & Goat Cheese Quinoa Salad, veggies, fruit
Dinner: Eggs or pasta (TBD)
Friday: Crispy Rhubarb Lemon Chicken Bake and Roasted Portobello Mushrooms 
What's on your menu this week?
Please share with me below or on social media!