How to Keep Family Dinner Fun
September 24, 2020
Now that family meals are happening more than ever, learn how to keep family dinner fun and engaging day after day!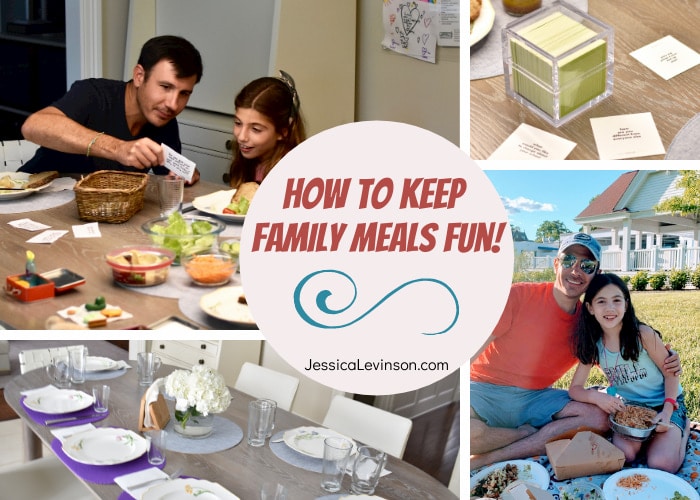 This post was written in partnership with the FMI Foundation in support of Family Meals Month. As always, all opinions are my own. This page contains affiliate links. See below for full disclosure statement.
Happy National Family Meals Month! Yep, that's right, in addition to back-to-school, the change in weather, and (for me) the fall Jewish holidays, September is a time to celebrate the importance of family meals.
As I was discussing this with my family over dinner the other night, I asked why they think Family Meals Month is celebrated in September. I shared my theory that after the fun and less rigid schedules of the summer, the start of the school year is a great time to encourage families to get back to having meals together.
How COVID-19 Has Changed Family Meals
While I still think that's the case, the truth is that many more families are eating meals together since the start of the COVID-19 pandemic, mine included. Families are staying strong by having meals together, which is great news! And it's not just that they're eating more together.
A new study called "Home Cooking In America 2020," funded by the FMI Foundation, found that during the pandemic 40% of American adults are cooking more often – if you spend any time on Instagram or Facebook I'm sure you saw this for yourself! On top of that, 23% of adults are planning more meals in advance, and 19% said they learned a new cooking skill during the pandemic. I don't know about you, but these stats make this meal planner and kitchen coach super happy!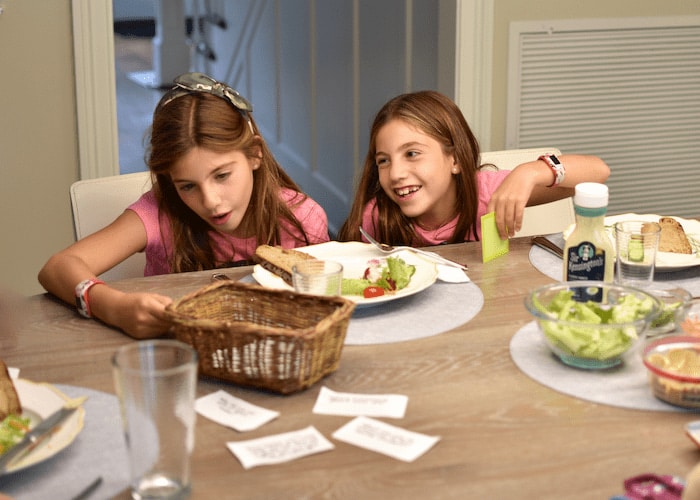 Why Family Meals Are Important
Family meals have always been one of the best healthy habits. There's no shortage of research proving that more frequent family meals are associated with healthier diets, improved family relationships, greater success in school, and overall better social and emotional wellness for all members of the family. I've shared this information in my previous post with tips on how to make family meals actually happen, but a recently published study in the Journal of Nutrition Education and Behavior supports these benefits as well.
In particular, the researchers found that family meals improve family functioning, including communication, connectedness, and problem solving. This is a benefit that should never be underestimated, but certainly not during a time of uncertainty and increased anxiety in the world around us.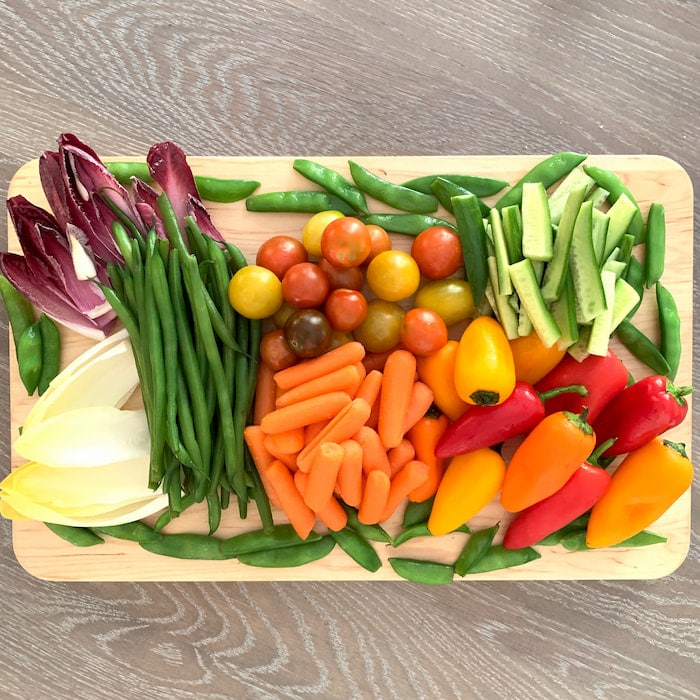 Another key finding was that family meals improve fruit and vegetable consumption, which is great news considering that we don't eat enough of those two food groups. As it happens, September is also National Fruits and Veggies Month, so in addition to getting your family together at the table more often this month, you can also encourage them to eat more produce! (Need some help? Check out my 10 Tips to Get Kids to Eat Vegetables.)
How to Keep Family Dinner Fun
So now that more families are eating meals together, here's the burning question: How do we keep these meals exciting, engaging, and fun? For my family, dinner is the most common meal we eat together during the week, which means there's usually more to talk about and less of a rush than there would be at other meals. Here are some of my ideas for keeping family dinner fun:
1. Best & Worst of the Day
Pretty much every night the conversation gets started with us going around the table saying the best and worst thing that happened that day. Perhaps you've heard of something similar like "peak and pit" or "rose, thorn & bud." I find this a great way to find out tidbits from the kids that I otherwise may not have known, and often it leads to opportunities to help each other solve problems or deal with situations.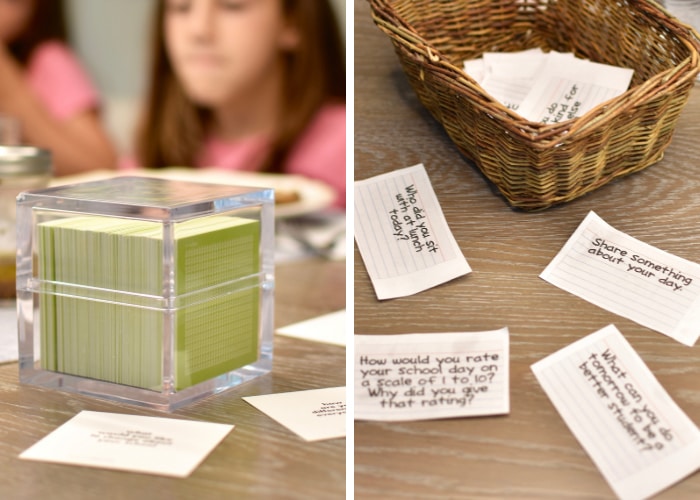 2. End of the Day Basket Cards
I borrowed the name for this from one of my daughter's 2nd grade teachers – thanks Mrs. Karo! As a way to build community in school, there was a basket of cards with various questions about the day, such as "Did you do something nice for someone else today?" and "Name an adjective that would describe your day." Each student would pick a card and answer a question. When school went remote, the teacher shared the cards so we could make our own basket of conversation starters at home. The kids even added some of their own questions to the basket, which we pulled out every night at dinner. You can also buy similar conversation starters, like Family TableTopics.
3. Take it Outside
Sometimes all you need is a change of scenery to keep things exciting. Once the weather warmed up a bit this past April, we grabbed our picnic blanket (aka our old outdoor baby blanket!), picked up takeout from a restaurant (family meals don't always have to be home-cooked!), and went to a local park to have dinner. The fresh air, signs of spring, and seeing others around us gave us some new things to talk about.
4. Play a Game
I'm not talking about tag or a game of Monopoly – you still want the kids to sit at the table and eat! But word games are a fun way to keep everyone engaged at the table. We often play "Telephone" or "First letter, Last letter." Even simple card games like Uno (the Emoji variety is currently our favorite) or Go Fish can keep the kids at the table longer and lead to lots of laughs and camaraderie.
5. Celebrate Theme Nights
Also one of my top 10 meal planning tips, theme nights are a fun way to change up what you're eating and they can lead to some extra fun at the table. Have everyone dress up for the occasion, turn on thematic music, and get the party started!
6. Make Interactive Meals
When my kids were younger I used to make composed meals and plate them, but as they got older and more selective with what they ate I knew that had to change. My solution was to make meals deconstructed, aka interactive. I turn pretty much every dinner into a make-your-own buffet so that each person can choose what to put on his or her plate. Some of the most common interactive meals or parts of meals are Buddha bowls, pasta dishes, salads, and homemade pizza, but you can do it with pretty much any meal.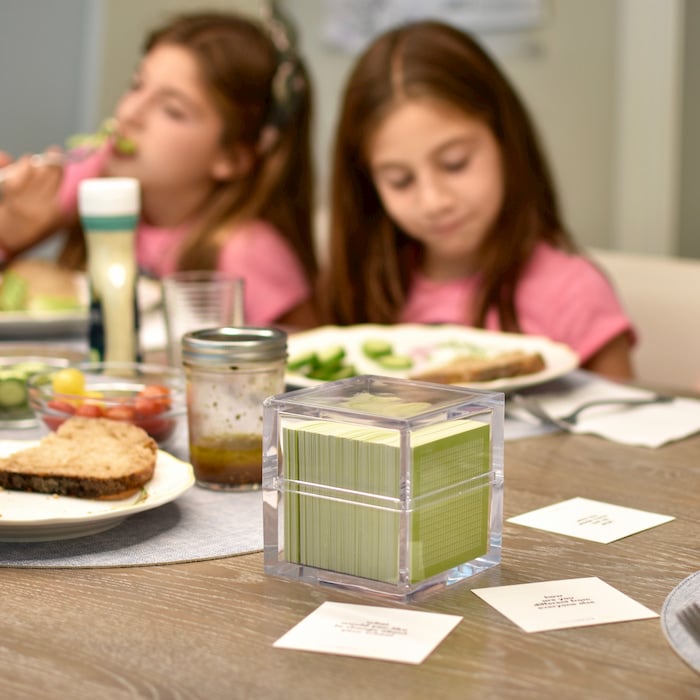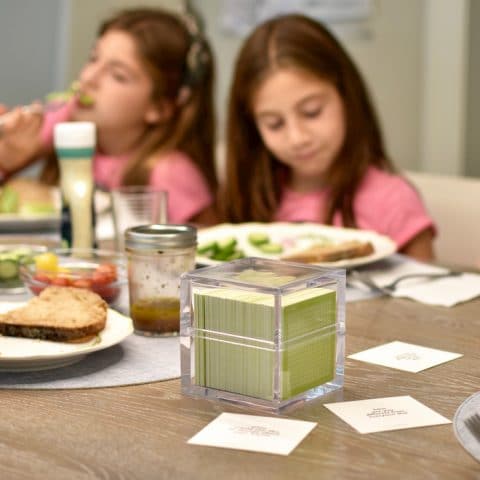 How to Keep Family Dinner Fun
6 ways to keep family meals exciting, engaging, and fun!
Instructions
Best & Worst of the Day
End of the Day Basket Cards
Take it Outside
Play a Game
Celebrate Theme Nights
Make Interactive Meals
Recommended Products
As an Amazon Associate and member of other affiliate programs, I earn from qualifying purchases.
Does your family eat together multiple times a week? I'd love to hear how you keep family dinner fun in your house. Share with me in the comments below or join the conversation on Instagram and Facebook!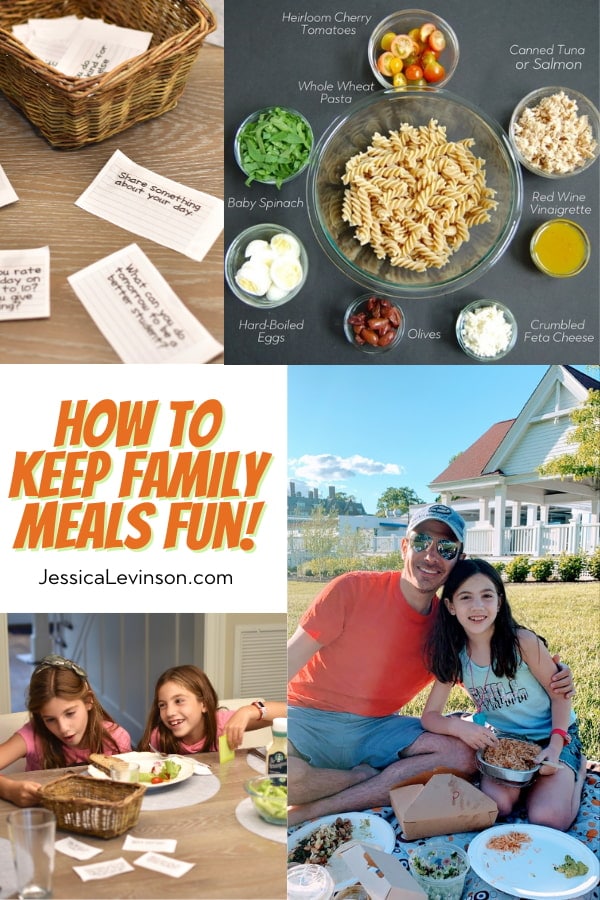 Disclosure: This page contains Amazon Affiliate links. If you purchase products through these links, your cost will be the same but I will receive a small commission to help with operating costs of this blog. As always, all thoughts and opinions are my own and I only recommend products I truly believe in. Thanks for your support!