Holiday Gift Ideas for Feeding a Family
December 1, 2018
Need a last minute holiday gift? Here are some of my favorite holiday gift ideas for feeding a family!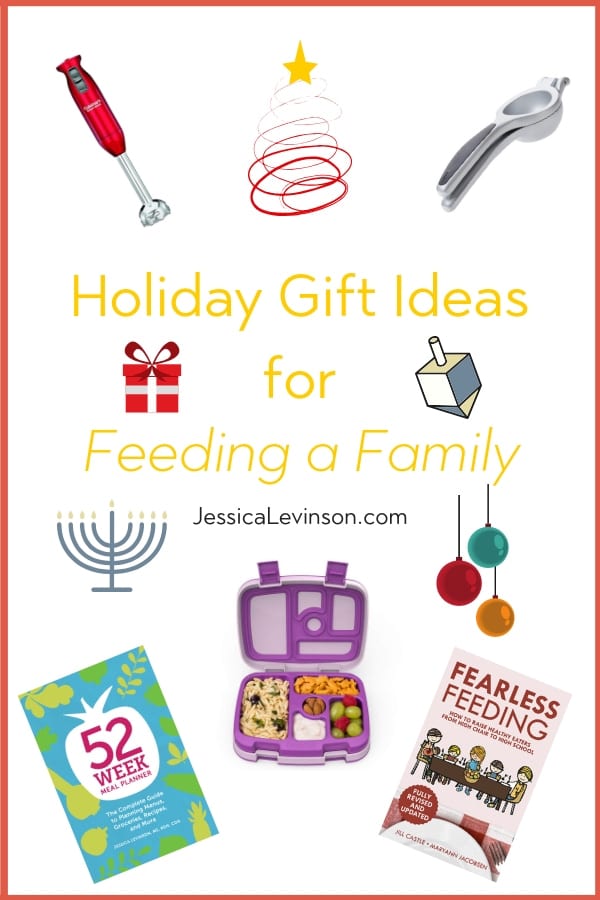 This page contains affiliate links. See below for full disclosure statement.
Boy am I late to the party! Hanukkah is already here and Christmas is just a few weeks away, and just now I'm sharing a list of holiday gift ideas. Cue the face palm.
But alas, there are always last minute gifts you need, and I have some good ones for you. Plus, as my 92 year old grandmother says about birthdays lasting a whole year, if you give a holiday gift before next Hanukkah and Christmas, you're still good to go! (Ok, maybe not next holiday season, but certainly by New Year's Day!)
I could give you a whole list of great gift ideas that run the gamut from his and hers to kids and so on, but you can find plenty of other lists like that. So instead, I thought I would share some of my favorite holiday gift ideas specifically for feeding a family, a challenge I know so many of you face.
Without further ado, here are my top last minute ideas.
Help with Meal Planning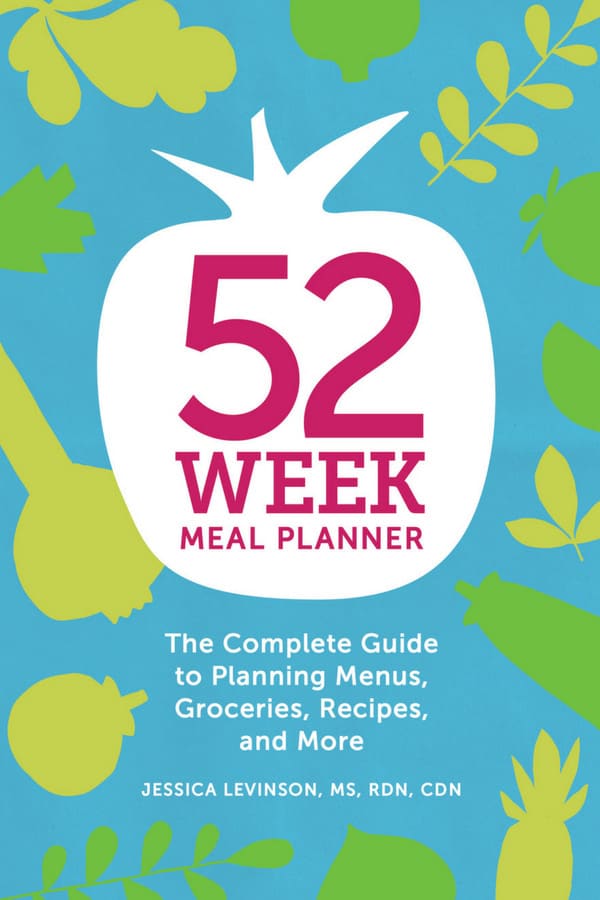 What better time is there than the holidays leading up to the start of a new year to get yourself, your loved ones, and any of your friends into the habit of meal planning? Meal planning during the holidays keeps you on track and also helps you plan out all the meals you'll be making over those hectic weeks. And if you're looking to start the year off on an organized foot, you'll want to get meal planning ASAP. Here are two resources to help you with planning depending on whether you want to be in full control of what's on the table or not.
The 52-Week Meal Planner workbook.You know how I feel about meal planning – it's one of the keys to ensuring well-balanced, healthy meals on the table for your family. I share my Menu Plan Monday posts on the site and on Facebook and Instagram to inspire you, and maybe you even follow them in your house.No matter what your goals are, my meal planning workbook will keep you focused, organized, and feeding your family healthy, balanced meals all year long. This is the perfect option for those who want to be in charge of what goes on their table.
A subscription to The Six O'Clock Scramble. This the perfect gift for those who need a little more hand holding when it's time to plan their weekly meals. The Scramble is an online family meal planning service targeted at busy moms (and some dads) who want to put a wholesome, healthy meal on the table for their families each night.Weekly dinner plans include customizable grocery lists and recipe instructions that are simple and easy to follow. Personally, I love that the meals include seasonal ingredients and many of them have do-ahead tips, slow cooker options, and simple sides. You can sign up yourself or family members for a two week trial and then gift them three weeks ($35), one year ($100), or two years ($150).
Guides for Feeding Kids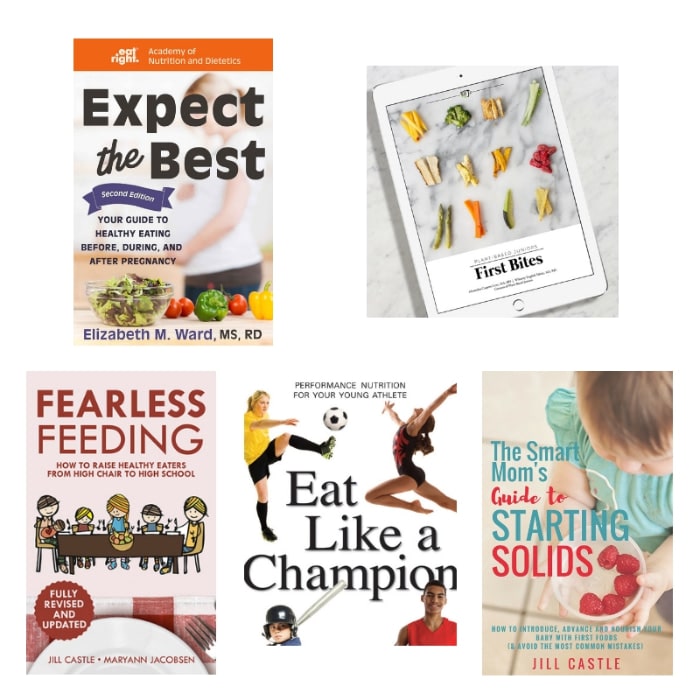 Need a gift for your pregnant friend? Expect the Best: Your Guide to Healthy Eating Before, During, and After Pregnancy is the perfect fit. Elizabeth Ward, MS, RD recently published the second edition with the latest guidelines and answers to the most frequently asked questions about nutrition and lifestyle habits from preconception to postpartum.
Is your sister ready to feed her baby solids? I have a few resources for you to check out:
Starting Solids: The Stress Free Way, by Natalia Stasenko, MS, RD. This e-book includes a step-by-step guide to feeding solids (including finger foods and purees) as well as over 50 recipes and meal ideas for babies and the whole family.
PBJs: First Bites, by Alex Caspero, RD, and Whitney English, RDN. This is the definitive guide to raising plant-based eaters written by two dietitians.
The Smart Mom's Guide to Starting Solids, by Jill Castle, MS, RDN. This easy-to-read guide guide is your instruction manual for getting your baby off to the right start. It sets the record straight and clears up any confusion you may have when it comes to starting solids with your baby.
Know someone struggling with feeding his/her kids? (who isn't?!) The Kids Healthy Weight Project, also by Jill Castle, MS, RDN, is a gift that will keep on giving. It is an online course with all the ingredients to raise a healthy child including food, feeding, and healthy habits. Jill is the co-author of Fearless Feeding: How to Raise Healthy Eaters from High Chair to High School, the guide to feeding kids of all ages and the number one book I recommend to all parents, which is why I know that her online course is amazing. (FYI, Jill and her co-author Maryann are releasing the second edition of Fearless Feeding soon – stay tuned for an updated link directly to get the book as soon as it is available). If you have older children who are athletes, you should check out Jill's sports nutrition course, Eat Like a Champion, or the book by the same name. (Needless to say, Jill is the pediatric nutrition expert!)
Get the Kids Excited about Food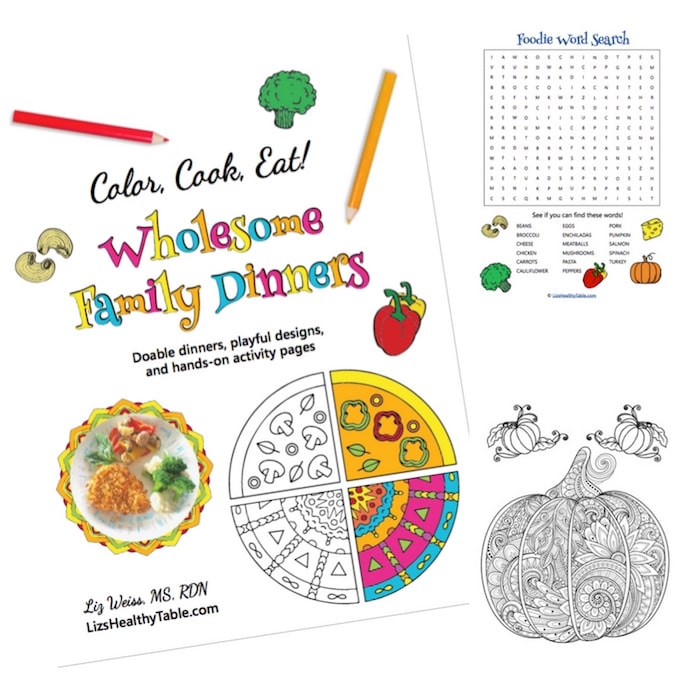 I am a huge advocate of getting the kids involved in meals and cooking. When children are more involved in all aspects of what they are going to eat, they're more likely to actually eat what's served. Start with involving them in the weekly meal plan, let them join you at the supermarket and pick a veggie of the week, involve them in food prep (even if it just means they're watching you do the cooking), and explore tasting new foods with them. Here are some gifts that may also get your kids excited about the food they'll eat.
The Color, Cook, Eat! Bundle by Liz Weiss, MS, RDN. Coloring books are all the rage these days, with kids and adults alike. So what's better than a coloring book that includes recipes, food-themed activities, and fun facts about food? Three of them! The Bundle includes Color, Cook, Eat! Smoothie Bowls; Color, Cook, Eat! Wholesome Family Dinners; and Color, Cook, Eat! Healthy Foods from A to Z.These are the perfect stocking stuffers or "just because" gift. If your great aunt is asking you what to get the kids, this is it! I can tell you firsthand that these coloring books are perfect for taking to restaurants or on long road trips. My girls were occupied with them for hours and they learned some new tidbits about food too. They're also a great way to get cooking with your kids, something you know I feel passionately about.
Cooking kits for kids. By now many of you have probably tried some of those subscription meal kits like Hello Fresh or Blue Apron. Well, a similar type of service exists with the focus on kids. Kidstir and Raddish Kids both offers themed monthly kits, each filled with recipes, kid-sized cooking tools, educational materials, games and activities, and a shopping list. I have yet to try them myself, so I'm not 100% sure what the difference is between them, but they both sound great!
Kids' cooking utensils. Pint sized cooks need pint-sized supplies to work with. Curious Chef makes a variety of utensils as well as aprons, chef's hats, and oven mitts perfectly sized for your little chefs.
Kitchen Tools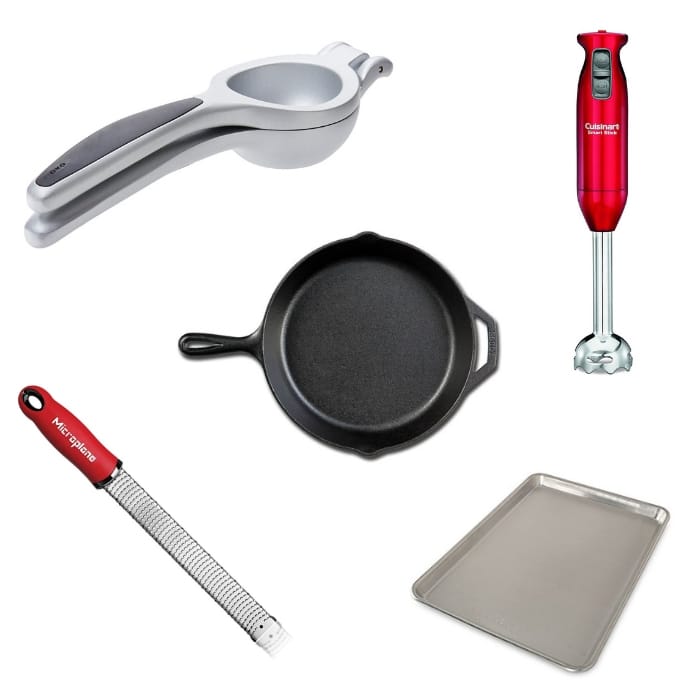 My kitchen is filled with gadgets and gizmos, including the Instant Pot Ultra and Instant Pot Duo (yes, I do have two Instant Pots! Since we keep kosher I decided to get a second one for dairy, that's how much I like it!). Needless to say, there are a lot of items that could go on the following list, but these are some of my favorites that help make cooking and cleanup faster, which means they make feeding a family easier.
School Lunch Essentials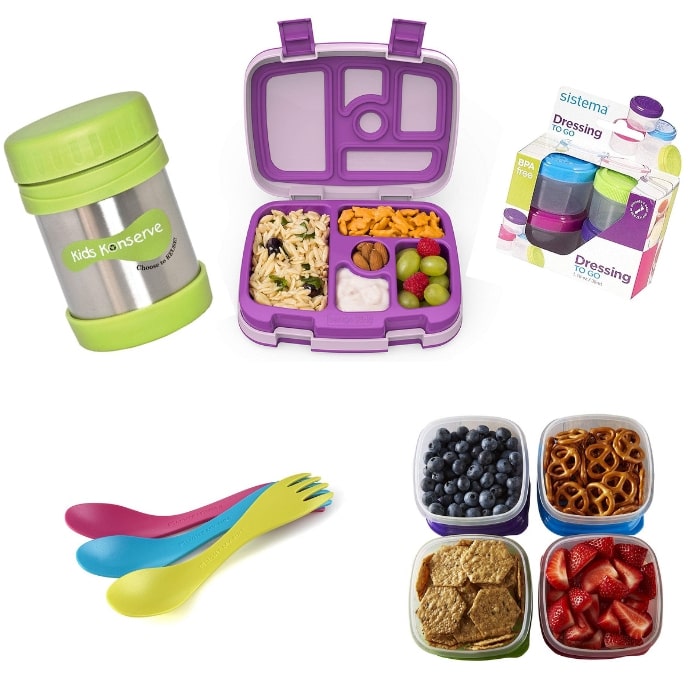 Know a mom who finds packing school lunch for the kids a painful task? Get her some of these school lunch packing essentials to make the job a little more fun.
So there you have it – some of my favorite holiday gift ideas perfect for feeding a family. Some educational, some functional, and some just pure fun!
Wishing you a very happy, healthy, and delicious holiday season and New Year!
Are there any holiday gift ideas for feeding a family you would add to the list?
Share with me in the comments below!
Disclosure: This page contains affiliate links. If you purchase products through these link, your cost will be the same but I will receive a small commission to help with operating costs of this blog. As always, all thoughts and opinions are my own and I only recommend products I truly believe in.