Healthy 5-Ingredient Recipes For the Family
April 11, 2018
You'll have no excuses for feeding your family well with healthy five-ingredient recipes on hand!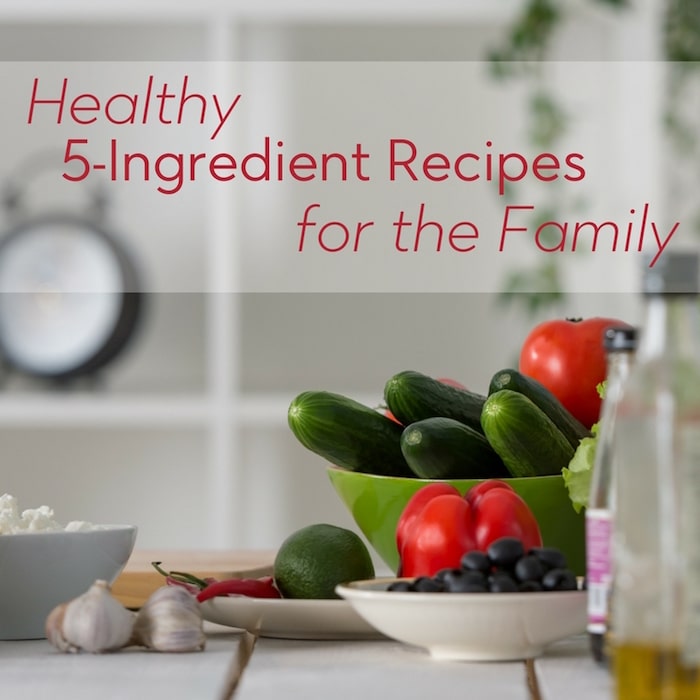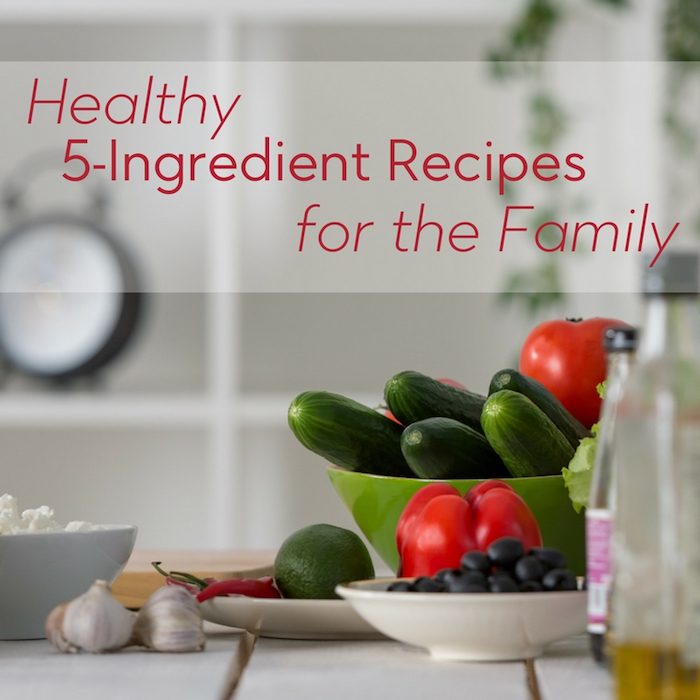 I was not compensated for writing this review, however this page does contain affiliate links. See below for full disclosure statement.
Raise your hand if you often find yourself saying "I'm so busy."
My hand is raised and I can't say I'm proud about that. In fact, I recently read an article about why people should stop saying they're so busy all the time. I knew I wasn't alone – most people I speak to these days find themselves strapped for time. (Granted my social circle is mostly made up of moms, who are indeed very busy.)
Time-Saving Tips for Family Meals
As a result of busy schedules, family meals fall to the bottom of the to-do list and healthy home-cooked meals are often sacrificed. That's why I'm such a big advocate of meal planning and writing down a weekly menu. These are two tools that can help you get healthier meals on the table, especially during the week.
Another way to increase the odds of feeding your family healthy, balanced meals is to cook recipes that don't require too many ingredients. One way to do this is to keep your kitchen stocked with staples that can be used for a variety of recipes, such as cooking oils, salt and pepper, onions and garlic, and dried herbs and spices. Having these key ingredients on hand helps you make healthy five-ingredient recipes a reality.
Healthy Five-Ingredient Recipes
If you're an avid follower of food blogs or search Pinterest for meal ideas, surely you've seen posts touting recipes made with five ingredients or less. I too have a few of these types of recipes on the blog, including some of my family's favorite meals: 5-Ingredient Orange Maple Salmon, Grilled Tofu with Cilantro Avocado Cream Sauce, and Ginger Miso Turkey Burgers to name a few.
So it's no surprise that healthy five-ingredient recipes are a commonly searched for item in Google, and one of the reasons that my friend and colleague Toby Amidor's new book, The Easy 5-Ingredient Healthy Cookbook, is already a huge success!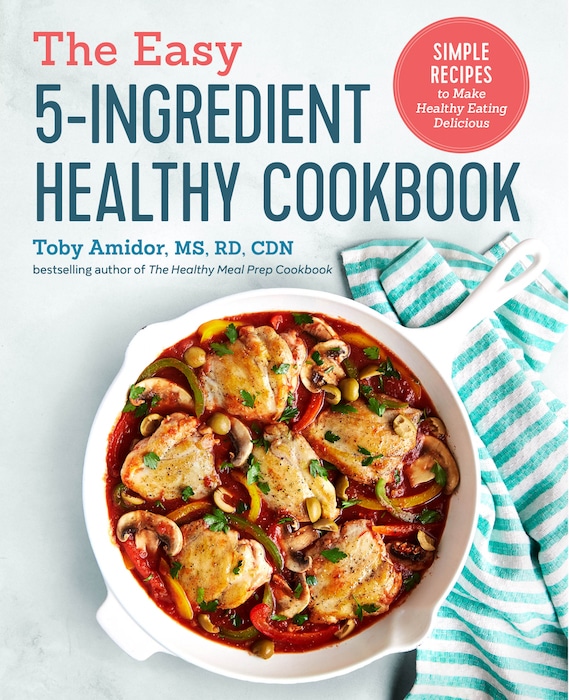 Toby's 5-Ingredient Healthy Cookbook is a great follow-up to her Healthy Meal Prep Cookbook I wrote about last September. Clearly Toby's got a knack for feeding her family quick and easy healthy meals!
In addition to 150 recipes made using only five easy-to-find main ingredients (many of which also take less than 30 minutes and are one-pot meals), Toby also shares healthy cooking techniques, healthy eating shortcuts, grocery shopping tips, and a refresher on meal planning.
Even if you're one of those people who likes to say how busy you are, The Easy 5-Ingredient Healthy Cookbook prevents you from making excuses for getting healthy meals on the table!
To give you a glimpse inside her new cookbook, Toby shared one of her favorite recipes with me. I can't wait to make these Yellow Squash Noodles with Peas and Mint once the weather warms up and I am sure you will enjoy it too!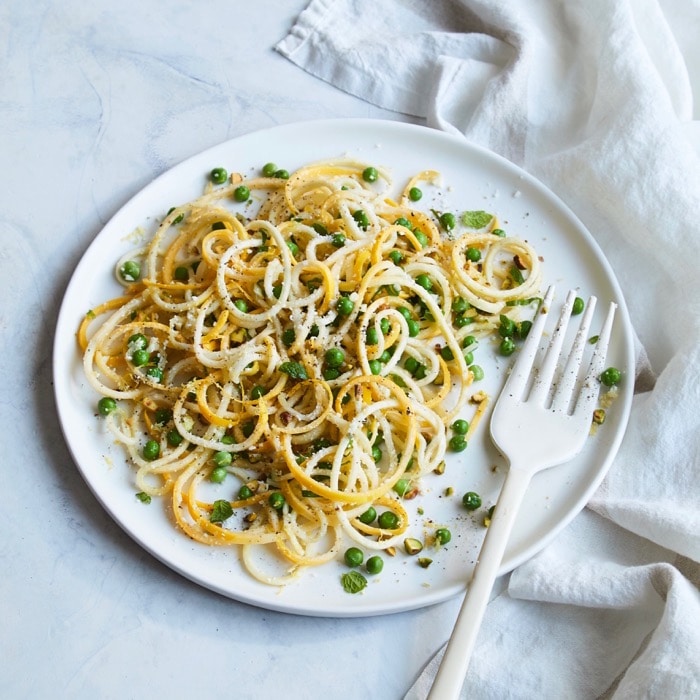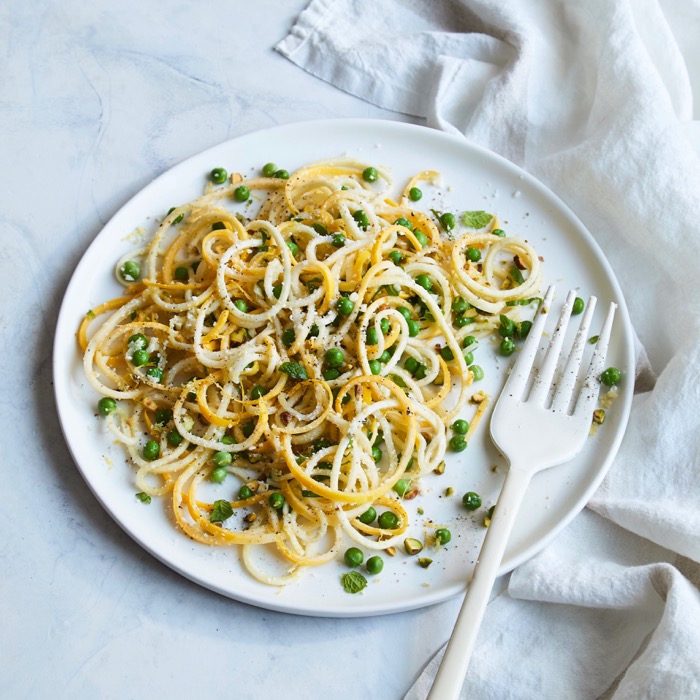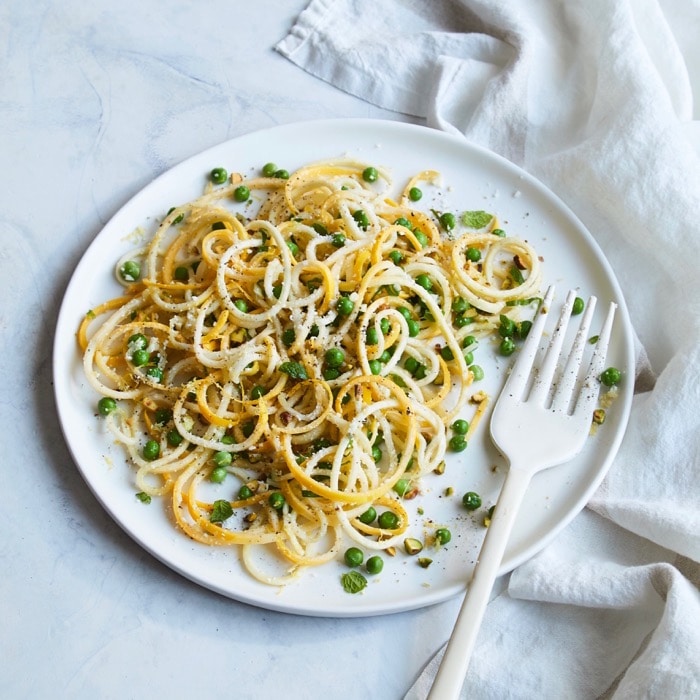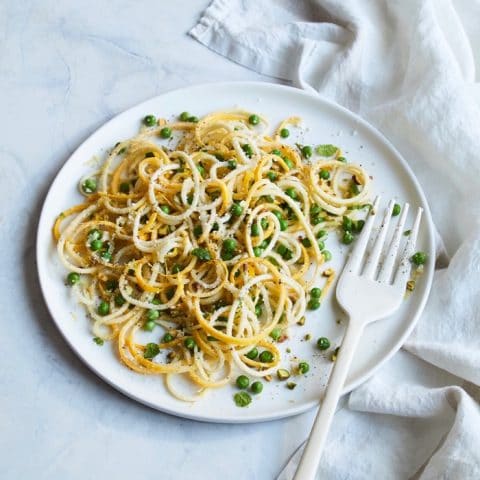 Yellow Squash Noodles with Peas and Mint
Ingredients
1 cup frozen peas
3 medium yellow squash, , or 6 cups precut squash noodles
1/2 cup chopped fresh mint
2 garlic cloves, , minced
Zest and juice of 1 lemon
3 tablespoons olive oil
1/8 teaspoon freshly ground black pepper
3/4 cup grated Parmesan cheese
1/2 cup raw shelled pistachios, chopped
Instructions
In a small saucepan, bring 1 cup of water to a boil. Add the frozen peas, reduce heat, and simmer until heated through, about 5 minutes. Drain and allow the peas to cool.
Using a spiralizer, make the squash noodles and place in a large bowl. Set aside.
In another large bowl, whisk the mint, garlic, lemon zest and juice, olive oil, and pepper.
Add the peas and squash noodles to the dressing and toss to evenly coat. Add the Parmesan, gently tossing to combine.
Sprinkle with the pistachios and serve.
Notes
Toby's Tip: Swap the squash for zucchini, or spiralize a colorful combo of zucchini and squash. If you don't have a spiralizer, you can look up instructions to use a vegetable peeler, knife, or grater to make the squash noodles.
Recipe and photos courtesy of Toby Amidor, The Easy 5-Ingredient Healthy Cookbook: Simple Recipes to Make Healthy Eating Delicious, Rockridge Press, 2018.
Was your busy hand raised?
What are your favorite healthy 5-ingredient recipes?
Share with me in the comments below!
Disclosure: This page contains affiliate links. If you purchase products through these links, your cost will be the same but I will receive a small commission to help with operating costs of this blog. As always, all thoughts and opinions are my own and I only recommend products I truly believe in.