Summer Steak Salad with Champagne-Shallot Vinaigrette
July 27, 2016
Umami-rich grilled flank steak tops a bed of baby spinach, crisp green beans, and sweet strawberries in this light summer steak salad drizzled with a sparkling, tangy Champagne shallot vinaigrette.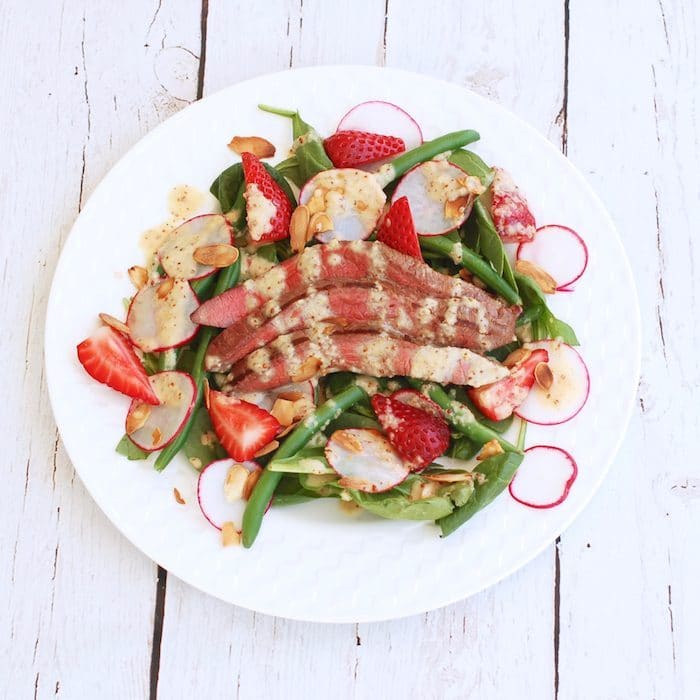 I was compensated for writing the original article, "Beef Days of Summer," and developing the recipe found in the July 2016 issue of Today's Dietitian. I was not compensated for sharing the column or magazine with readers on my blog. All opinions are my own.
The past few weeks have been brutally hot here in New York, which means turning on the oven or standing in front of the stove top are not my favorite activities. But a girl (and her family) has to eat! To keep cool and stay nourished, I turn to summer salads for my meal of choice. There's no shortage of salad recipes in the recipe library, but I always seem to come up with something new.
Sometimes I throw together a salad with whatever's lingering in the refrigerator, like this Thai Chicken Salad. Other times, I'm more methodical and think about the flavor pairings, like I did with this Spinach Salad with Jicama, Black Beans, and Lime Vinaigrette.
This new Summer Steak Salad with Champagne-Shallot Vinaigrette falls into the latter category of well-thought out recipes. I made it for my Culinary Corner column in the July issue of Today's Dietitian Magazine. I was charged with making an entree salad perfect for the hot days of summer, and that's what you have.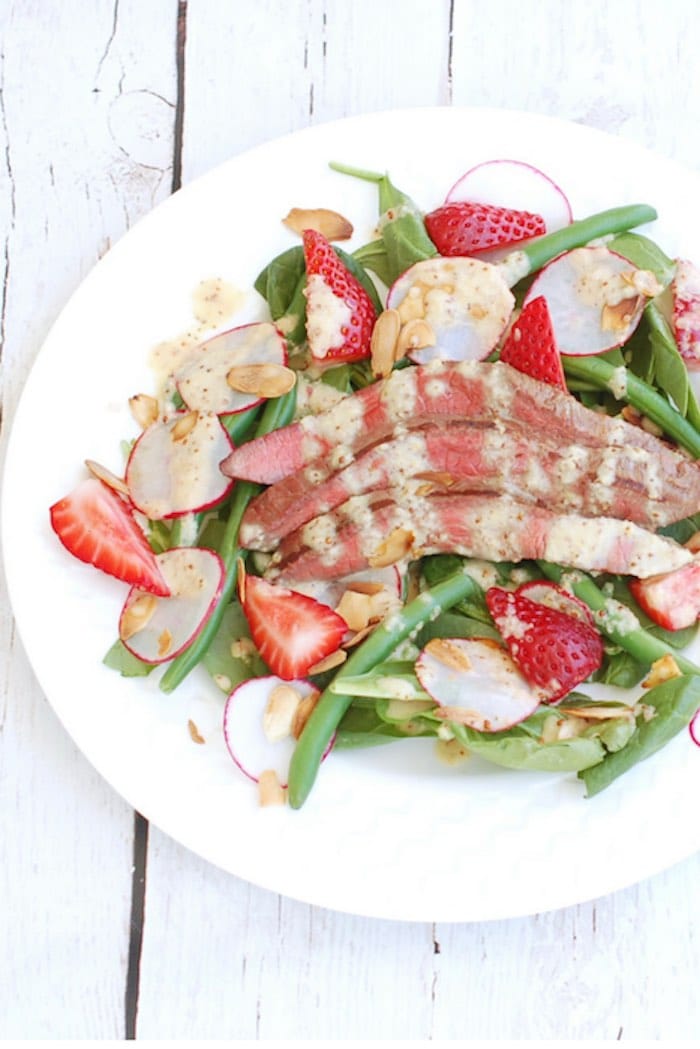 Other than the few minutes you stand at the grill to cook the steak, this recipe is prepped in no time and will leave you full and satiated without the heft of richer beef meals. You can even cook up the steak a day before and serve it cold from the fridge or room temperature if you can't bear to be outside! Or stay in the air conditioning and broil it in the oven, especially if you don't own a grill.
The salad itself is composed of baby spinach, green beans that are bright and crisp from a quick blanch, sweet ruby red strawberries, and crunchy radishes and toasted almonds. As delicious as all that sounds on it's own, the icing on the cake is the sparkling, tangy Champagne shallot vinaigrette dressing. Strawberries and Champagne just go together, don't they?! You may remember I paired them in my Strawberry Arugula Salad back in May too.
Oh, and if you think this is an adults-only meal, think again. My girls gobbled it up and wanted more thanks to the sweet and savory combos in the salad and that delicious dressing that made the spinach that much more palatable to them.
So stay cool and enjoy this nutritious and delicious dinner tonight!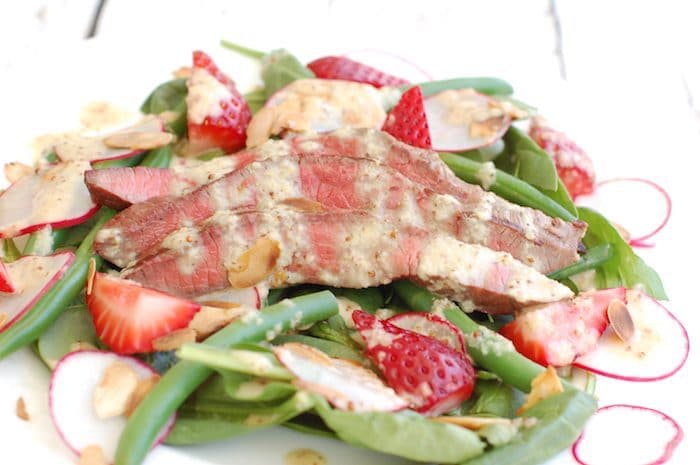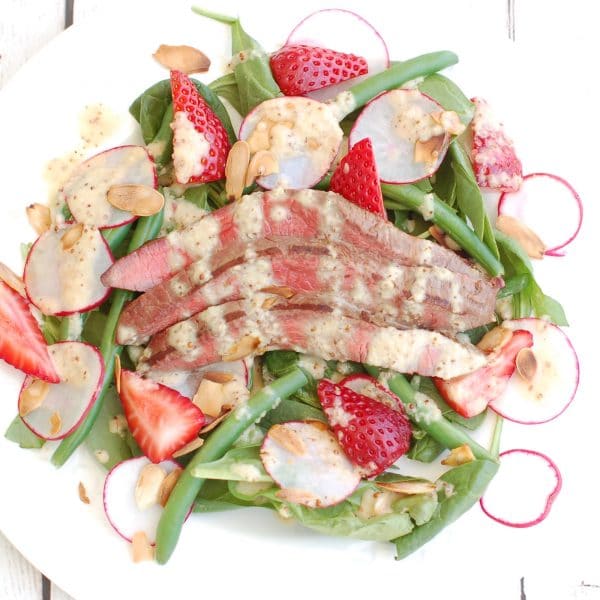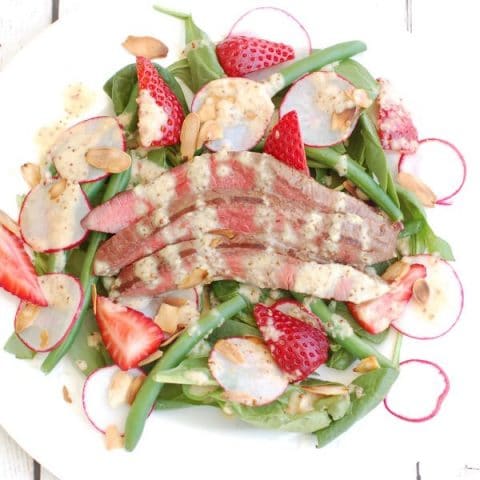 Summer Steak Salad with Champagne-Shallot Vinaigrette
Umami-rich grilled flank steak tops a bed of baby spinach, crisp green beans, and sweet strawberries in this light summer salad drizzled with a sparkling, tangy champagne shallot vinaigrette. Gluten-free and dairy-free.
Ingredients
For the Champagne-Shallot Vinaigrette:
1/4 cup Champagne vinegar
2 teaspoons whole-grain Dijon mustard
3 tablespoons minced shallots
1 clove garlic,, minced
1 tablespoon lemon juice
1/4 cup extra-virgin olive oil
1/2 teaspoon kosher salt
Freshly ground black pepper,, to taste
For the Salad:
6 ounces green beans,, trimmed
Cooking spray , or oil for grill grates
1 pound flank steak
6 ounces baby spinach
1 cup quartered strawberries
1 cup thinly sliced radishes
1/4 cup sliced almonds,, toasted
Instructions
To make the vinaigrette:
In a small food processor, combine all vinaigrette ingredients and purée until smooth and emulsified.
To make the salad:
Bring a small pot of water to boil; add green beans and cook for 30 seconds to 1 minute until bright green. Drain and run green beans under cold water or shock in a bowl of ice water.
Spray grill grates with nonstick cooking spray or brush grates with oil. Heat grill to 500° F.
Place steak on the grill and cover to cook, flipping once, 3 to 5 minutes per side for medium rare.
Transfer steak to cutting board and let rest for 5 minutes. Slice the steak against the grain.
Drain green beans and pat dry. In a large bowl, toss together baby spinach, blanched green beans, strawberries, radishes, toasted almonds, and just enough of the shallot vinaigrette to coat lightly. Portion onto four plates, top with sliced steak, drizzle with additional vinaigrette, and serve.
Notes
To toast almonds, heat in a dry skillet over medium heat, stirring occasionally, until lightly browned and fragrant.
Nutrition Information:
Yield:

4
Serving Size:

4 Servings
Amount Per Serving:
Calories:

385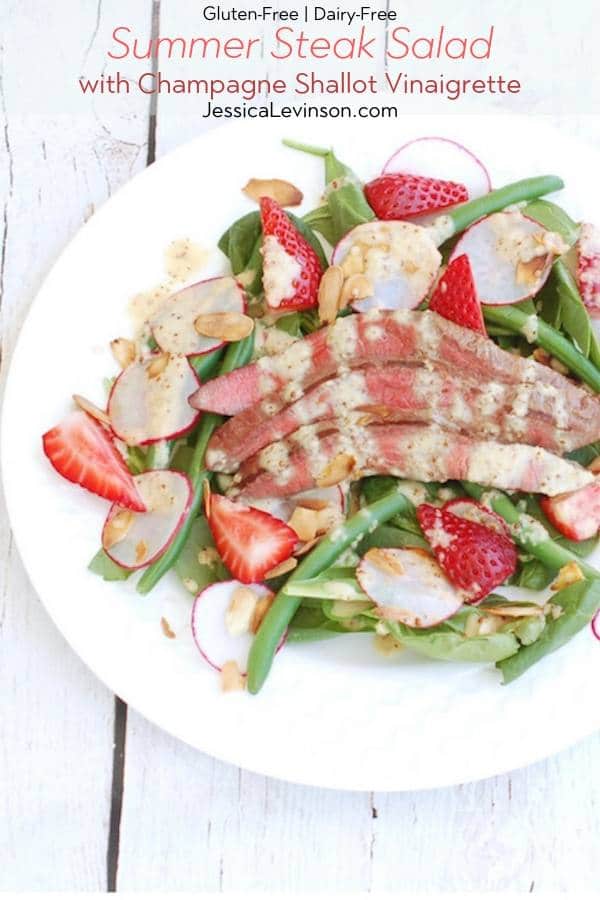 What's your beat-the-heat summer dinner?
Share with me in the comments below!
Don't forget to check out my Culinary Corner article to learn more about recommendations for consuming beef and the nutrition benefits that go with it!