Menu Plan Monday: Week of September 21, 2015
September 21, 2015
A fun fall weekend, Yom Kippur healthy break fast guide, links I love, and this week's menu plan monday.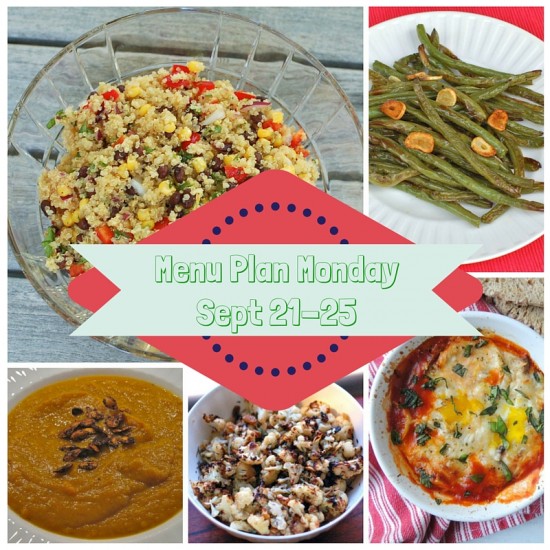 Happy Monday everyone! Hope you all had a great weekend. We sure did! Saturday morning after the girls had soccer, we met friends at Harvest Moon Farm & Orchard in North Salem for apple picking, hay rides, live music, and bouncy house fun! We have been going to the harvest festival there every year since the girls were 9 months old and it's been awesome to see how much more fun they have every year! Saturday night they even made applesauce with the apples they picked (recipe coming soon)!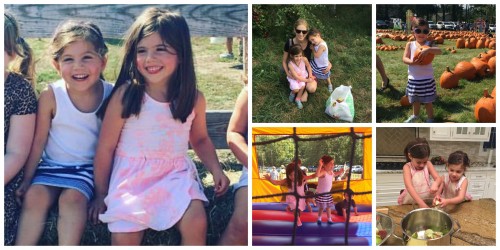 Sunday we had a lazy morning and made apple peanut butter pancakes, which were delish! I have to test that recipe again, but hopefully it will be up in time for your fall cooking. We then took the kids for a nature walk/mini hike and spent the rest of the day doing things around the house and enjoying the beautiful fall weather (and some not-so-enjoyable 3 1/2 year old whining).
This week we will be celebrating another one of the fall Jewish holidays, Yom Kippur, which is a 25-hour fast. You can read more about the holiday in my 2010 post here, where you'll also see my tips for how to break the fast in a healthy way. You'll see below that our pre-fast dinner Tuesday night will be a little bit larger than a regular weeknight meal to hopefully satiate us more than usual. And then Friday is another big meal as I am having 12 people for Shabbat dinner. Lots of cooking going on around here this week!
Be sure to check out some of my fave articles from last week before you scroll down for this week's menu.
Articles:
Your Healthy Eating Habits are Ruining My Good Time @ Rebecca Scritchfield (Oh how I can relate to this! People wrongly assume because I'm a dietitian, I won't indulge when I'm out to dinner)
How to Talk to Someone You Love About Their Weight (Without Shaming, Bullying, or Making Them Feel Bad) @ Avocado a Day Nutrition
What Your Kids Really Think About School Lunch by Danielle Omar, MS, RD (so much fun to hear what kids love at lunch time)
Benefits of Probiotics @ Abbey's Kitchen
What are antioxidants? @ The Grateful Grazer
Recipes:
No Bake Almond Granola Bars @ Delish Knowledge
Tapenade Stuffed Mediterranean Chicken @ Your Choice Nutrition By Dietitian Brittany
5 Minute Watermelon Limeade @ Be Truly Nourished
Roasted Red Pepper Quinoa Chili @ Fit Foodie Finds


Week of September 21, 2015
Monday: Roasted Tomato and Broccoli Ricotta Pasta with side salad
Tuesday:  Yom Kippur dinner – Chicken Soup, Smoked Brisket (from the freezer), Garlicky Green Beans, and Corn & Black Bean Quinoa Salad
Wednesday: Break Fast Bagel Dinner with Friends
Thursday: Italian Baked Eggs with Veggies and Salad
Friday: Shabbat Dinner with guests: Butternut Squash Soup, Traditional Brisket, Herbed Panko-Crusted Chicken, Quinoa with Spiced Apples, and Rosemary-Roasted Cauliflower with Raisins
How are you enjoying these early fall weekends?
Tweet me @JLevinsonRD with #DinnerTonight