Coconut-Lime Chicken {Recipe}
June 27, 2013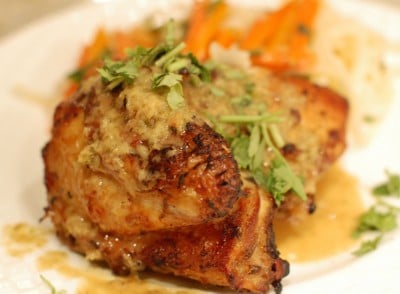 Chicken is one of the best sources of protein and one of the most commonly cooked foods at home. According to the National Chicken Council, over 80 pounds of chicken was consumed in 2012 – compare that to 57 pounds of beef and 45 pounds of pork. Clearly chicken is a front-runner in the recipe department. The problem for many people is they get bored with their chicken recipes. I know I do. How many times can you grill or roast chicken with the same sauce or rub? So I'm always trying to come up with new variations to spice things up.
Upon searching for some new chicken inspiration, I came across Martha Stewart's Coconut-Lime Chicken with Thai Garnishes, which sounded really interesting. Since I keep kosher, I don't mix meat and dairy, so I can't use milk products in marinades. But coconut milk isn't dairy! It's the liquid from the ground meat of the coconut, which is white and creamy, making it look like cow's milk. Coconut milk has a slightly sweet flavor and since it's also high in saturated fat, I prefer to use unsweetened, light coconut milk in my cooking. I changed up Martha's recipe just a little, adding some additional spices for more flavor. And instead of using Thai garnishes, I made a Thai rice noodle salad on the side.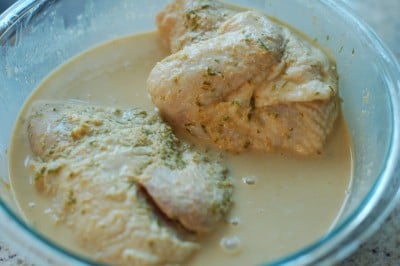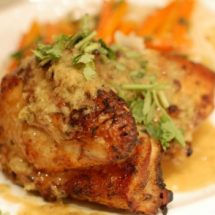 Coconut-Lime Chicken
Ingredients
2

packed tablespoons grated lime zest

1/4

cup

lime juice

from 2 limes

2

tablespoons

finely grated peeled fresh ginger

4

cloves

garlic

finely grated

2

tablespoons

packed brown sugar

1

teaspoon

cumin

2

teaspoons

curry powder

2

tablespoons

low-sodium soy sauce

1

can

13.5 ounces unsweetened, light coconut milk

4

bone-in chicken breast halves

with skin on

Cilantro leaves

for garnish
Instructions
In a large glass bowl, combine lime zest and juice, ginger, garlic, sugar, cumin, curry powder, and soy sauce. Slowly whisk in coconut milk until mixture is smooth. Submerge chicken breast halves in marinade, making sure the marinade gets under the skin; cover, and refrigerate for at least 4 and up to 12 hours.

Preheat oven to 475 degrees. Cover a rimmed baking sheet with foil and fit with a wire rack. Remove chicken from marinade and shake to remove excess. Arrange in a single layer on rack, skin side up. Roast until an instant-read thermometer registers 165 degrees, 30 to 35 minutes.

While chicken is cooking, pour leftover marinade into a small sauce pan. Bring to a boil; reduce to a simmer and cook until sauce has reduced a little and thickened.

Serve with sauce and cilantro garnish on top.
Here's a before and after shot: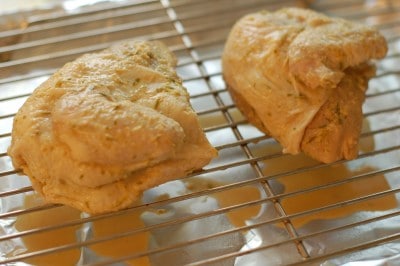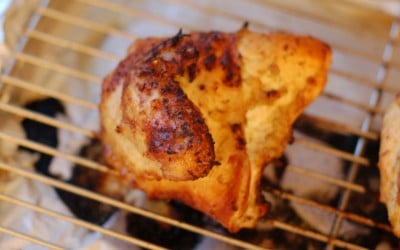 How do you prepare chicken at home to keep it interesting?