Healthy Halloween Guide + Ravioli with Pumpkin Spice Yogurt Sauce
October 29, 2015
Have a sweet, spooky, and healthy Halloween with these five tips. Plus a nutritious and delicious pre-trick or treat dinner the whole family will love!
This post is sponsored by Chobani as part of an ongoing partnership. I was compensated for my time, but as always all opinions are my own.
The biggest day for candy consumption is just two days away! That's right – Halloween is this Saturday and this year since it falls on the weekend, I have a feeling everyone is going to be eating more candy than usual.
Before you're spooked into locking your doors and pretending the day doesn't exist, let's talk about some of the ways everyone can enjoy the holiday, have fun, and eat some delicious candy without undoing all the hard work we do throughout the year to make sure we all – kids included – are living a healthy lifestyle.
A few years ago – long before I had kids of my own – I shared some of my tips for celebrating a healthier Halloween. Now that I do have children (and for the first year since they were born they are the prime age of knowing exactly what the holiday is all about), I have modified my plan of action and what I recommend for other parents.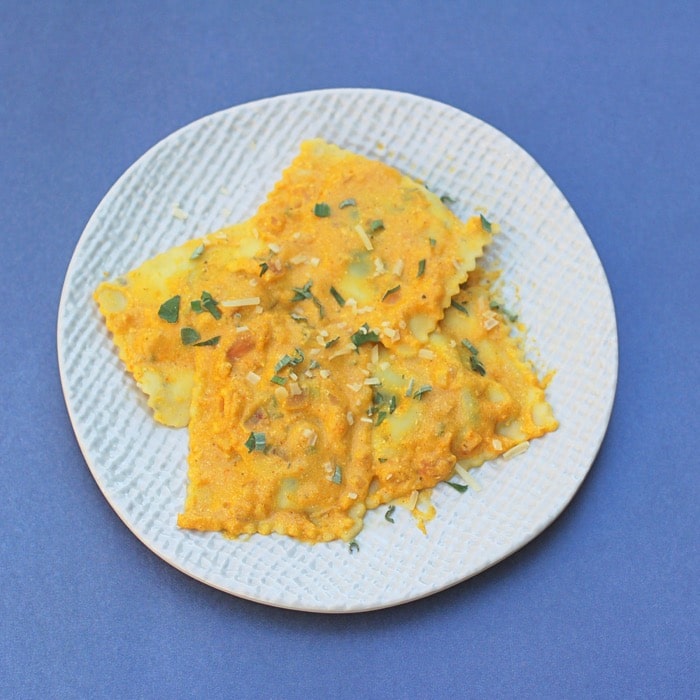 Here are my top 5 tips for a sweet (yet spooky) and healthy Halloween! And don't miss the delicious recipe for Ravioli with Pumpkin Spice Yogurt Sauce below – it'ss a perfect pre-trick or treating dinner!
Choose Wisely
With all the candy options you'll find on Halloween, don't just grab whatever's offered. Be selective when filling your pumpkin, and if there's nothing at a stop you like, skip it.
On the other hand, when it comes to what you will be handing out at your house, buy candy you and the kids don't really like – you'll be less inclined to snack on it while waiting for the neighborhood kids to come by and you'll have an easier time getting rid of leftovers.
Another way to limit how much candy you eat at home: buy it at the last minute. No one needs extra bags of candy hanging around before the big day!
Balance Your Meals During The Day
You know you're going to have your fill of candy on Halloween night, so make sure the rest of the day is as nutritionally sound as possible. Don't skip meals to save up calories for the evening treats – that method usually backfires and leads to overindulging when you finally break the fast.
Instead, start the day with a satiating breakfast like eggs with whole grain cereal and fruit, fill your lunch and dinner plates with fruits and vegetables, lean protein, and whole grains, and don't forget about that afternoon snack.
Lately my kids have been loving the new Chobani Kids® Pouches and Tubes for snacks. Made with low-fat Greek yogurt, the new Kids Greek Yogurt tubes and pouches are a good source of calcium and have two times more protein and 25% less sugar than leading kid's yogurt. Plus, my kids think it's super fun to try all the different flavors and eat straight from the pouches and tubes! Get more balanced snack ideas!
Make A Plan
If there's one theme that's consistent here at Small Bites by Jessica, it's that planning is the key to success. That's why I share my Menu Plan Monday weekly and meal planning tips. When it comes to Halloween, your plan needs to include the kids. Before you all head out to trick or treat, sit down and talk to them about some rules of the road:
Safety tips for walking through dark, crowded streets and food safety issues like waiting until you're home to inspect the loot before they chow down. You'll find more Halloween food safety tips in last year's post.
How much candy can be taken at each house. This isn't a restriction on how much they can eat – it's about teaching kids how to share and leave candy for other children behind them in line.
What will happen when they get home. Every household will handle this differently, and there are certainly a number of ways you can go about deciding how much the kids can eat that night. (Check out my post 20 Tricks and Treats for a Healthy Halloween with some posts that discuss these methods in more detail). Whatever decision you make, be sure to discuss it with the kids ahead of time so they know what to expect.

Think Outside The Candy Box
When deciding what to hand out at your house, get the kids involved and think beyond fun-size chocolates and small bags of gummy bears. Clementines with hand-drawn faces are a fun and welcome treat this time of year, as are non-food giveaways like stickers, spider rings, and coloring books. You'll be surprised how happy some kids (especially the younger ones) will be to get something different – and longer lasting – than a piece of candy.
Go For the Lollipop
When all else fails, rely on a lollipop. Yes they're sticky and can be a mess, but they also take a while to get through (just don't let your kids bite them like one of my girls does!). That means they'll be occupied for more than 30 seconds (the amount of time it takes to eat a mini bag of M&Ms) and may even be able to get through a row of houses before a meltdown ensues for their whole bag of candy.
The Bottom Line
Remember, Halloween is just one day. There may be (and hopefully will be) candy leftover the next day, but it doesn't mean you can't go back to your routine the next morning.
Did you think I forgot about that recipe for Ravioli with Pumpkin Spice Yogurt Sauce I promised you?! What kind of trick would that be! Before you head out to trick or treat, try this quick and easy recipe the whole family will love.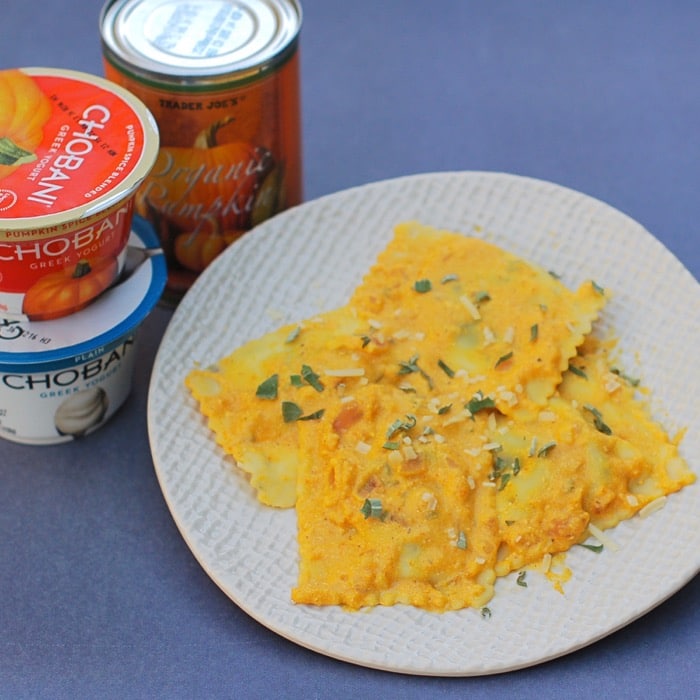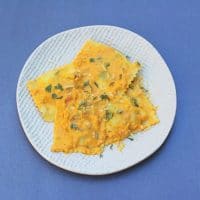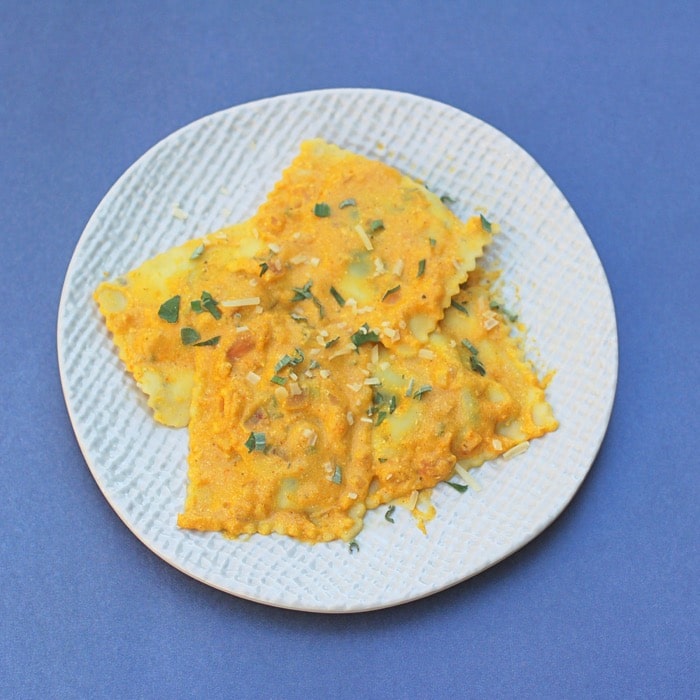 Ravioli with Pumpkin Spice Yogurt Sauce
Yogurt, pumpkin, and spices come together in this creamy, protein-rich, fall-friendly pumpkin spice yogurt sauce. Top your favorite packaged ravioli or pasta with this easy to make sauce - It's the perfect Halloween dinner!
Ingredients
1/2

tablespoon

olive oil

1/2

cup

minced shallot

2

cloves

garlic,

minced

4

teaspoons

chopped sage,

& more for garnish

1/4

teaspoon

ground nutmeg

1/4

teaspoon

ground cinnamon

1/4

teaspoon

ground ginger

1

5.3-ounce

container Chobani® Pumpkin Spice Greek Yogurt

1

5.3-ounce

container Chobani® Non-Fat Plain Greek Yogurt

1 1/4

cup

canned 100% pure pumpkin

(not pumpkin pie filling)

3/4

teaspoon

Kosher salt

Freshly ground pepper

, to taste

2

9-ounce

packages ravioli of your choice

(I used Trader Joe's Spinach Ricotta ravioli)
Instructions
Heat olive oil in a large sauté pan. Add shallots and garlic; sauté 2 minutes. Add sage, nutmeg, cinnamon, and ginger; stir to combine with shallots and garlic, about 30 seconds until fragrant.

Reduce heat to medium-low. Whisk in yogurts and canned pumpkin. Season with salt and pepper and continue to whisk until smooth and heated through.

Cook ravioli according to package instructions. Coat ravioli with pumpkin spice yogurt sauce and serve garnished with freshly chopped sage.
Recipe Notes
You can toss the Pumpkin Spice Yogurt Sauce with any pasta you wish.
Here are the nutrition facts for a 4 oz serving of sauce alone:
76 calories, 6 g protein, 10 g carbohydrate, 3 g fiber, 6 g sugar, 2 g total fat, 0.5 g saturated fat, 2.5 mg cholesterol, 266 mg sodium
How do you handle all the candy on Halloween?
Share with me in the comments below!