Menu Plan Monday: May 22, 2017
May 22, 2017
Get the latest happenings at Small Bites by Jessica, this week's Link Love, and Menu Plan Monday all in one place!
Latest Happenings:
Hope you all had a great weekend! I think this past weekend was the weekend of recitals, based on what I saw on Facebook and Instagram! My girls had their dance recitals as well, which was so much fun to watch!
In case you missed it, I posted a new cocktail recipe on Sunday – my Spicy Strawberry Rhubarb Margaritas are perfect for Taco Tuesday and the hot days of summer to come! I'd love to know if you try them out!
Now for this week's link love and menu plan!
Recipes:
Peanut Butter Stuffed Sweet Potato Sundae  @ Emily Kyle Nutrition
⇒ Is your favorite part of an ice cream sundae the toppings? If so, you'll love this healthier dessert idea!
Sparkling Rhubarb Lemon Ice @ Zestful Kitchen
⇒ I'm all about rhubarb these days, and this dessert/cocktail is just calling my name!
Tofu and Shrimp Skewers with Hummus Marinade @ One Hungry Bunny
⇒ Love the idea of using hummus in a marinade! I don't eat shrimp, but will definitely be trying this for a new way to make tofu and probably with chicken too!
Grilled Turkey Mini Meatloaves @ Watch What U Eat
⇒ How cute are these?! I feel like they would be an instant winner with my girls just because of their adorable size!
Mediterranean Quinoa Chicken Salad @ Love & Zest
⇒ Did you know May is National Mediterranean Diet month? This salad sounds like the perfect excuse to celebrate! (Psst..looking for another quinoa salad to try? My Beet and Goat Cheese Quinoa Salad is a delish vegetarian option!)
40 Healthy Dream Dinners for Busy Families @ Liz's Healthy Table
⇒ I love trying recipes that are other people's family favorites, and these all look so good! (BTW, remember Liz from Meal Makeover Moms? This is her new awesome site!)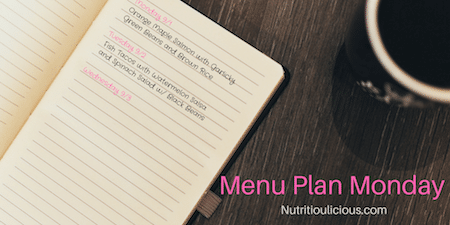 Menu Plan Monday: Week of May 22, 2017
Monday: 
Lunch: Veggie burgers, cheese stick, sliced veggies, and watermelon
Dinner: Summer Shakshuka with halloumi cheese and a side salad
Tuesday: 
Lunch: Hummus Cucumber Wraps, veggies, and grapes
Dinner: Enchiladas with Mushrooms, Beans, and Cheese (I'm also adding peas I have on hand) and Roasted Garlicky Green Beans
Wednesday: 
Lunch: Leftover enchiladas and green beans
Dinner: Salmon & Veggie Soba Noodles
Thursday: 
Lunch: Sunbutter sandwich skewers with fruit and veggies
Dinner: Leftovers
Friday: Grilled steak with chimichurri sauce, asparagus, and farro with roasted cherries
What's on your menu this week?
Please share with me below or on social media!