Meal Planning Made Easy – Enter the Giveaway!
July 23, 2018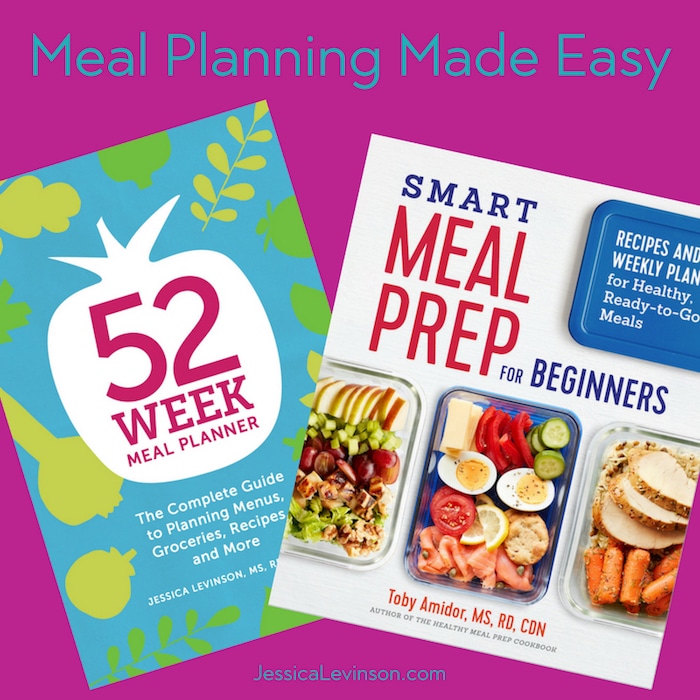 This page contains affiliate links. See below for full disclosure statement.
Just a few weeks ago I filled you in on my big news about my new book, 52 Week Meal Planner, which is officially on-sale in just 8 days! Well, as it turns out, there's another book coming out the same day (July 31st) that is the perfect pair with my book. Toby Amidor's Smart Meal Prep for Beginners has lots of amazing meals to fill your new meal planner, plus so much more. Toby and I have known each other for years (actually, our families have known each other since I was a kid) and now we live just ten minutes away from each other, so it's just one more coincidence that we both share a passion for meal prep and meal planning!
I've shared Toby's cookbooks in the past here and here, and I am so excited for this next one because it really makes meal planning and meal prep as easy as can be. Toby and I got together a few weeks ago to chat about our new books and today you have two chances to win both books – both Toby and I are running giveaways in celebration of the new releases! You can find out more about how to enter the giveaway below, but first, let me share a bit about Smart Meal Prep for Beginners and give you a sneak peek at one of Toby's favorite recipes in the book!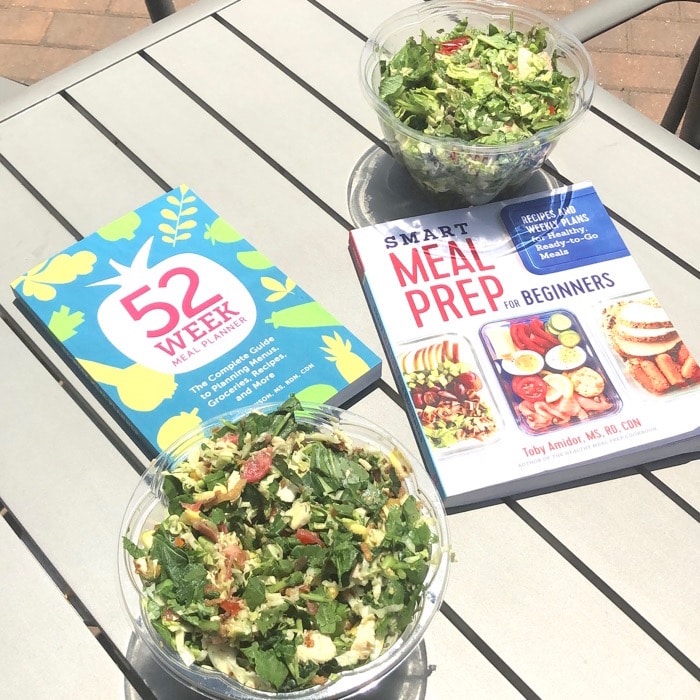 Smart Meal Prep for Beginners
The point of meal prep is to set yourself up for success, not stress, and that's what this cookbook helps you do. In the Smart Meal Prep for Beginners you'll get:
6-Weekly meal prep plans that progressively ease beginners from prepping breakfast and lunch to a full day's meal prep featuring breakfast, lunch, and dinner
Must-have meal prep tools that include prep day guidance, shopping lists, plus storage and reheating information
Meal prep 101 gets you started with need-to-know info about meal prepping, including meal prep Dos and Don'ts and food storage guidelines
I asked Toby a few questions about meal prep and her new book.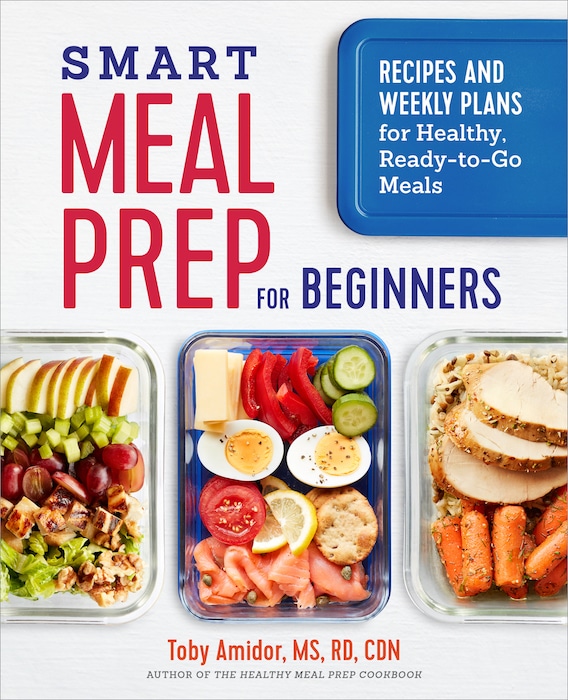 Q: What is your top meal prep tip?
Organize, organize, organize. Meal prepping is all about organizing which meals to cook, which day to cook, and what to buy. Once you get the hang of organizing these tasks, it all flows rather nicely.
Q: Do your kids help you with prep? If so, what are some of their favorite tasks in the kitchen?
My girls help me select the recipes which they would like to eat during the week. They also help me in the kitchen doing various tasks. As they are older, ages 13 and 11, they have started helping me set the oven, measure ingredients, stir, whisk, scoop, chop, and even blend food. I try to have them do different tasks so they can learn the various parts of cooking as they help me.
Q: What's your favorite recipe from the book for families with young children? 
There are so many family-friendly recipes in the cookbook including Yogurt Parfait with Blueberry Compote, Lighter Chicken Potpie, Beef Lasagna, Veggie-Lovers' Meatloaf with Baked Sweet Potatoes, Peanut Butter Banana Oatmeal, and Lighter Eggplant Parmesan. An easy family-friendly meal is also this Sheet Pan Lemon Chicken with Potatoes and Carrots.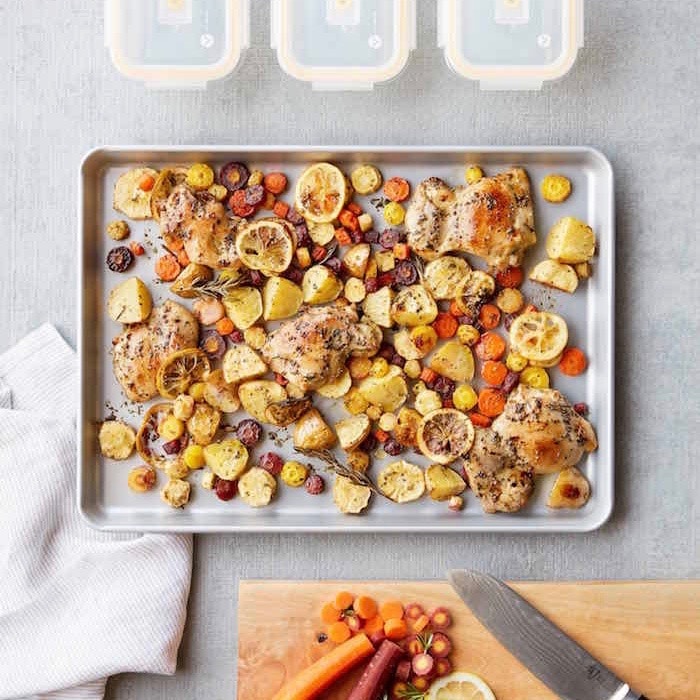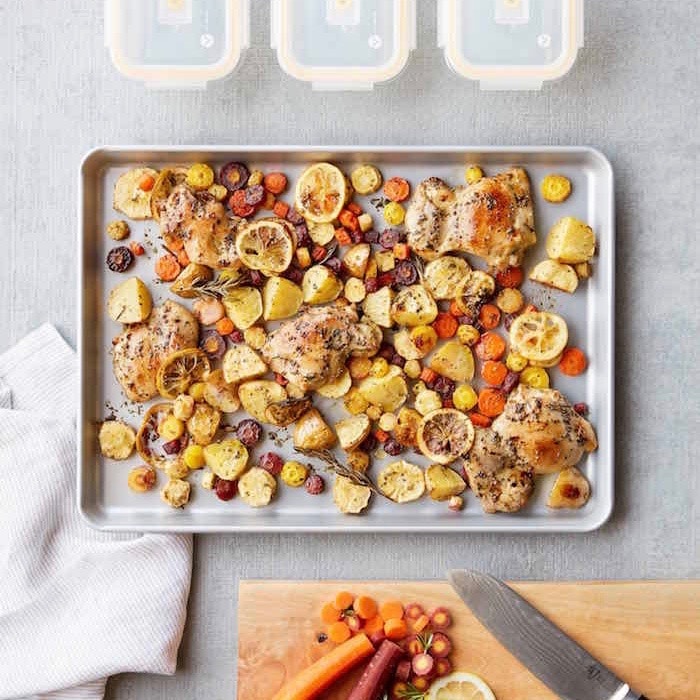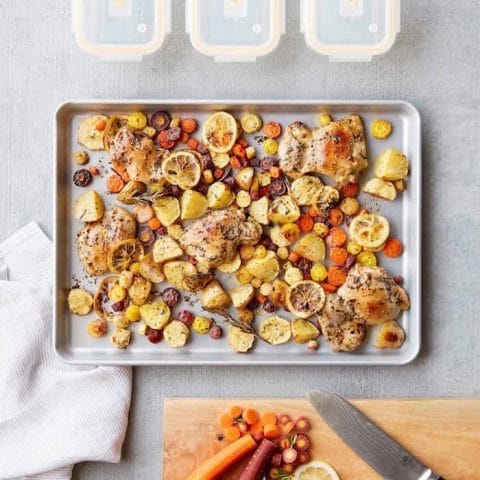 Sheet Pan Lemon Chicken with Potatoes and Carrots
Ingredients
1/4 cup olive oil
2 lemons,, 1 juiced and 1 thinly sliced
2 tablespoons chopped fresh rosemary
2 garlic cloves,, minced
1/2 teaspoon salt
1/4 teaspoon freshly ground black pepper
1 1/2 pounds skinless, boneless chicken thighs
1 1/2 pounds new potatoes,, quartered
5 medium carrots,, cut into ½-inch coins (about 1 pound)
2 medium parsnips,, cut into ½-inch coins (about ½ pound)
Instructions
Preheat the oven to 425-degrees F. Coat a sheet pan with cooking spray.
In a large bowl, whisk together the olive oil, lemon juice, rosemary, garlic, salt, and pepper.
Add the chicken, potatoes, carrots, and parsnips to the dressing and coat to toss.
Gently pour the vegetables and chicken onto the prepared baking sheet, making sure they are in a single layer. Top with the lemon slices. Place in the oven and roast for 40 to 45 minutes until the chicken reaches a minimum internal cooking temperature of 165-degrees F.
Into each of 4 containers, scoop about 2 cups of chicken and vegetables.
Notes
Storage: Place airtight containers in the refrigerator for up to 1 week. To freeze, place freezer-safe containers in the freezer for up to 2 months. To defrost, refrigerate overnight. To reheat individual portions, microwave uncovered on high for 2 to 2-1/2 minutes.
Recipe copyright Toby Amidor, Smart Meal Prep for Beginners, Rockridge Press, 2018. Photo courtesy of Elysa Weitala
Nutrition Information:
Yield:

4
Serving Size:

4 Servings
Amount Per Serving:
Calories:

510
Enter the Giveaway
Now that you can see for yourself how meal planning can be made easier by having a copy of each of these new books, enter my giveaway by doing any of the following:
Giveaway open today (July 23, 2018) through Friday July 27, 2018 11:59 pm ET. Winners will be announced Monday July 30, 2018.
You do not need to purchase anything to win. Only open to legal residents of the 50 U.S. states, D.C. or Puerto Rico, and you must be at least 18 years of age to enter.
So tell me: Are you ready to get meal planning and meal prepping?!
Share with me in the comments below!
Disclosure: This page contains affiliate links. If you purchase products through these links, your cost will be the same but I will receive a small commission to help with operating costs of this blog.