Instant Pot Beef Bolognese with Veggies
May 20, 2020
Get a winning family dinner on the table in less than an hour with this Instant Pot Beef Bolognese. It's packed with flavor and nutrition, thanks to lean beef and a variety of veggies. Even the pickiest eaters will find something to love here!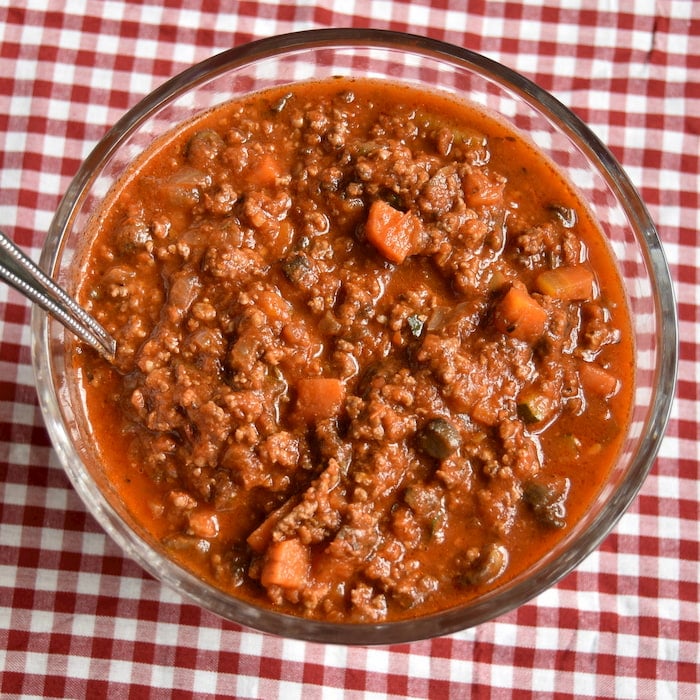 This page contains affiliate links. See below for full disclosure statement.
One of my favorite meals when I was a kid was spaghetti and meatballs. If I had to guess, it was probably one of yours too…am I right?! Over the years, I have tried numerous times to make meatballs the way my mom does (sans recipe, btw), but I just can't get them exactly right. So instead of taking the extra time to roll my ground beef mixture into balls, I opt for making an easier version of spaghetti and meatballs for my family.
Not Your Average Bolognese
That's where this Instant Pot Beef Bolognese comes in. Traditionally, bolognese is made with a combination of meats, including beef, veal, and pork, as well as some sort of dairy like milk or cream. Since we keep a kosher home, you won't find any pork or dairy in this recipe. And since I'm a registered dietitian nutritionist, you better believe you'll find lots of veggies in this sauce!
When deciding what to call this recipe, I struggled a bit. Veggie Loaded Bolognese, Veggie Packed Bolognese, and Veggie Beef Bolognese were all contenders, but I was afraid some of those titles would make you think this is a full on vegetarian bolognese. I have one of those on my site already – if you haven't tried it, this Vegetarian Lentil Bolognese is a delicious option if you follow a vegetarian or vegan diet, or if you're just trying to eat more meatless, plant-based meals.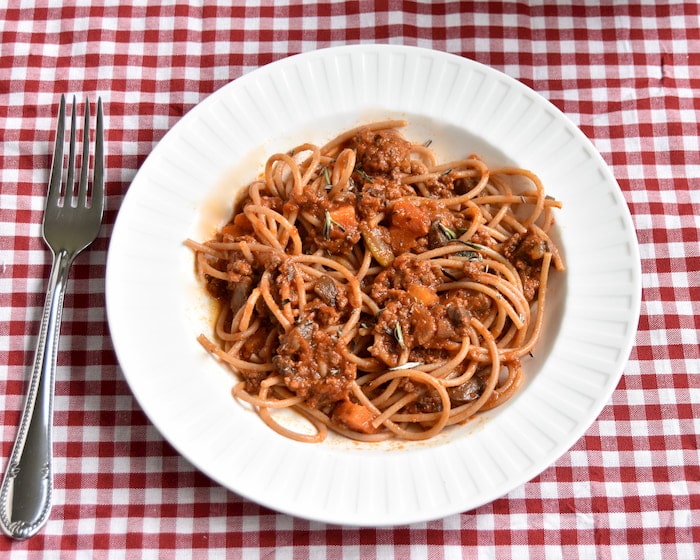 Making Instant Pot Beef Bolognese
This recipe is fairly straight forward and easy. It's also pretty quick in the scheme of things – most sauces take hours of simmering to get the depth of flavor you want in your end product. But with the help of the Instant Pot, this is a meal that can be made and served within an hour.
*See for yourself how easy it is in my Cooking with Jessica video on Instagram!*
For those of you without an Instant Pot, don't fret – you can make this in a traditional Dutch oven or large sauce pot, it will just take a little longer and you may want to make it a day in advance so the flavors have more time to develop.
Like most sauces, this one starts with sautéing onions and garlic, then adding in an assortment of vegetables, followed by herbs and spices, ground beef, and crushed tomatoes. At this point, the magic of the Instant Pot comes in, as you cover and seal the pot and let the pressure build up to cook the sauce in just 10 minutes. The ten minutes it takes to build up enough pressure to cook is what's really responsible for the depth of flavor you end up with.
When the 10 minute countdown is over, you'll want to vent the IP using a quick release – be sure to wear oven mitts to prevent burning your hand when you turn the steam release knob. Your sauce may look a little watery on top, but it will thicken up in minutes by using the sauté function for a few minutes until the sauce reduces and thickens. Then it's ready to serve, or cover and keep warm until dinner time.
Make It Your Own
As with many of my recipes, I suggest you use this recipe mostly as a guide for your own sauce, rather than following it exactly as written. However you make it, please tag me @JLevinsonRD on Facebook or Instagram so I can see how yours turned out! Here are some ways to make this beef bolognese sauce your own:
Choose the vegetables you and your family enjoy the most. In this particular recipe I add mushrooms, carrots, and zucchini, but I often leave out or swap some of these depending on what I have on hand. What veggies are your favorites to add to sauce?
I use lean or extra lean ground beef, but feel to use your favorite cut or mixture of meat, or swap beef with turkey or chicken – I have done that and it's delicious too.
If you don't have time to make the sauce entirely from scratch, you can use a jar of tomato sauce in place of the herbs and spices and crushed tomatoes like I use.
Speaking of herbs and spices, here's another opportunity for you to flavor the sauce the way you want it. I add rosemary, thyme, and oregano to this sauce (some fresh, some dried), but basil, chili powder, and crushed red pepper flakes would all be delicious as well. Or add whatever other herbs and spices you like!
Since I add my own garlic, onion, and herbs to the sauce, I use a can of crushed tomatoes without any other ingredients – not even salt, to keep sodium levels down. Check the ingredients of your canned tomatoes to see what else is in them so you can account for that when you make your sauce.
Serve it how you like it. The night I make it, we usually enjoy spaghetti Bolognese, but leftovers may be put in a pita or tortilla, placed on top of polenta, or simply enjoyed on its own.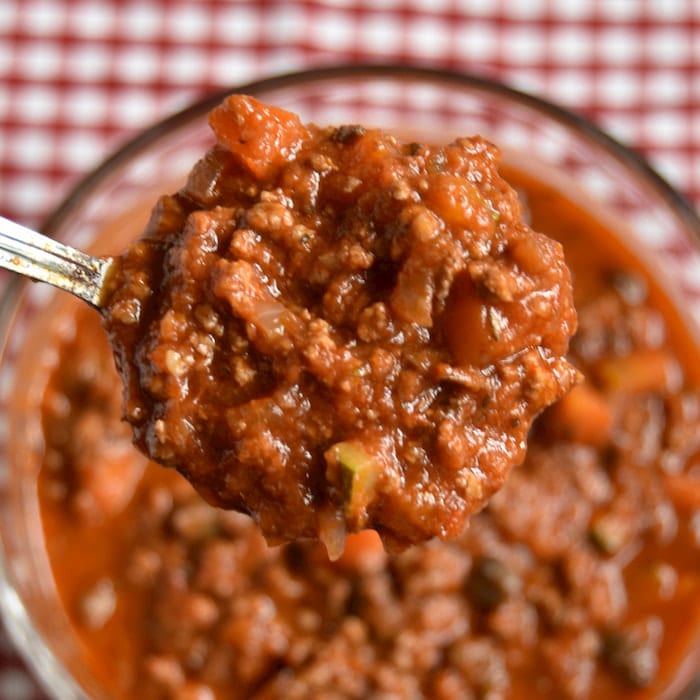 How This Is A Kid-Friendly Meal
As I mentioned, this sauce is packed with veggies, which makes my Instant Pot Beef Bolognese an especially good dish to make if you're working hard to get your kids to eat vegetables. When my girls were younger, they devoured this sauce. These days they search out the meat and leave some (or most) of the veggies behind, but I still feel good about what they ate because inevitably they will eat some of the vegetables that are mixed in. Not to mention the tomato sauce – that's a veggie too!
When feeding kids, one of my tips to encourage healthy eating has always been to serve one meal, as long as there is at least one thing on the table that everyone likes to eat. So whether your kids prefer the pasta served under the sauce, or the chunks of beef, or the pieces of cooked carrots or mushroom in the sauce, you're doing your job feeding them no matter what they pick out or around.
Any questions? Leave a comment below or feel free to email me at Jessica@JessicaLevinson.com. I'd love to hear from you, especially if you try the recipe!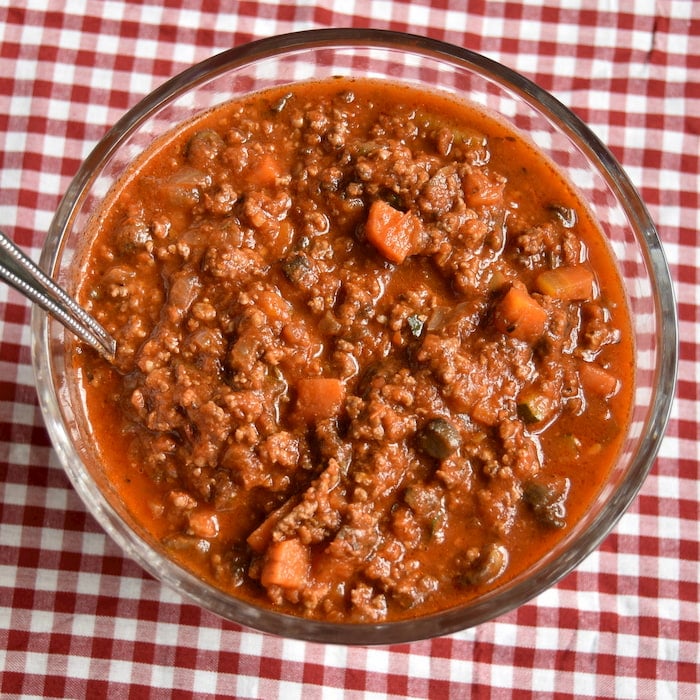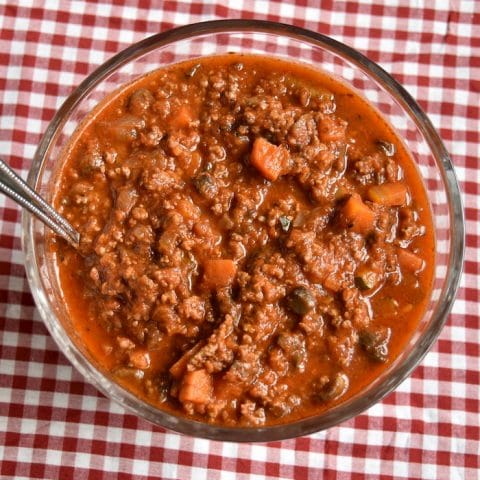 Instant Pot Beef Bolognese with Veggies
Additional Time:
10 minutes
This delicious and hearty bolognese sauce is packed with flavor and nutrition, thanks to lean beef and a variety of veggies. Even the pickiest eaters will find something to love here! And thanks to the Instant Pot, dinner will be ready in under an hour.
Dairy-Free, Gluten-Free, Nut-Free, Kosher
Ingredients
1 tablespoon olive oil
1 - 1 1/2 cups chopped onion (~1 large onion)
1 tablespoon minced garlic (~2 large cloves)
2-3 cups chopped mushrooms (~8-10 ounces)
1 cup diced carrots (~6 ounces)
1 cup diced zucchini (~4 ounces)
1 pound lean ground beef
2 tablespoons tomato paste
2 teaspoons chopped rosemary (or 1 teaspoon dried)
1 teaspoon dried oregano
1 teaspoon dried thyme
28 ounces crushed tomatoes
1/4 - 1/2 teaspoon kosher salt
Freshly ground pepper
Instructions
Set Instant Pot to "Sauté" setting on high heat. Add olive oil and when hot, add onions and garlic. Cook, stirring occasionally, for 2-3 minutes.
Add mushrooms and cook, stirring occasionally, for about 5 minutes, until most of the water has been released from the mushrooms.
Add the carrots and zucchini and continue cooking, stirring occasionally, for 2-3 minutes more.
Add ground beef to pot and break apart with a spatula. Toss with vegetables.
Add tomato paste, rosemary, oregano, and thyme to the vegetables and toss to coat. Press "Cancel" on the IP. Pour in crushed tomatoes and season with salt and pepper.
Cover the IP and turn the steam release handle to the
"Sealing" position. Set to "Pressure Cook" on high pressure for 10 minutes.
(Note: It will take about 10 minutes to come to pressure before the cook time begins)
When the cook time is done, immediately do a quick release of the pressure by turning the steam release handle to the "Venting" position. (Be sure to wear oven mitts when doing thjs.) Press "Cancel" on the IP and carefully open the lid and stir the sauce.
Set the IP to the "Sauté" setting on low heat. Leaving the top off, let the sauce simmer for 10-15 minutes, stirring frequently, until the sauce has thickened. Press "Cancel" and serve
immediately over pasta or polenta. If making in advance, turn on the "Keep Warm" setting, cover the IP, and close until ready to eat.
Recommended Products
As an Amazon Associate and member of other affiliate programs, I earn from qualifying purchases.
Nutrition Information:
Yield:

10
Serving Size:

1
Amount Per Serving:
Calories:

197
Total Fat:

8g
Saturated Fat:

2g
Trans Fat:

0g
Unsaturated Fat:

4g
Cholesterol:

40mg
Sodium:

308mg
Carbohydrates:

17g
Fiber:

5g
Sugar:

9g
Protein:

17g
Nutrition information was calculated by Nutritionix. It may not be 100% accurate.
Do your kids like pasta with bolognese sauce?
Tell me in the comments below!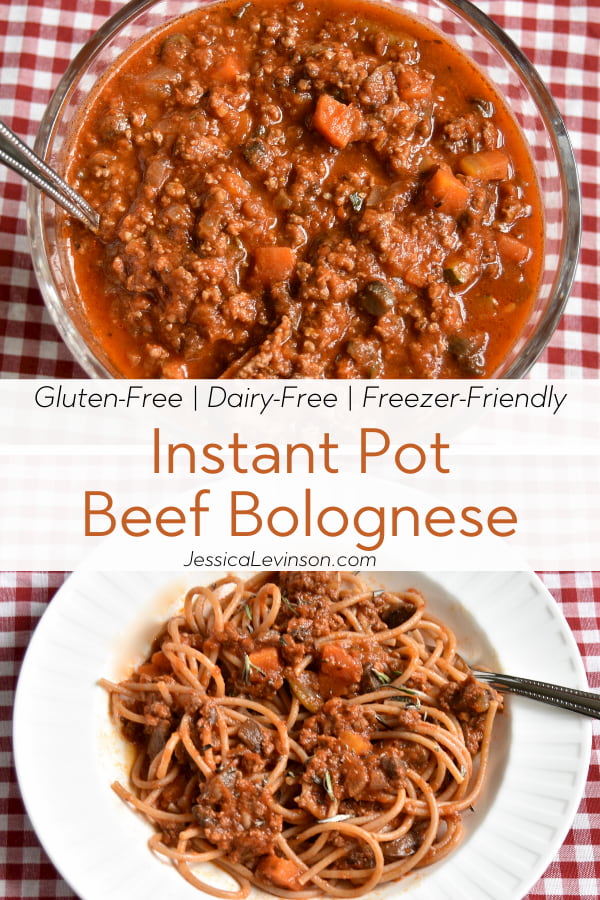 Disclosure: This page contains Amazon Affiliate links. If you purchase products through these link, your cost will be the same but I will receive a small commission to help with operating costs of this blog. As always, all thoughts and opinions are my own and I only recommend products I truly believe in. Thanks for your support!