Greek Night Dinner: Spanakopita {Recipe}
March 1, 2013
Yesterday I told you about the latest research on the health benefits of the Mediterranean Diet. As promised, today I am sharing one of my favorite Greek recipes, Spanakpoita. I wouldn't say this is the healthiest of all Mediterranean food, but it is absolutely delicious. At restaurants you can find Spanakopita in small triangles (like that shown below), which are more of an hors d'oeuvre, but traditional spanakopita is made in a casserole dish.
I made spanakopita for the first time back in 2009 and my husband has been asking me to make it ever since. Although I love it, making it is a potschke (that's Yiddish for requiring a lot of fuss) – it requires layers of phyllo dough, every one of which needs to be buttered or oiled and if it gets too warm it starts to fall apart. So for over three years I have dragged my feet to make it again, but a few weeks ago I decided it was time. I made things a little easier by using frozen chopped spinach, rather than fresh, which worked just as well and is just as nutritious. And instead of using olive oil or butter for every layer of phyllo, I used an olive oil cooking spray, which made things so much easier, less messy, and a little less caloric. It was still a process, but the result is a really delicious and flavorful dish. Serve it with a Greek salad, close your eyes, take a bite, and you may just feel like you're on an island in Greece!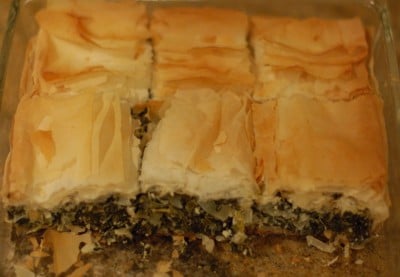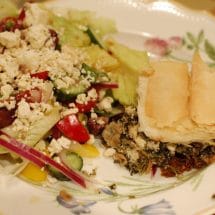 Spanakopita (Spinach Pie)
Total Time
1
hour
5
minutes
Ingredients
Olive oil cooking spray

1

tablespoon

olive oil

1

large onion

chopped

1

bunch scallions

green onions, chopped

2

cloves

garlic

minced

2 10-

ounce

packages frozen chopped spinach

thawed and drained

1

large egg

2

large egg whites

2

tablespoons

lemon juice

1 1/2

cups

crumbled feta cheese

1/2

teaspoon

dried oregano

Kosher salt & freshly ground pepper

8

sheets phyllo dough
Instructions
Preheat oven to 350 degrees F. Spray a 9x9 inch square baking pan with cooking spray and set aside.

Heat olive oil in a large skillet over medium heat. Sauté onions until golden, about 5-7 minutes.

Add scallions and garlic; saute 1 minute. Stir in spinach; cook 2 minutes. Remove from heat and set aside to cool.

In a medium bowl, mix the eggs, lemon juice, feta, and oregano. Stir in the spinach mixture; add salt and pepper to taste.

Fold 1 sheet of phyllo dough in half and lay it in the prepared baking pan. Spray lightly with olive oil cooking spray. Fold another sheet of phyllo dough in half and lay on top of the first sheet; spray with olive oil spray, and repeat process with two more sheets of phyllo. The sheets will overlap the pan.

Spread the spinach and cheese mixture into pan. Fold overhanging dough over filling and spray it with cooking spray.

Layer remaining 4 sheets of phyllo dough in the same manner in which you laid the first four, spraying each with cooking spray. Tuck overhanging dough into pan to seal filling.

Bake in preheated oven for 30 to 40 minutes, until golden brown. Cut into squares and serve while hot.
Recipe Notes
Thaw phyllo dough in the refrigerator overnight. Keep it in the fridge until you use it, otherwise it will get too soft and flake while prepping. While using the phyllo, cover the remaining pieces with a damp paper towel to keep it from drying out.
Have you made spanakopita before? What do you make with phyllo dough?