Baked Mushroom Leek Frittata
May 6, 2016
Meaty mushrooms and sweet leeks are a classic combination that pair beautifully in this easy and nutritious Baked Mushroom Leek Frittata that's perfect for a weeknight dinner or your next weekend brunch.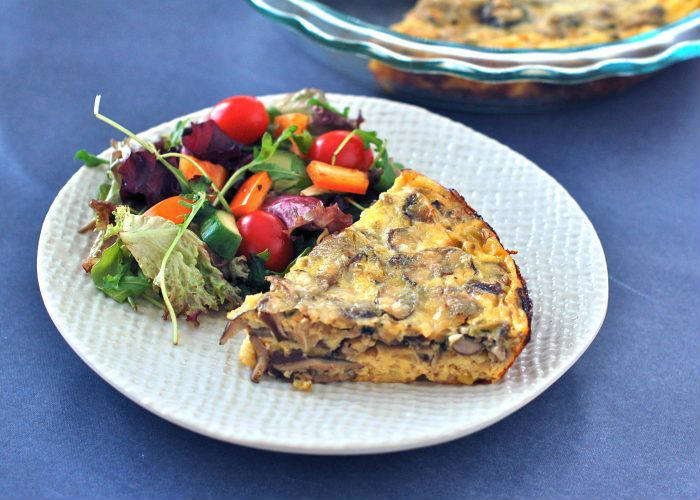 I was compensated for writing the original article, "Mushrooms," and developing the recipe found in the April 2016 issue of Today's Dietitian. I was not compensated for sharing the column or magazine with readers on my blog. All opinions are my own. This page also contains affiliate links. See below for full disclosure statement.
I have a quick and easy recipe for you today, just in time for Sunday's Mother's Day brunch!
Frittatas are some of my go-to recipes for busy weeknight dinners or weekend brunches. I love them because they are quick and easy to put together, you can use whatever veggies are on hand in the fridge, change up the flavor profile based on the ingredients you include, and they're an excellent source of protein. Plus, they're relatively low in calories since you don't have the pie crust like you do with a quiche.
Traditionally, frittatas are made in a sauté pan starting on the stove top and finished in the oven. Personally, I hate cleaning eggs out of a sauté pan and I've burnt my hands one too many times on the handle of the pan after it comes out of the oven. (Why do I always forget it was in the oven so it's hot?!) So my preference is to bake frittatas in the oven in a pie dish.
Note: When I originally developed this Mushroom Leek Frittata recipe and wrote this post I did not own a cast-iron skillet. I now do, and make most of my frittatas in it. It's much easier to clean than a non-stick sauté pan and the benefit of making the frittata in one is that it's now a one-pot meal!
I first sauté my vegetables and then transfer them to a pie dish, top with the egg mixture and cheese and bake. It takes a little bit longer and adds one more dish to clean, but it's worth it to me. Plus it looks really pretty when serving to company! The food's gotta look good, right?!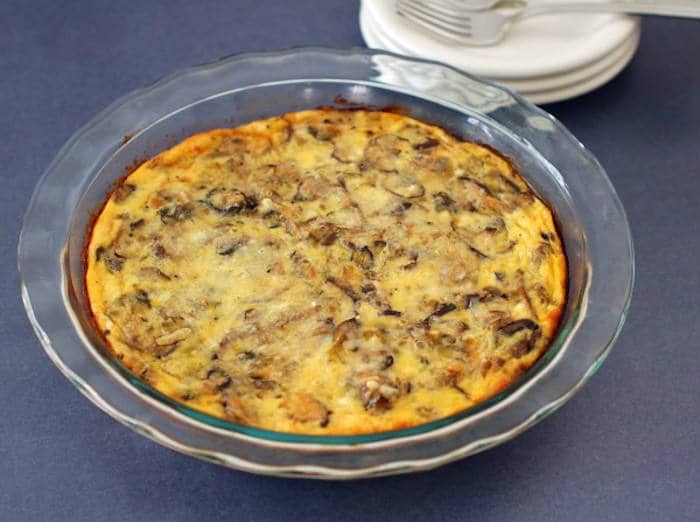 Frittata Flavor-Boosting Tips
I have a couple of tricks up my sleeve that really boost the flavor of my frittatas. It's your lucky day because I'm going to share them with you so your frittatas can be as jam-packed with flavor as mine are!
1. After sautéing the vegetables I deglaze the pan using water, balsamic vinegar or white wine vinegar. The deglazing process helps scrape up all those well-done veggies and adds to the umami of the veggie mixture, especially when mushrooms are involved. Check out this post by my friend and colleague Regan at Healthy Aperture to learn more about umami.
2. In addition to sprinkling the top of my frittatas with cheese before I bake them, I add cheese to the bottom of the pie dish before adding my vegetables and egg mixture on top. The layer of cheese on the bottom is almost crust-like and ensures you get cheese in every bite. No more fighting over the cheesy parts of the eggs!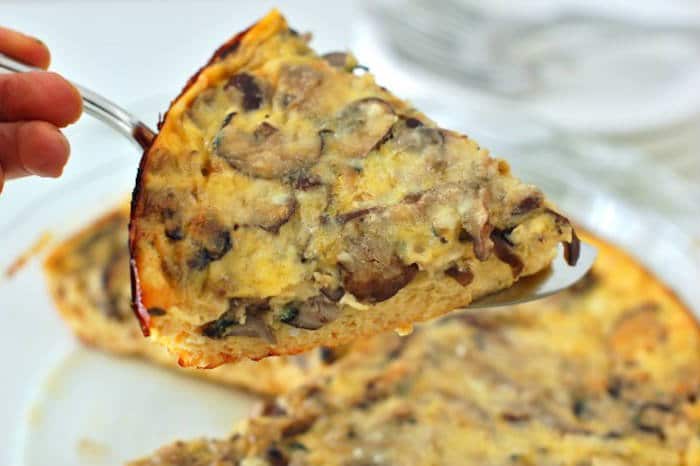 So there you have my two tips for making sure your frittatas are as flavor packed as possible.
Mushrooms + Eggs = Delicious
As for what's in this Baked Mushroom Leek Frittata, mushrooms are the star of the show! As you may remember from my Creamy Pureed Mushroom Soup post, mushrooms are one of my favorite vegetables and I especially love adding them to egg dishes. They add so much depth of flavor to the dish – there's that umami again! – and they pair well with a lot of cheeses and other vegetables.
My Mushroom Onion Quiche is a favorite in our house and with guests, and I often make it as a frittata for a lighter dinner. The recipe below is quite similar, but instead of using onions I use leeks since it's spring and now is when they're in season. Plus they have a sweetness that regular onions lack. To learn more about mushrooms, head over to the April issue of Today's Dietitian Magazine and read my Culinary Corner column, which is also where this recipe was originally featured.
Before you get sidetracked with all the fun info about mushrooms, print this recipe and tape it on the fridge so your husband or kids can make it for you this weekend! You deserve a break from the kitchen (at least I know I do!).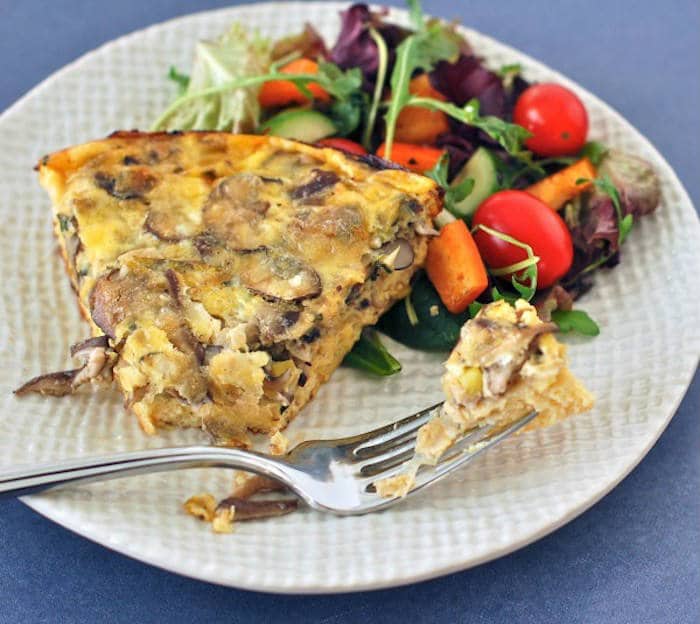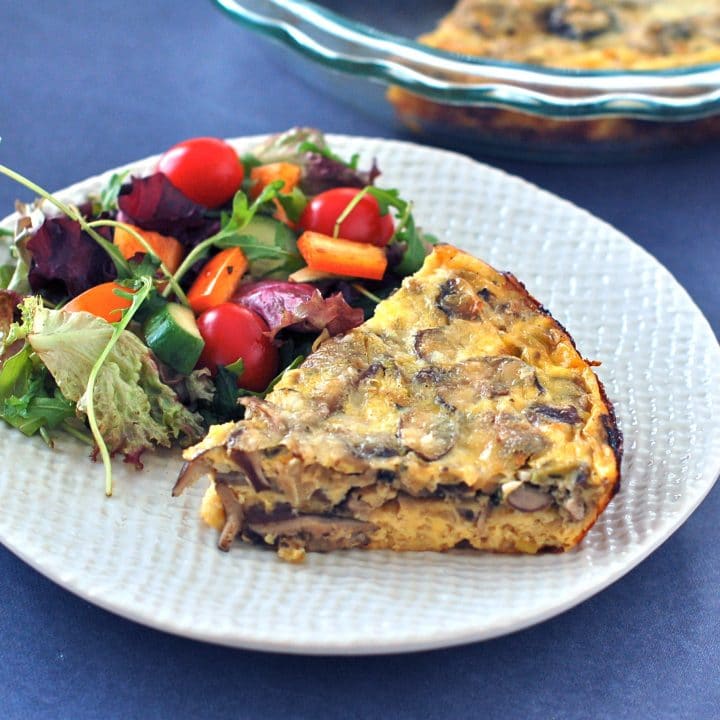 Baked Mushroom Leek Frittata
Meaty mushrooms and sweet leeks are a classic combination that pair beautifully in this easy and nutritious frittata that's perfect for a weeknight dinner or your next weekend brunch.
Ingredients
Cooking spray
2 teaspoons olive oil
1 medium leek,, white and light green parts only, cut in half lengthwise and thinly sliced
8 oz sliced mushrooms, (any type; for this recipe I used a mix of shitake and baby bella)
1 tablespoon water
1 clove garlic,, minced
1 tablespoon chopped fresh thyme, (or 1 teaspoon dried)
1/2 teaspoon Kosher salt,, divided
Freshly ground pepper,, to taste
6 large eggs
1 cup evaporated skim milk
1 cup shredded Parmesan cheese,divided, (~4 ounces)
Instructions
Preheat oven to 375 degrees F. Spray 9-inch pie dish with cooking spray and set aside.
Heat olive oil in a large skillet over medium-high heat. Add leeks and sauté 3 minutes, until softened. Add mushrooms and sauté 5 to 6 minutes until softened and most of the water has evaporated. Add 1 tablespoon water to deglaze the pan.
Stir in garlic, thyme, 1/4 tsp salt, and pepper, and cook one minute until fragrant. Remove from heat.
In a medium bowl, whisk together eggs, evaporated skim milk, remaining 1/4 tsp salt, and pepper, to taste.
Sprinkle 3/4 cup of cheese in bottom of pie dish and top with mushroom leek mixture. Pour egg mixture on top and sprinkle with remaining ¼ cup cheese.
Bake frittata for 30 minutes until top is puffed and golden brown.
Notes
Note: I have made this recipe without the evaporated milk as well and it's just as delicious! 
Nutrition Information:
Yield:

6
Serving Size:

6 Servings
Amount Per Serving:
Calories:

193
For more seasonal goodness, I highly recommend having one (or two!) Strawberry Rhubarb Mimosas with your Mother's Day brunch. Hope all the moms out there have a wonderful – and relaxing – day!
Do you prefer frittatas or quiche?
What's your favorite ingredient combination?
Share with me in the comments below!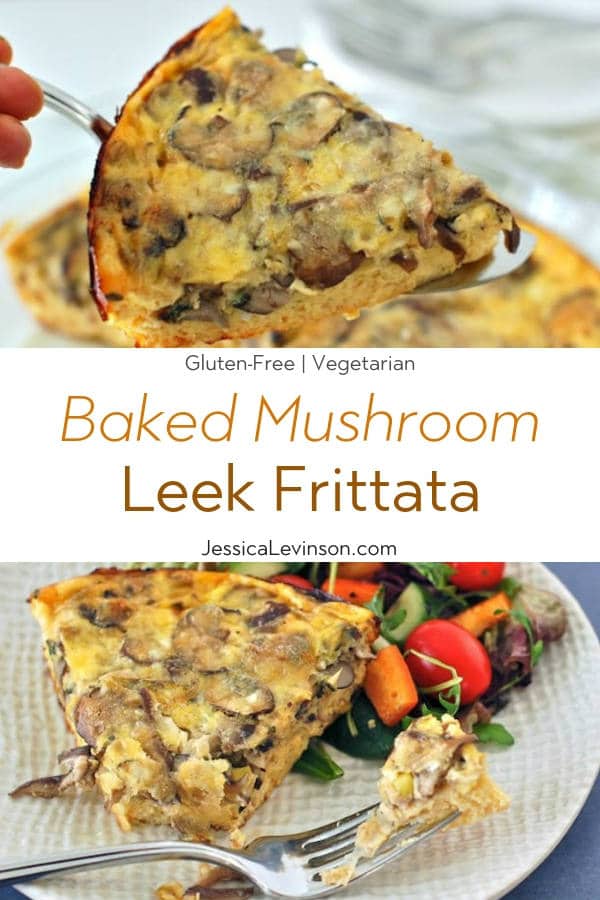 Disclosure: This page contains affiliate links. If you purchase products through these links, your cost will be the same but I will receive a small commission to help with operating costs of this blog. As always, all thoughts and opinions are my own and I only recommend products I truly believe in.